Top 10 Must-Know Websites For Birders (A Detailed List!)
Birding requires a vast knowledge of birds. As birders, we often require information such as tips for birding, bird locations, bird vocalizations, and bird behaviors. Technology is rampant now, and so I have wondered where can I get a consolidated list of websites to help me learn more about birding. So to save you some trouble, I did a little research on the net and came up with this list.
Top 10 Must-Know Websites For Birders:
All About Birds
FatBirder
Xeno-Canto Bird Sounds
10,000 Birds
Bird Watching HQ
Audubon
World Birds
Bird Spot
Reddit: r/birding
Birdwatching Bliss
This list of websites are a great resource for birders of all levels: from beginner to expert, but if you want to find out more details about each of them, read on to find out!
If you'd like to learn more about birding websites from a video, then check out the YouTube video I made below!
1) All About Birds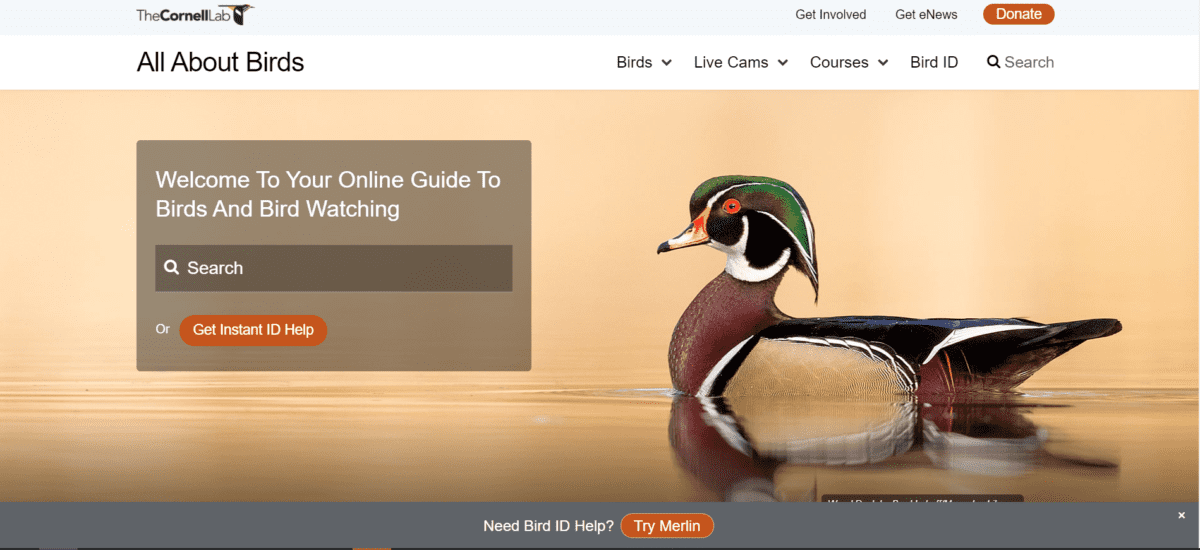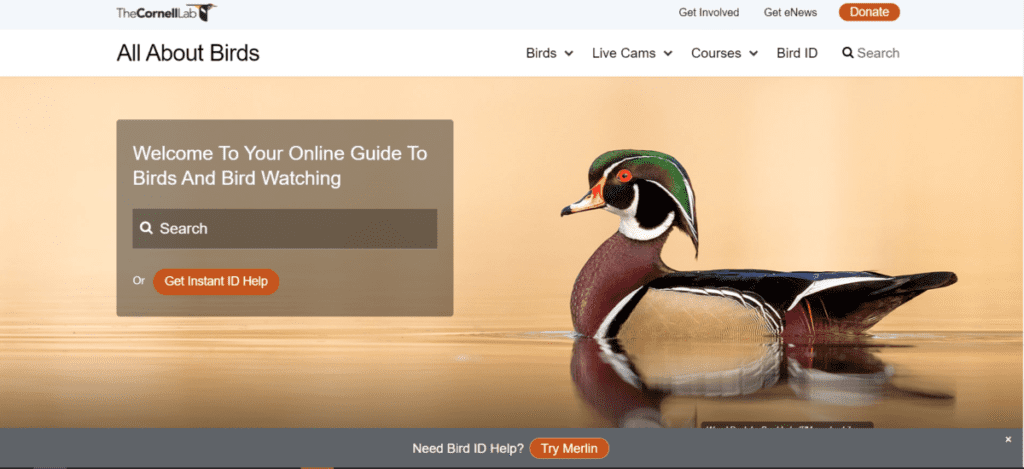 About:
All About Birds is a free resource developed by The Cornell Lab Of Ornithology. It is a one-stop location that houses loads of materials that are useful for birders of any expertise. These guys really provide a huge amount of educational content that you didn't know you needed.
Struggled with bird identification and need some help? All About Birds has an entire course on bird identification alone! Live away from North America? No worries, the website also caters to international regions. The course is split up by region and the level of experience you have in birding. So you will never have to feel like you are overwhelmed when you just wanna get started as a beginner.
Experts, don't fret, because they have articles written on advanced articles and topics on similar-sounding and looking birds for you to explore and educate yourself. Not to forget to mention, the courses are split into specific bird types such as one for warblers, one for shorebirds, one for sparrows, etc.
Beyond just bird identification skills, the website also provides a host of great information on current topics on Ornithology and bird conservation efforts. For example, the site has analysis articles written on topics of bird migration and the effort of oil spills on birds.
Why it's great:
The site is great because of its sleek interface coupled with its wealth of reliable information about birds. From simple birding tips to serious topics on bird conservation laws and oil spills. The site is also great for any birder – whether you are a newbie or a pro.
Who it's best for:
Any birder should use this as a reliable guide in their journey to improving as a birder. This means it's perfect for both beginners and those who have already spent a long time in the birding scene.
Link to website:
You can have a look on the All About Birds website itself here.
2) Fatbirder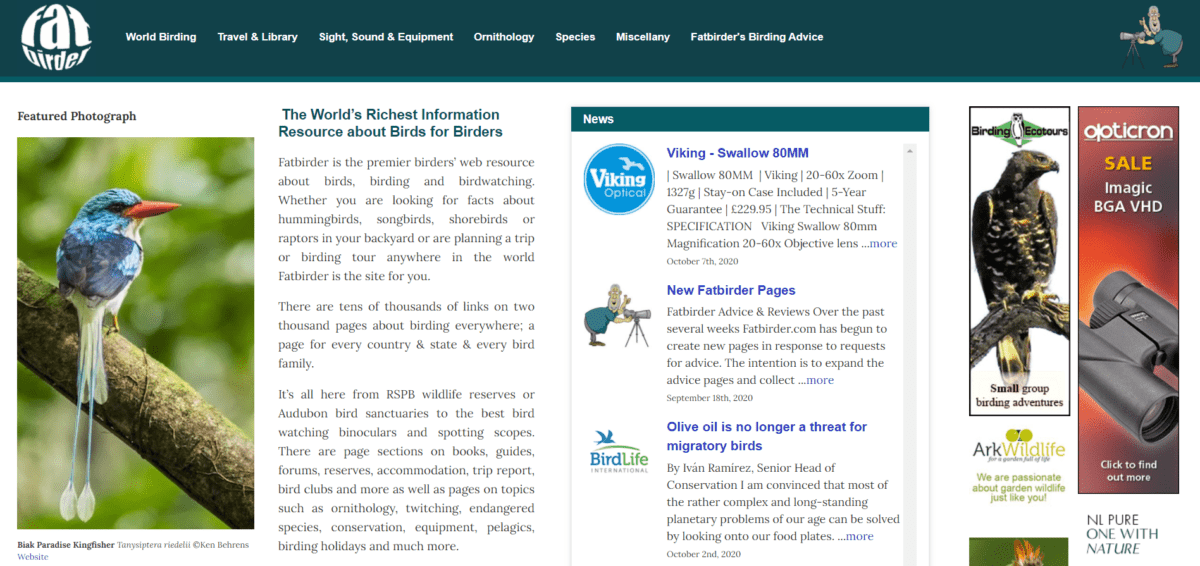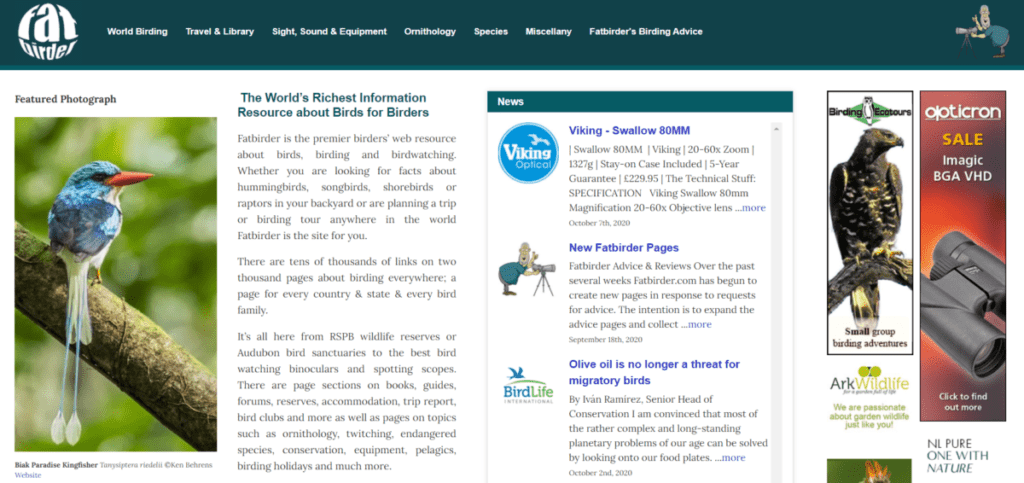 About:
From the about page on the website, Fatbirder claims to be the premier birders' web resource about birds, birding and birdwatching. Whether you are looking for facts about hummingbirds, songbirds, shorebirds or raptors in your backyard or are planning a trip or birding tour anywhere in the world Fatbirder is the site for you.
On the site alone, there are lots to see and learn. This includes tens of thousands of links on two thousand pages about birding everywhere; a page for every country & state & every bird family. This is a wonderful go-to resource if you want to learn more general information about birds.
The site has more than just information about birds! They also provide updated and reliable information for birders too. This includes the best bird watching binoculars and spotting scopes to buy, according to your birding needs. It's a good place to start and take a reference for what gear you should get for the hobby!
Alongside just pages of information about birds, the site also boasts extra page sections on books, guides, forums, reserves, accommodation, trip report, bird clubs, and more!
The site also covers more scientific and more pressing bird-related issues such as ornithology, twitching, endangered species, conservation, equipment, pelagics, and most importantly: birding holidays!
Why it's great:
The website is built based on contributions of birders, photographers, ornithologists, and birdwatchers from all over the world. Birders all over will contribute to their own local birding articles and photographs of their own local birds. It's a great go-to site for everything about birds and birding! I use this site to fact-check if I need to, you should definitely do it too!
Who it's best for:
Best for people who want a website to as a great birding resource. A great place for those who want to get new birding equipment and some core information about birding.
Link to website:
You can have a look on the Fatbirder website here.
3) Xeno-Canto Bird Sounds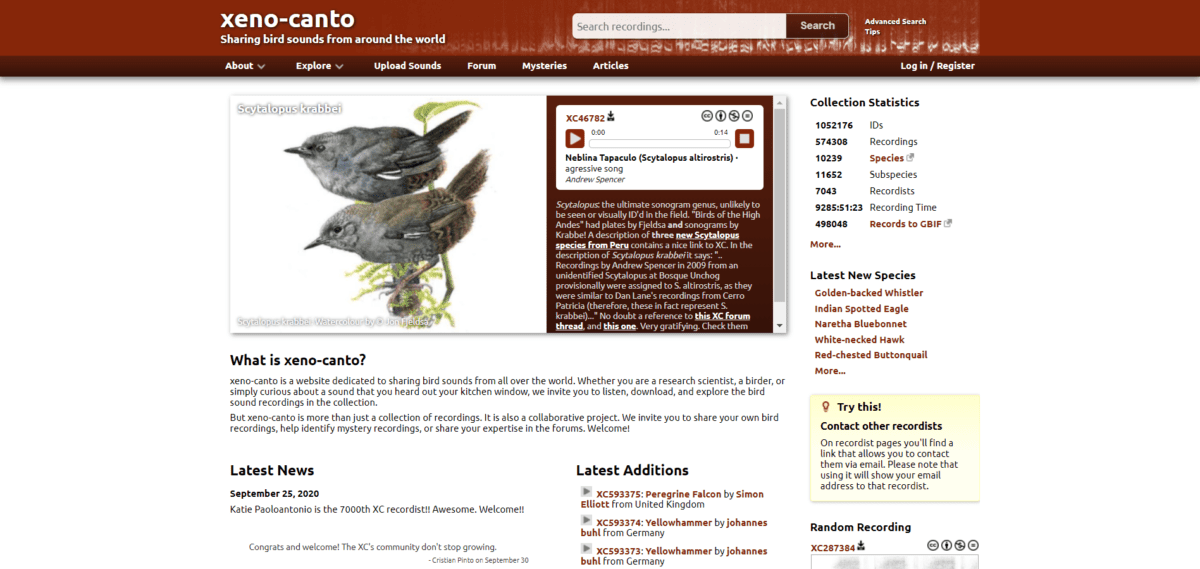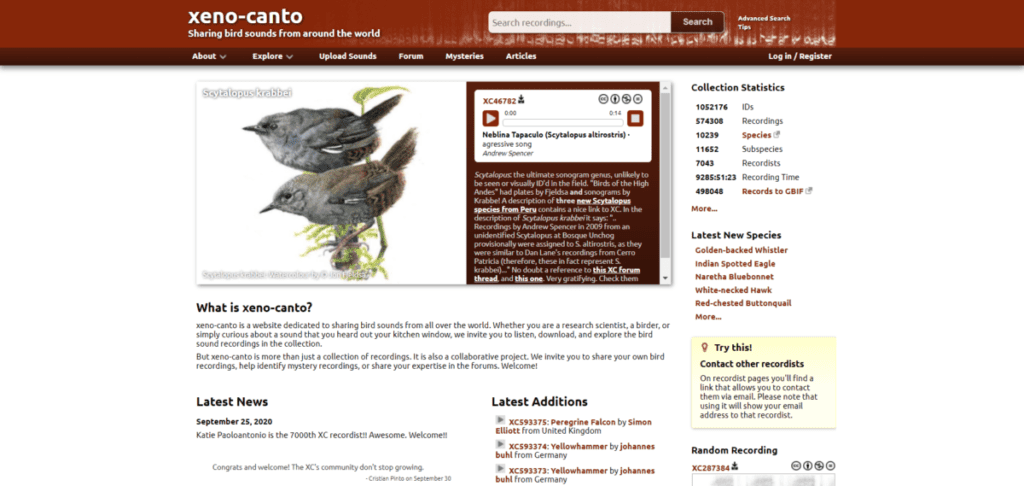 About:
This website is all about the sounds! It is a website for sharing wild bird recordings from all over the world. It is a global collection of bird sounds that are run by the Xeno-canto foundation from the Netherlands.
The Xeno-canto websit aims to utilise the internet to:
popularise bird sound recording worldwide,
improve accessibility of bird sounds,
& increase knowledge of bird sounds.
The recordings found on the website are submitted by local birders of their own regions. That's birders like you and me! Yes, we can choose to submit our own recordings and share that with the global birding community.
The recordings uploaded onto the site have four primary purposes:
Enjoyment
Education
Conservation
Science
Why it's great:
The website is all about the phrase: 'sharing is caring'! It follows some basic principles:
Everyone can make a valuable contribution, by adding recordings, but also by sharing opinions, solving mystery recordings, programming, offering advice or experience, and by spreading the word.
Recordings are shared under various Creative Commons licenses.
Any recording is welcome. If you want to add your recording, of whatever quality, it is welcome and will remain in the collection provided the identification is 100% correct.
Xeno-canto values opinions, not authority. This is so you don't have to worry about always being right. It's a growing resource where birders alike can learn and grow together.
Wherever possible, the site uses open-source resources.
The website has a big goal: to be the ultimate bird sound guide. To be honest, I think it already is, but it has bigger dreams. The website is actually an ongoing project with up to 400,000+ recordings as of May 2018. They hope to achieve a collection of all bird sounds over time. This means that they want to represent a bird sound collection from all taxa, their complete repertoire, their geographic variability, and their stages of development.
Who it's best for:
Best for birders who love to do birding by ear. It's a great resource to train by ear so that you will recognize bird sounds quickly. Additionally, it's a great place for anyone who just want access to reliable bird sounds for their projects.
Link to website:
You can have a look at the Xeno-canto website here.
4) 10,000 Birds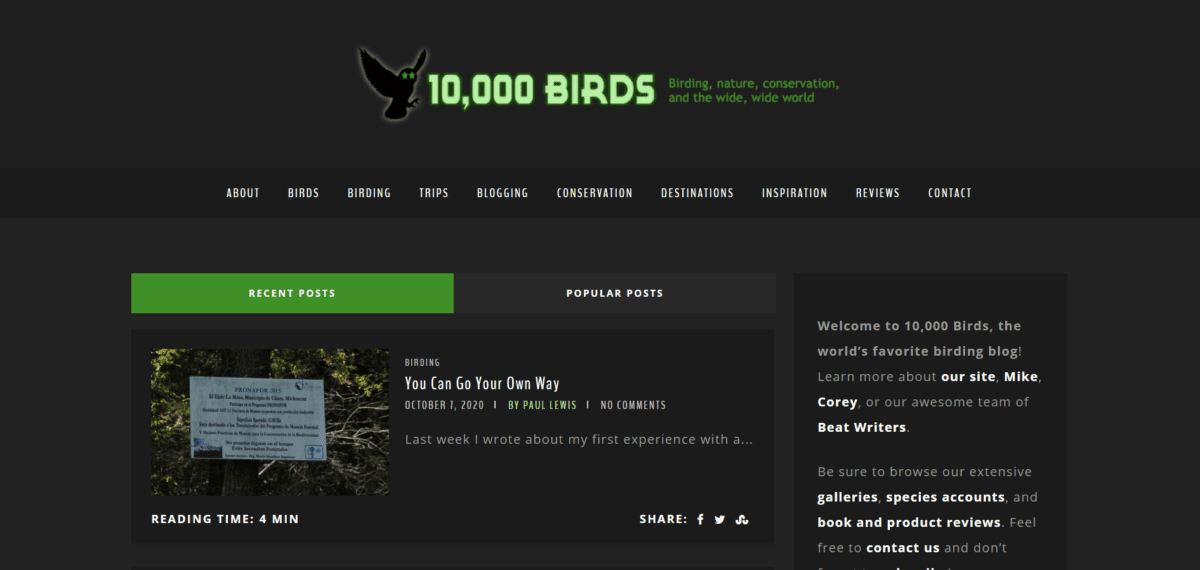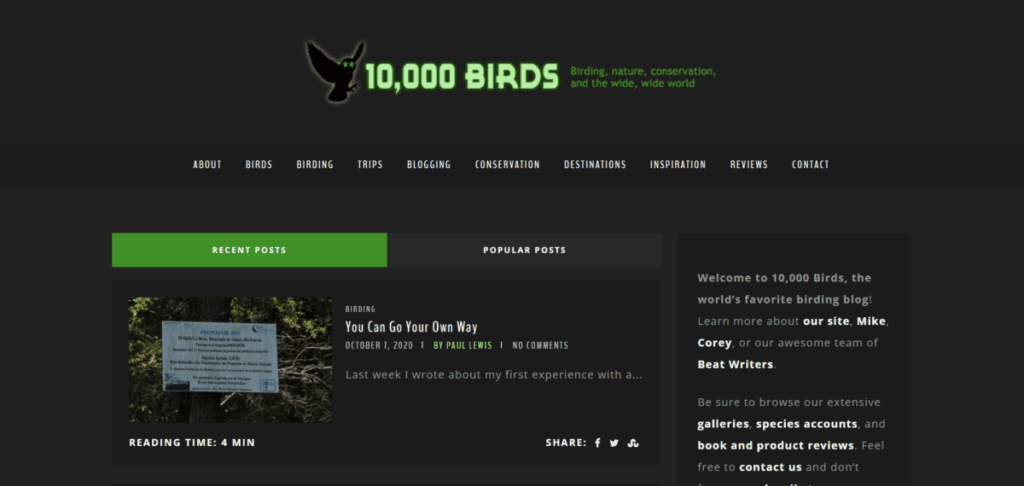 About:
10,000 Birds was named to suit the approximate 10,000 bird species on Earth. The website is a resource for plenty of commentary on natural history, science, politics, conservation, travel, and blogging along the way. 10,000 Birds was declared one of the 100 Most Informative Blogs in the world by Carnegie Mellon University in 2007, #1 on the list of Top Influencers in the Bird Watching Community.
The site is managed by Mike Bergin and Corey Finger. Mike Bergin founded the site in 2003 and Corey joined 10,000 Birds in 2007. The site contains blog posts and articles that are written by multiple writers and bloggers with different personalities in the birding world. They each have a different post upload schedule.
The blog covers a wide range of topics which include birds, birding trips, blogging, bird conservation, and birding gear reviews.
Why it's great:
10,000 Birds takes on birding with a lot more of a personal approach. This website is a blog and contains more personal experiences and reviews about birding. I really like how there are some articles written about reviews of books about birds! Some articles with personal birding experiences are really exciting and it often feels like I'm out birding with them!
Who it's best for:
Are you fascinated by nature? Eager to travel? Passionate about understanding and observing the world's birds over a lifetime of exploration? Then this is the site for you! This blog is perfect for you if you like a more personal touch.
Link to website:
You can have a look at the 10,000 Birds website here.
5) Bird Watching HQ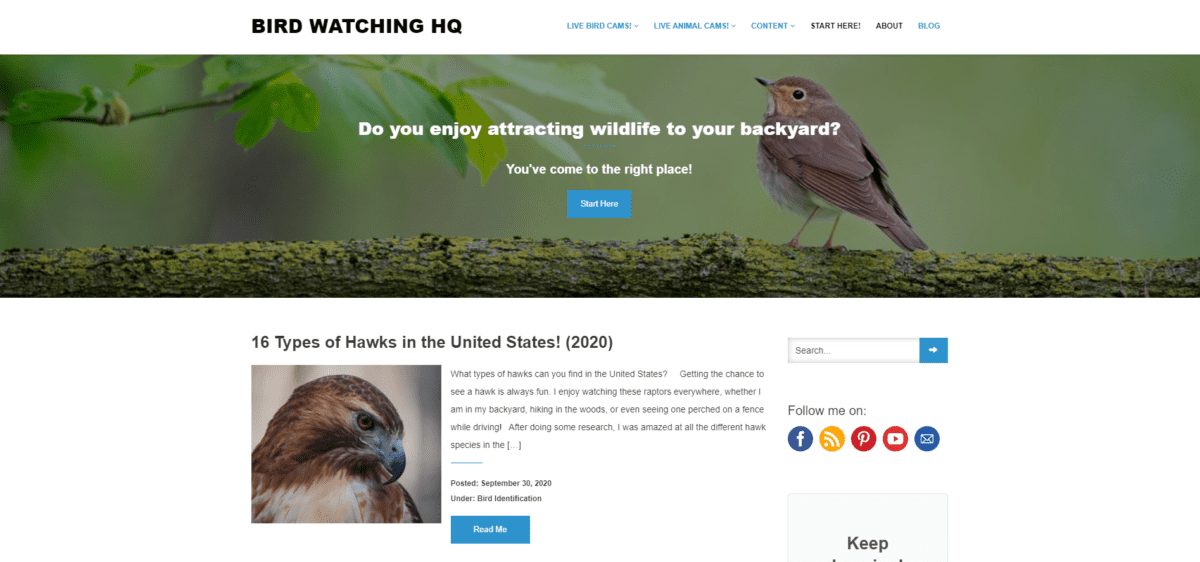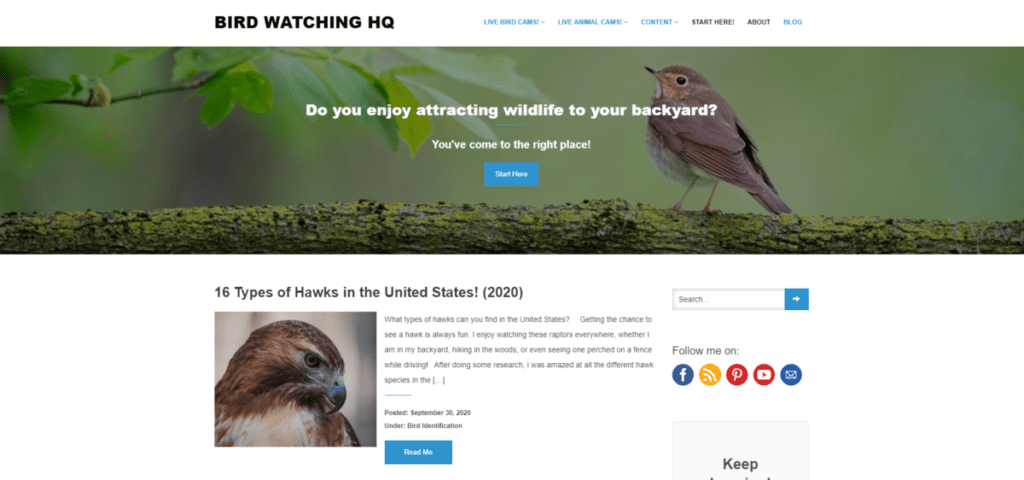 About:
Bird Watching HQ is a blog that was created and maintained by Scott, who lives in Ohio. He regularly posts content with extremely high value about birds and birding. He also has multiple feeders in his backyard that are broadcasted live on YouTube.
The blog was created by Scott for two reasons – for fun and to inspire people to attract wildlife to their backyard. Scott also really love penguins and wishes to see al 17 species of penguins before he passes.
This blog website is primarily focused on bird feeding. Topics of articles can range from bird feeders to preventing squirrels from accessing them. The articles that are written are also regularly updated as technology improves, so you will be kept up to date with the times.
Why it's great:
This blog is one of the biggest personal websites about backyard birding that I know of. His blog posts are highly personal with lots of useful comparisons between products, so that you choose one that is within your budget and appropriate for your needs. Scott goes the extra mile to make sure he provides value to you!
Who it's best for:
For anyone interested in backyard bird feeding. The website also has some resources for wildlife birding too! A great website for anyone who wants a more personal reading experience about birding.
Link to website:
You can check out Bird Watching HQ here.
6) Audubon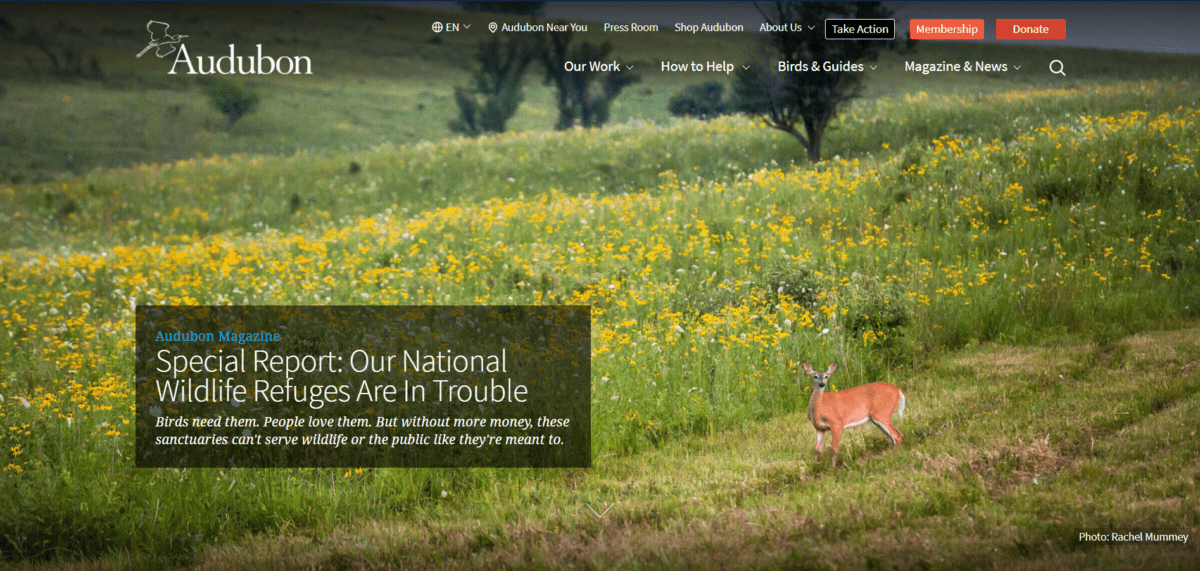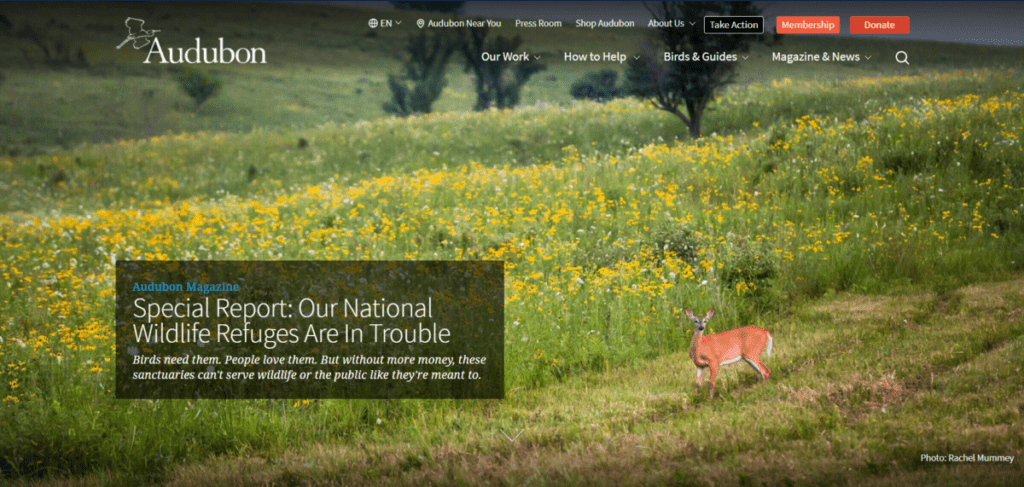 About:
This website was created by The National Audubon Society. The National Audubon Society protects birds and the places they need, today and tomorrow, throughout the Americas using science, advocacy, education, and on-the-ground conservation.
Audubon is a respected and influential voice on public policy issues, from town halls to the U.S. Capitol. Audubon has powers to convene stakeholders to solve problems such as energy planning. These serve to protect bird habitat steer development from critical habitat.
Why it's great:
The website is a great resource for bird guides, bird identification, bird news, and more. So this site more than just an authority site, but a great place to learn more about the serious stuff that threatens our birds such as conservation issues and laws.
Who it's best for:
It's best for individual birders who are passionate about doing things and speaking up for the birds. It's also a great resource for those seeking high quality and reliable information about bird news.
Link to website:
You can check out Audubon here.
7) World Birds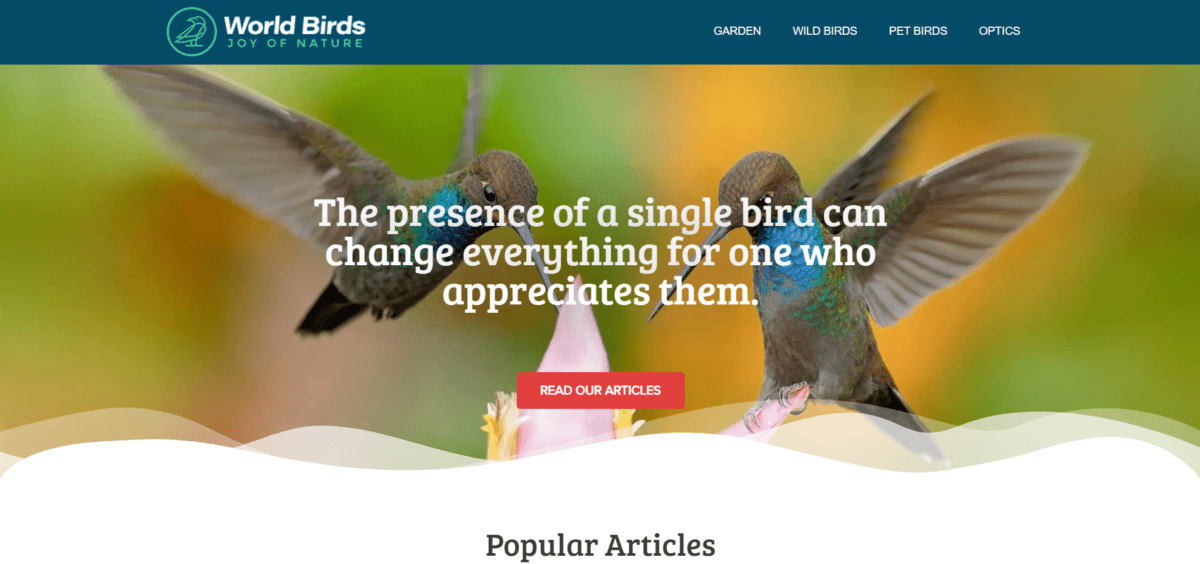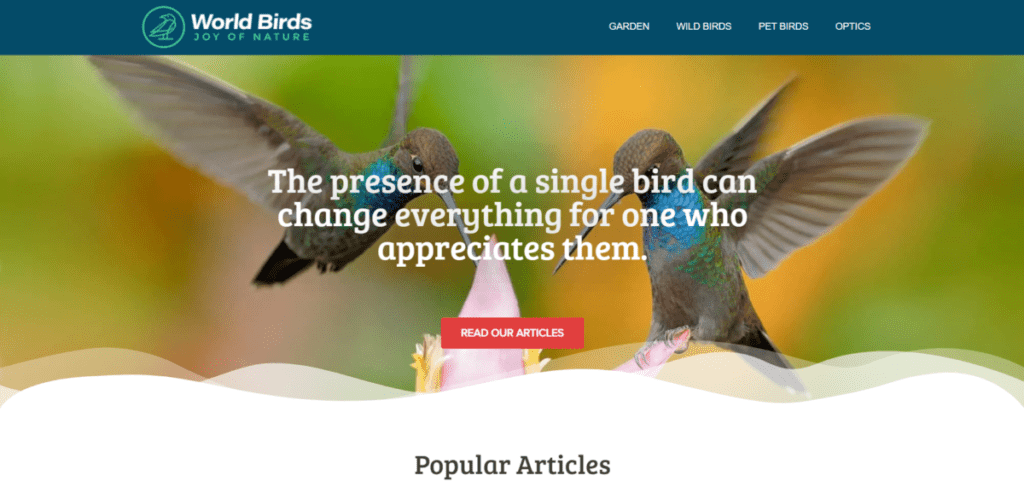 About:
This website is a personal blog maintained by Garth. He likes to call the website his personal space. I agree. His blog posts are really personal and content-filled so they really provide a true user/birder's experience of the things that he reviews.
Why it's great:
World Birds is a blog where Garth documents his experiences, learnings, mistakes, and ideas about birding and nature. His articles are interesting and easy to read, especially for beginner birders.
Who it's best for:
Garden/backyard birders and wild birders alike! He has articles on how to attract birds to your garden/backyard and even about optics and gear that you should use when going birding. He also provide VERY DETAILED and neat explanations and comparisons in his posts. I really enjoy reading and taking inspiration from his posts!
Link to website:
You can check out World Birds here.
8) Bird Spot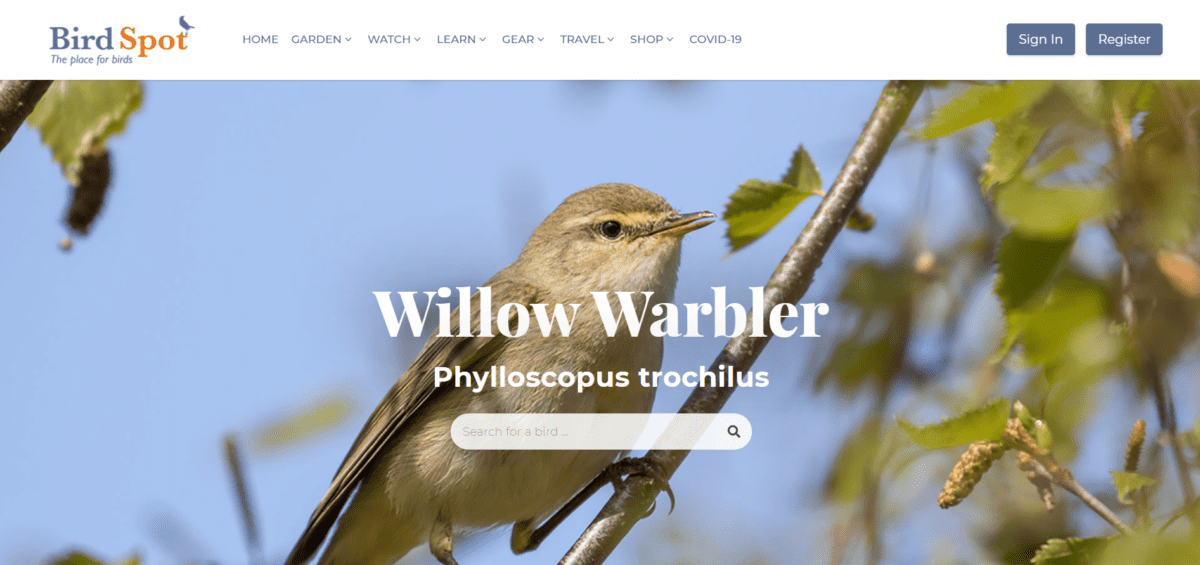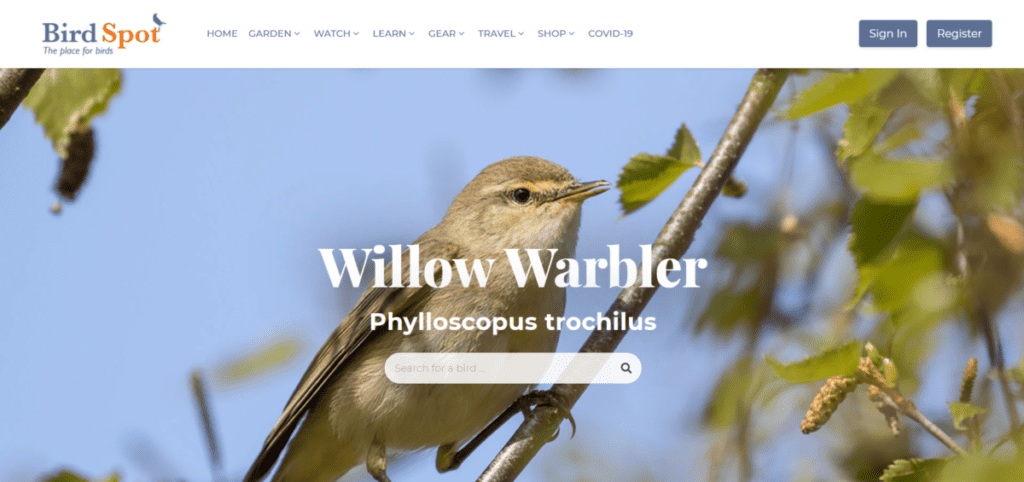 About:
Bird Spot was previously known as British Bird Lovers which initially intended for making birds and bird watching accessible to all. Subsequently, they switch their blog to be more focused on the simple care and enjoyment of seeing birds in a garden or in a local park.
Bird Spot has a very beautiful layout and website design that draws you in. The website contains many different posts, with a focus on birds in a garden. Additionally, the blog also has posts on bird information, bird identification guides, birding gear, and birding travel.
Bird Spot retains its core values of ensuring that all the information and advice they provide is simple to understand and will bring benefit to anyone who wants to learn more about birds.
Why it's great:
It's good because of its simplicity. Many blogs and websites out there can be too complicated and only suitable for a more experienced birder audience. This blog is focused on the simple things you can pick up as you go along as a birder. Posts are very bite-sized and pleasant to read!
Who it's best for:
For birders who want a simple and casual reading experience about bird watching. Better for UK birders.
Link to website:
You can check out Bird Spot here.
9) Reddit: r/birding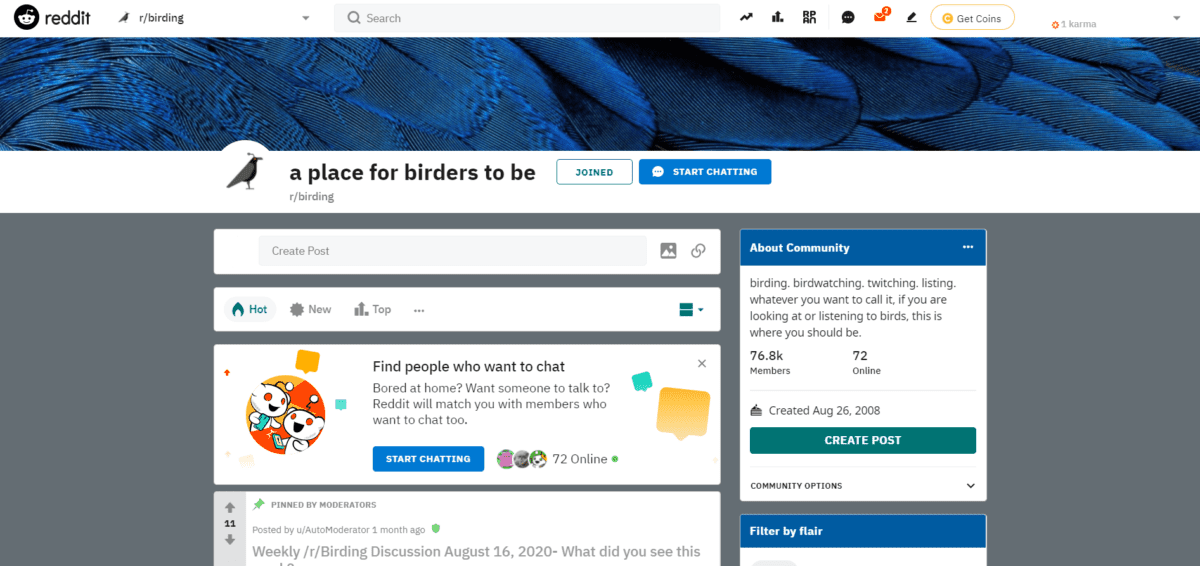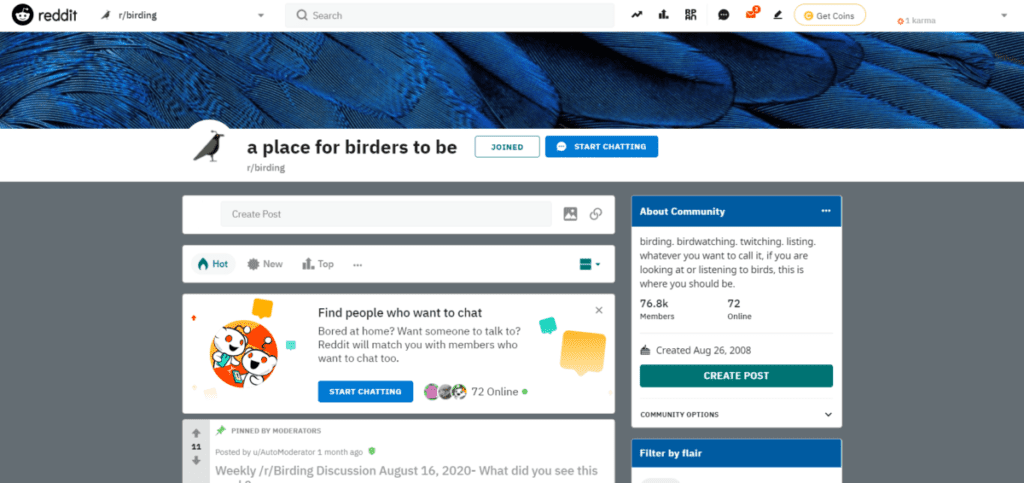 About:
r/birding is a subreddit from Reddit.com, a forum-based website where birders can discuss issues about birding and talk about all things that concern it. A subreddit is a particular topic in which any user can create to build a community within it.
The r/birding subreddit contains lots of user-generated content and pictures from birders all over the world. Most content is unfiltered and raw, so you can get a really unique and random interaction with other users.
It's also a great place to get help on bird identification, and to connect with the birding community.
Why it's great:
It's a great place for more casual interactions between reddit users in a forum format.
Who it's best for:
The subreddit is great for a younger audience or any birder who wishes to have a casual interaction experience with other Reddit users! I personally refer to this subreddit a lot for fun and to see new birding content.
Link to website:
You can check out r/birding here.
10) Birdwatching Bliss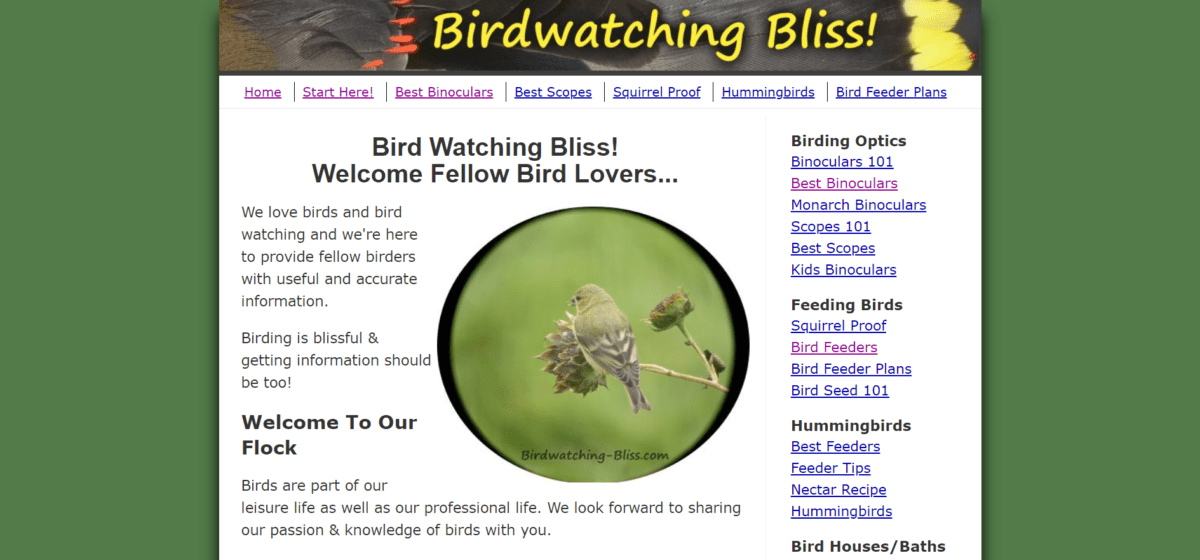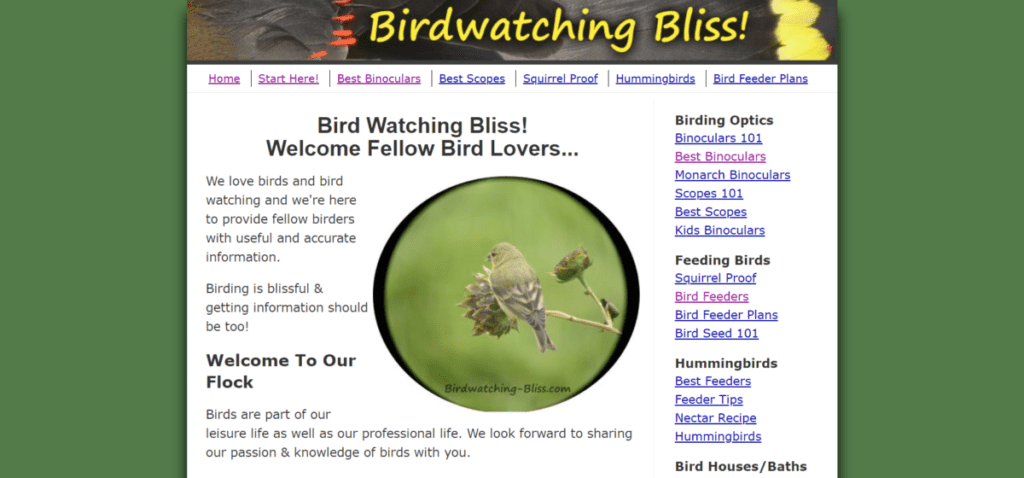 About:
Birdwatching Bliss first started off as a hobby from an environmental biologist who didn't want to work in the office. The site has lots of useful information including birding optics, feeding birds, hummingbirds, birdhouses, birding tips, bird biology, and history about state birds in the USA.
In my opinion the blog is a very personally written, with lots of practical advice on how to practice backyard birding well! Some posts cover some trivia about birds, which address the many concerns that backyard birders have about their items and its maintenance.
Why it's great:
It covers a lot of content with the perspective of a seasoned birder offering advice to a newer birder. The website is already really well designed so you navigate the website fairly easily. Their posts aren't too long so you won't have to scroll through too much content. The content is succinct and sufficient.
Who it's best for:
A great website for beginners who are looking to start somewhere with no clue where to start. The site covers recommended optics gear and bird feeders, which is great as its a good platform for beginners to start.
Link to website:
You can check out the website here.
Final Thoughts
Technology can really help us with our birding experiences. With most of the information we can ever obtain coming from the internet, it's wise for us birders to be able to source out our answers through various birding websites. Now that you've seen the list of birding websites, hopefully, it will help you in your birding journey just like it did for me!
Happy birding!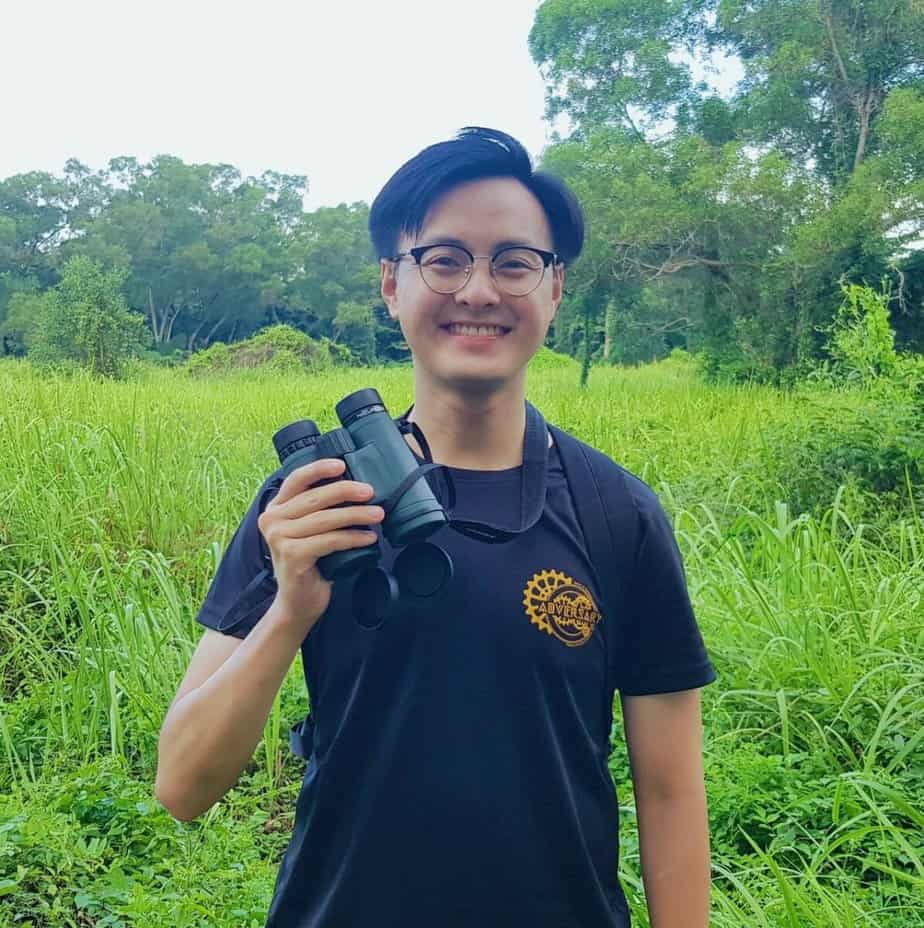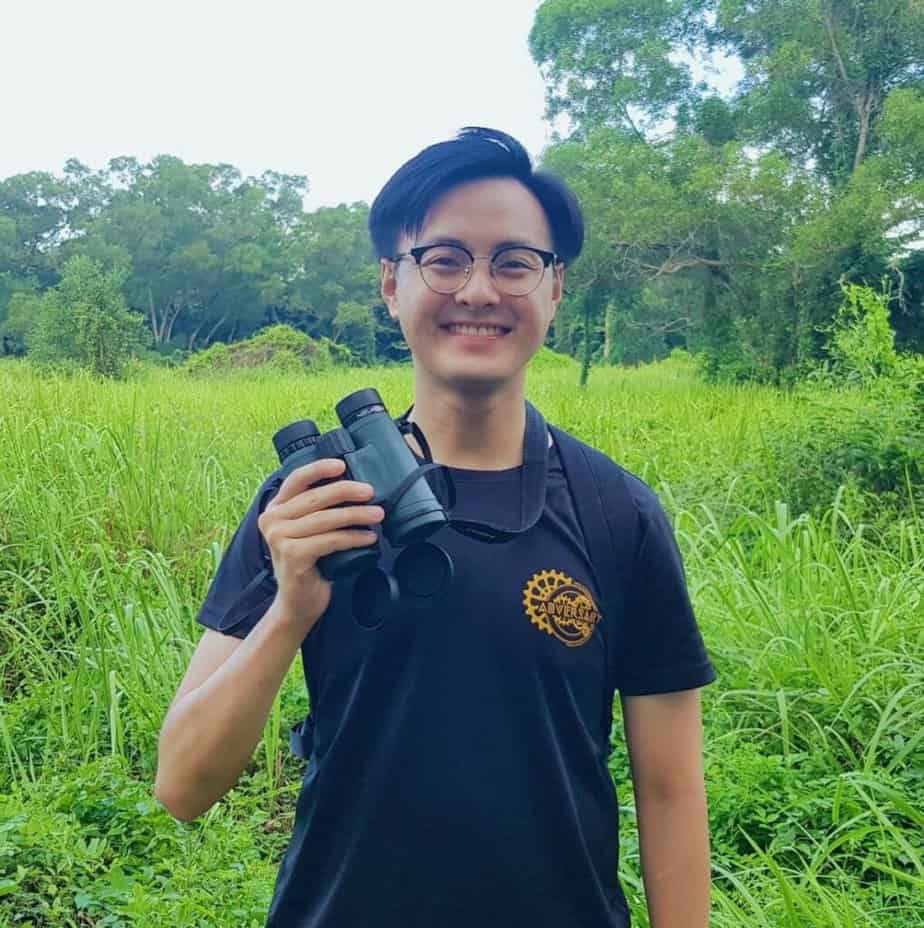 Justin is the founder and author of Birding Outdoors. He is a Nanyang Technological University (NTU) alumnus with a Bachelor of Biological Sciences and a former data analyst.
Now, Justin runs the Birding Outdoors blog full-time, hoping to share his deep love for birds, birding, and nature with others.
To unwind, Justin enjoys gaming and reading.