4 Best Birding Quizzes (And Why You Should Do Them!)
We're reader-supported; we may earn a commission from links in this article.
Birding quizzes are really useful in improving bird identification skills! However, I found it hard to find any good compilation of birding quizzes online.
So I did some research and made my own list.
Here's the list:
The 4 Best Birding Quizzes
All of these birding quizzes are available on their websites and feature a variety of questions on bird pictures and bird sounds.
Now you know the best birding quizzes, it's also important to know the features of each before you start. Read on in this article for a quick run-down!
Why Should You Do Birding Quizzes?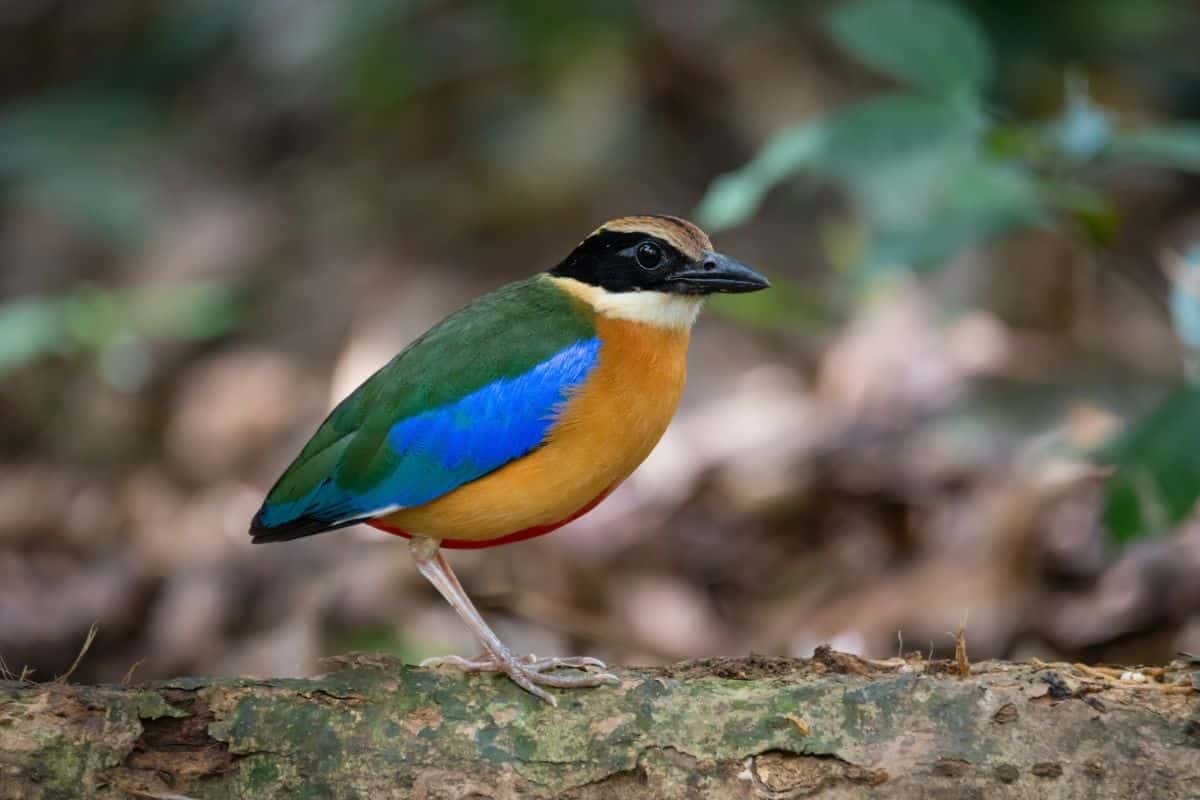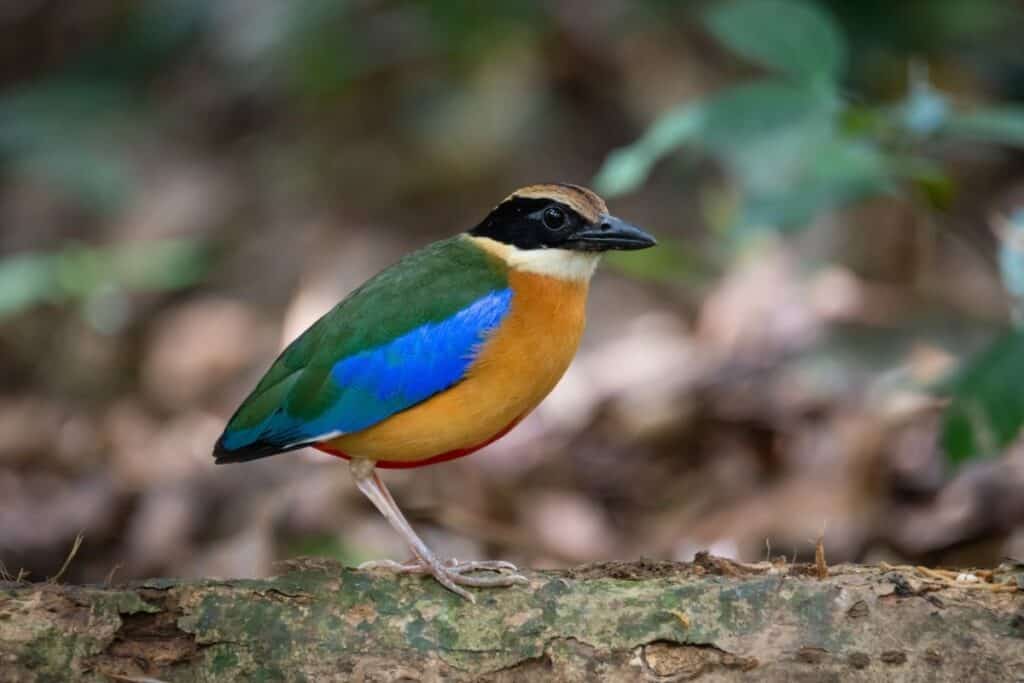 From the extreme expert birder to a complete beginner, everyone can benefit from doing birding quizzes as practice.
Or simply just for fun!
Most of the quizzes mentioned in this article will contain a difficulty setting, where they will spit out questions according to how much of a veteran you are in the identification of birds.
You should do birding quizzes. Birding quizzes enhance the bird identification skills of birders when they are out in the field. It cultivates practiced accuracy of identification of birds with minimal reference to field guides or an app.
Birding quizzes are a great way to amass the skills required to identify a bird immediately on sight while out in the field.
Simply no time can be wasted in flipping through field guides or apps when a bird darts past your field of view in a split second!
That's the reason birding quizzes are great for honing that bird identification skill for when you need it the most. It's like training to be a ninja!
Okay, I hope I've convinced you to start using birding websites! Let's go through the best 4 I've found.
Bird Identification Quiz Websites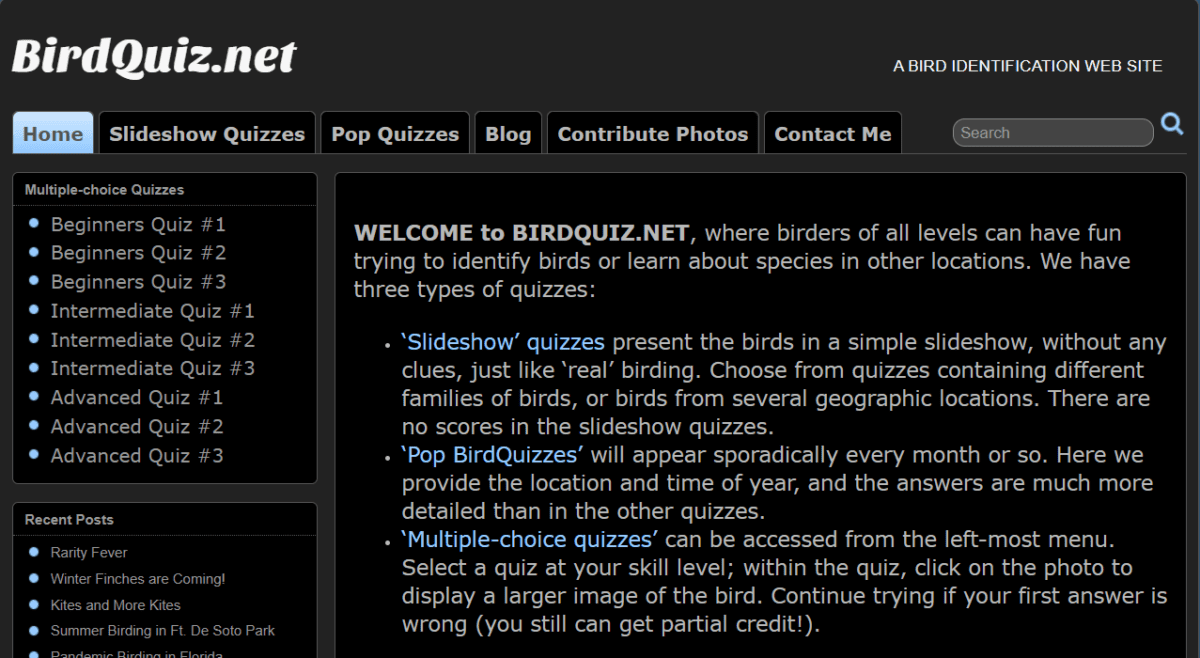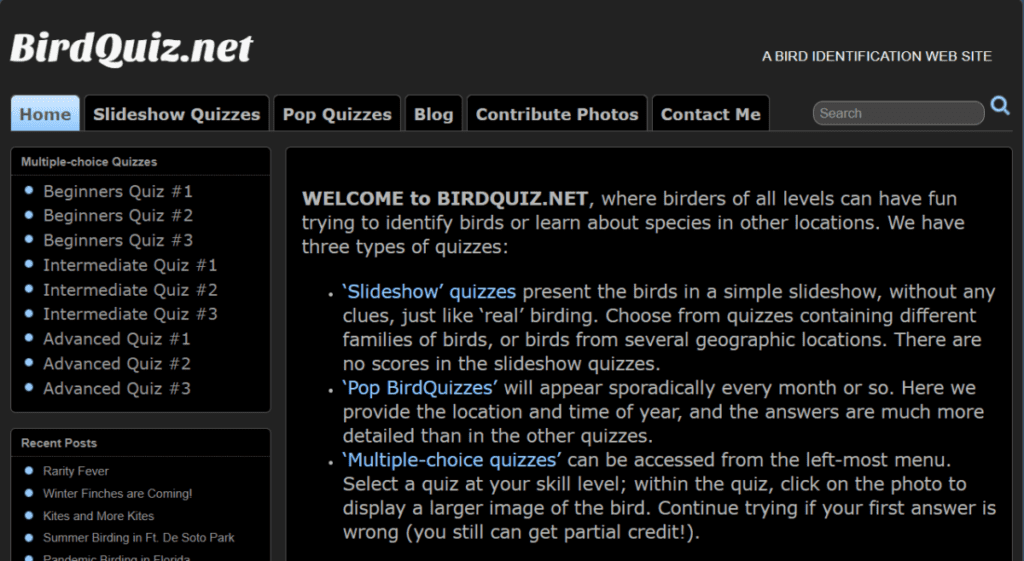 BirdQuiz is a fantastic website where birders of all levels can experience the joy of bird identification or learn about bird species in other parts of the world. It's been around for a LONG time!
This website is an extensive compilation and an excellent resource for any birders out there.
It is jammed-packed with literally hundreds of different posts on quizzes on birds. Here, I have summarized their three main types of quizzes:
Slideshow Quizzes

In these quizzes, birds are typically presented in a simple slideshow with no clues. It simulates the real experience of birding where you have to deduce the bird species without any help.
Here, you are able to choose from quizzes of different families of birds and birds from different parts of the world. Scores here will not be tabulated.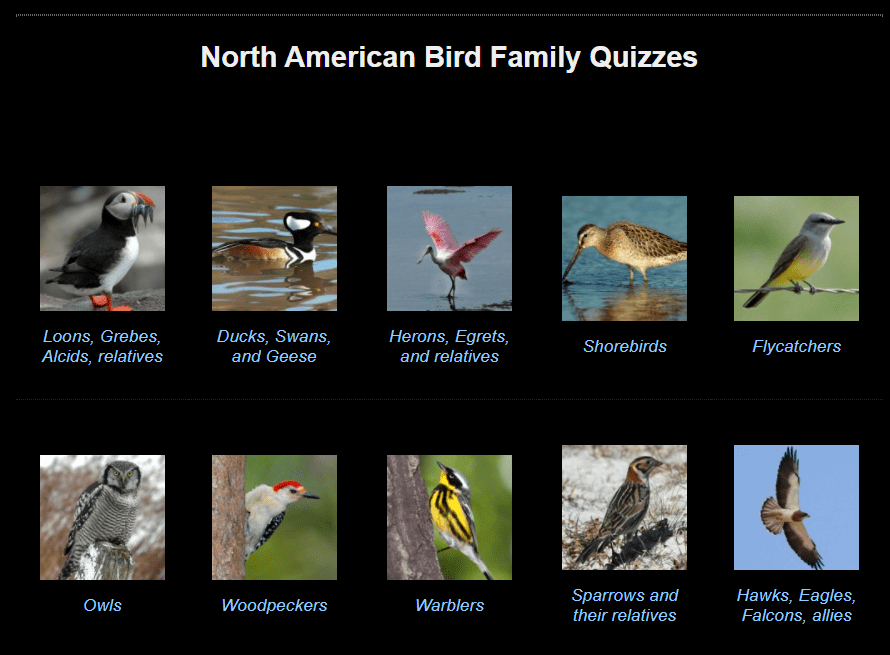 Pop Quizzes

These quizzes will apepar randomly through each month or so. In these quizzes, the location and time of year will be hinted, with more detailed answers.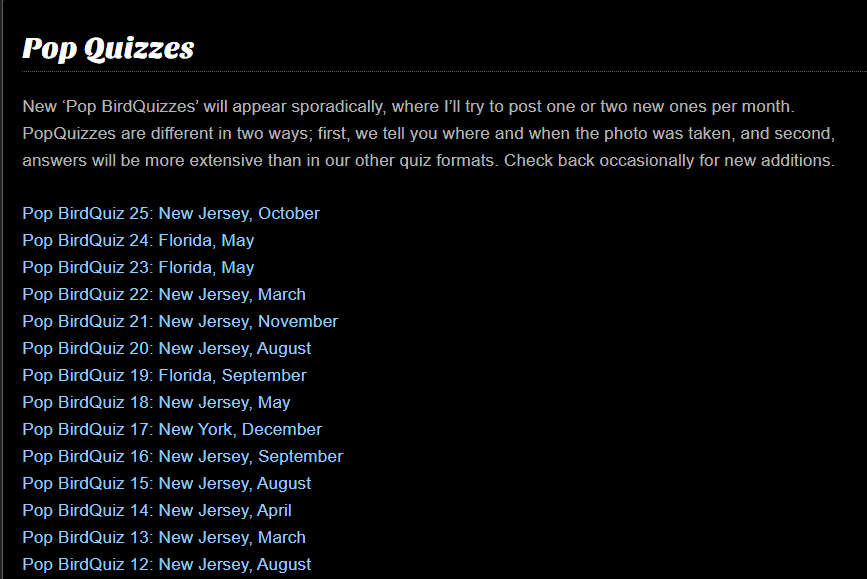 Multiple-choice Quizzes

These quizzes can be scaled according to your skill level. When mistakes are made, you will still be able to continue attempting the question until you get it right.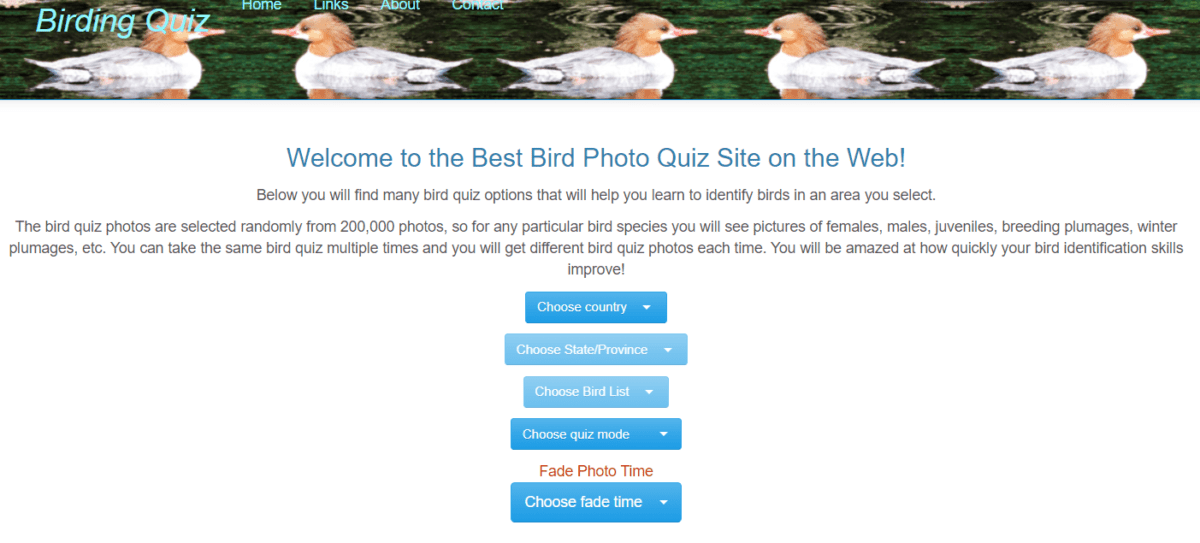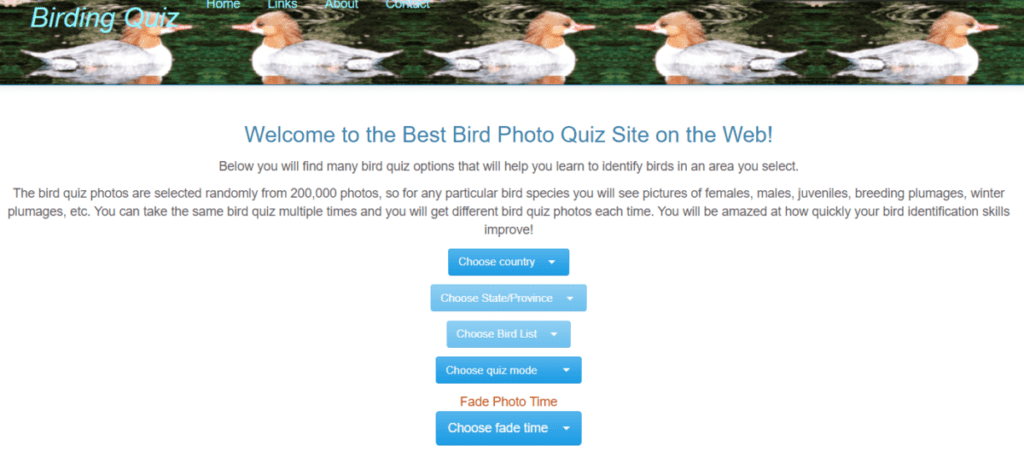 Birding Quiz is definitely NOT for the faint-hearted of birders!
It offers a highly customizable quiz experience.
On this bird quiz website, you will be able to choose what parameters you would like to be tested on. Here are the parameters you can adjust: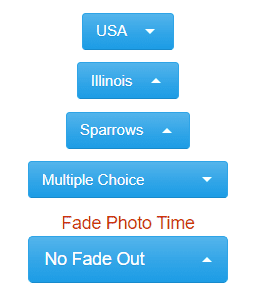 Country

You are able to adjust the geographical location where the bird species resides in. This can train your identification skills for your specific country.

State/Province

You are able to also choose the state/province of the country chosen if applicable. Great for those who are beginners who are only exposed to birds around their state. (E.g. Arkansas)

Bird List

This option is to select whether you would like to be quizzed on the most common birds or a particular type of bird. (E.g. Shorebirds or sparrows or eagles, etc)

Quiz Mode

Select the mode you want to be quizzed on. Here you have two options: multiple-choice questions and advanced.

Photo Fade Time

Here you can adjust the photo fade time for the photo shown. It ranges from no fade to 10 seconds.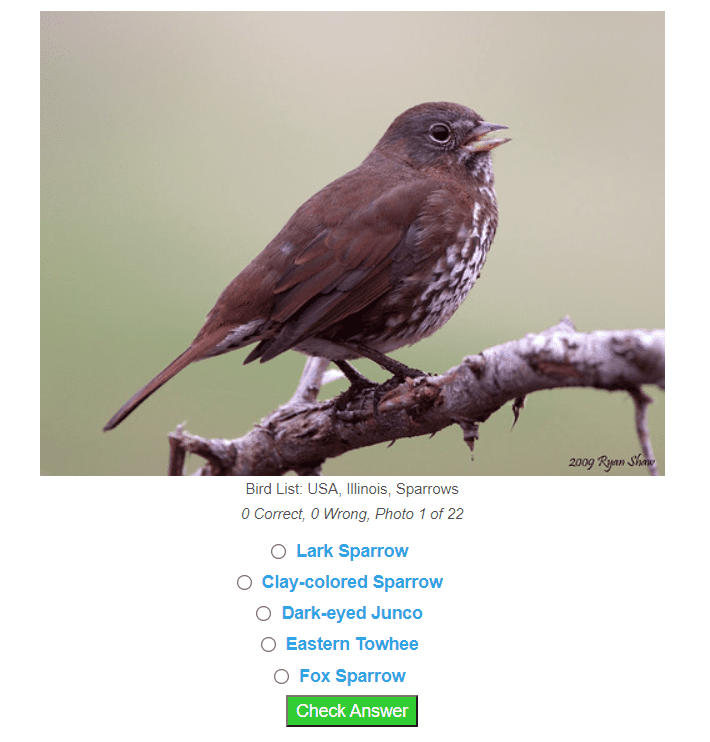 After answering the question, you will be given a link with the bird species in question and an option to choose whether you recognized or didn't recognize the bird. The score will be tabulated after 30 photos.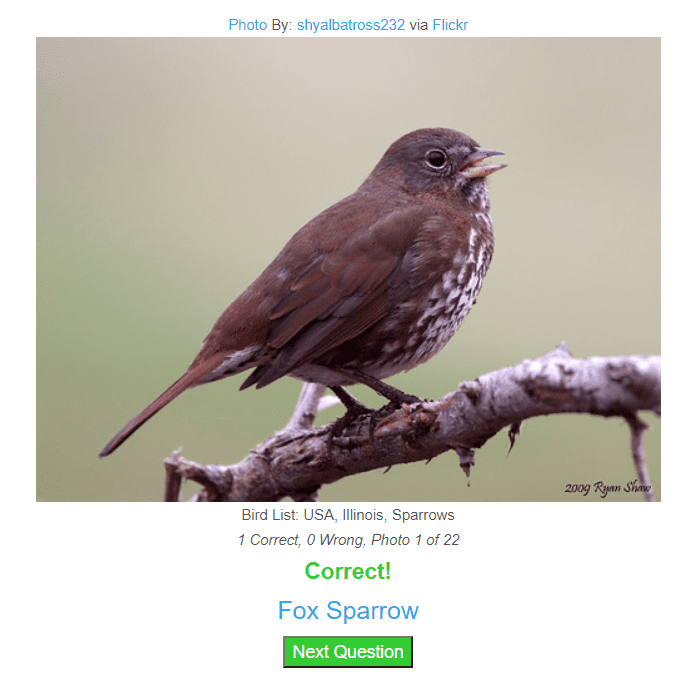 My suggestion: Start with shorter lists progressively attempt longer lists!
Begin with your favorite field guide open as you attempt the quizzes on this site so that you can quickly make an intelligent and hinted guess on the bird in question.
Then you'll be on your way to a new high score!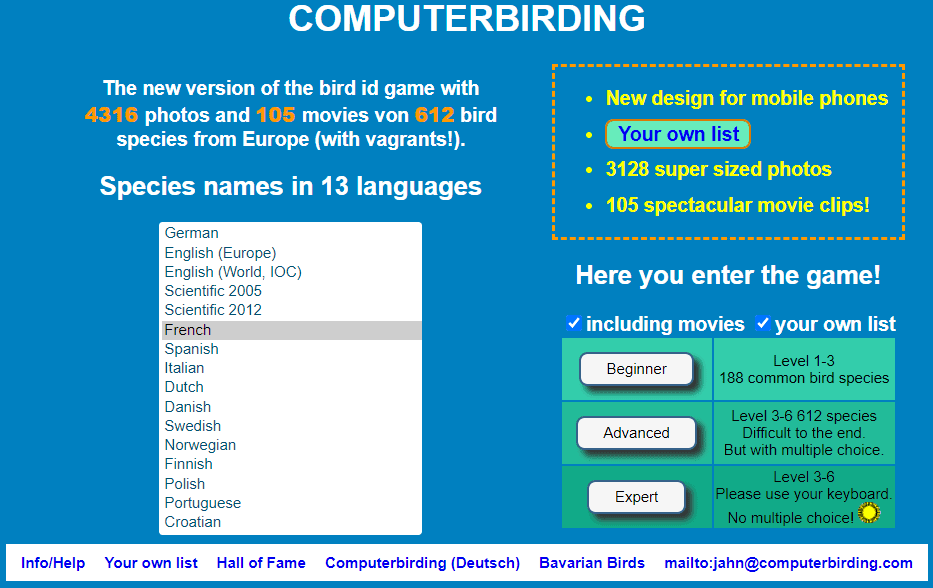 Computer Birding has a simple page layout but an enormous database of birds dedicated to species in Europe.
It boasts a whopping 4316 photos and 105 movies for 612 bird species in total! These bird species include vagrants.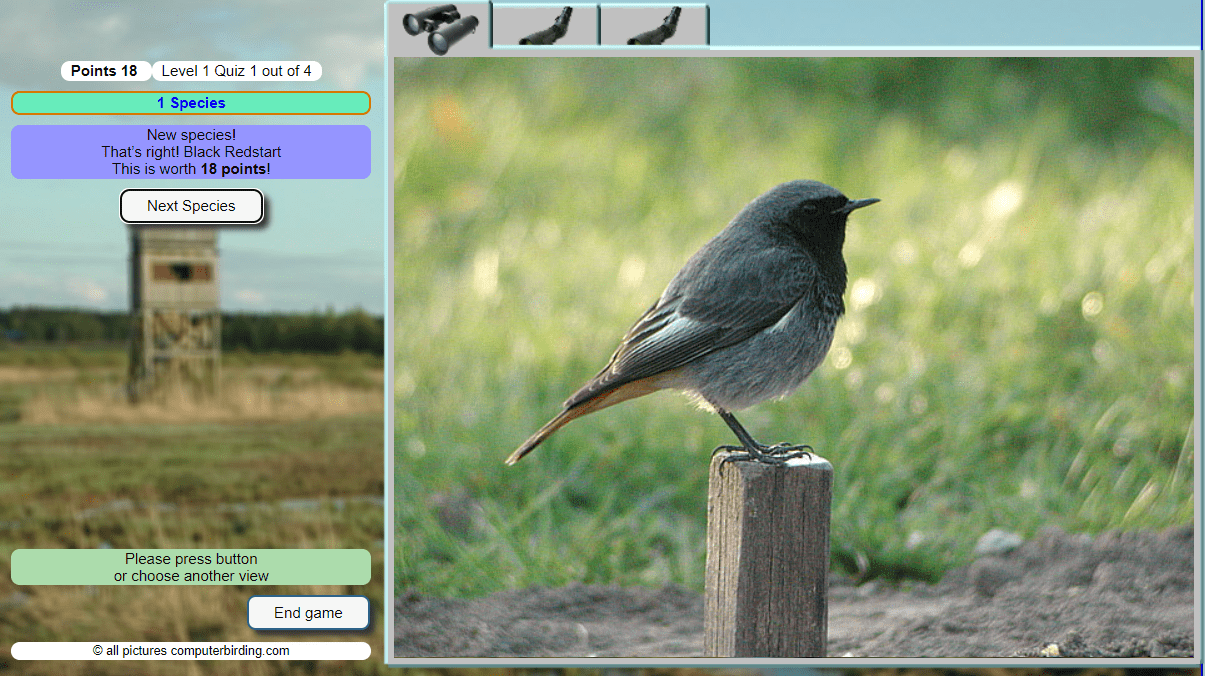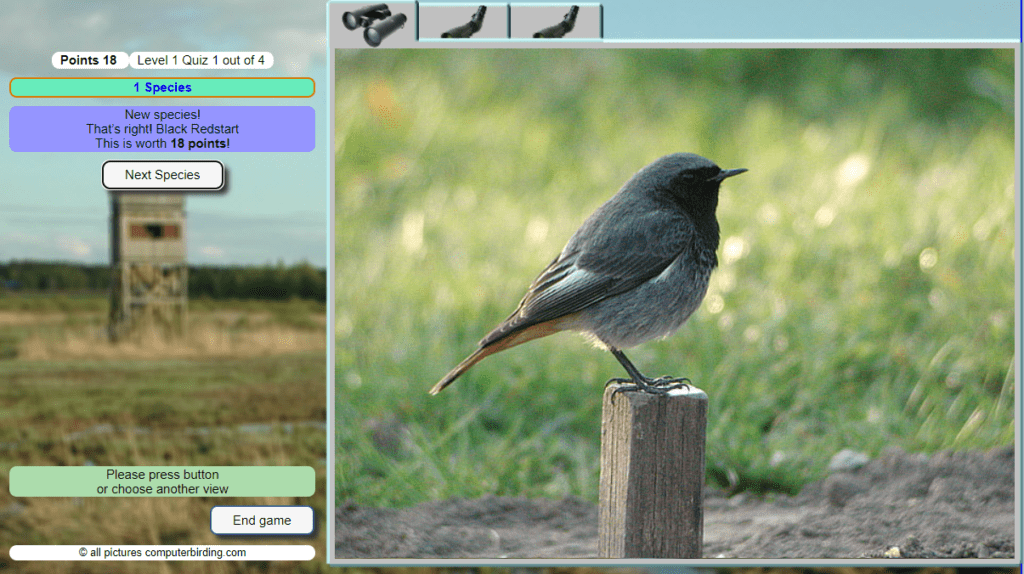 This is an amazing resource because it has the following great features that you should definitely check out:
Quizzes are graded into 3 levels

The quizzes are graded into three levels: Beginner, advanced, and expert. In these separate levels of difficulty, you will be tested on 188 common bird species, 612 species, and non-multiple choice questions respectively.
Great for both beginners and experts alike!

Quizzes available in 13 European languages

Not many other quiz websites and resources boast quizzes on European languages. Only this one does!

Upload your own bird list

With a high degree of quiz flexibility, you can even upload your own bird list and test yourself thereafter.

Register and compete for the hall of fame

After competing in the quiz, you can work towards sealing your name proudly in the hall of fame! You not only learn new bird species but also glory! Yay you!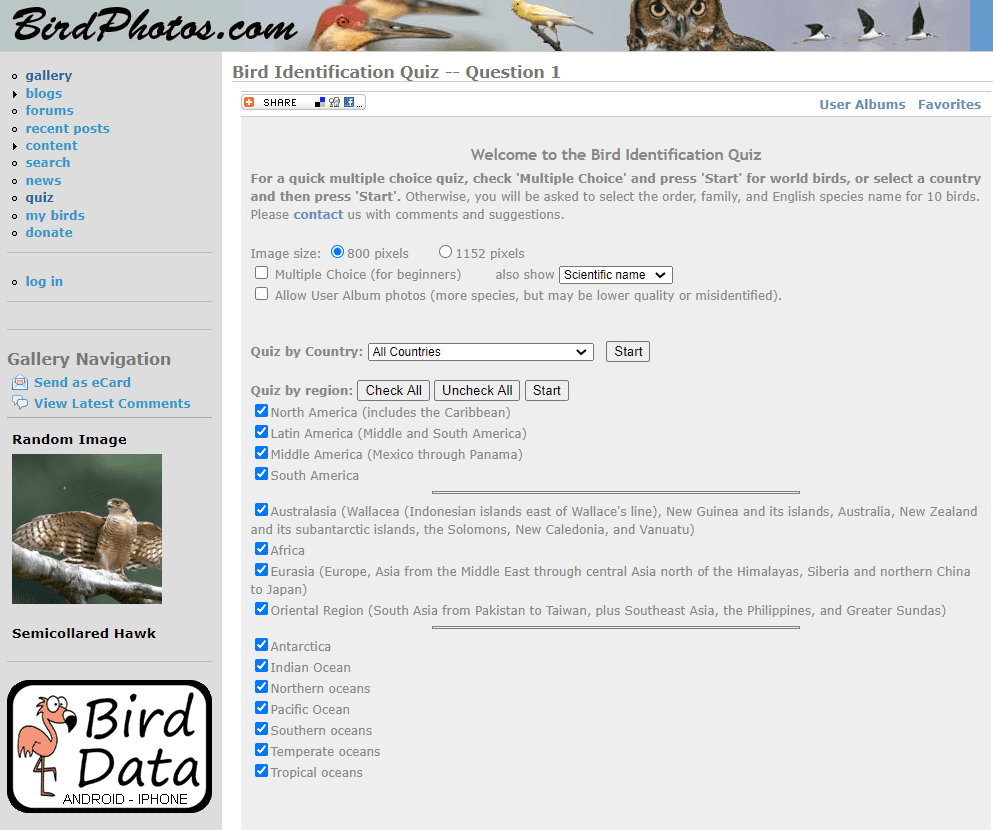 Bird Photos is a website originally hosted for the purpose of collecting bird photos in an online gallery.
What's interesting is that I found a hidden gem: its quiz page!!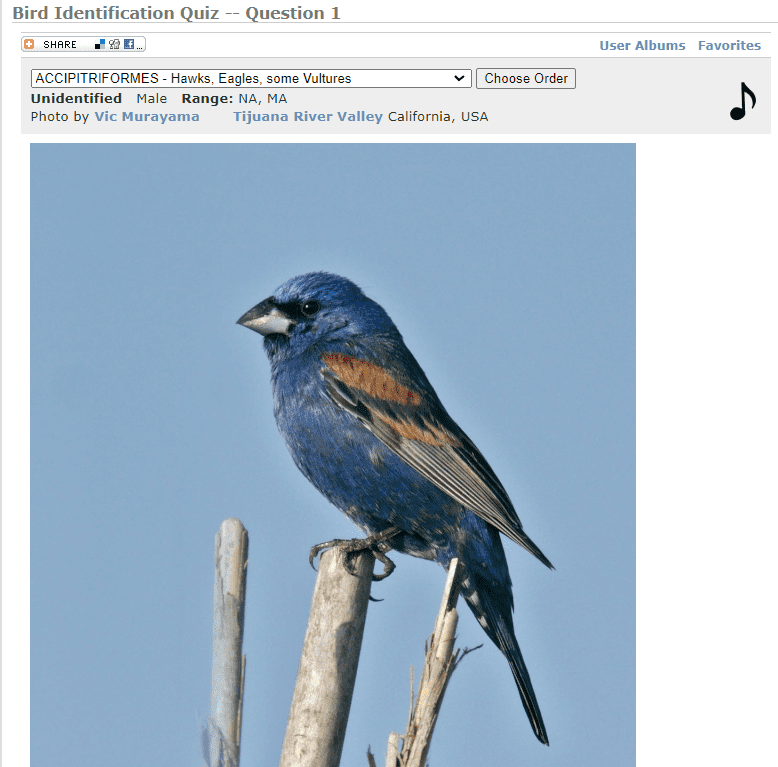 Its quiz page boasts an extensive bird photo database of 10,000+ bird species due to its huge collection of bird photos over time.
The quiz also offers high customizability in the following features:
Quiz Types

Here you can choose how you want to be tested: multiple-choice questions or no.

Country

You can select a country according to your preference.

Region

You can additionally also select to be tested on bird species from multiple regions.

However, what makes this quiz platform different from the others is its bird sounds.
Yes, this is the only online bird identification platform that features the birds' sounds!!
This is a great feature for you if you want to learn to do birding by ear!
By learning how to identify bird sounds like calls, songs, and chirps, you'll be able to know which birds are around even if you can't see them outdoors!
Final Thoughts
Well, that was all the good birding quizzes that I could find and compile. Some of them are just not worth the time at all! But these are great!
I hope you have learned something from this article.
Now go and ace those birding quizzes.
Thanks for reading!
Happy quizzing and happy birding!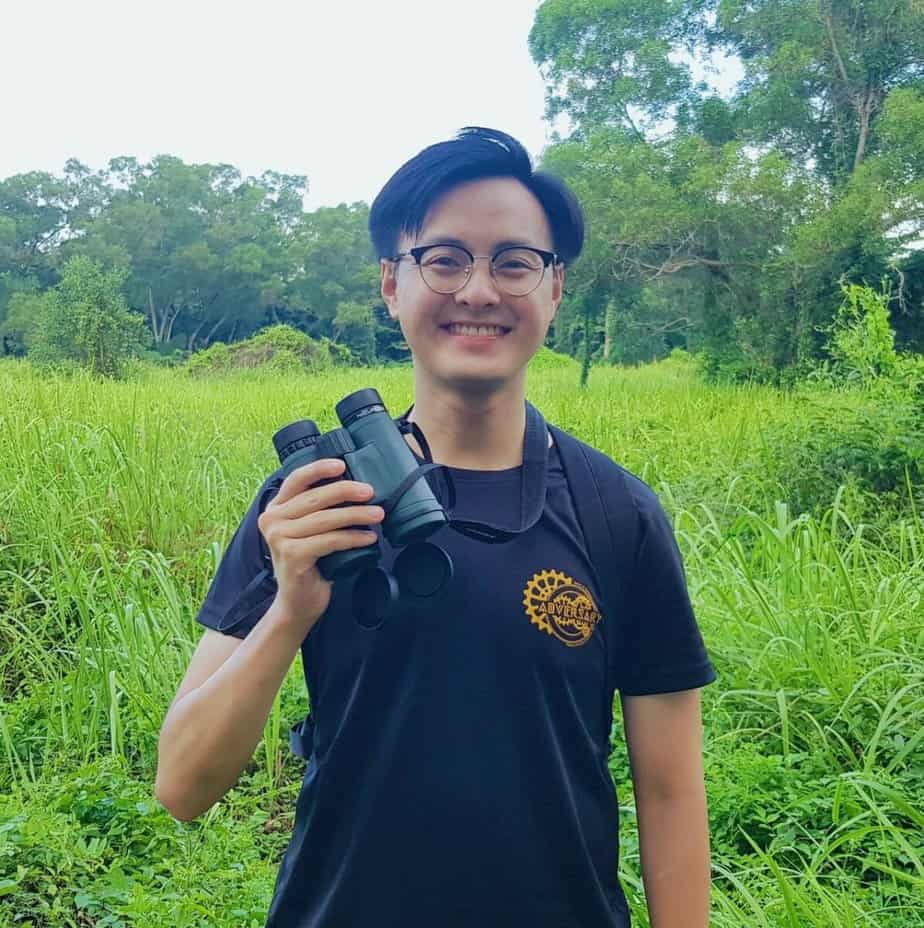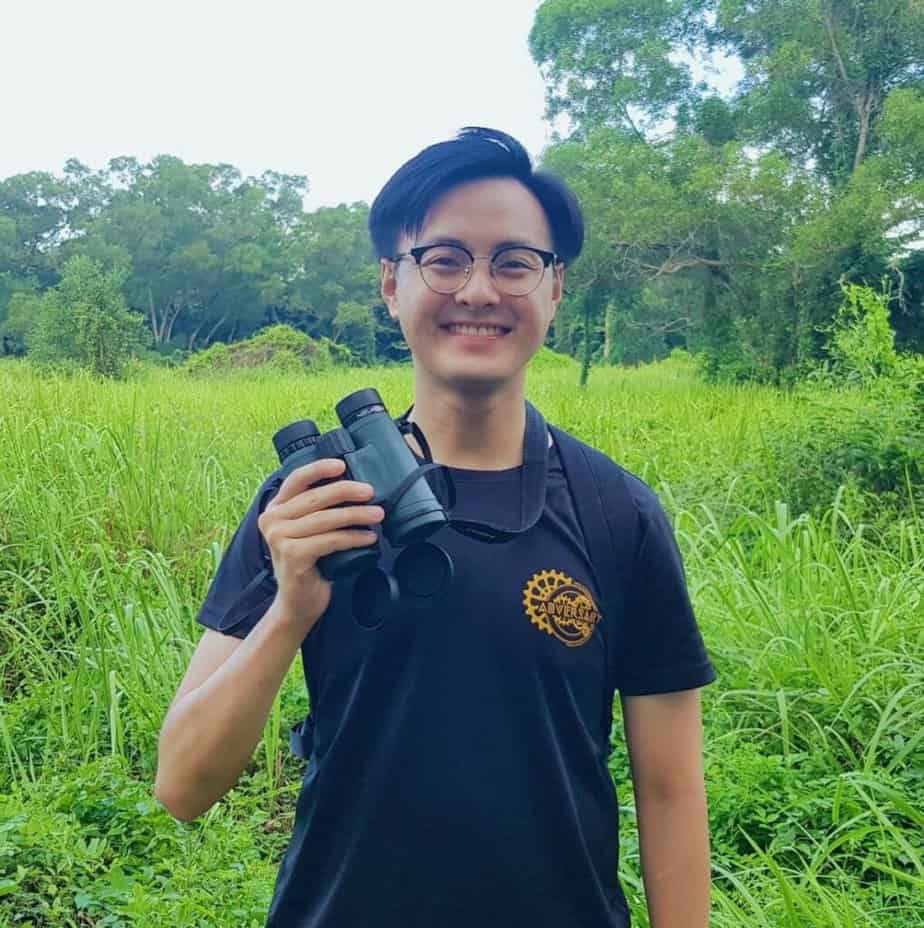 Justin is the founder and author of Birding Outdoors. He is a Nanyang Technological University (NTU) alumnus with a Bachelor of Biological Sciences and a former data analyst.
Now, Justin runs the Birding Outdoors blog full-time, hoping to share his deep love for birds, birding, and nature with others.
To unwind, Justin enjoys gaming and reading.