5 Best Bird Identification Apps (Won't Regret Using These!)
Bird identification apps can really help us out a lot when we go birding. As I wanted to find the best bird identification apps to use, I did some research and compiled a list of them so you don't have to! Here's what I found:
Here are the 5 best bird identification apps:
Merlin Bird ID
Song Sleuth
BirdNET
Collin's Bird Guide
Audubon Bird Guide
Okay, now I'll go into the details for all the bird identification apps listed above. Trust me, it will be good. Read on for more! (Links provided down below too!)

Summary:
Merlin Bird ID is a very sleek and modern-looking app that was designed to help with bird identification. If you've ever wondered to yourself: "What is that bird?", after you've used this app, you'll never think that again!
This app has access to a massive field guide and uses a search engine to figure out the bird in question.
The app starts its bird identification process by starting with some questions that request for the bird's color, size, and behavior.
As people tend to describe birds in different ways, the app spits out a list of possible species that are likely to be in that area.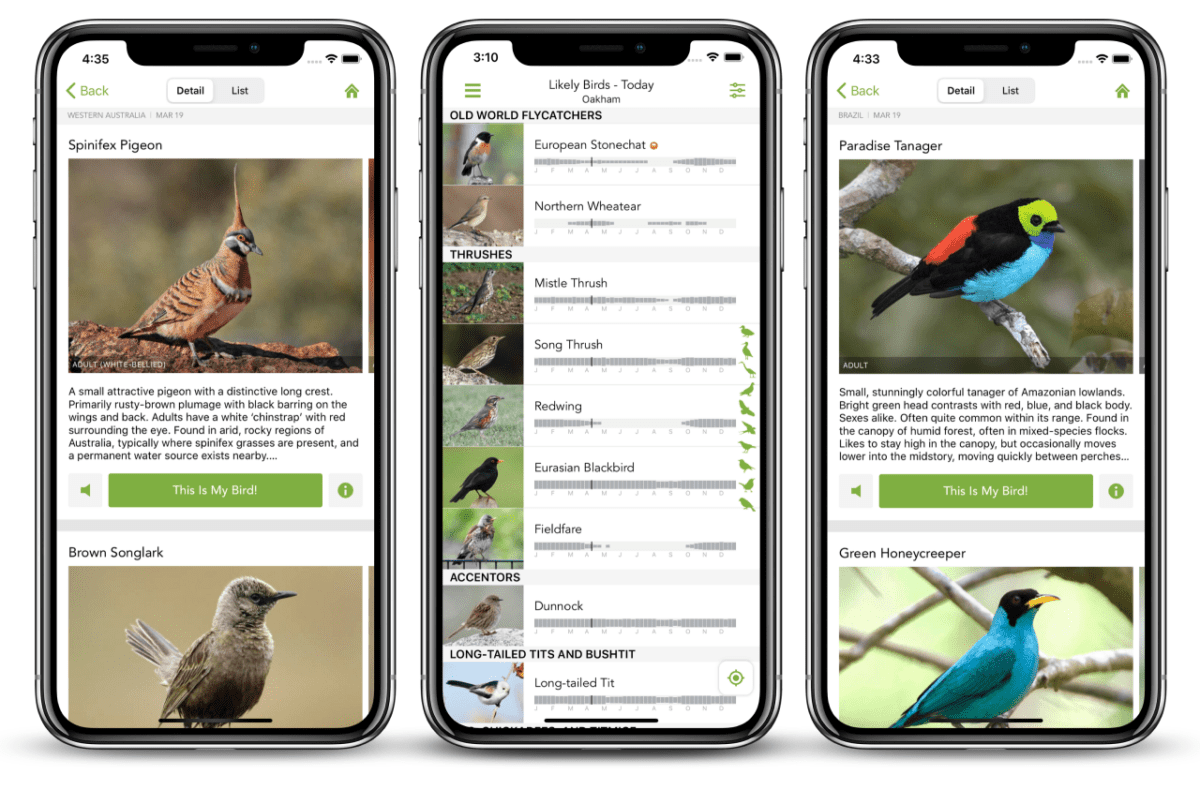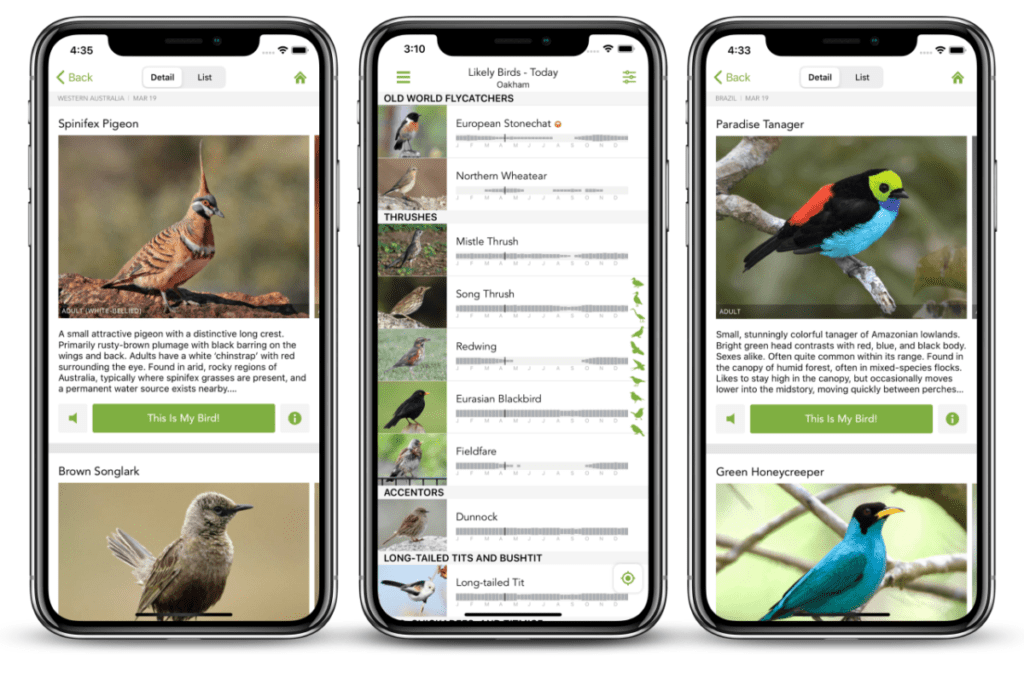 The database that is provided to the app is contributed by lots of expert birders who provide accurate information, supported by the thousands of bird enthusiasts that also help out.
What's special about this app:
The app has a really cool feature called the Photo ID feature!
All you have to do is just to point your phone's camera at the bird at shoot! With a picture, the app will run its magical algorithms in attempt to predict and guess what the bird species of your bird in question is.
The best part about the app is that its absolutely free! That's right, you don't have to pay a single cent. However you may choose to donate, if you wish to do so.
So beginner birders out there, make full use of this free resource of birds to help you in your bird identification today! I've personally tried this and I REALLY enjoy the app, especially the interface.
Also, recently they added a feature called sound ID, where you can record a bird singing, and it will try to predict the bird that made that sound!
Link to app:
This app is available on both iOS and Android.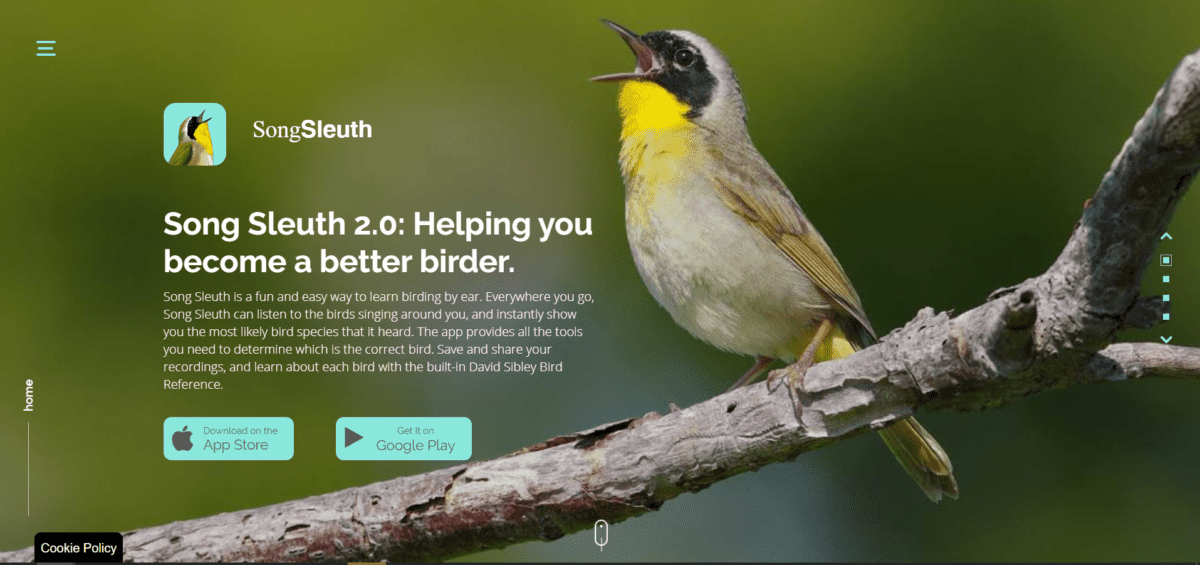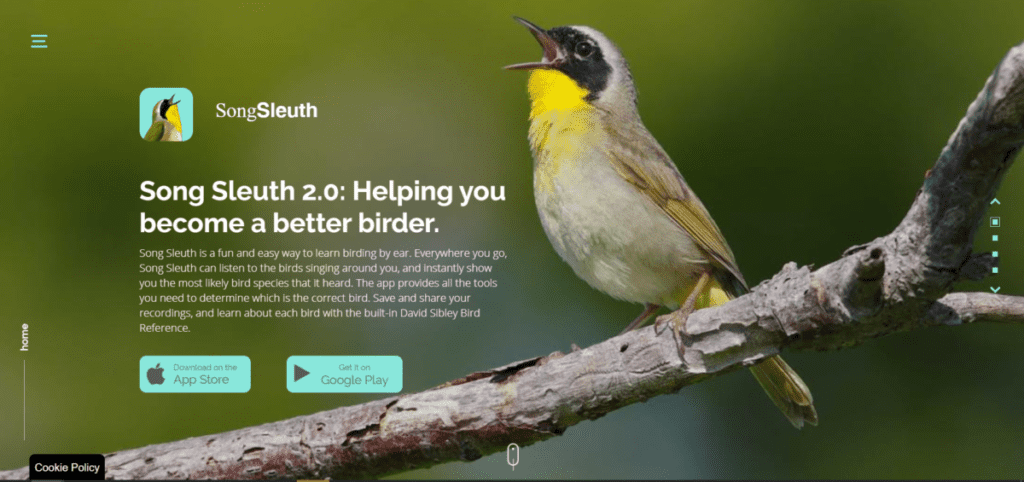 Summary:
To be honest, I had to google what a sleuth was because I didn't know. A sleuth is another word for a detective!
So this app actually assists you in your detective work in putting an ID to a bird of choice!
However, this app is a little different from other conventional apps that predict the bird's ID with a picture.
It listens to the audio of a recording you submit and produces a list of likely matches.
The app does so with some advanced algorithms that will automatically recognize the songs of more than 200 bird species heard in North America. With each recording submitted, the app returns 3 most likely results.
This app isn't just for beginners, but also for birders in the intermediate range who want a little hint to help with their identification of birds.
In this app, you will also be able to save the recordings that you made, view them, and share them with others. It's a great way to log down your recordings all in one convenient place.
The app also has a unique feature called the Similar Song feature!
This feature allows you to choose a particular bird song and see an extended list of bird songs that are very similar to the one selected. It's a great way to iron differences in similar-sounding bird calls.
This is a great way for you to practice birding by ear so that when you go out birding, you'll know which bird you're hearing straight away!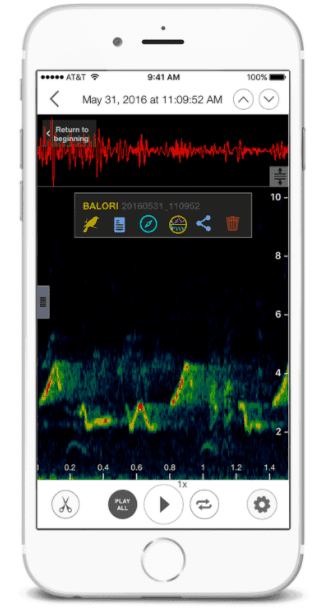 What's special about this app:
The app boasts a great and easy-to-use user interface that allows for a pleasant user experience!
When submitting recordings, it's also perfectly okay to have a little background noise because the app also features lots of advanced editing tools to help you to filter any unwanted noises!
As Song Sleuth listens, it will start to display a spectrogram – a colorful visual representation of what it's hearing. This powerful feature is a great way to help you visualize the bird's song in real-time.
It's really cool to see the pitch of the birds increase and decrease as they sing their beautiful songs. It's also a great way to look at the frequency of a call that your bird may be making.
The spectrogram works as a great tool to assist advanced birders to pick out differences between bird species that sound very similar.
Link to app:
This app is available here on iOS and Android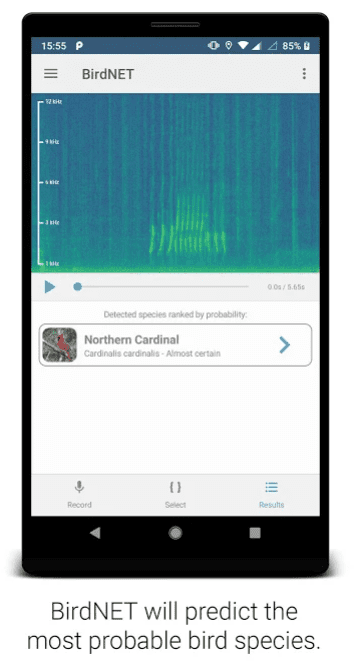 Summary:
BirdNET is the product of a joint research project of the Cornell Lab of Ornithology and Chemnitz University of Technology.
It uses artificial intelligence (AI) and neural networks to identify 1000 of the most common species throughout America and Europe.
This app works by recording your environment with bird sounds. Then the app will receive the recording, process it using AI on the computer side, and send it over to you to see the likely results.
This process may seem very long but in actual fact, it only takes seconds to produce a prediction on the birds you are hearing!
However, in some cases due time is taken to transfer audio recordings to their computer servers, the response time will be a bit slower, but for the most part, they are ok to me!
One thing to note on this app is that it can't really take any background noise as that will only confuse it. Other sounds like cars, planes, and even the wind can really confuse the app.
What's special about this app:
As someone who loves to dabble with artificial intelligence, the geeky stuff about this app really excites me.
The app uses an advanced artificial intelligence method to tackle bird identification, which is unlike the other apps, which only run through normal algorithms.
This app has been trained to pick out the right bird to match the right sound really well! Don't just trust me, you can have a look at the good reviews on this app to see for yourself!
Link to app:
The app is only available on Android.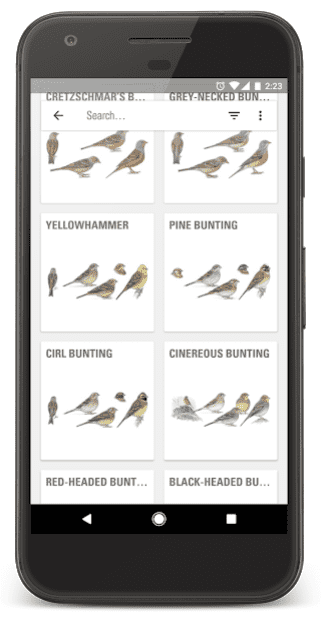 Summary:
This app was designed for intuitive design, combined with beautiful illustrations of birds, alongside very comprehensive information on birds.
The app acts as a standard European field guide to help those in the UK make the right decision in identifying birds.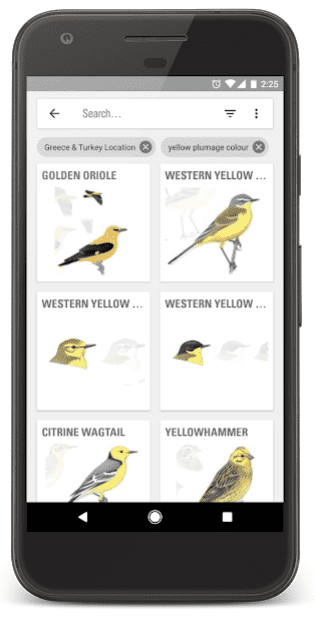 This app is all you need to identify a species quickly. The app is cleanly and neatly classified into different bird types such as seabirds or birds of prey.
You can select whichever category your birds are likely to be into, then look through a comprehensive list of birds.
The app also features a powerful search function to search for a bird in question.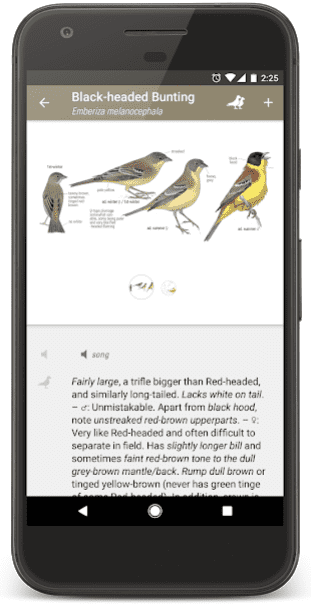 The app features the following:
• Over 700 European species covered
• 3500+ beautiful illustrations by Killian Mullarney and Dan Zetterström
• Record sightings, location, and date with the listing tool
• Over 750 carefully selected songs and calls – many by Lars Svensson
• Select species names from 18 languages
• Available in English, Swedish, Norwegian, French, and German
What's special about this app:
This app has absolutely beautiful illustrations of European birds!
This app was made for any of my European birders out there who need an app to help them out because every other app seemed to only be for North American birds.
The app is available in multiple languages, so you can choose your native language and go with it!
Link to app:
This app is available on iOS and Android.
Summary:
The Audubon Bird Guide app has a beautiful interface! It is also PACKED with over 800 species of North American birds all in one place.
The app was designed and developed for birders of all experience levels, to assist you in identifying the birds in your surroundings.
This app is a trusted and robust app that will help to track the birds that you've seen and prompt you to find the new rare birds around you.
The best part? This app is FREE!!
Bird ID is a useful function within the app that will allow for quick identification of a bird in question using a simple questionnaire.
You will answer some simple questions to narrow down to a list of potential birds. Questions include: "What color was it?" and "What did its tail look like?".
The matches that result are generated based on the date and location in real-time, drawing from the rich database from eBird.
The app also features over 3,000 photos, over eight hours of audio clips of songs and calls, multi-season range maps, and in-depth text by leading North American bird expert Kenn Kaufman.
The app also allows you to post your photos to the Photo Feed so other Audubon Bird Guide users can see your best bird shots.
The app also displays the latest news from the world of birds, science, and conservation so you can start voicing out for causes, right from the app.
What's special about this app:
This app isn't just for bird identification alone, it also provides lots of other really useful features when you go out birding.
Having too many apps will just take up too much space within your phone and cause too much clutter.
This app also features the Sightings feature which helps to keep a record of an updated life list for you.
So whether you are casually strolling to grab some groceries, hiking in the woods, relaxing in your backyard, or trekking through the jungle, the app is a great place to store and keep track of all your sightings!
Link to app:
The app is available on iOS and Android. Here's a link to their website for more information.
Final Thoughts
With technology these days, gone are the days where we would have to flip through our thick field guides while out in the field. Not only were those old methods of identifying birds slowly, but they also took our eyes off the birds.
Today, all we need to do is make use of some great visual and audio recognition technology in these bird identification apps to our benefit!
Embrace the new technology today, and experience a richer and more fun bird ID-ing experience! Try downloading them today!
Happy birding!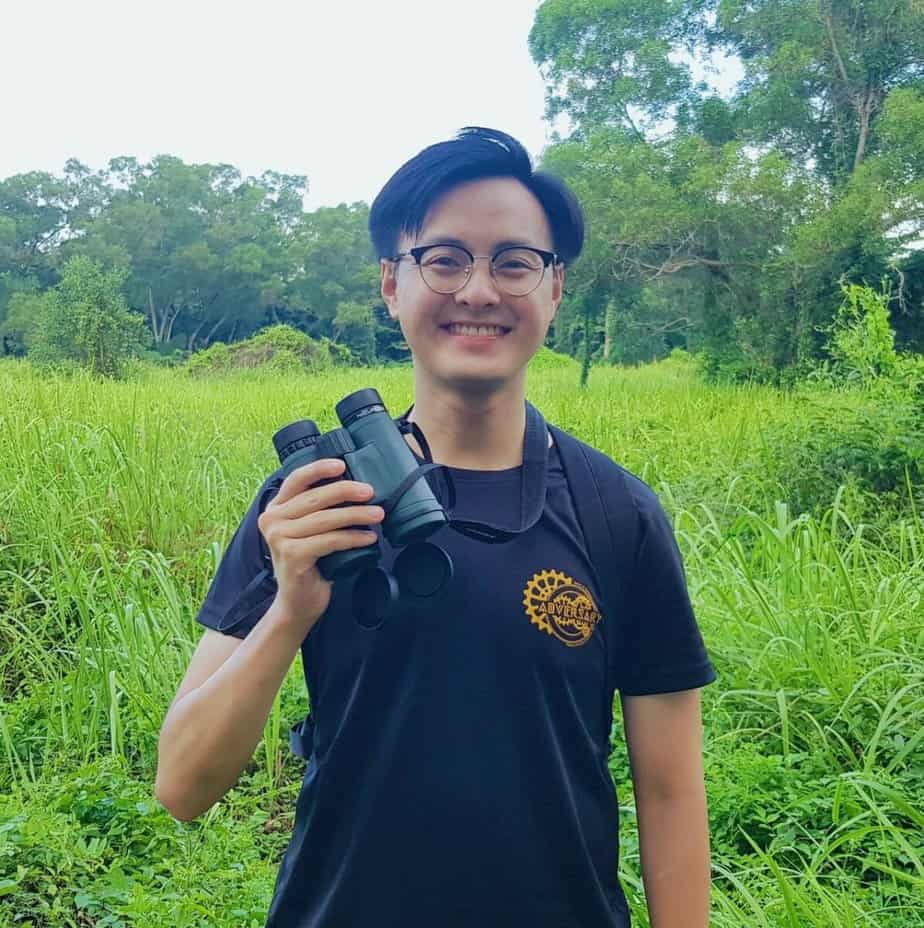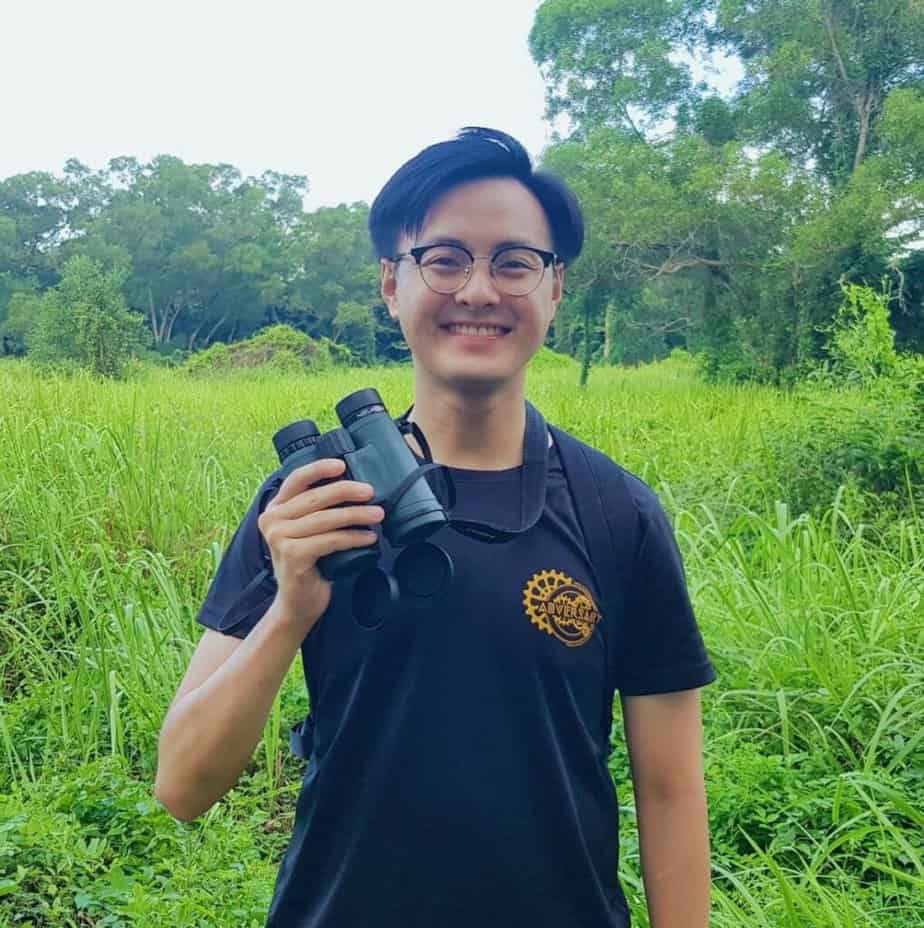 Justin is the founder and author of Birding Outdoors. He is a Nanyang Technological University (NTU) alumnus with a Bachelor of Biological Sciences and a former data analyst.
Now, Justin runs the Birding Outdoors blog full-time, hoping to share his deep love for birds, birding, and nature with others.
To unwind, Justin enjoys gaming and reading.