Top 20 Most Common Birding Slang (Definition + Examples!)
We're reader-supported; we may earn a commission from links in this article.
Have you ever been out birding but realized that you are missing out on a lot of bird watching slang that others seem to always be talking about? Me too!
So I went online to do a little research of the top 20 most common birding slang words that I've heard/seen. Here's what I found:
Top 20 Most Common Birding Slang Words
Dude
Twitcher
Birder
Lifer
Big Year
Big Day
Binos/Bins
Dip
Tick
Megatick
Crippler
LBJ
Crush
Jizz
Pish
Nemesis/Nemesis Bird
Vagrant
Pelagic Trip
Flush
Warbler Neck
Birding slang words are always a good-to-know because of how commonly they are used in the community, even while online. With that said, let's go more into the details and what each slang word means.
1. Dude
A dude is a bird watcher that is a novice that typically doesn't know too much about birds.
They are those that try bird watching for the novelty and do not really take the effort to put an ID on birds.
They also typically are satisfied with just discovering the more common birds in the area.
The dude is not as interested in birding as the birder.
2. Twitcher
A twitcher is typically someone who is obsessed with growing their life list of birds by chasing after rare birds recently sighted by other people.
These are the type of people who will take the time and effort to travel hours to see a single small plain bird for its novel sighting.
They are not too good at identifying birds but are more concerned with sharing their long life list with other twitchers.
However, one does need to be a twitcher to twitch.
The act of twitching can also be a one-off event where a person goes out with the specific intent of catching a sighting of a rare bird.
3. Birder
The birder is someone whose enthusiasm for birds lies in between a twitcher and a dude.
Birders take the hobby with keen interest but do not get too obsessed with it.
They are typically well-equipped with good bird identification skills and they will know the typical local birding sites.
They are not as extreme as twitchers, and not as casual as dudes.
4. Lifer
A lifer refers to a bird that a birder or any individual has never seen in their life before, hence the term.
Basically, when a person sees a specific bird in the flesh for the first time ever, that bird is called a lifer!
5. Big Year
A Big Year is a birding event where birders gather to compete to find as many bird species as possible within a specified area.
This area can be a country, state, city, or country. This all takes place within the span of a single calendar year.
The event was first organized by the American Birding Association and the birding movie The Big Year.
Here's the movie trailer:
6. Big Day
A big day is a birding event similar to the big year but happens within the span of a single day instead of a single calendar year.
In this birding event, individual birders of teams of birders will compete to find as many bird species as possible within a specified area. (Can be county, state, country).
7. Binos/Bins
A slang word for a pair of binoculars.
Typically used for the convenience of speech.
8. Dipped out on
To be dipped out on is to miss out on seeing a bird that they were looking for.
The bird missed is known as a dip.
This phrase is usually used when you are going out to twitch and got dipped out on the bird in question.
9. Tick
A tick is used in a sense similar to ticking a task off a list.
In birding, this term is used to refer to an addition of a never-before-seen bird species to a personal list of birds spotted.
A life tick and lifer are synonymous.
10. Megatick
A megatick refers to an addition of a never-before-seen rare bird species to a personal list of birds spotted.
(More satisfying than a tick!)
11. Crippler
A crippler refers to a bird that is so captivating and stunning in its appearance that it "cripples" a person from moving on.
In other words, it is a bird that absolutely captivates a birder/person!
This term is typically used in the UK but also in some other areas of the world.
12. LBJ
LBJ stands for Little Brown Job which refers to birds that are small and brown, often with dull colors.
In these groups of birds, they look almost alike in their appearances and are difficult to differentiate.
Oftentimes, female and juvenile birds can be called LBJs, and their identification can be difficult even for the best of birders. This is due to their mostly less distinctive plumage.
13. Crush
This term is often used in the US.
To crush is to take very superior quality photos of a bird and is often referred to as a banger.
14. Jizz
Jizz refers to the rough overall description that can be given to a bird.
It often encompasses aspects such as its general shape, movement, behavior, plumage, etc!
Birders who have more experience can often identify their birds with just jizz alone.
15. Pish
This is a noise that birders can make with their mouths that sounds like shushing or hissing that attracts the attention of birds.
This is done in imitation of the alarm calls of certain birds!
16. Nemesis/Nemesis Bird
A Nemesis/Nemesis is a bird that has eluded a birder multiple times after taking multiple attempts to spot it.
Here's a video of how Badgerland Birding attempts to chase their Nemesis Bird: The Yellow-breasted Chat.
17. Vagrant
A vagrant is a bird that has strayed outside of its typical ecological range and is not expected to be seen where it is spotted.
18. Pelagic Trip
A pelagic trip is a boat trip that birders go on to find an open-ocean (pelagic) species.
Birders typically go on these trips to spot albatrosses, gulls, and terns.
Here's a video highlighting a pelagic trip that a young birder went for.
19. Flush
To flush a bird is to approach a bird in a way that causes it to fly or run away from being too close for its comfort.
The act of flushing birds is generally frowned upon in the birding community because it alters the daily lives and decisions of the birds.
20. Warbler Neck
Warbler neck refers to the pain and stiffness of a birder's neck after looking up at birds that are high up in the treetops and canopies.
The term was coined by birders with reference to the New World warblers in the US, which are commonly found at the treetops.
Also, if you're really dreading this, then the National Audubon Society has some stretches and exercises to get your neck feeling better.
Here's a video they produced:
Final Thoughts
Now that you know all the top 20 most common birding slang words, I'm sure it's going to be easier to for you to catch what all the other birds are saying and what they mean.
Hopefully, this has been helpful for you! Thanks for reading!
Happy birding!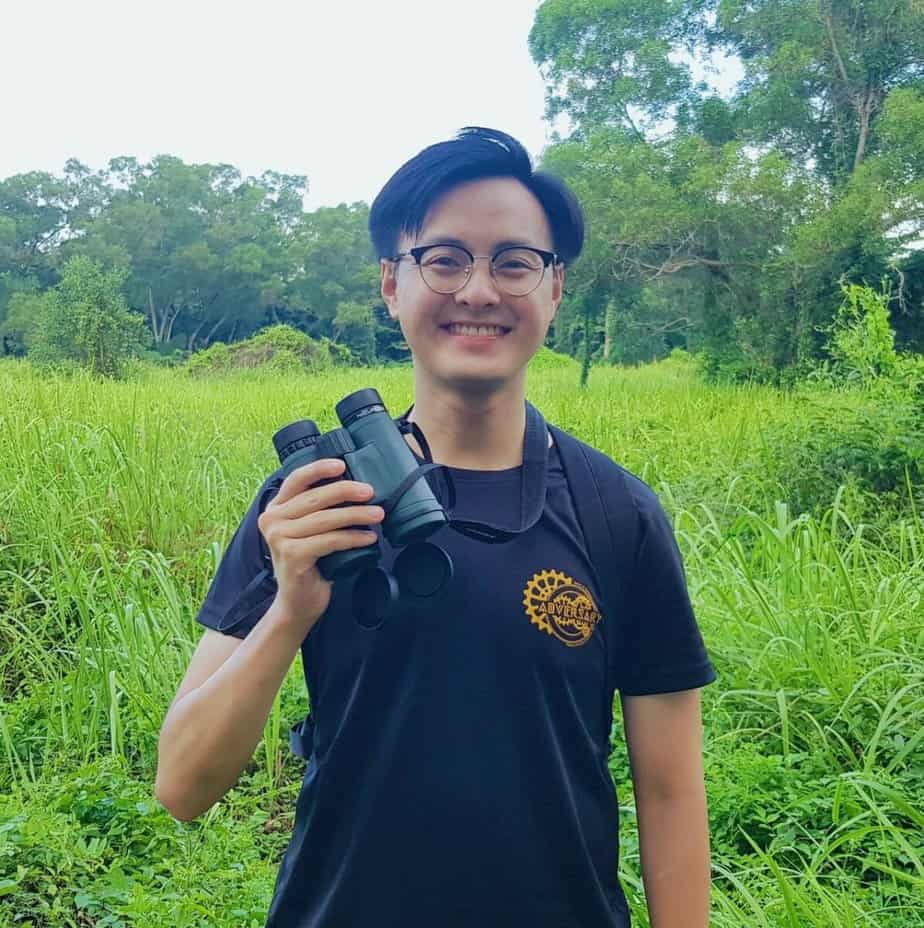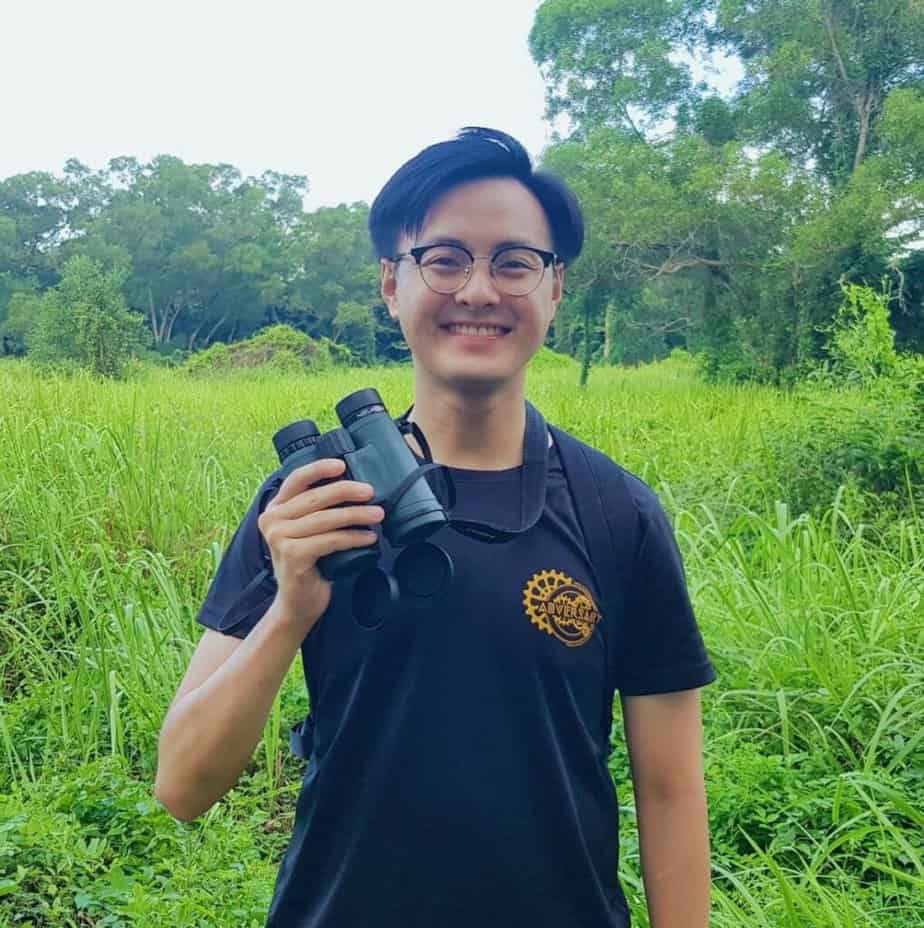 Justin is the founder and author of Birding Outdoors. He is a Nanyang Technological University (NTU) alumnus with a Bachelor of Biological Sciences and a former data analyst.
Now, Justin runs the Birding Outdoors blog full-time, hoping to share his deep love for birds, birding, and nature with others.
To unwind, Justin enjoys gaming and reading.