6 Best Budget Spotting Scope (Reviewed for 2023!)
Spotting scopes are one of the most common pieces of equipment for a birder and for recreational uses.
While out bird watching, spotting scopes can assist birders in observing birds over long distances.
However, there don't seem to be many articles online that talk about budget-friendly spotting scopes that beginners can consider.
As I was considering purchasing one for myself, I decided to do some extensive research on the internet.
Here's what I found:
Top 6 Budget-Friendly Spotting Scopes For Bird Watching:
Here's a summarized table of the Top 6 Budget-Friendly Spotting Scopes For Bird Watching:
Now even though these spotting scopes may all be in the budget-friendly range, there are some caveats to each of them that you need to consider before you buy.
Do read on to find out more!
How to Choose the Best Budget Spotting Scopes
Choosing an affordable scope can be challenging if you don't know what to look for. Here are some tips to help you make the right choice:
1) Consider Your Budget
Consider your budget and the features it includes, such as the quality of construction, lens size, maximum magnification, optical coatings, and focusing system.
Most likely if you're new, pick a cheaper option over a more expensive one, as you'll have opportunities to upgrade to a better one if you really go pro.
2) Do Your Research
Research different brands and types of spotting scopes before making any decisions.
3) Try The Spotting Scopes Out
Be sure to try out any spotters you're considering before buying — hold them up against a star or other subject to make sure they perform as expected.
4) Do a Check on its Features
Make sure the tripod is suitable for both daytime and nighttime viewing. A stable tripod should be able to support the weight of your telescope without being too unwieldy or heavy.
It's also important to find an eye relief that fits comfortably with your eyesight; this will help minimize fatigue while using the spotter.
What are the Best Budget Spotting Scopes?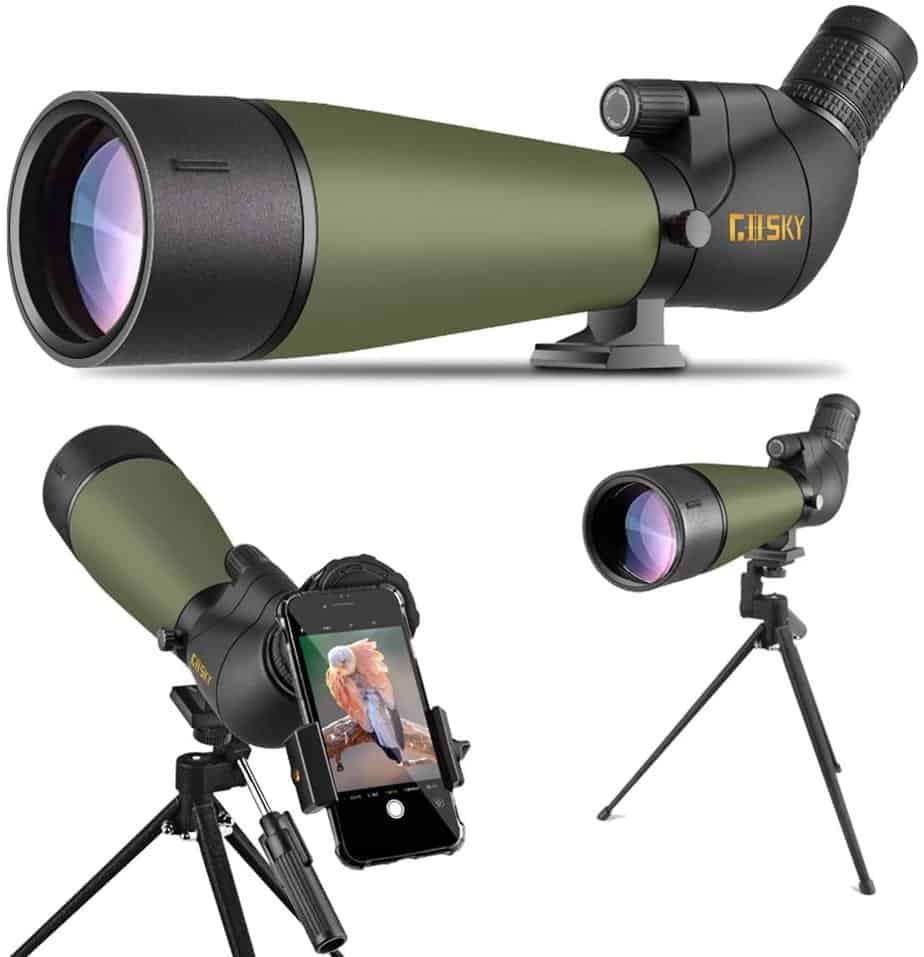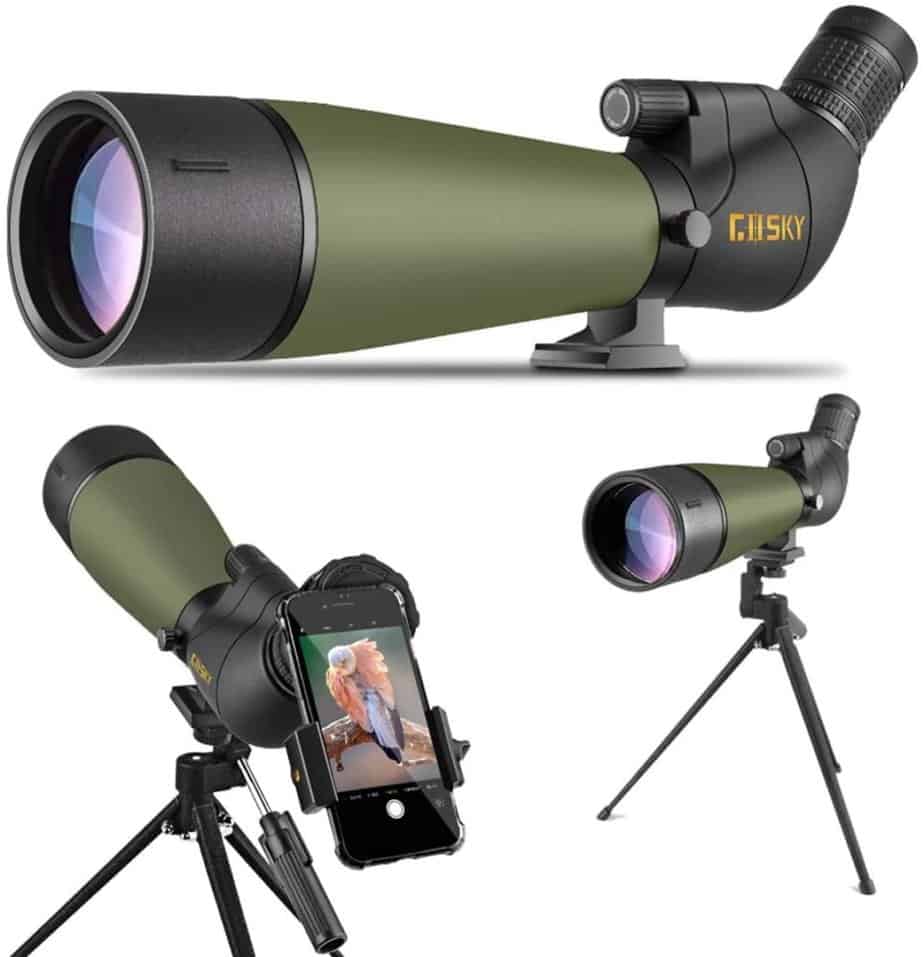 Video of Spotting Scope:
About the spotting scope:
Gosky is a brand that produces lots of affordable optics products and spotting scopes. This spotting scope in particular is great for the price-conscious birder, who wants an affordable product with great value.
Bright and clear imagery
It features a variable 20-60x magnification range and dynamic lens focusing system, which allows for a quick and easy focus on targets. In our case, that's birds or game! This is a very decent-quality spotting scope for the price of a lesser-quality scope.
It produces a crisp, clear image at 20x magnification, and a very useable image at 60x – the point where other scopes in this price range can't seem to produce anything. It's easily as good as scopes that cost 3X more, in terms of image quality at the higher end of magnification.
The scope has fully multi-coated optics such as an 80mm green film objective lens that provides a field of view at 82.9-48ft/1000 yards.
With the 80mm objective lens and Porro prism optics, you'll be able to see bright and clear images because there's more light than will be able to enter the lens.
In my experience, sometimes the light doesn't work in your favor to show the bird's beautiful plumage, with this objective, you'll still be able to see bright and clear pictures in lower light conditions.
Sturdy Build
The scope seems well-constructed, and the focus knob has plenty of travel to it, allow you to fine-tune your focal point easily. The rubber caps that protect the optics fit snuggly. The sunshade at the objective end of the scope is adjustable to cut down on glare. This scope is also waterproof AND fog-proof so you don't have to worry about it when the rain comes.
Great smartphone digiscoping adapter
The cell phone adapter that fits on the eyepiece allows a phone to be fitted to the scope so pics can be taken through the eyepiece. It's a great way to start digiscoping with your smartphone, as photos that would otherwise be impossible, since camera lenses simply can't zoom that far.
A smartphone digiscoping adapter included enables you to take photos and videos of what you have observed. Bring nature closer to you and you can explore the distant world easily through the phone screen.
The spotting scope comes with a tripod, carry case, eyepiece, lens protection covers, and cleaning cloth
A tabletop meta tripod is included that provides you with a more stable observation from any angle. However, the tripod is really short and not suitable for birding purposes because you may not have a table to place the tripod on.
I would not recommend that you place the stand on your cartop because that's just too risky. You should definitely do yourself a favor and purchase another tripod with the money you saved from this scope.
It's great that the set includes a carry case, eyepiece and lens protection covers, and cleaning cloth so you can maintain the scope from the get-go.
The carry case is soft and can do with a bit more padding, so you may want to be careful when transporting the spotting scope.
Pricing
The Gosky 2019 Updated 20-60x80mm HD Spotting Scope costs about $146 (brand new). You can find a completely new set on Amazon here.
Bottom Line:
This is the best budget spotting scope if you're looking for a great way to get started as a beginner. If you are a complete beginner and don't wish to start off with a high-end spotting scope, then this scope is for you.
This particular angled spotting scope is great for those who are looking to try out digiscoping.
The spotting scope comes with a smartphone digiscoping adapter, so you can attach your smartphone and take pictures of your birds at a longer range.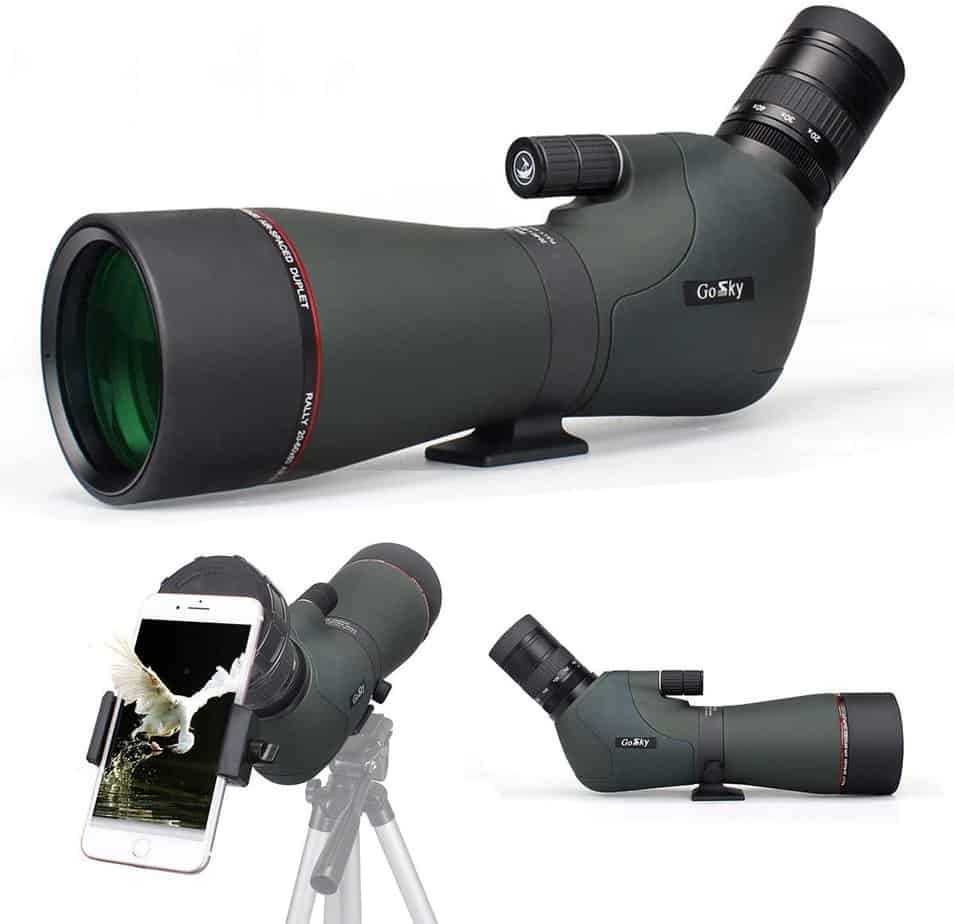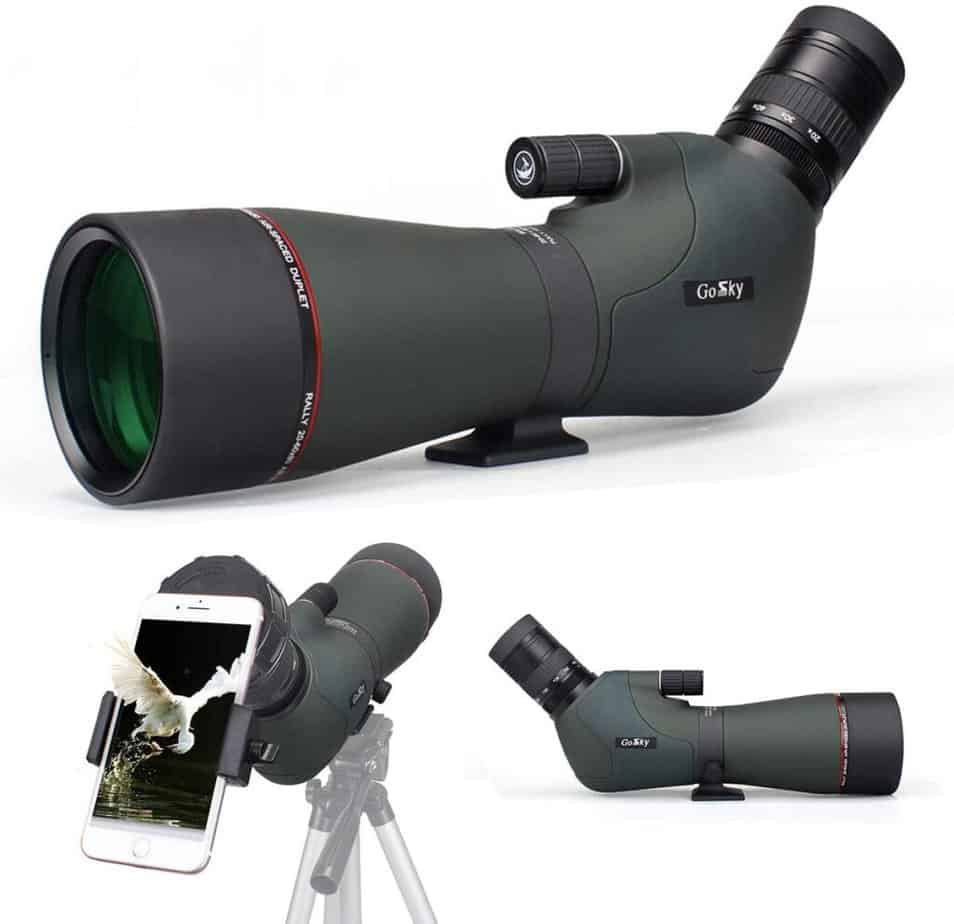 About the spotting scope:
The Gosky Newest 20-60x80mm Dual Focusing Spotting Scope presents itself in a clean and more premium-looking package than the 2019 Updated Spotting Scope (scope number 1 in the list).
Dual-speed focusing wheels
This spotting scope's new design features coaxial two-speed focusing wheels that allow for a smooth and accurate focusing experience.
One is for coarse adjustment and one is for fine adjustment. This is great for birders who need to be shifting positions and depths according to birds' quick movements. The dual-focusing wheels and zoom ring are very fluid and turn with ease. The dual-focusing wheels are a nice feature because it really helps to create quality photos and see great detail on the object you are viewing from a great distance.
Bright and clear images:
The spotting scope features a fully multi-coated 80mm big objective lens that provides a field of view at 105-52ft/1000 yards.
The BAK4 Porro Prisms and 12pcs/6groups lens increase light transmission, and deliver bright, clear, crisp images even in low-light conditions.
This light transmission is great for when you head out birding in the evenings or early mornings when birds are the most active, but also when sunlight is minimal.
Magnification:
The variable 20x to 60x zoom magnification range allows you to view a wide field of view at a lower power and zoom in on details at a higher power. Perfect for target shooting, archery, hunting, bird watching, wildlife watching, hiking, camping, scenery, outdoor sporting, astronomical observation, etc.
Smartphone digiscoping adapter
The spotting scope comes with a new large smartphone digiscoping adapter, which enables you to take photos and videos.
Extra accessories
The spotting scope includes a carry case, eyepiece, and lens protection covers, cleaning cloth makes it more convenient to carry and maintain. The adjustable eyecup folds up and down for comfortable viewing with or without glasses. No tripod included.
Sturdy design
It has a nitrogen-filled waterproof and fog-proof design that enables it to withstand the toughest environments. It also features a durable framework and rubber which provide a non-slip grip, and shock-proof grip to prevent any slips.
Pricing:
The Gosky Newest scope is typically priced around $290. You can choose to purchase it on Amazon at this link. This price is a real bang for your buck given its premium look and feel, and very smooth dual-focusing wheels.
Bottom Line:
This excellent spotting scope if you're looking for an affordable spotting scope although it isn't a high-quality spotting scope, it's not too cheap-looking and not has great functionality.
The dual focusing knobs are great for birders who want to quickly adjust their depth, or slowly tweak the fine adjustment knob for minor bird movements.
This angled spotting scope is also great if you want to attach a smartphone adaptor for snapping high image quality pictures on your smartphone.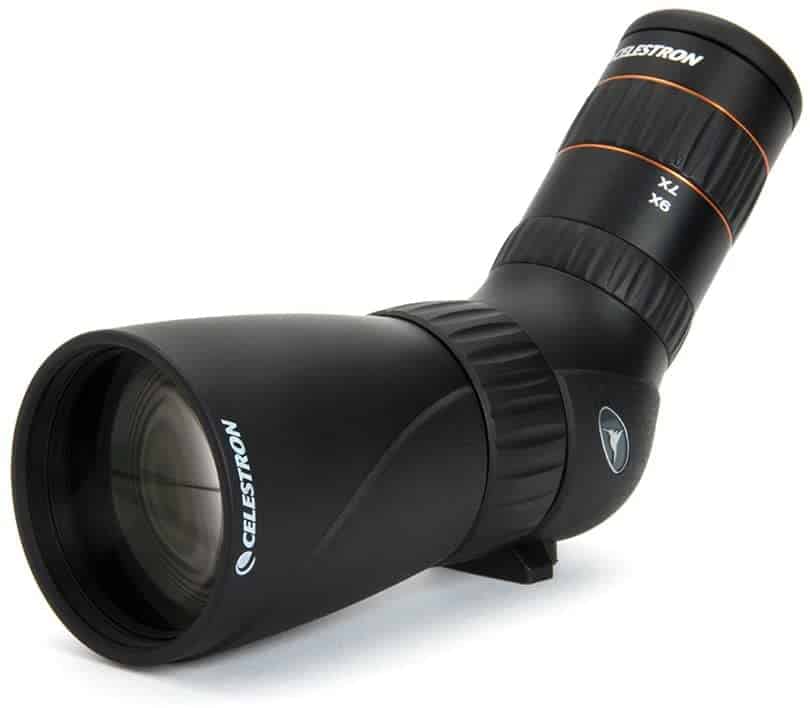 Video of Spotting Scope:
About the spotting scope:
Celestron is a trusted company in the field of optics – it also produced binoculars and oculars which many birder love and use up till this day.
The Celestron Hummingbird ED Spotting Scope is a high-performance and travel-friendly option for birders that want to travel light!
As suggested by the name "Hummingbird" the scope reflects many of the qualities of hummingbirds: its small size, highly mobile (they can fly in almost any direction at will), and capability of long-distance travel.
Highly portable and great for travel:
This scope is highly suited for travel – the Hummingbird is advertised that it will easily fit into a pocket, shoulder bag, or carry-on luggage. However, I would suggest you mount it on a separate tripod, as using it handheld may not be too steady to spot birds.
This spotting scope is perfect for traveling birders as a more travel-friendly alternative to a full-size spotting scope.
The lowest magnification level can also serve as a substitute for a binocular. Weighing in at only 20.8 oz (590 g), this scope is one of the lightest and most compact of all spotting scopes!
Magnification:
The scope has a 9-27x magnification range that can serve as both the range of a pair of binoculars and also a spotting scope.
This scope is known to be "birder-friendly" because of its close focus distance of 10ft./3m. Sometimes, birds can be really up close and this scope is perfect for that occasion.
Bright lenses
In the later parts of the day, it can be really surprising how bright the view is, in fact, even better than the naked eye. The light-gathering ability of this scope can make for very useful birding trips in the evening and early mornings.
ED objective lenses
The ED objective lens has a 56mm (2.2″) diameter. It also features an Extra-Low Dispersion (ED) that virtually eliminates chromatic aberration, also known as color fringing, a visual defect common in binoculars.
Chromatic aberration, in short, is the colors that you see along the fringes of the image when you look through the lenses.
Hummingbird ED delivers edge-to-edge sharpness with excellent color correction and razor-sharp images of high optical quality.
Built for toughness:
The Waterproof / Nitrogen filled construction of the Hummingbird keeps it protected against wet weather, humid conditions, and other environmental challenges.
The durable armor works to keep the Hummingbird protected against bumps and jolts both during transport and in the field.
Mountable scope:
The Hummingbird is tripod/monopod/window mount adaptable – providing a variety of options for viewing.
This spotting scope can easily be secured to a stable platform for comfortable long-duration or long-distance viewing.
Extra accessories
When you purchase this scope, expect some extra accessories: A Custom shoulder/belt case, eyepiece cover, objective cover, cleaning cloth, and instruction manual included.
Lacks a strap connection:
The scope does not come with a strap connection. This means that if you are carrying a camera, it will be difficult to switch from your scope to your camera and vice versa.
However, consider swapping your binoculars out for this scope for the extra viewing range, without any extra weight. This is so that you don't carry more equipment than you need when birding for long periods of time.
Not suitable for digiscoping:
The scope does not come with a digiscoping adapter and is too tiny for mounting one. Consider a bigger spotting scope if that's your priority.
Pricing:
The Celestron Hummingbird ED Micro Spotting Scope can cost around $310. You can choose to purchase this scope from Amazon here.
Bottom Line:
This is perfect for birders who go on long hiking trips to find birds and want an affordable spotting scope that's light and portable.
With the incredibly compact size and weight, you won't be weighed down by the excess weight of bringing a spotting scope along.
Also, if you find yourself traveling often to go birding, you'll want to pack light and compact.
This angled spotting scope is great for that because it weighs almost as much as a pair of binoculars and it does away with the extra bulk that other spotting scopes have.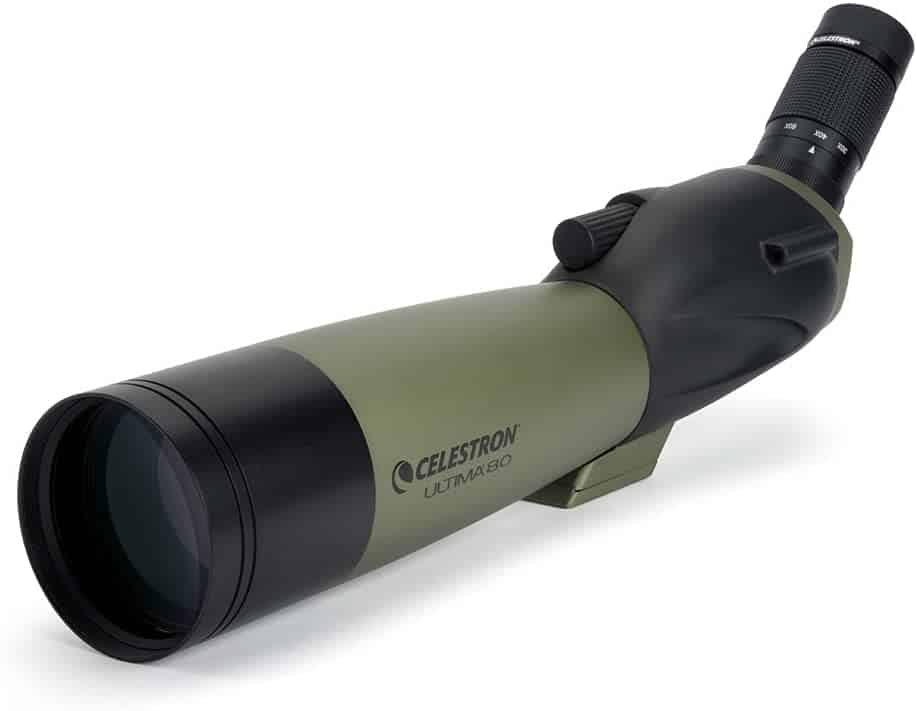 Video Sample:
About the spotting scope:
Celestron is a trusted and well-known brand that many birders recognize and use. The Celestron Ultima 80 is one of the most raved spotting scopes models among birders because of the price and value that it brings to the table.
A wide objective lens with bright images
The wide objective lens of 80mm that this scope offers is hard to come by. With such a wide objective lens, it allows for more light to enter the scope, creating a much brighter image! It's perfect for observing birds in the evenings and in the early mornings.
Much more so than the other scopes in this list. Every lens surface is coated multiple times with anti-reflective coatings to improve the color and contrast of images and maximize brightness, so you can enjoy brighter and sharper images, even when ambient lighting conditions are dim.
Includes extra accessories
Purchase of this spotting scope comes with essential accessories such as an extended tripod mounting plate, a zoom eyepiece with a digiscoping adapter, a carrying case, an eyepiece lens cap, an eyepiece port cover, a soft carrying case, an eyepiece pouch, a lens cloth, and an instruction manual. All of these are to allow for better maintenance of the scope.
Warranty and customer support
You can purchase with confidence from the world's #1 telescope brand, Celestron based in California since 1960. You'll also receive a two-year warranty and unlimited access to technical support from their experts.
Pricing:
The Celestron Ultima 80 angled spotting scope is available at around $240. You can find it on Amazon here.
Bottom Line:
This spotting scope is great for those who want to go birding on a budget, especially at night. The wide 80mm objective lens allows for a brighter image of the birds you want to see.
The price range is great for its build quality and its wide objective lenses, though on the higher end of budget spotting scopes.
Also, if you enjoy digiscoping, you can choose to fix your smartphone to the adapter.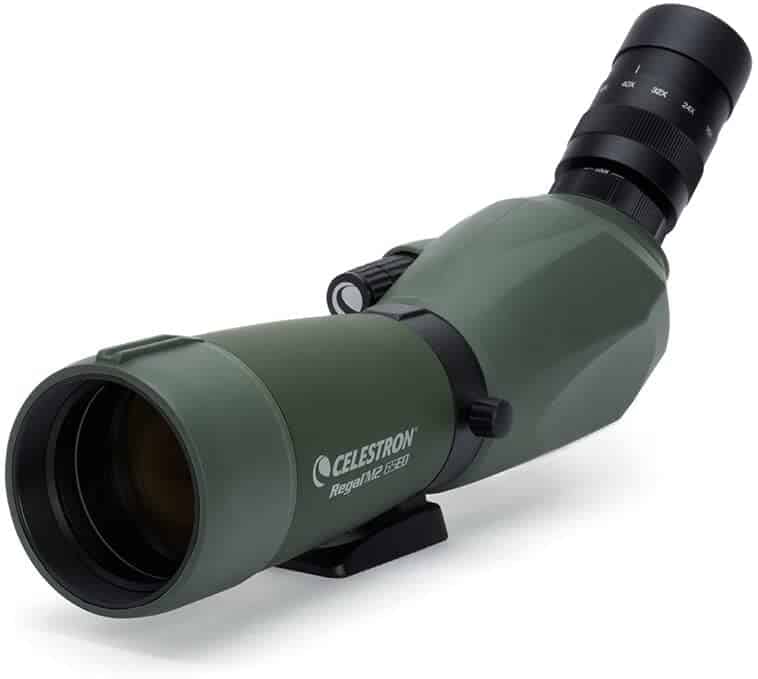 Video Sample:
About the spotting scope:
Celestron is a trusted and well-loved brand by birders everywhere. It is also a commonly known brand for astronomical observers.
The Regal M2 65ED also comes in different lens diameters – 80ED and 100ED, which represent 80mm and 100mm lens diameters respectively.
In this review, I will be recommending the 65ED for your budget-friendly purchase.
Robust structure
The fit and finish of the scope are excellent.
All controls work smoothly and positively. The lens cover and eyepiece cover feel robust and attach firmly to the scope to protect the glass, so you won't have to worry about them being flimsy and loose.
Quality ED objective lens
The scope offers extra-low dispersion optical glass with special dispersion properties to reduce chromatic aberration (colors around the rims). It results in razor-sharp images with good color correction.
XLT lens coatings
The lens is coated with Celestron's proprietary XLT optical coatings – the same coatings used on observatory-class telescopes.
This coating maximizes light transmission through the optical path for brighter images.
Contains extra accessories
The scope comes with a padded view-through case, an objective cover, an eyepiece cover, storage covers for the eyepiece and eyepiece port, a T-mount adapter for attaching your DSLR camera for digiscoping, a cleaning cloth, and an instruction manual.
Celestron warranty and customer support:
The scope is covered by a warranty by Celestron themselves, so you can definitely buy with confidence! It lasts for two years and you'll get unlimited access to technical support from their experts if you need any help.
Pricing:
The price of the Celestron Regal M2 65ED Spotting Scope is around $476. Though a bit more pricey than the rest of the scopes in this list, the build quality of this scope makes it worth it! Here's the link to purchase it
Bottom Line:
This ED spotting scope is for someone looking for something budget-friendly but doesn't want to compromise on the quality of the image and the build quality of the scope.
This scope is well-rounded in most areas and is great for someone looking for a reliable spotting scope at an affordable price.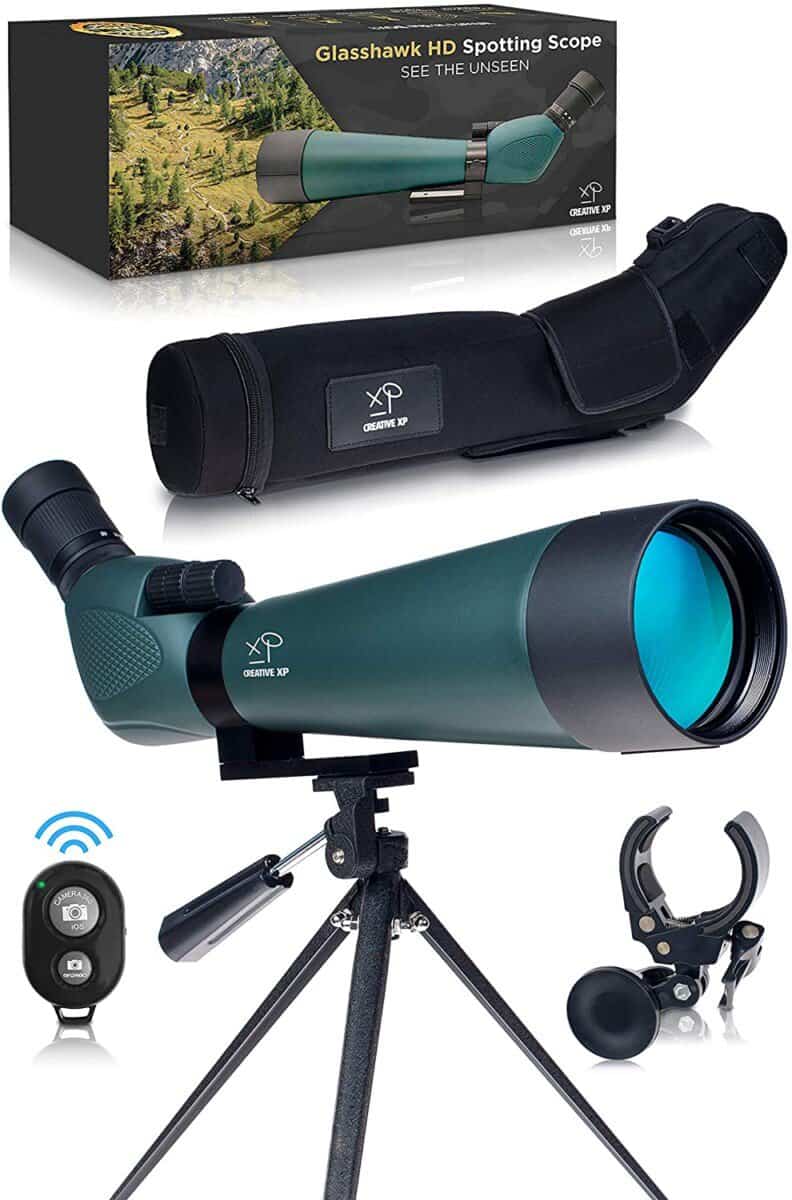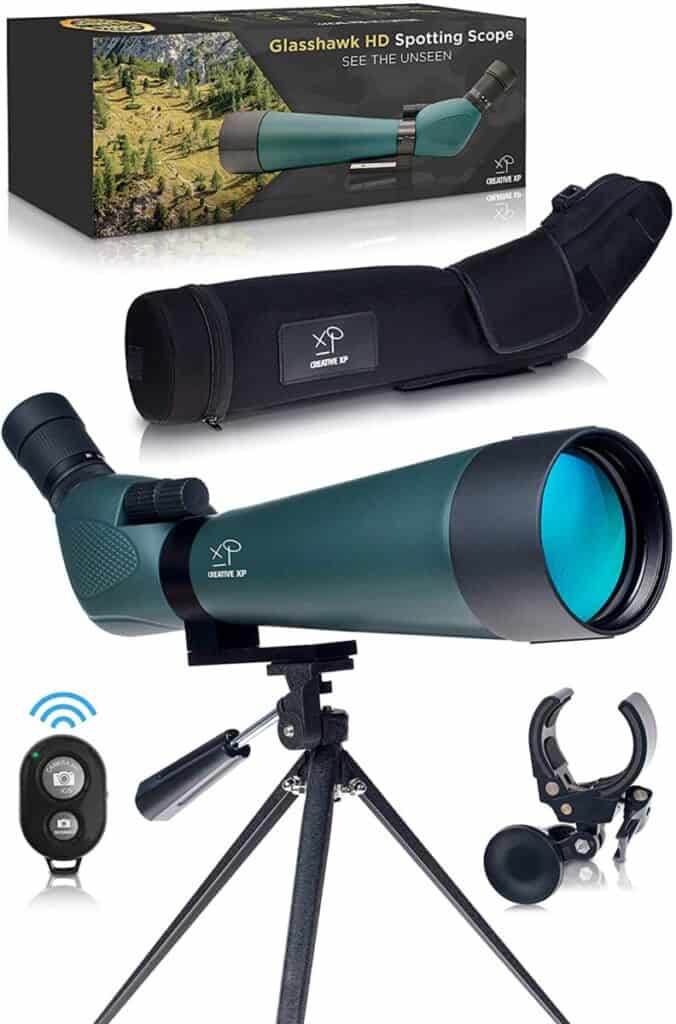 Video Sample:
About the spotting scope:
CREATIVE XP is an American family business and all its products are tested & developed by optics experts.
What's great to love about this spotting scope is the great value for money. Let me share with you why.
It doesn't get blurry at higher zoom:
From experience, there are some higher-end spotting scopes that cost more (in the thousands) that when in higher magnifications, turn blurry or face some chromatic aberrations. This scope doesn't have any of that even at a 60X magnification due to the fully-multi coated lens!
Focusing on this scope is easy:
Some spotting scopes don't come with 2 fine focus knobs or wheels, this one does. The coarse focus knob adjusts bigger depth changes, and the fine focus knob allows for minor tweaks to get a sharper image. It's a great feature to have to focus on the features of birds, so you can identify minor differences in plumage at a long distance.
It has comfortable eye relief:
This spotting scope also offers very comfortable eye relief at 17-12mm, which is great even for those of you who are wearing glasses/eyeglasses/spectacles. This eye relief is more than the average spotting scope!
Bright and clear lens:
The Glasshawk has great vision even at night. This is because of the BAK4 Porro prism glass and a wide lens diameter of 80mm.
This allows for more light to enter the lens, so the images seen at night are more visible than the human naked eye.
This glass quality is great for bird watching both at night and in the early mornings when birds are mostly awake.
Extra accessories:
The GlassHawk comes with some extra accessories. It comes with a special smartphone adapter, a metal tripod, and a Bluetooth photo clicker. I personally really like the Bluetooth photo clicker.
Sometimes it's great to be able to click the clicker instead of tapping the smartphone screen to take a picture while digiscoping.
A clicker helps to eliminate the shake induced when taking a picture, especially at higher magnifications.
For the tripod, from reviews online, it seems like it isn't too stable, but great for use with a sturdy table.
If you want to bring this scope outdoors, I would suggest you purchase a very sturdy tripod to hold this scope steady.
The CREATIVE XP GlassHawk is packaged nicely:
When delivered, the spotting scope is safely and carefully delivered in a Styrofoam frame which provides extra protection to survive bumps on its trip to your doorstep. From my experience, I've heard of some other people receiving scopes with faulty parts due to hard bumps during delivery. You don't have to worry about that here!
Pricing:
The CREATIVE XP GlassHawk Spotting Scope is priced at approximately $184. This spotting scope is available on Amazon at this link.
Bottom Line:
This spotting scope is personally the one that I recommend the most! Its great build quality, portability, brightness, sharpness of images, and price are almost unbeatable.
I would recommend this budget scope for those who are willing to try out a scope with great all-rounded features at a hard-to-beat price!
Final Thoughts
Although some of the recommended spotting scopes in this list are more pricey than others, it's up to you to look at which type of spotting scope is suited for your use while out birding, then make a decision for yourself on what scope to purchase.
I recommend that you do not just look at the price itself, but also the value, durability, portability, and usability when making your decision.
Thank you for reading and happy birding with your chosen budget scope!
What's the Best Magnification Range for a Spotting Scope?
Generally, a 20-60x power range can accommodate most basic viewing needs while still providing good image quality and clarity. Pick one with a power rating that meets your specific needs. If a higher magnification is desired, multiple lenses may be combined. However, if longer distances are desired or more detailed views of distant objects, then higher magnification may be necessary.
Lower magnification offers a wider field of view and less detail, making it better suited for general viewing of skylines, birds in flight, or wildlife at a distance.
Higher magnifications are meant to provide increased detail at a greater range and can be used for activities like birdwatching and stargazing.
What is an Angled Spotting Scope?
An angled spotting scope is a type of telescopic viewing device that can be used for activities such as birdwatching, stargazing, or hunting.
It has a unique design that allows the user to look through its lenses at an angle, making it easier to use for those who cannot stand for long periods of time or view with awkward body positions.
The angled design also makes it better suited for low-angle observation and low-height situations where traditional straight spotting scopes may not reach.
That's why angled body spotting scopes are perfect for mounting smartphone adaptors and digiscoping!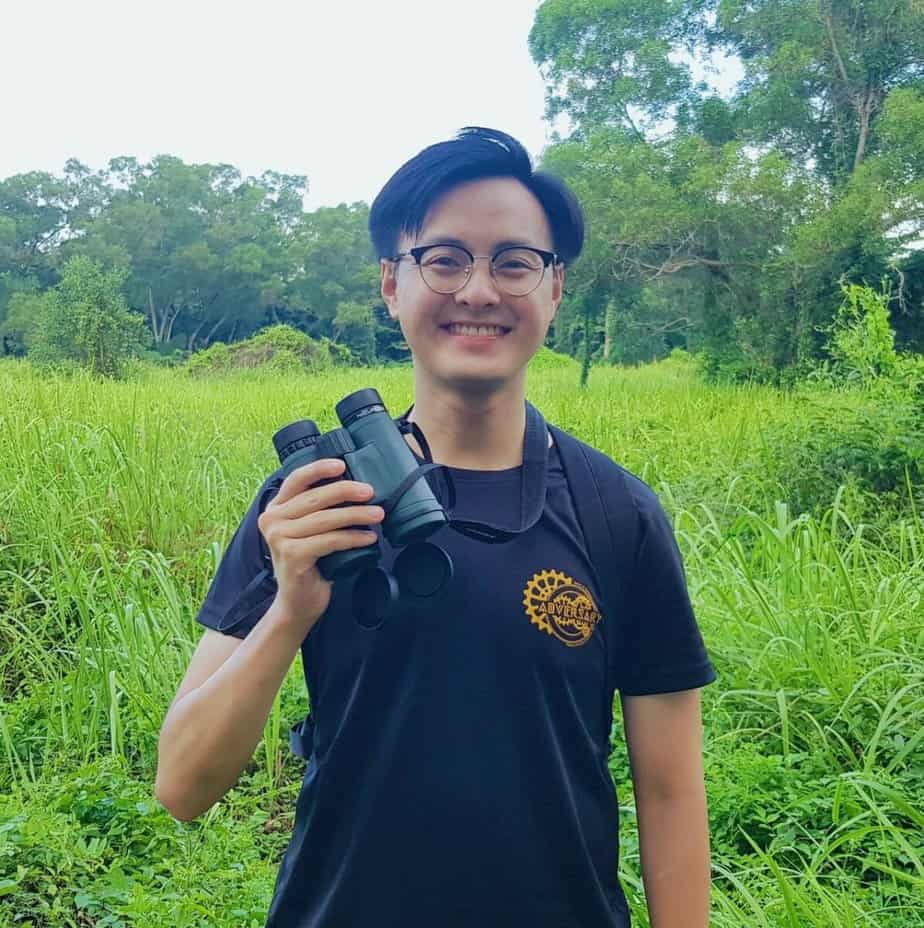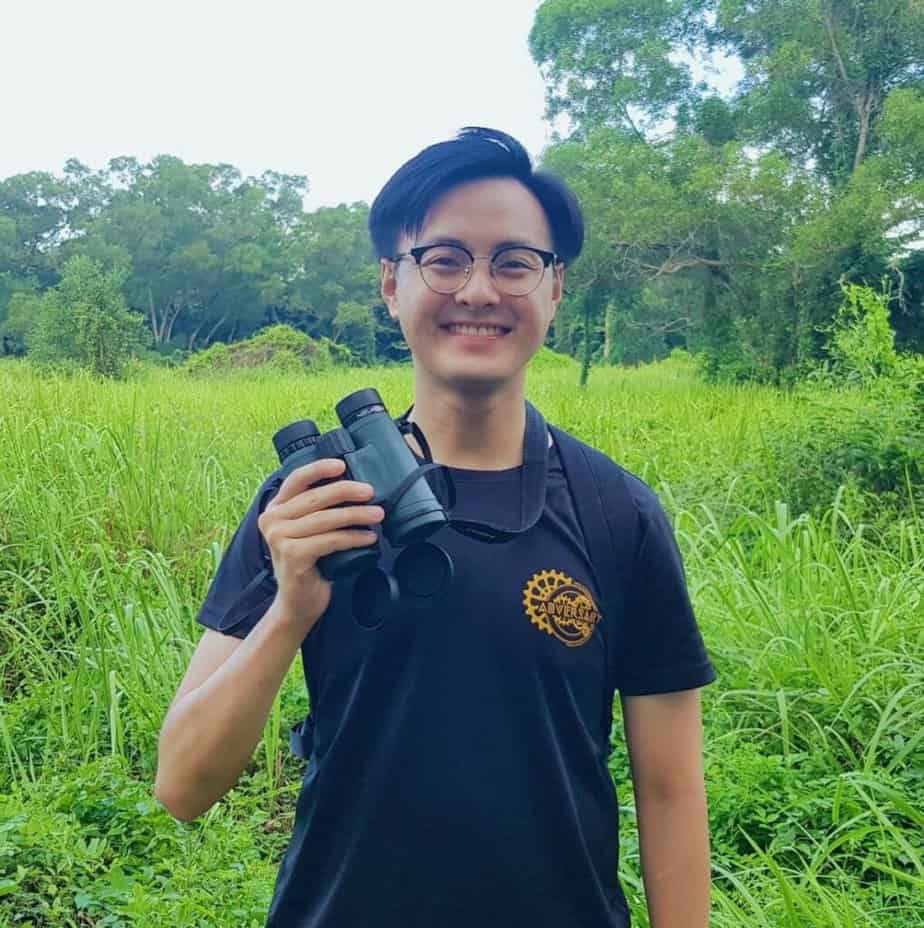 Justin is the founder and author of Birding Outdoors. He is a Nanyang Technological University (NTU) alumnus with a Bachelor of Biological Sciences and a former data analyst.
Now, Justin runs the Birding Outdoors blog full-time, hoping to share his deep love for birds, birding, and nature with others.
To unwind, Justin enjoys gaming and reading.