Best Non-Toxic Bird Bath Paint: A Starter Guide For Newbies!
Concrete bird baths can be decorated with paint to attract birds, but using the right type of safe paint for bird bath types ensures that birds are not harmed in the process.
In desperation, I searched online only to get frustrated with the lack of information, so I did my own research for the answers!
Here's what I found:
Oil-based, latex or acrylic exterior paint is safe for painting birdbaths. Latex and acrylic paints are safe for use on the insides of the basin but not oil-based paint. Oil-based paint is suitable for use on other parts of the birdbath. The paint must be sealed with a non-toxic waterproof sealant and fully dried.
There are several other caveats I want to share with this answer, so read on for more information!
What are Safe Paints for Bird Baths?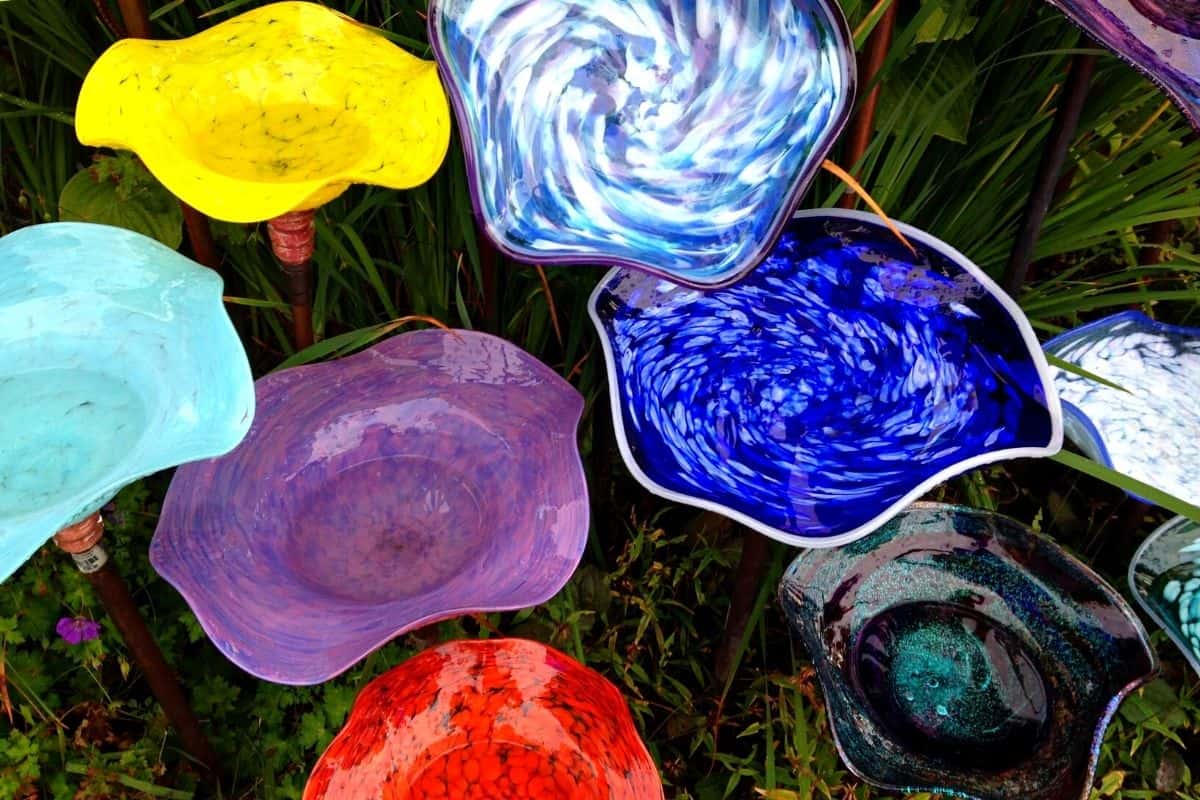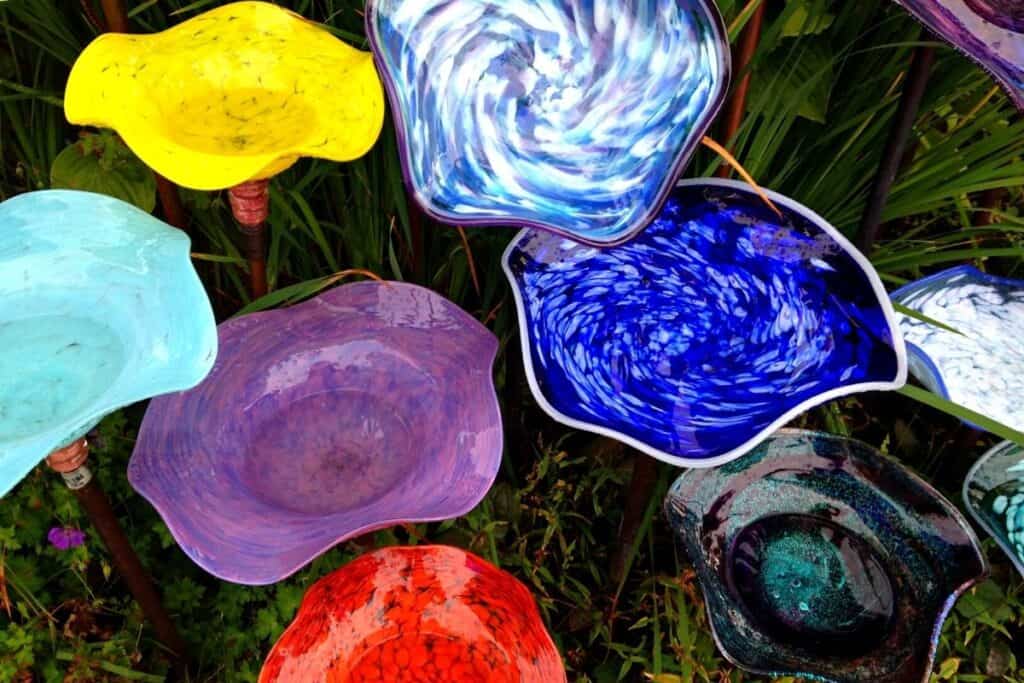 Please keep in mind that when choosing your preferred paint, try not to scrimp on the cost because durable paint can save more effort for maintenance in the long term.
Here's a summary I made of the non toxic paint you can use for bird baths:
Type Of Paint
Properties
Cost
Maintenance
Why You Should Choose It
Oil-Based
– Durable and more resistant to low temperatures than latex paint
– Smooth application (no need for a second coat of paint)
– Requires less pre-paint cleanup: can be applied to dirty surfaces
– Great for covering up imperfections
– Looks much richer than latex paint
– CANNOT be used for inside water basin of birdbath
Medium
Medium
You like rich colors and you want to paint uneven, dirty surfaces. You just want to paint the non-basin area of the bird bath.
Latex
– Easy application
– Cheaper than acrylic paint
– Cleanup is fast with soap and water
– Produces fewer dangerous fumes
– Requires fewer coats to cover a surface
– CAN be used for inside water basin of bird bath
Low
High
You want a cheap paint option and easy application. You compromise on durability.
Acrylic
– Greater elasticity allows for good expansion and contraction at different temperatures that prevent flaking
– Expensive but durable
– Highest resistance to the sun's damage compared to latex and oil-based paints
– CAN be used for inside water basin of bird bath
High
Low
You don't mind spending more money for better value and durability.
If you're looking to paint your birdhouse too and not just your bird bath, the paints suitable for a birdhouse are slightly different.
As suggested earlier, three categories of external grade paints are safe for birds and robust against the outdoors.
Here are more details:
1) Oil-based Paint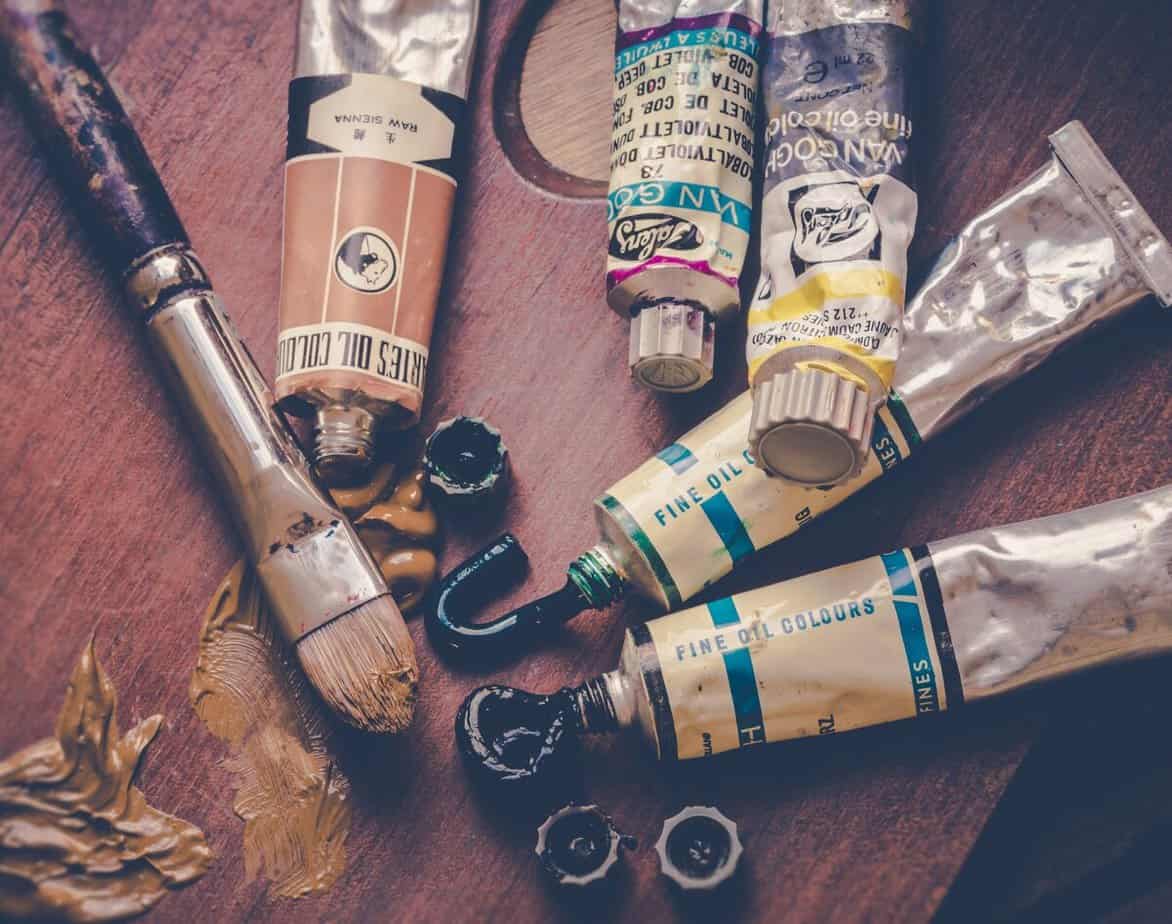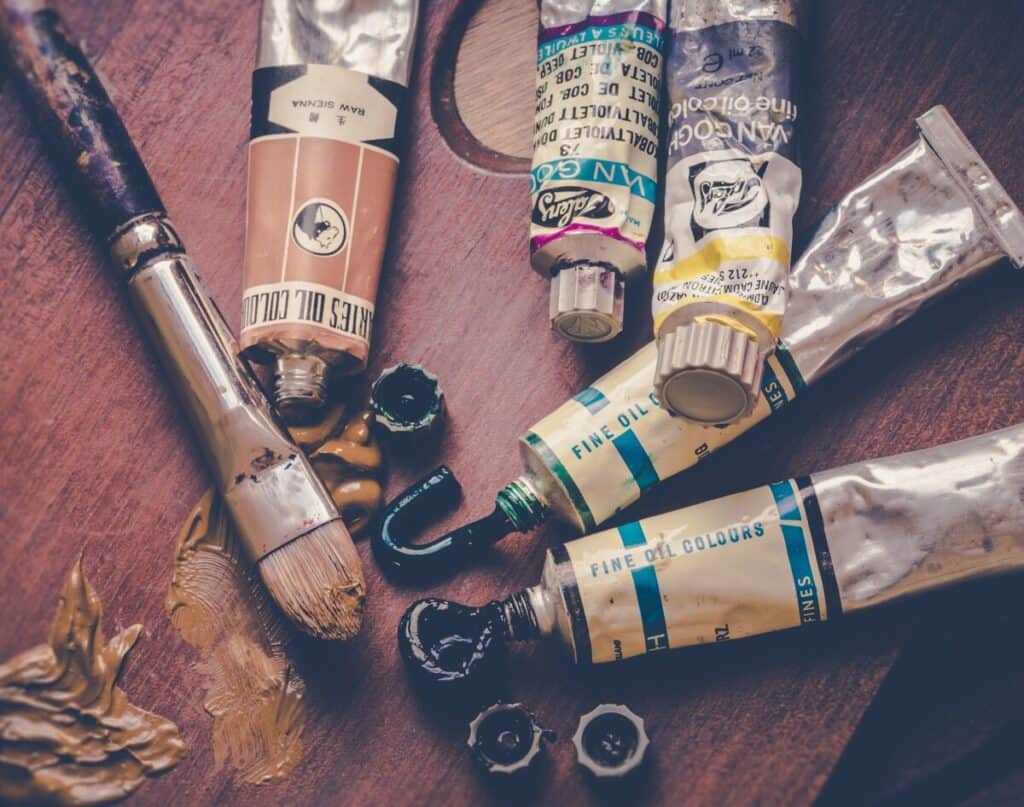 Oil-based paint like its name, oil-based.
Oil-based paint is more durable than latex paint but requires a longer period of time to dry off fully, and its cleanup requires turpentine or paint thinner use.
Oil-based paints are made with either alkyd (synthetic) or linseed (natural) oils.
Alkyd paint is more common because it is less expensive and tougher.
Take Note!
Oil-based paint should NOT be used on the inside of the basin of the birdbath, as it is not safe for bird consumption when it is worn down by nature over time.
However, feel free to use oil-based paint for painting other parts of the birdbath.
Now if you are ready to pick oil-based paint and be like Bob Ross, then you can go on ahead to paint the OUTSIDE surfaces of the bird bath.
If you have some oil-based paint of your own, then go ahead and use it!
However, for those of you who need some guidance to find oil-based paint, here are some recommendations on Amazon:
This oil paint set contains six colors of oil paint in 1.25 oz tubes.
However, they also sell single colors if you'd like something like that too!
The colors included are White, Yellow, Red, Blue, Green, and Black.
What's good about this set is that its price is economical and because it was originally made with students in mind.
If you want to paint a small little painting of your own on the outside of your bird bath, then this is the perfect choice for you!
If you're looking to simply paint the entire exterior of the birdbath with just one color, I suggest going for this product.
It has enough volume to cover the entirety of the exterior of your birdbath!
Typically, a birdbath paint process only requires a few ounces, so you'll have plenty of this paint to spare after.
If you want to use it for another bird bath painting session, you'll still have some remaining.
This product also comes in colors other than Gloss Sunburst Yellow, so check out their store for other colors if you like!
Do note that it's for spraying onto metal or wood surfaces only!
2) Latex Paint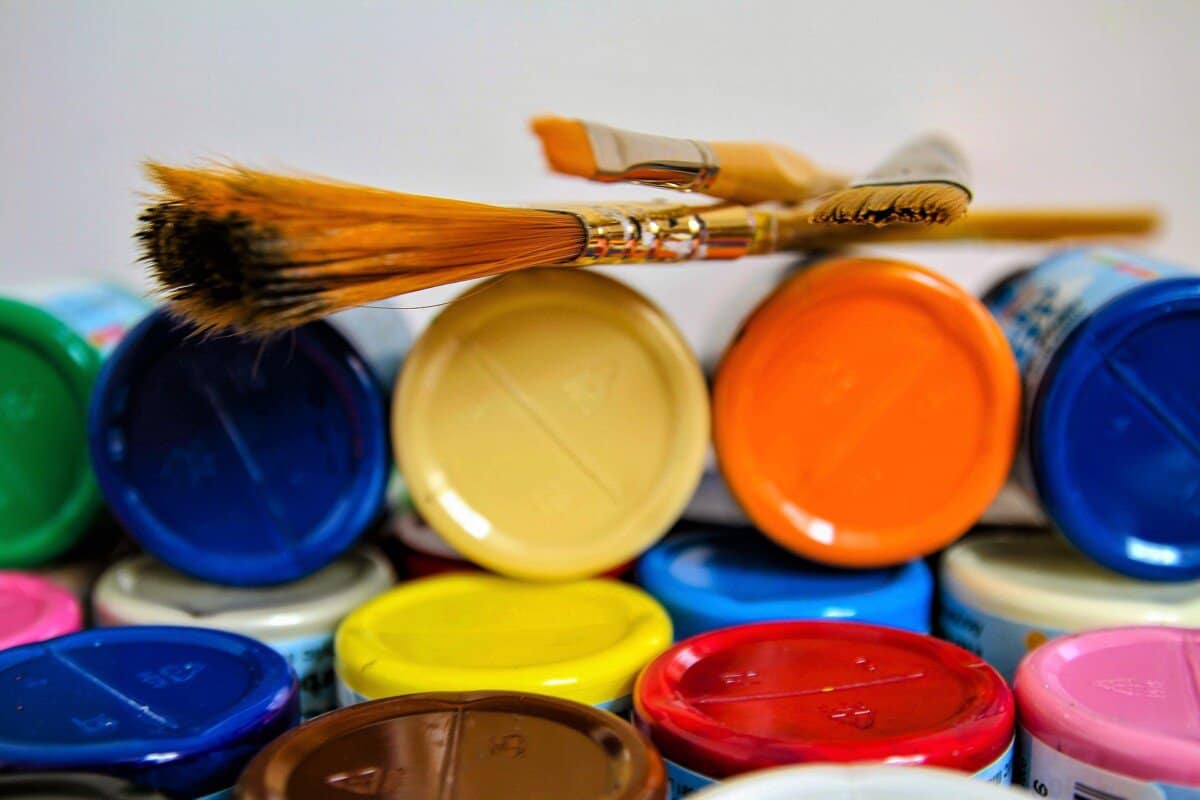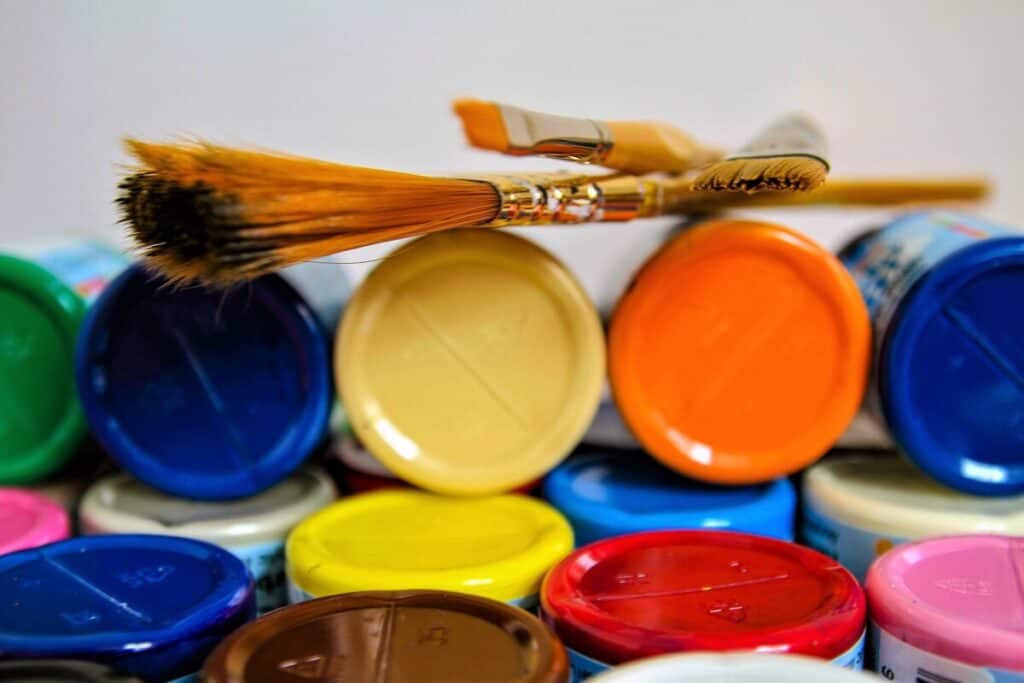 Latex paint is water-based paint and is similar to acrylic paint, which is synthesized from acrylic resin.
Latex paint is much easier to work with than oil-based paint because it dries more quickly but is not as durable.
Typically, latex is useful for big painting projects for walls and ceilings.
You can use latex paint for your birdbath if you have some to spare from painting your house. (Make sure it can be used for exterior purposes!)
Latex paint is suitable for use on the insides of the water basin of your bird bath, as well as the other exterior surfaces.
If you would like to choose latex paint, here's an example of a product you can purchase.
Note that this color is Gloss Hunter Green, but you can purchase this in other colors too, depending on what type of birds you want to attract!
3) Acrylic Paint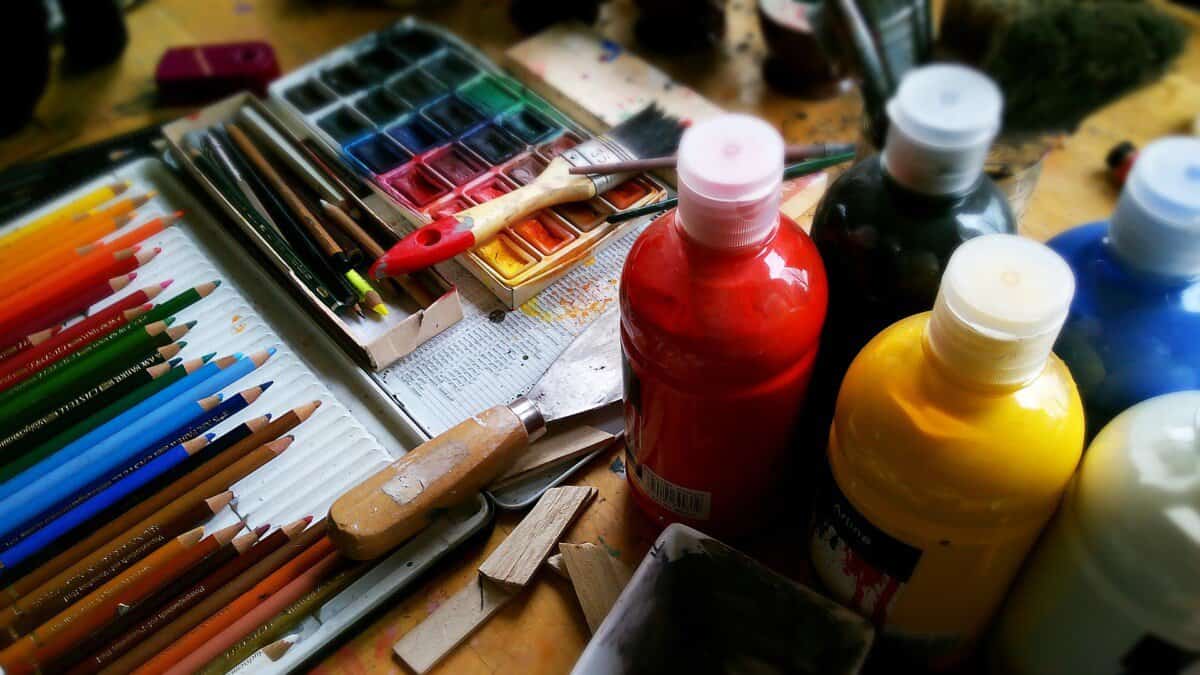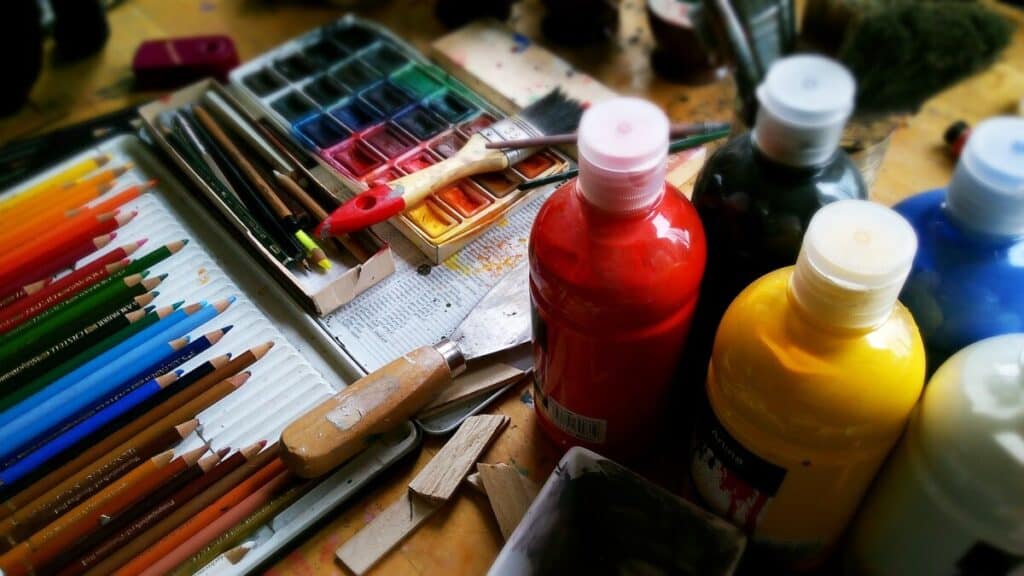 Acrylic paint is chemical-based and not water-based like latex paint.
Due to this trait, it requires paint thinners when it is removed.
An important note when using acrylic paints: it requires careful handling when in use because there needs to be sufficient ventilation in your area due to the dangerous chemical fumes it produces.
Be careful! I suggest you do this outdoors so you won't inhale any nasty vapors, especially if spray-painting.
Acrylic paint is suitable and safe for use on the insides of the water basin on your bird bath, as well as the other parts of the bird bath.
If you already have some acrylic paint on hand, please use that if you don't want to waste some old paint!
The Blickrylic Student Acrylics Basic Color Set comes in a pack of 6 bottles at 16 oz each with lots of bright colors like Blue, Chrome Yellow, Fire Red, Phthalo Green, Mars Black, and Titanium White.
Bird Bath Paint For Different Materials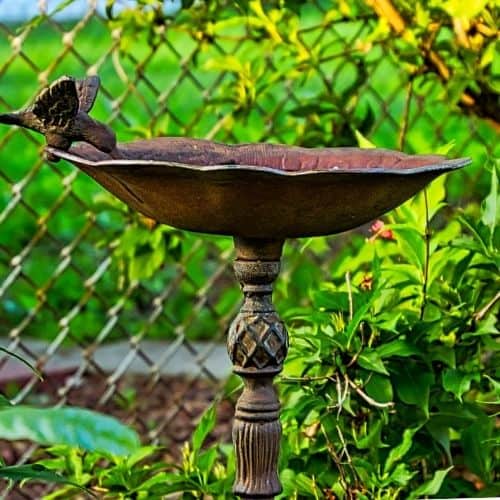 I'm sure you're now almost an expert on bird bath paints! However, you'll also need to consider what kind of paint to use for different bird bath materials.
Metal bird baths, concrete bird baths, and ceramic bird baths have different surfaces, so you'll need different types of paint for them.
Here are some products with their respective bird bath materials they work well with:
| | | |
| --- | --- | --- |
| Type of Paint | Bird Bath Material | Recommended Paint |
| Latex/Acrylic | Wood, metal, plaster, masonry (concrete), and ceramic | Rust-Oleum: Painters Touch Latex, Gloss Navy Blue, 32 Fl Oz |
| Oil and Enamel | Wood, metal, masonry (concrete) | Rust-Oleum: Stops Rust Brush On Paint, Satin Hunter Green, 32 Fl Oz |
| Oil and Enamel | Wood, plastic, metal, fiberglass, concrete, wicker, vinyl | Rust-Oleum: Universal Enamel Spray Paint, Gloss Canary Yellow, 12 oz |
Great! Now you know the type of paint that works for your birdbath.
Now let's talk about the preparations needed before you begin your painting project!
How To Paint Your Bird Bath: 3 Simple Steps
1) Cleanup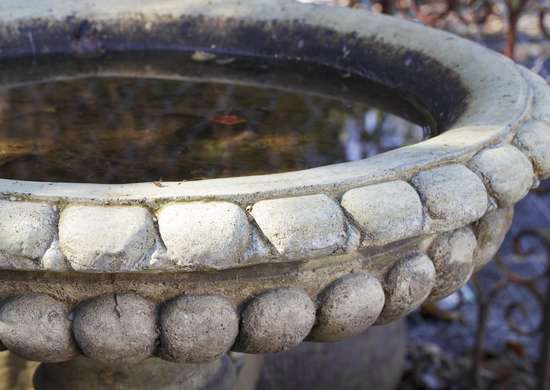 If your birdbath has been around for a while and you've not cleaned it up and dusted it off, ensure you do so before you paint.
In order for the paint to stay on well, it is important that you do a proper clean-up before we even get on to any other steps.
You'll first need to prepare some soapy water and a stiff-bristled brush. Place a drop cloth on the bottom of the basin to collect all the debris.
Then you'll need to try your best to remove all dirt and debris that has probably built up on your birdbath basin.
It is important to be thorough at this step because it can heavily compromise the quality of your paint job later on.
You can also add some trisodium phosphate solution to the soapy water to remove old oils, grime, and mold.
Then rinse off all the residue.
Then allow it to fully dry before continuing to other steps.
2) How To Apply Concrete Sealers, Primers, and Paint
Applying a concrete sealer requires attention and care.
Here are some steps I recommend you take:
(a) Applying a concrete sealer
Recommended first sealer: MasonryDefender All-Purpose Concrete, Brick & Stone Sealer, (2.5 Gallon/5ml) Sealer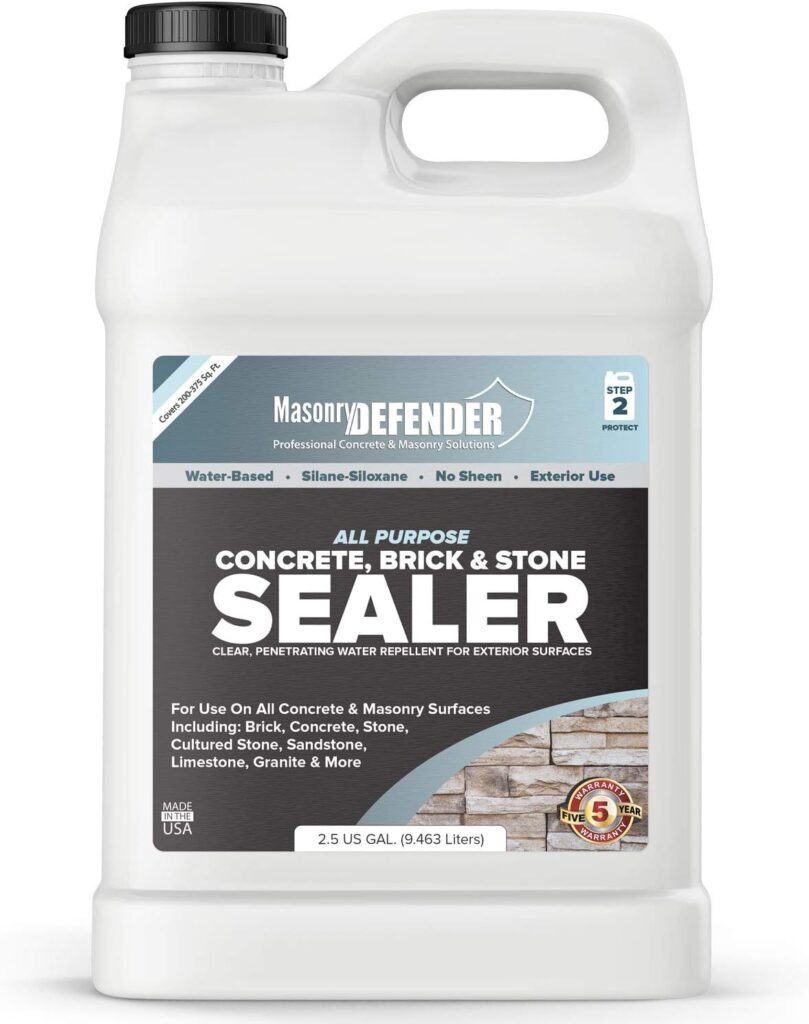 Concrete sealers are coats applied to the birdbath before even setting a primer.
As concrete is porous and absorbs paint, it is difficult to apply paint.
They serve the purpose of sealing the concrete to prevent it from absorbing too much of the paint.
If you don't already have a concrete sealer, check the best price for the MasonDefender sealer.
(b) Applying a primer
A primer can then be applied using a brush with bristles or a spray paint can.
How to use:
If applied by brush, primers should be brushed on with even and slow strokes for even application and the best coverage.
Once the first layer is done, please leave it to cure fully before applying another topcoat.
Then it will be ready for a coat of paint.
TAKE NOTE: If you intend to use oil paint, you MUST apply an oil-based primer before applying your oil paint! If not, the paint won't stick well.
When applying primers, you have to make sure you are using the right primer.
Generally, the type of primer should match the type of paint.
This means oil-based primers for oil-based paint, latex primers for latex paint, and acrylic primers for acrylic paint.
As such, here are three primers for the three types of paint:
Recommended Primers for Each Paint Type: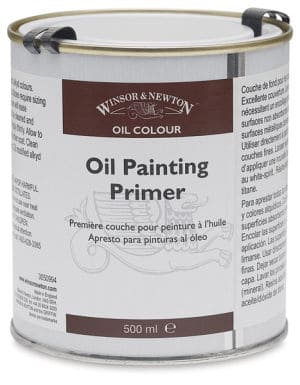 (c) Applying the paint
Once the primer is fully dry, you can add your desired paint.
I suggest you use a clean brush and thoroughly clean the insides of the sprayer, if needed, before starting.
If you already have paintbrushes at home that aren't too dirty, use them!
If not, here's a set I recommend:
Recommended Paint Brush Set: Blick Essentials Value Brush Set of 3
The paint brushes above are great for painting bird baths because of their short handles and large bristles.
This allows for quicker painting as compared to thin and long brushes used in fine art painting.
As most paints will take at least two rounds of coats of paint to finish, allow the first coat to dry completely before starting on the second coat!
3) Post-Paintjob Considerations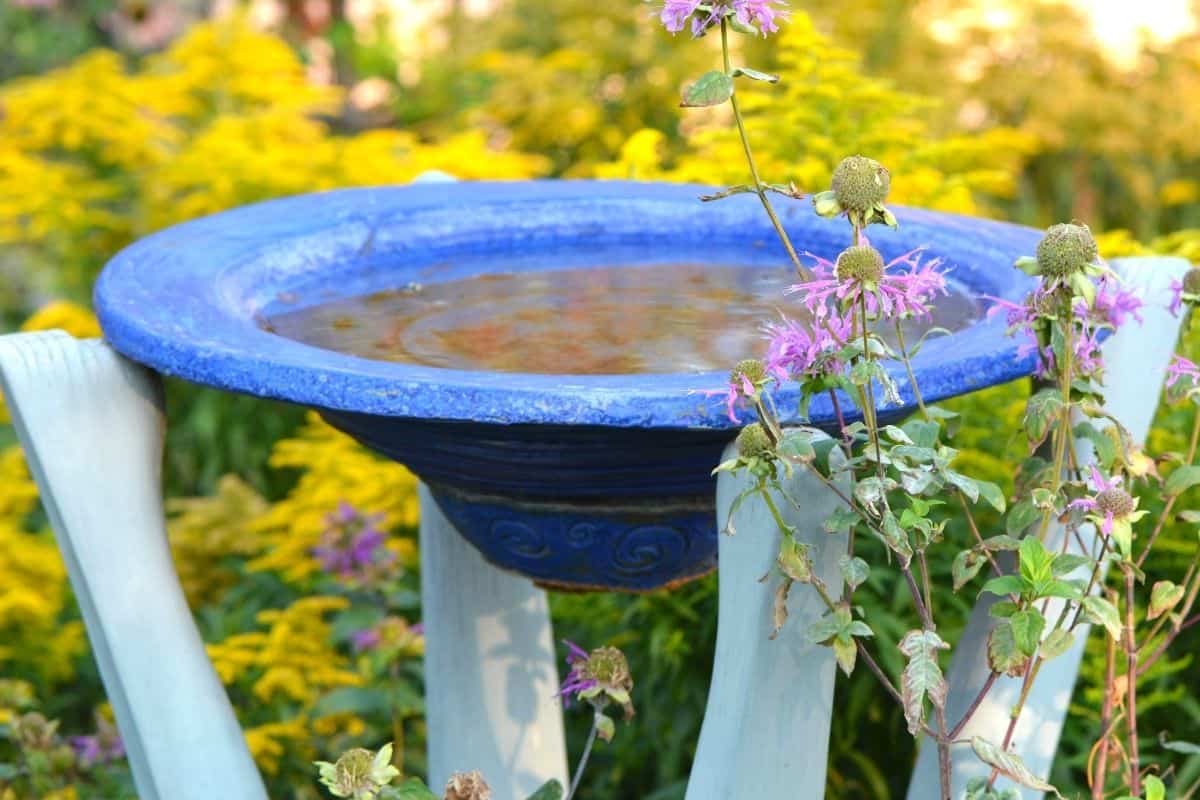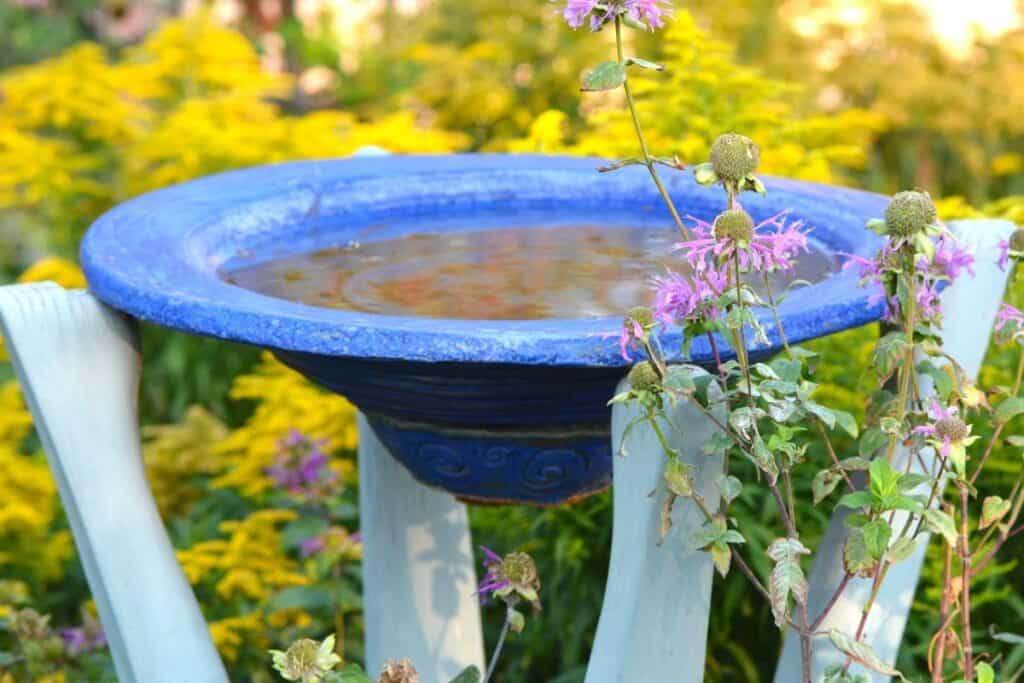 Once you're done with the painting, you'll want to consider some aspects before you start filling the birdbath up and getting started.
Here are some of them:
(a) Apply Final Sealant


Next, you'll need to apply some sealant again if you want to ensure that it's really waterproof and for it to last longer!
Here are 3 reasons why you need to apply sealant after the paint job:
It provides UV protection to the paint, allowing it to last longer.
It acts as a waterproof layer on top of the paint.
It prevents the buildup of dirt on the paint
Think of it as an invisible layer to seal it all up!
When dirt falls onto the birdbath, the sealant protects the paint from it and is easily cleaned off.
I also suggest using a clear and non-yellowing sealer to avoid an unwanted yellow/white tint on your paint job. You'll want to use a non-toxic bird bath sealer.
Links to some recommended non-toxic sealants are below:

(b) Make sure it dries completely
Not giving your birdbath ample time to dry completely can be a big mistake in this paint job.
Make sure to give it plenty of time to dry completely BEFORE you move it to its intended location in your backyard.
Make sure the drop cloth, paint brushes, paint, and primer cans are sealed or disposed of accordingly.
Remember that some of the paints have dangerous chemical fumes if inhaled in excess.
(c) Keep Your Concrete Bird Bath Clean
Now you'll want to maintain and keep your birdbath clean as it will naturally start to build up with dirt over time.
Additional Ideas For Your Painted Bird Bath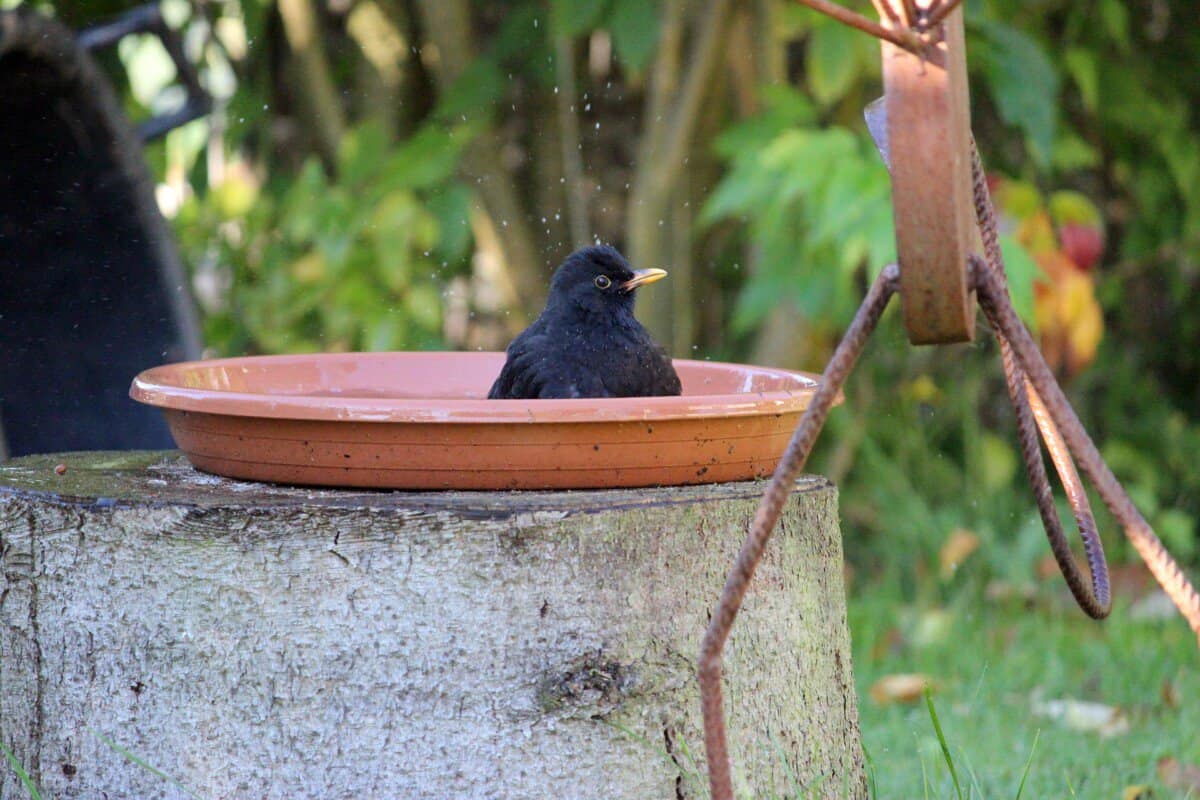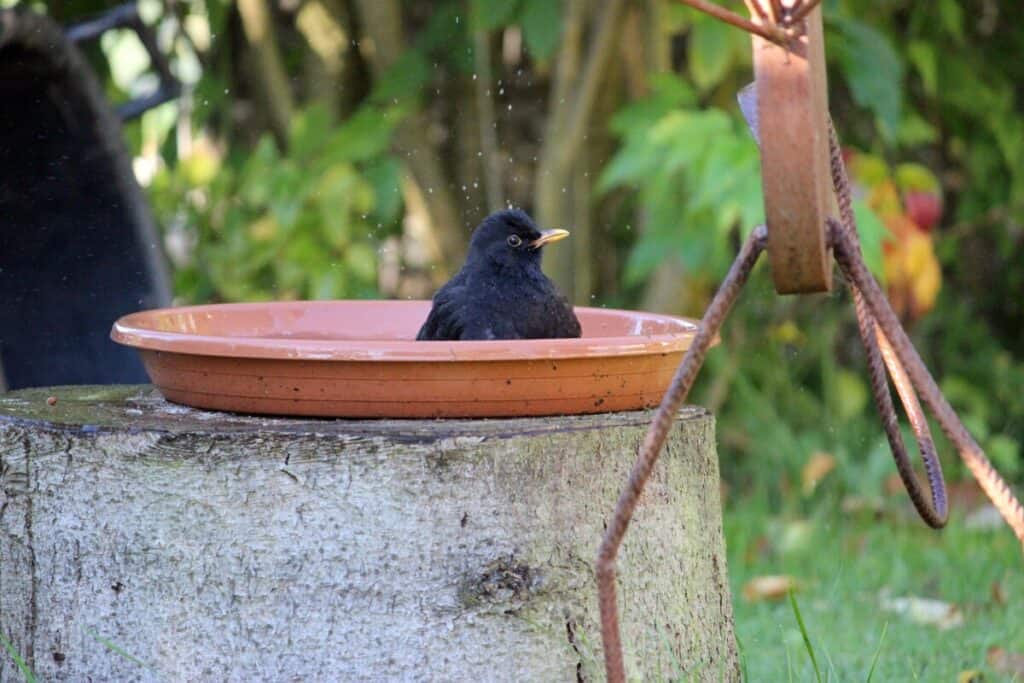 I suggest going for a single-color paint coat, then pairing it with other decorations and ornaments.
Or you can also go for a more colorful look with brightly colored paint to make it stand out from the green vegetation in your backyard or garden.
I would suggest going for red, orange, or yellow, as these provide a really nice contrast from green.
I actually wrote another article on the best colors for painting birdbaths.
I included a handy chart that details which color attracts what bird species.
You're going to find it useful!
One way to get really creative with painting your birdbath would be to squeeze down diluted paint from a sponge from the edges to the center.
Here's an example I found on Pinterest. Pinterest has many examples, so have a look!
If you're more artistic and want to go for a real painting, you can consider painting flowers on the top to make it look like a flower.
I found an example of this on Pinterest: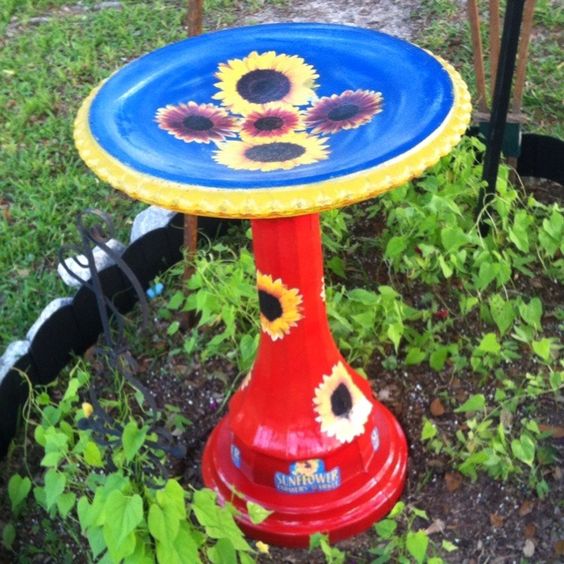 The Importance of Choosing Safe Paints For Bird Baths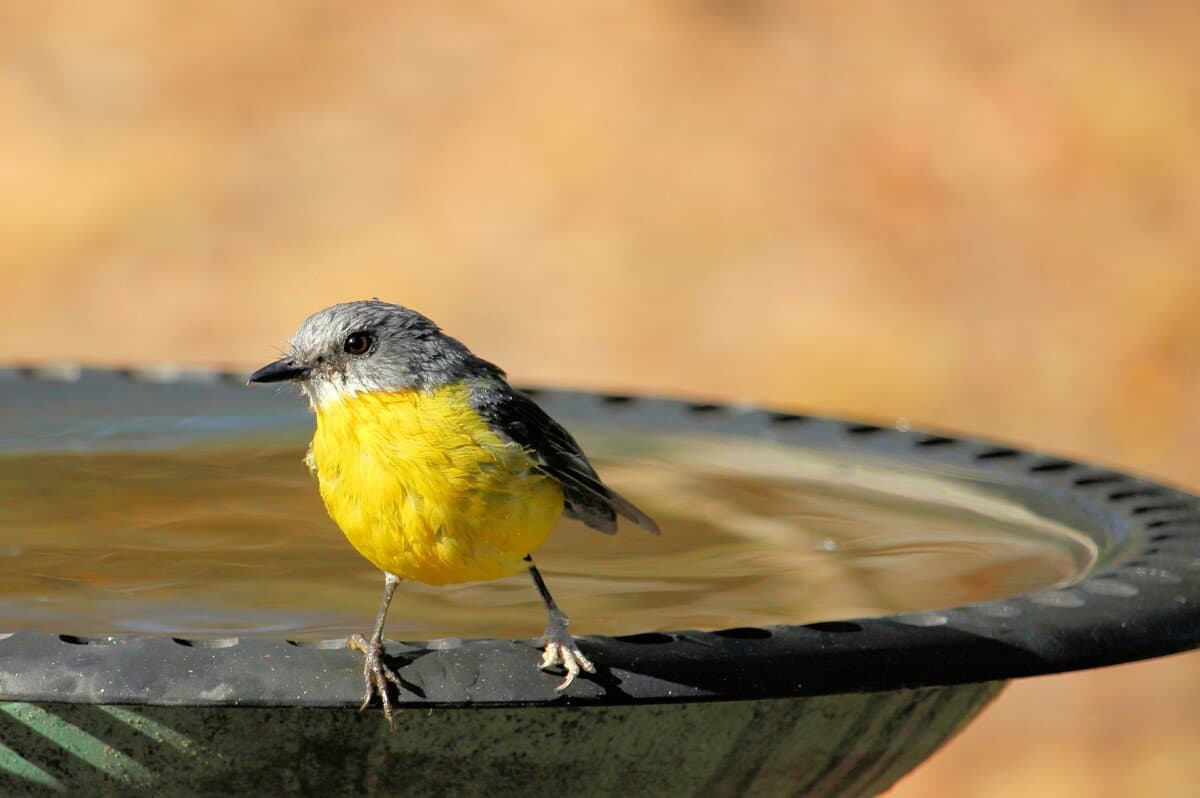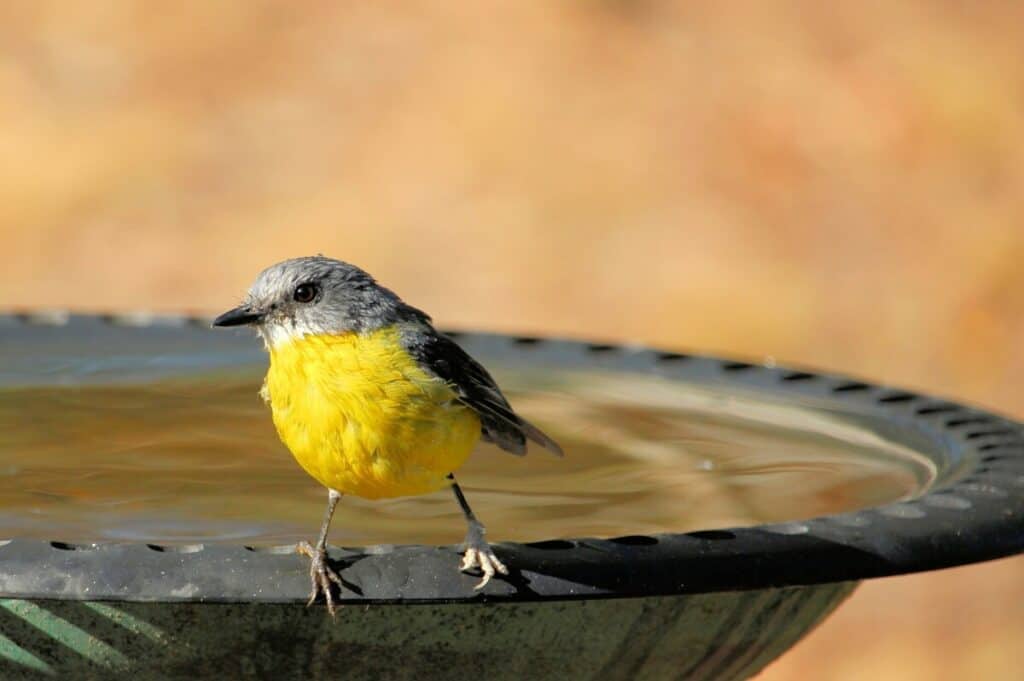 Boring-looking concrete birdbaths can be a thing of the past with a simple, fresh coat of paint!
Plus, it can really lighten up the mood and attract more birds to your birdbath!
However, we should ensure the paint we use for birdbaths is safe for birds to use.
Here are two reasons why this is important.
1. Birdbaths Are Subjected To Outdoor Elements
Birdbaths are also constantly subjected to outdoor elements as they are kept outdoors.
Outdoor elements can wear out on the wrong type of paint chosen, producing toxic chemicals that will be unsafe for birds' usage and accidental consumption.
2. Repeated Avian Usage
Repeated avian usage contaminates birdbaths with droppings, feathers, and other contaminants.
This causes inappropriate paint to be damaged, requiring additional maintenance or causing potential harm to birds themselves.
Choosing The Safe and Right Type Of Paint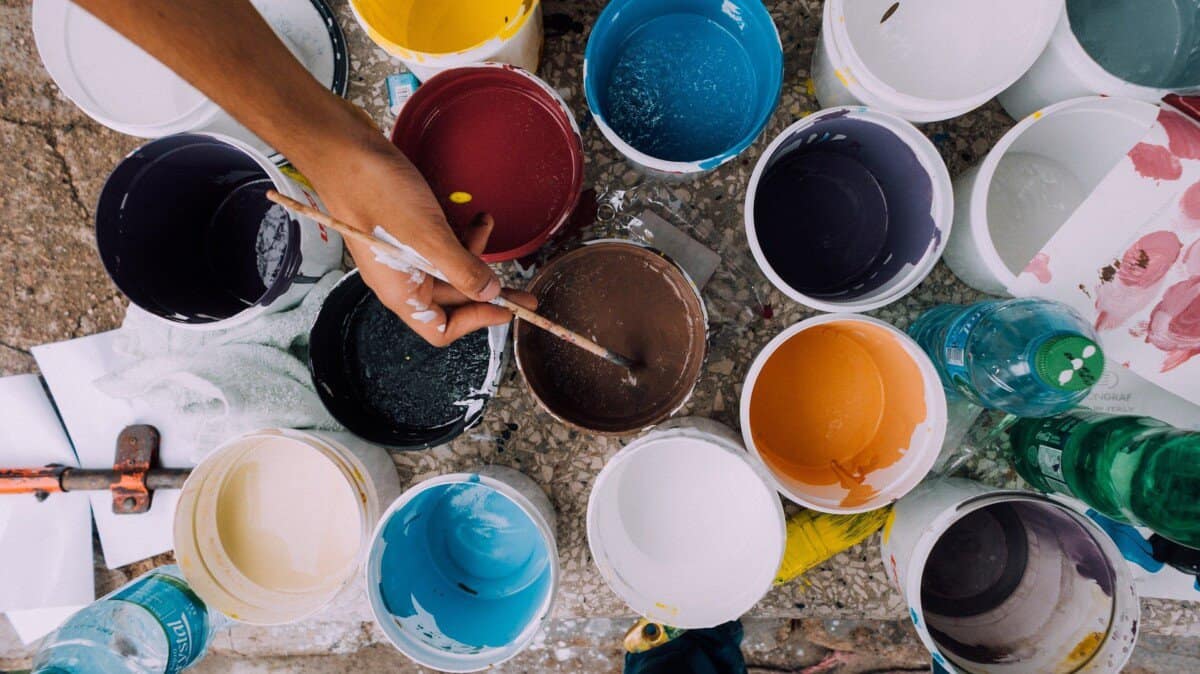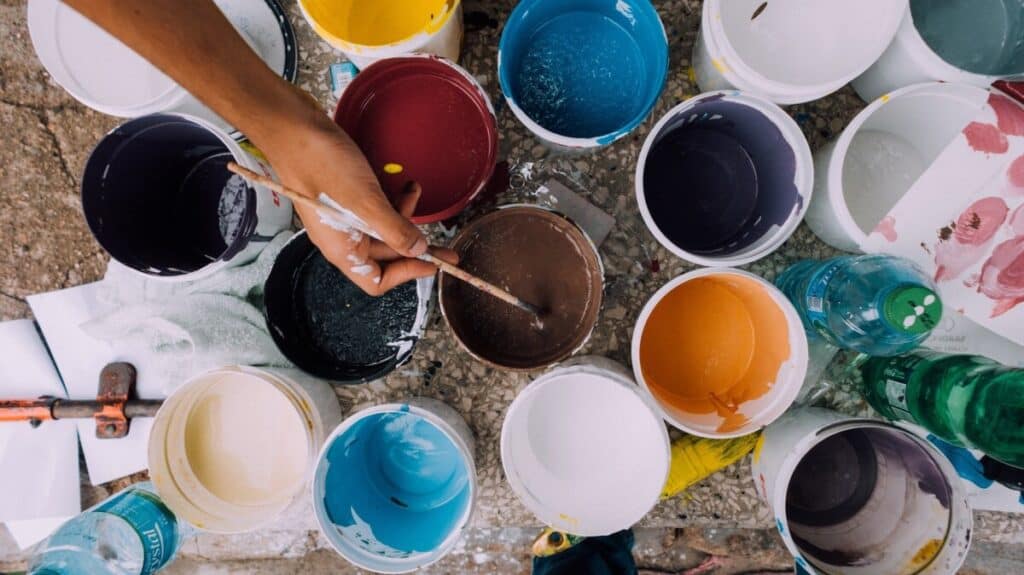 Should You Paint Concrete Bird Baths?
Bird baths should be painted. Painting a bird bath in colorful colors can attract more birds, liven up the mood in the garden, and prevent direct environmental damage if a non-toxic sealant is applied over it. Bird baths can either be spray-painted or brush-painted.
Will Painting A Bird Bath Hurt The Birds?
Painting a concrete bird bath will definitely not cause harm to the birds if the right type of safe paint is used with a non-toxic waterproof sealant. Examples of safe paint for bird baths include oil-based, latex, and acrylic paints which will not hurt the birds.
What Are The Best Colors For Bird Baths To Attract Birds?
Any bright or primary colors are the best colors to paint bird baths. These colors include red and pink to attract hummingbirds, orange to attract orioles, blue to attract bluejays, and yellow to attract goldfinches. Drab camouflage colors like green can attract skittish birds. However, white scares birds away.
What Kind of Paint is Safe for Metal Bird Baths?
Oil-based, latex, or acrylic is safe for painting metal bird baths. However, only latex and acrylic paint should be sprayed on the insides of the basin, not oil-based paint. Oil-based paint can be sprayed onto the other parts of the bird bath. The paint must have an anti-rust formula.
What Spray Paint Is Safe For Bird Baths?
Spray paint that is oil-based, latex, or acrylic is safe for painting bird baths. However, only latex and acrylic paint should be sprayed on the insides of the basin, not oil-based paint. Oil-based paint can be sprayed onto the other parts of the bird bath. A non-toxic sealer must be applied after.
Is Bilge Paint Safe For Bird Baths?
Bilge paint is safe for bird baths. Bilge paint is non-toxic and waterproof which makes it excellent for sealing or resealing porous birdbaths. Bilge paint is recommended to be safe for usage with concrete or cement bird baths.
I found a review on Amazon from Kimberly Spicher (thank you!) who painted her bird bath with bilge paint. Here are some pictures she uploaded: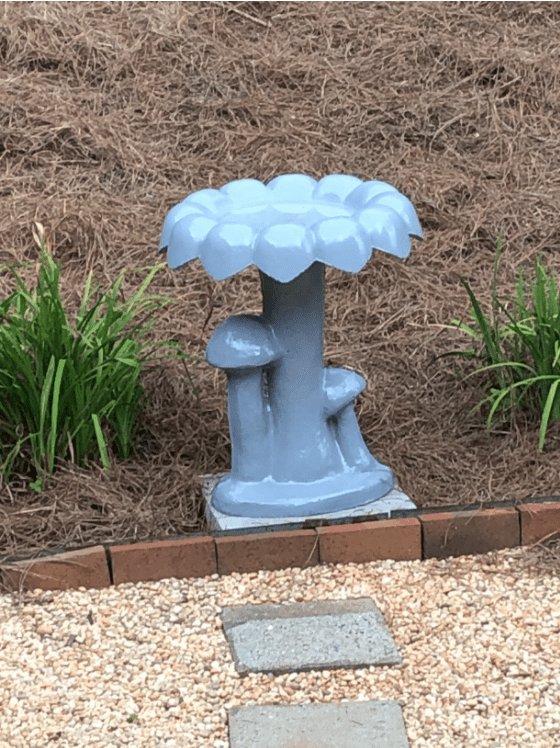 Here's a link to the exact bilge paint she used to paint the concrete bird bath.
Is It Safe To Use Spray Paint On A Bird Bath?
It is safe to use spray paint on a bird bath. Bird baths should only be spray painted with oil-based, acrylic, or latex paints, and oil-based paint should not be used on the basins of bird baths. Rustoleum spray paint can be used for bird baths.
Recommended Acrylic Spray Paint: Molotow Urban Fine-Art Artist Acrylic Spray
The Molotow Urban Fine-Art Acrylic Spray is a great acrylic spray paint that's great and safe for painting bird baths. Do remember to apply sealer after to keep it waterproof. You should also check out this video on how you can set up to spray paint your concrete bird bath!
Is Polyurethane Safe For Bird Baths?
Polyurethane is safe for bird baths as a waterproof sealant. Polyurethane is non-toxic and eco-friendly in nature that is not harmful to birds, plants, and other animals. Polyurethane is safe to be applied as a sealant after a double-coated paint job on a bird bath.
Polyurethane is actually one of the best choices to seal a concrete bird bath after you're done with your paint job! That's because it's non-toxic in nature, can withstand the outdoors, and is water-resistant. Great for birds to bathe in!
Recommended Polyurethane Sealant: SEAL-ONCE Nano+Poly Concrete & Masonry Penetrating Sealer & Waterproofer (1 Gallon/5L)
I found this really good polyurethane sealer from SEAL-ONCE and it ticks off all the requirements on my list.
It's water-resistant, UV-stable, and maintains the original color of the paint underneath well!
What Paint Is Non-toxic To Birds?
Oil-based, latex, and acrylic paint is non-toxic to birds. As such, they are safe to use to paint bird baths birdhouses and bird feeders. Only oil-based paint is not suitable for bird bath basins. All paint must be sealed with a non-toxic waterproof sealant to ensure that it is completely safe for bird usage.
Final Thoughts
Using bird-safe paints is extremely important for decorating and revamping your birdbath.
So don't delay if you've been thinking about doing this for a long time; it's time to revamp your old concrete birdbath and start attracting birds to your backyard!
Happy painting!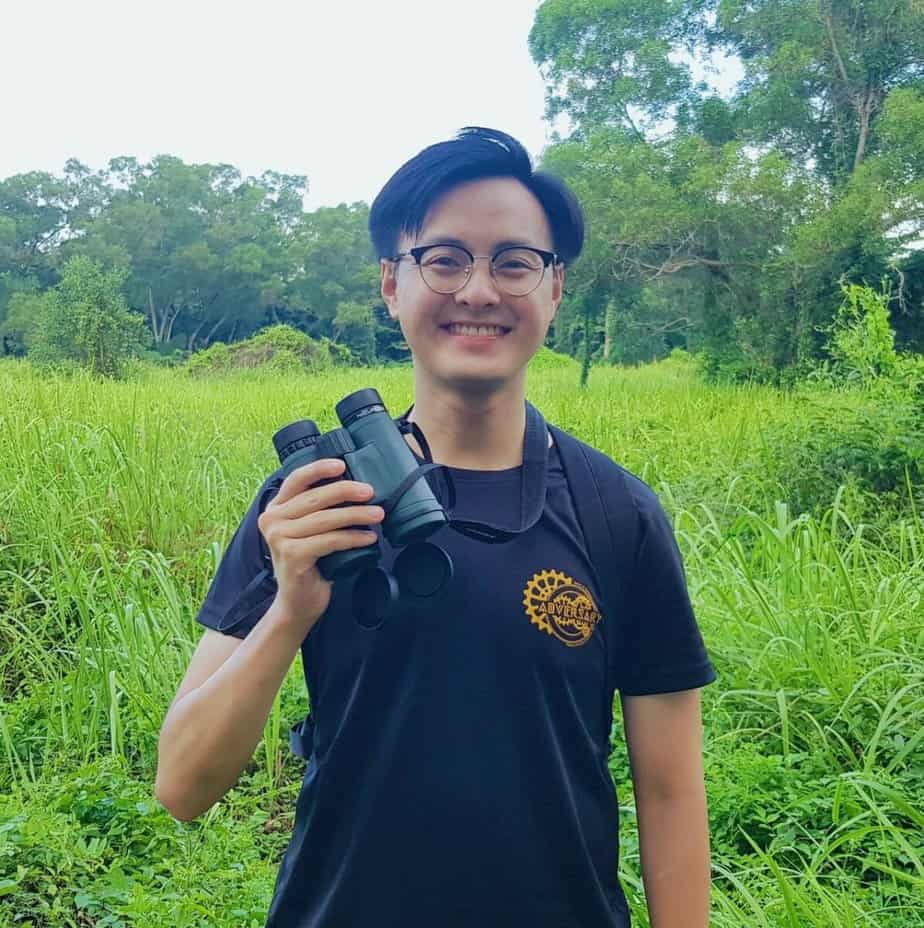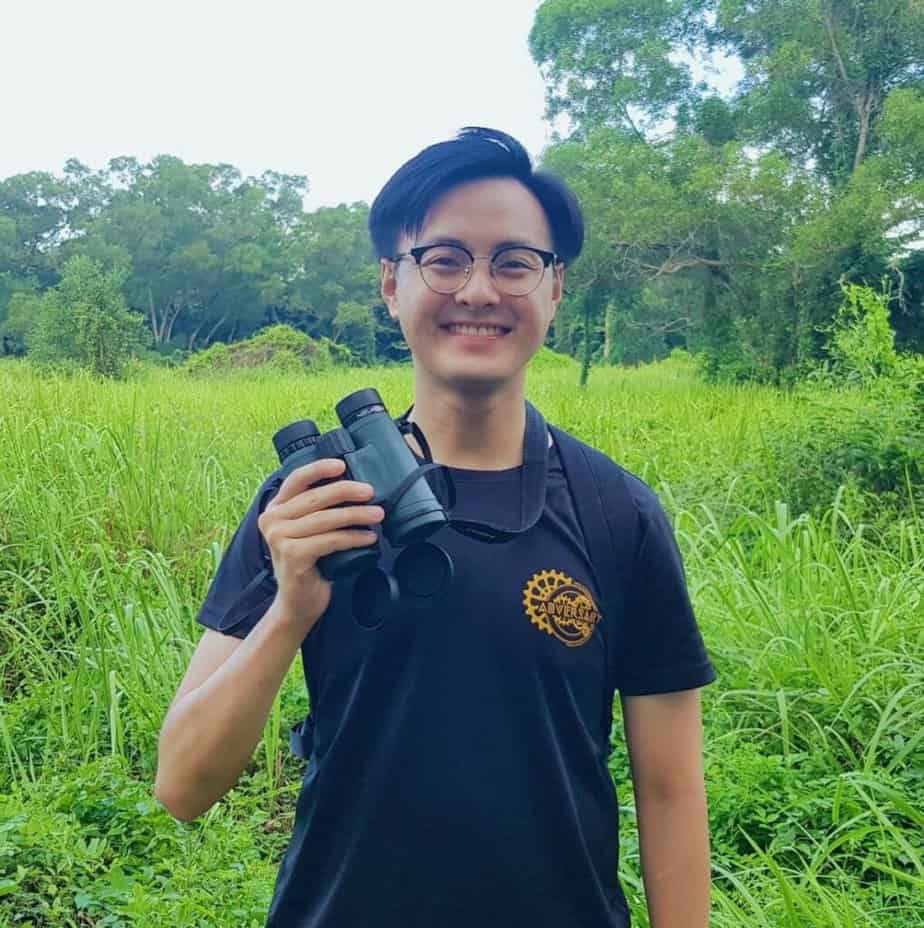 Justin is the founder and author of Birding Outdoors. He is a Nanyang Technological University (NTU) alumnus with a Bachelor of Biological Sciences and a former data analyst.
Now, Justin runs the Birding Outdoors blog full-time, hoping to share his deep love for birds, birding, and nature with others.
To unwind, Justin enjoys gaming and reading.