Do Bird baths Need To Be Elevated? (ANSWERED! + Table)
If you're like me, sitting facing my backyard and thinking to myself: 'should I elevate my bird bath?' Then you're in luck! I did a ton of research on this topic and found an answer. Here's what I found:
Bird baths do need to be elevated. This is to keep them out of reach from cats and other predators. Bird baths need to be elevated about 2 – 3 feet high. However, using both elevated and ground-level bird baths together can attract different bird species such as chickadees and robins respectively.
So now you know that bird baths need to be elevated. But how exactly so? In this article, I'll cover everything you need to know about the right elevation for bird baths. Read on for more!
Do Bird Baths Need To Be Elevated? (FULL Answer)
You've seen bird baths of different elevations, but it's hard to decide which is actually the best. I understand the confusion!
We need to first understand the reasons why bird baths need to be elevated. Here are 2 reasons why bird baths need to be elevated:
1. Elevating A Bird Bath Keeps Cats and Other Predators Away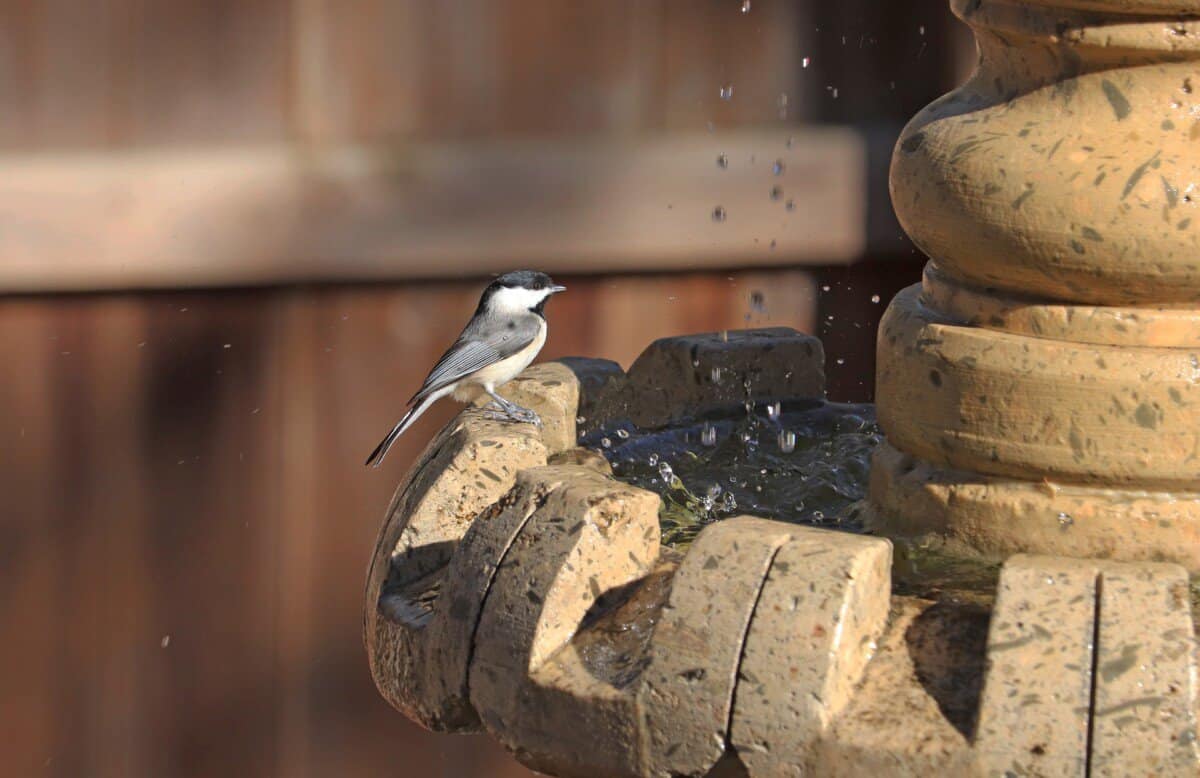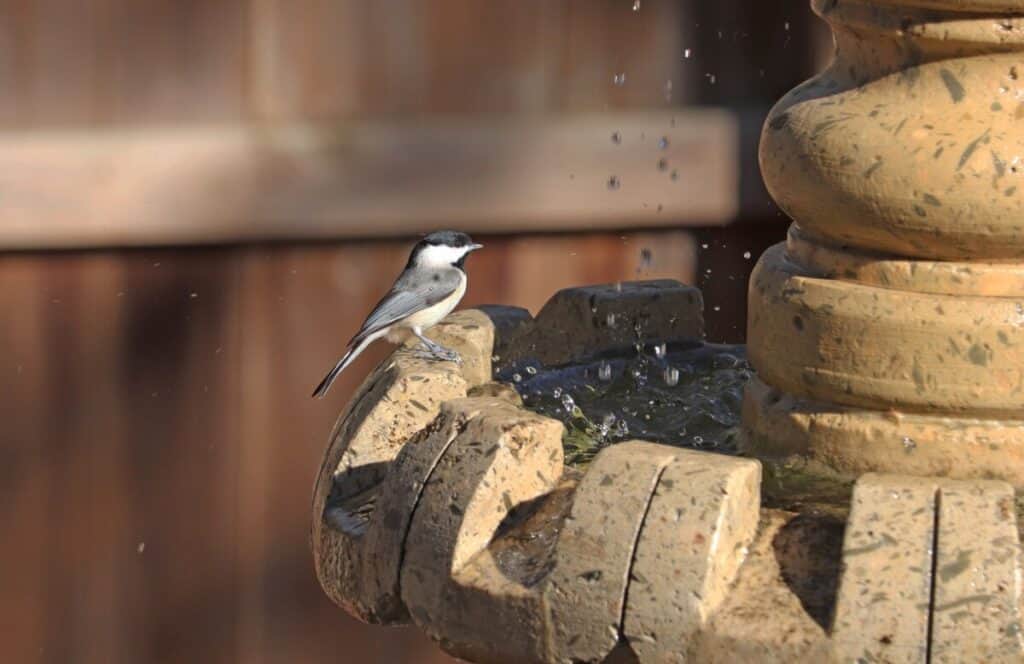 Not elevating your bird bath can be a devastating mistake for new backyard birders trying to set up a bird bath for the first time in their backyard.
This is because a bird bath at the ground level can attract other animals such as home cats, stray cats, and feral cats to the site.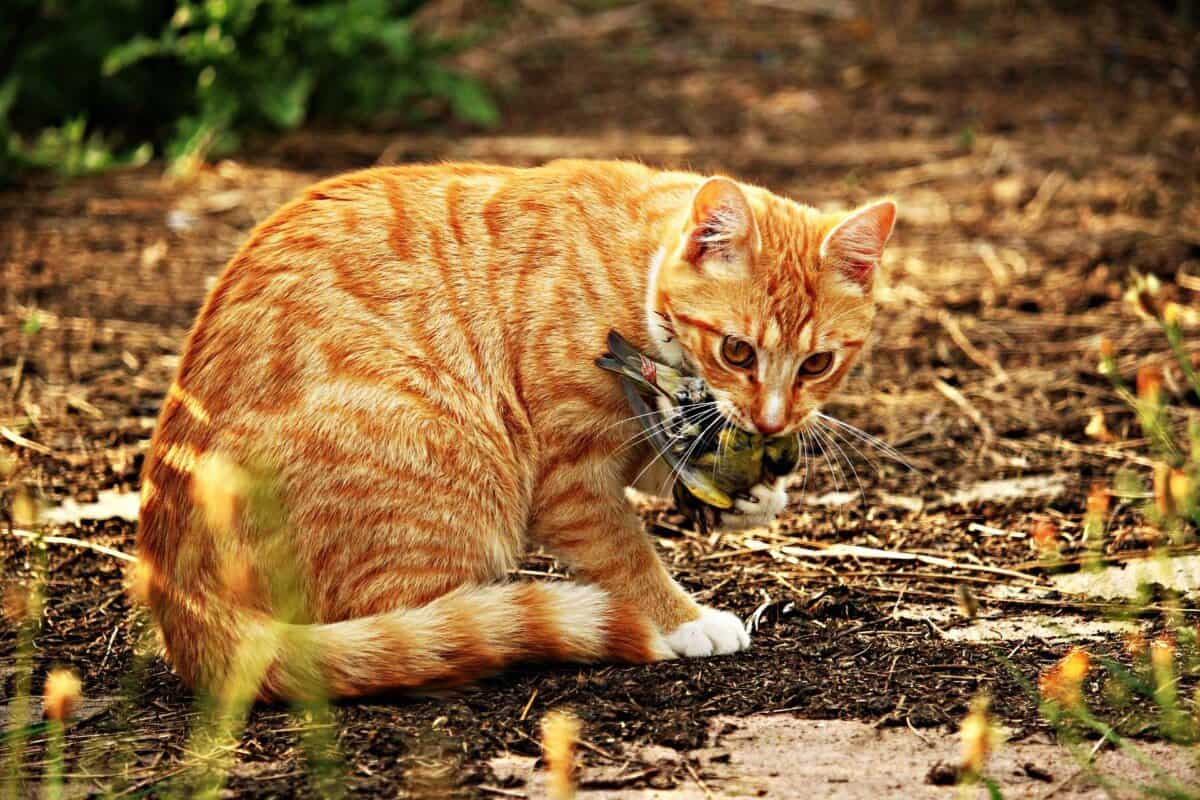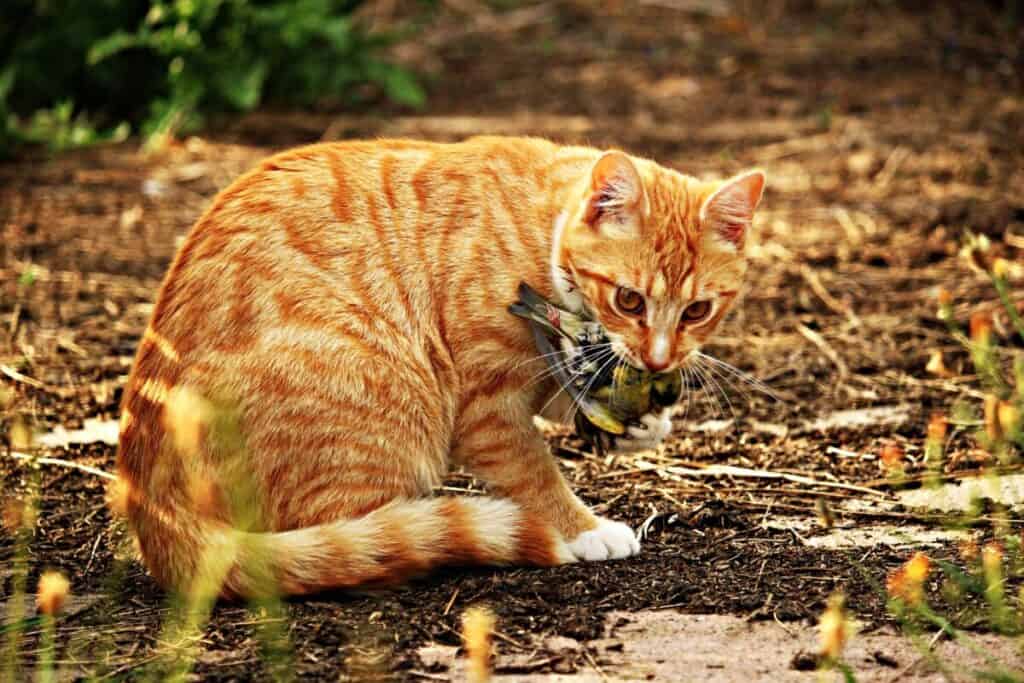 In fact, on average, a cat kills two animals per week, according to the Wildlife Society and the American Bird Conservancy in North America.
Moreover, when birds are bathing in a bird bath, they are vulnerable as their wings are wet, and as such, they are not able to escape from predators easily. This makes them an easy target for these backyard predators.
Beyond just predators, placing a bird bath that isn't elevated also invites critters that can't climb, to use the bath too.
2. Different Bird Species Are Attracted To Different Bird Bath Heights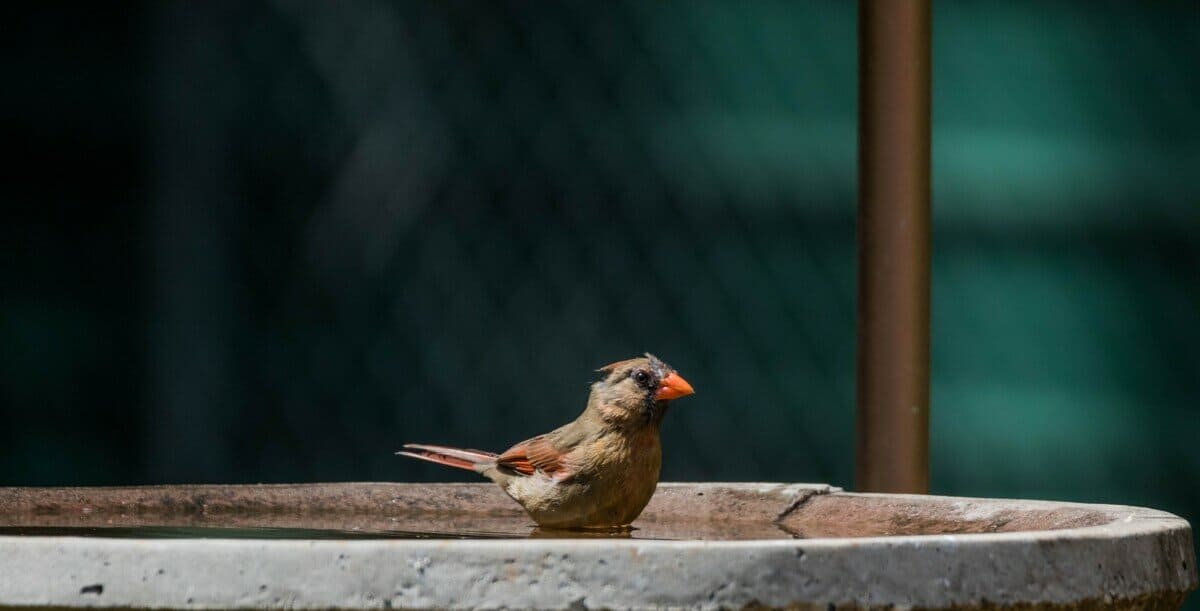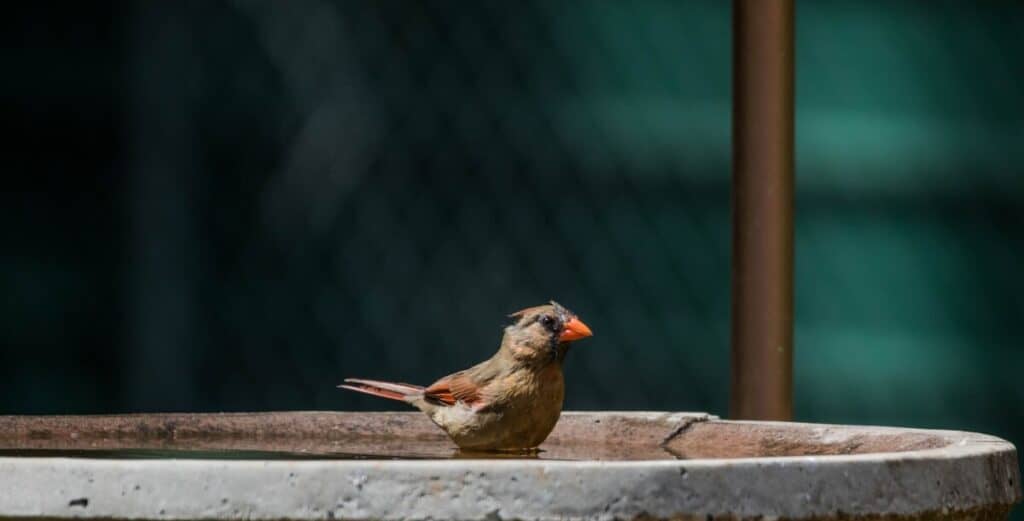 Of course, elevating bird baths will invite fewer predators, but in actual fact, bird baths in their natural context are small streams at ground level, where birds will be exposed to natural predators.
So we need to keep them safe!
You may not know this, but different bird species are actually attracted to different bird bath heights.
Backyard birds that are larger in size and ground-feeder birds prefer to use bird baths that are at ground levels, whereas smaller birds prefer higher heights so they are able to spot predators more easily.
This means that if you intend to attract a particular type of bird species, you will need to check out its size, then plan your bird bath height.
Here's a quick summary table of how much you should elevate your bird bath:
Bird Bath Height
Size Of Birds Attracted
Examples of Bird Species Attracted
Pros
Cons
Low/ground level- elevation (<1 ft.)
Larger birds and ground feeders
Cardinals, blue jays, robins, blackbirds, thrushes
– Easy to deploy with a simple flat bowl of water
– Attracts larger birds
– Easy to maintain
– Higher chance of predation
– Can get congested and shared among too many animals
Mid-elevation (2 – 3 ft.)
Both large and small birds
Finches, blue jays, robins, thrushes, cardinals, tits, sparrows, chickadees, blackbirds
– Most pedestal bird baths are of this height
– Attracts the most variety of birds
– Moderate level of predation
High-elevation (> 3 ft.)
Small birds
Finches, wrens, chickadees
– Less chance of predation
– Low chance of attracting most bird species
– If too high, it can be difficult to reach and maintain
The Optimal Height For A Bird Bath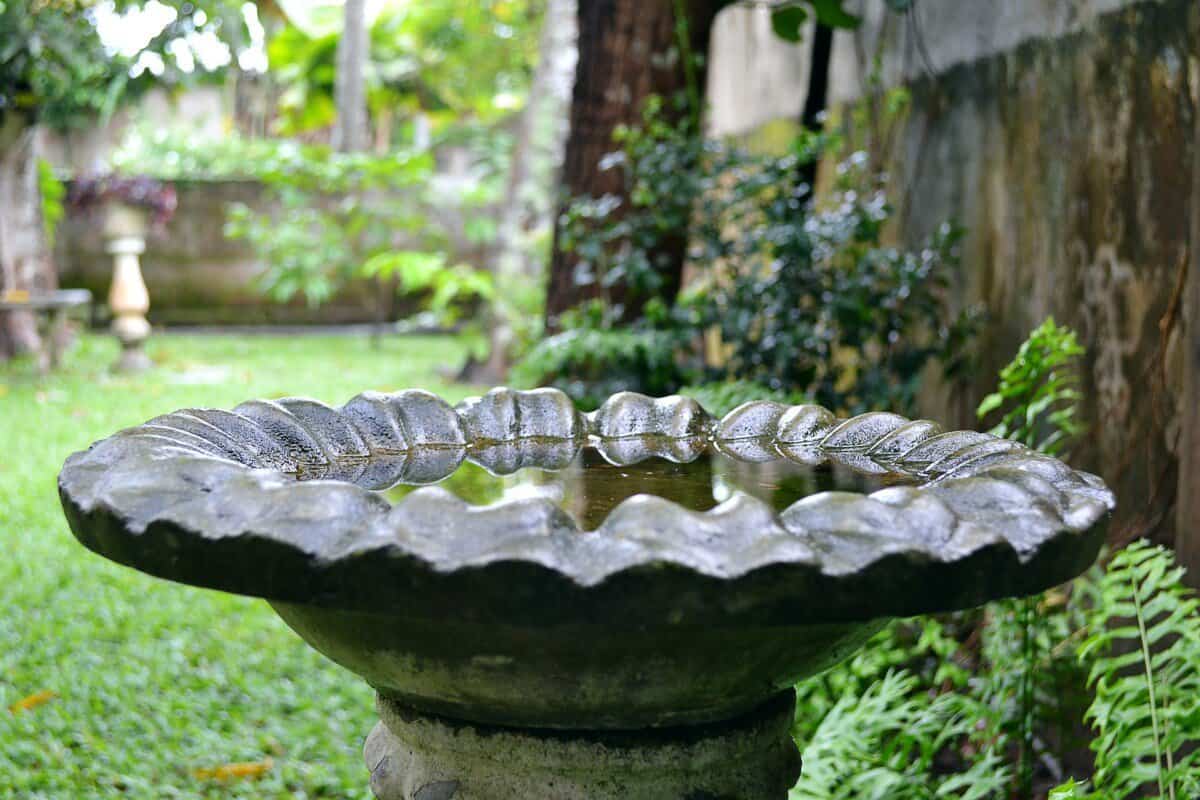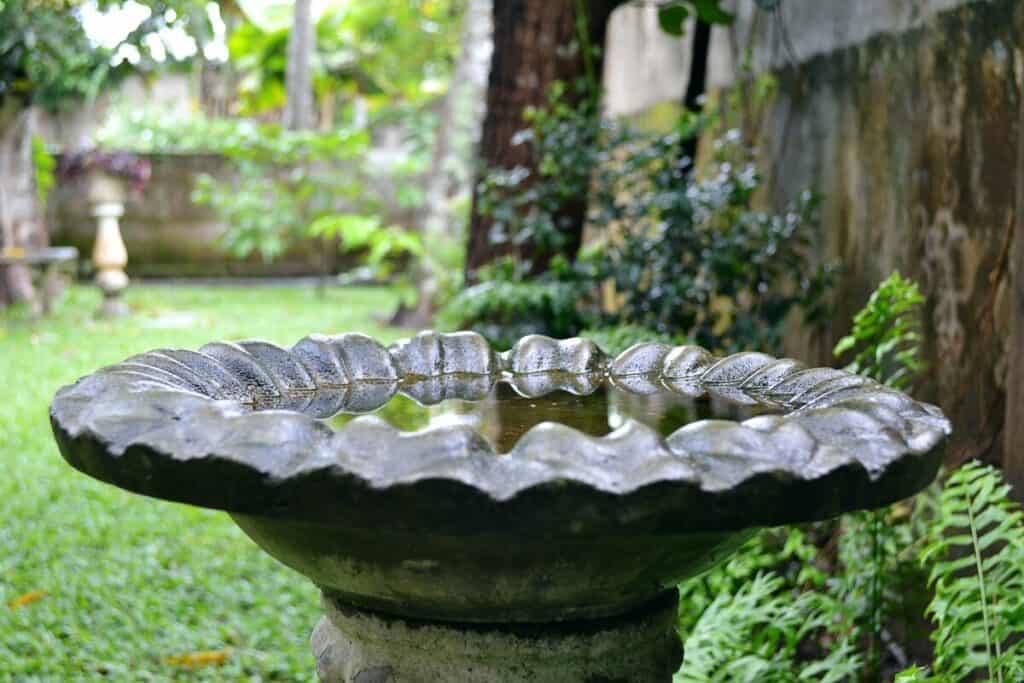 So you may now ask the question: what is the best height for my bird bath? Well, that depends on what kind of birds you would want to attract, and your preference of the type of bird bath, and how well you can keep predators out of your bird bath.
Different Bird Bath Types And Their Respective Heights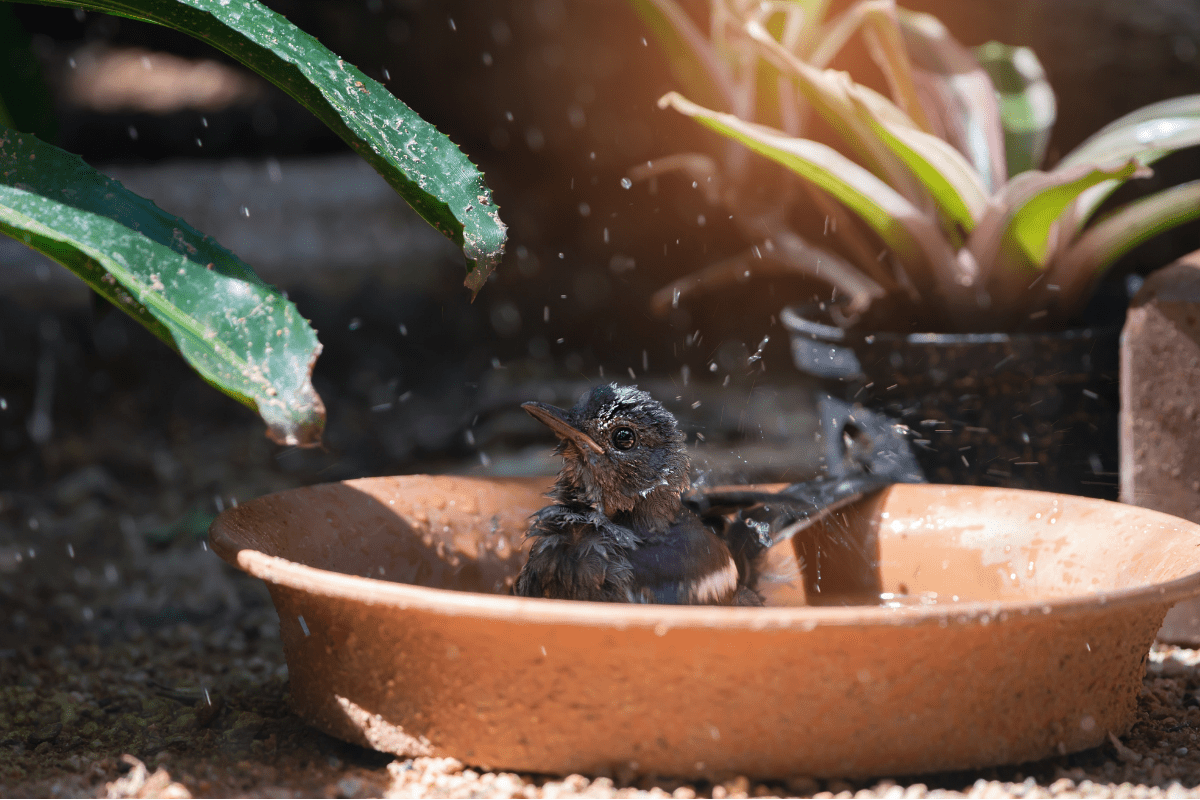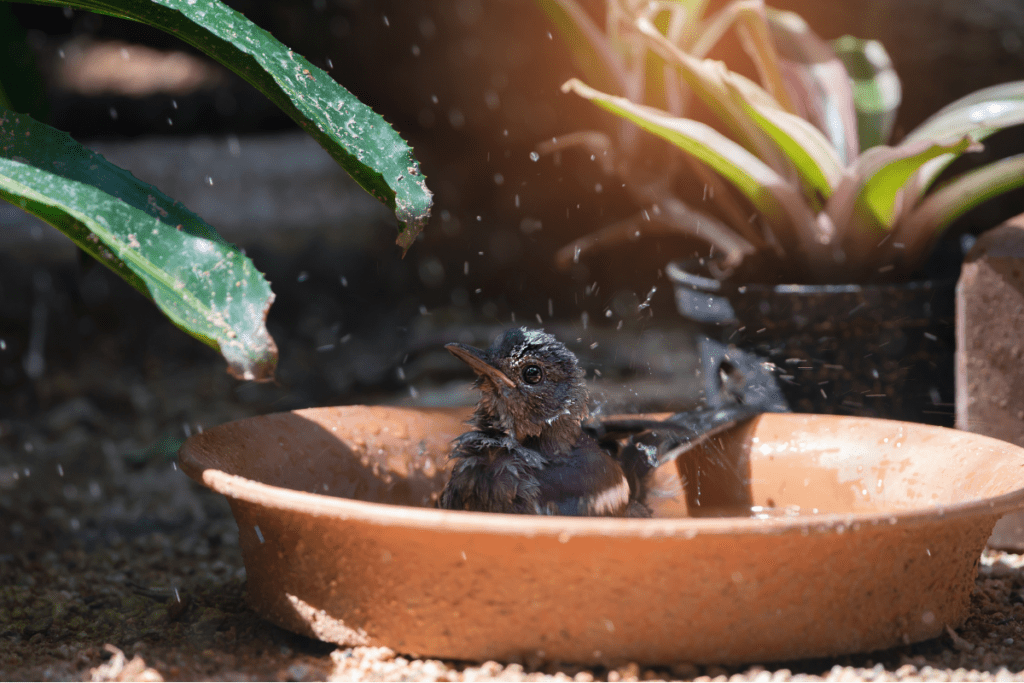 Now that you're informed on the different bird bath heights and their respective pros and cons, you probably already have a particular bird bath height in mind.
However, if at this stage, you haven't yet purchased a bird bath, let me run you through some examples of bird baths with respect to their elevation so you attract as many birds as you can!
Here are all the bird bath types, their heights, and their pros and cons:
Caveat for the above table: I'm going to assume that the height of the bird baths is going to be the same as the elevation that you're going to place your bird bath at (for pedestal, staked, and ground bird baths).
This means that if you get a pedestal bird bath, it will be placed on the ground, where the height of the bird bath = elevation off the ground.
What Bird Bath Setup I Would Recommend:
After learning about all this information on bird baths, their heights and so on, I've come to conclusion for myself and it's what I recommend to you: Try setting BOTH a ground-level and a pedestal level bird bath if possible!
Here's how I plan and envision my setup to be like: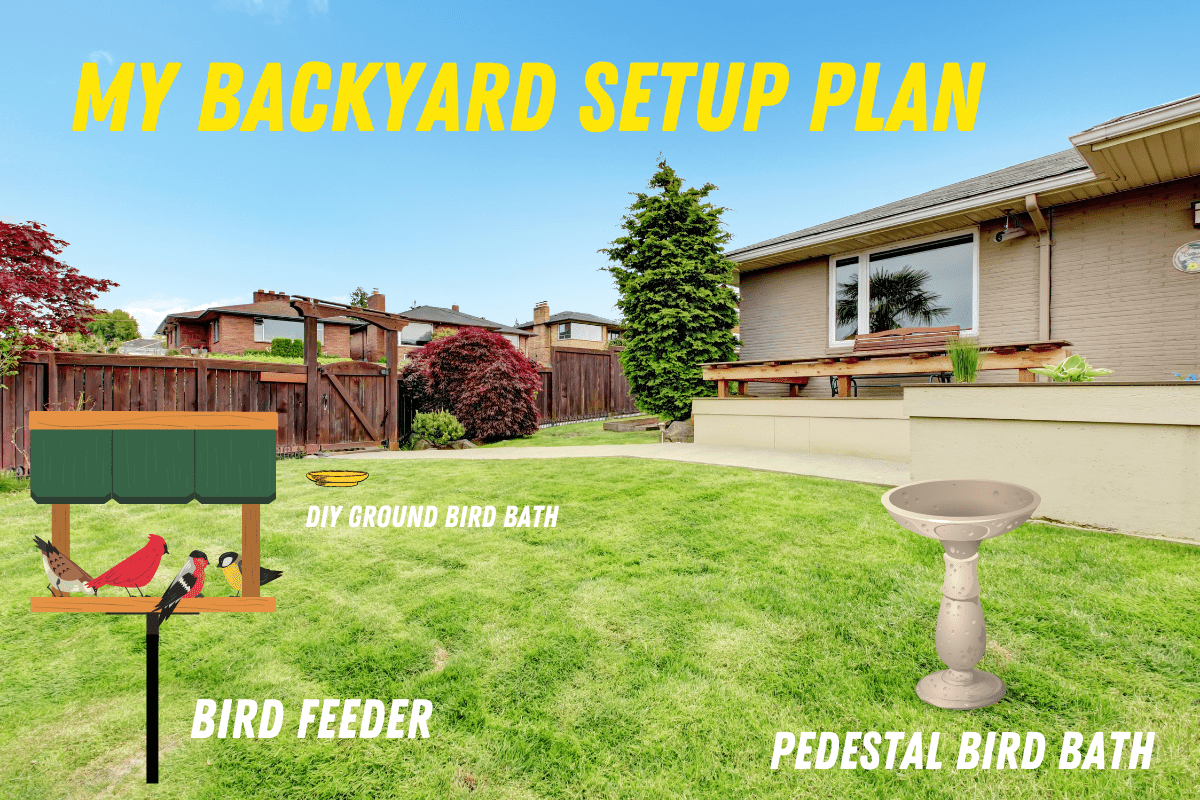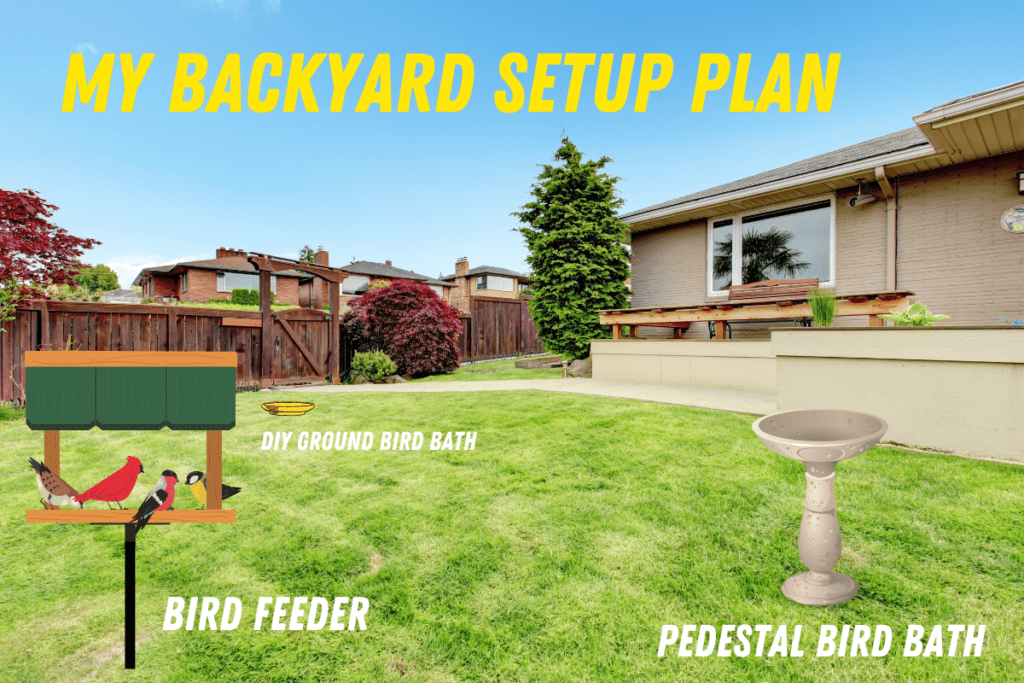 By setting up both in combination, you can allow for land animals, predators, and larger birds to enjoy the water source at the ground level, AND also for smaller birds to enjoy the safer elevation of a pedestal bird bath.
You can do the same by DIY-ing your own ground-level bird bath and purchasing one pedestal bird bath!
Final Thoughts
Hopefully, you would have found the answer to your question on whether bird baths need to be elevated; they do!
However, you need to take into consideration the caveats of doing so and choose what's best for your situation and budget.
I hope this article has been useful too, as it is was for me when I was researching this topic. Thanks for reading and I wish you success in setting up your bird bath and attracting lots of birds to it. That's all for today, happy birding!
References
Loss, S., Will, T. & Marra, P. The impact of free-ranging domestic cats on wildlife of the United States. Nat Commun 4, 1396 (2013). https://doi.org/10.1038/ncomms2380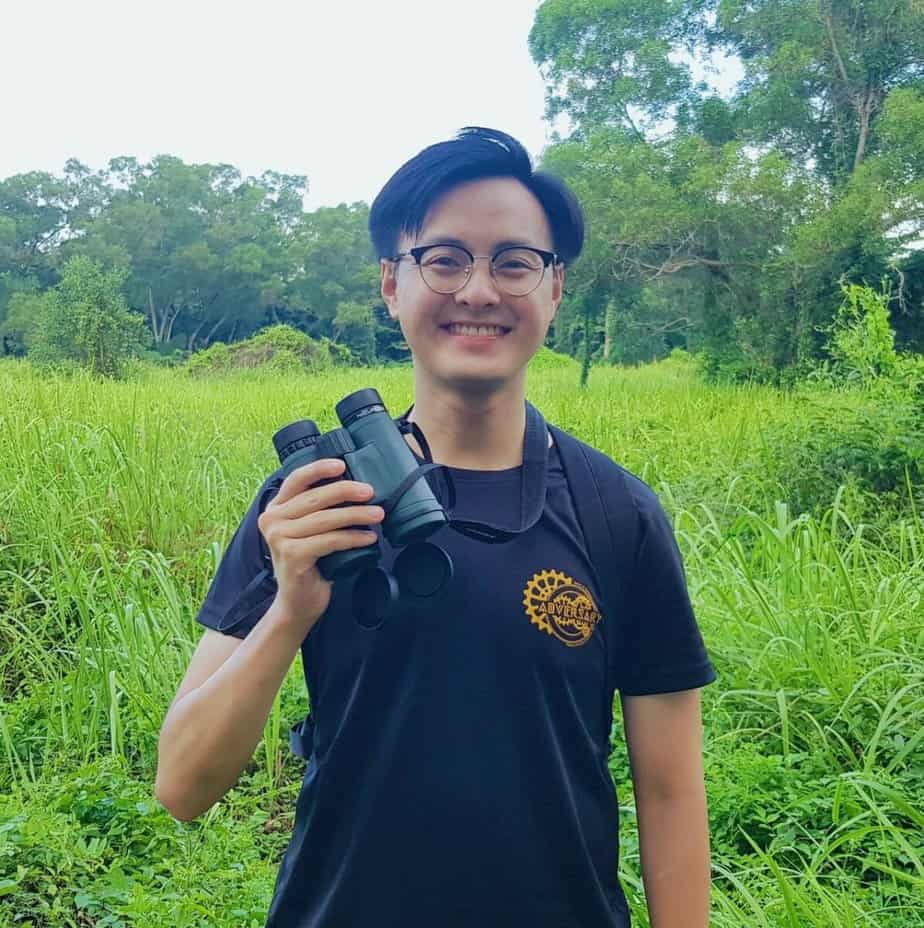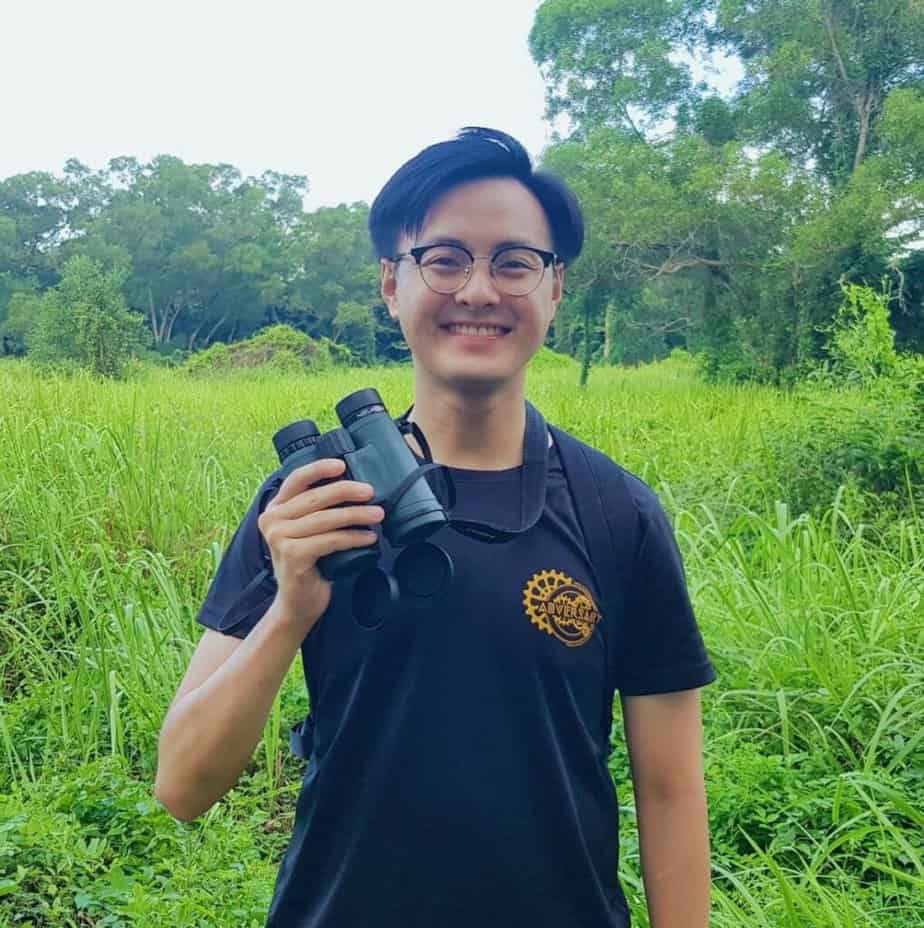 Justin is the founder and author of Birding Outdoors. He is a Nanyang Technological University (NTU) alumnus with a Bachelor of Biological Sciences and a former data analyst.
Now, Justin runs the Birding Outdoors blog full-time, hoping to share his deep love for birds, birding, and nature with others.
To unwind, Justin enjoys gaming and reading.