8 Best Birding Podcasts (Worth a Listen in 2023!)
Birding podcasts are a great way to learn about birding while on the go! So I took the time to come up with a really comprehensive list of birding podcasts by myself! Here's what I found:
The 8 BEST Birding Podcasts:
BirdNote
Talkin' Birds Show
For The Birds Radio Program
The Birding Life Podcast
Out There With The Birds Podcasts
Hannah and Erik Go Birding Podcast
Bird Sh*t
The Casual Birder Podcast
So you know the list of birding podcasts, now let me discuss what each podcast is about so you know which is suitable for you! Read on to find out more:
About Podcasts
You've probably heard of podcasts in the past and even radio shows. But what really is in a podcast? Before we dive into the list of podcasts, I'll give you a quick rundown on what a podcast is and what to expect in one.
A podcast is a series of episodes spoken verbally, usually by a host that is recorded into digital audio files. Users typically can download or listen to on the site itself.
In birding podcasts, the content covered usually encompasses discussions about birds, conservation, birding experiences, and slice-of-life journalism.
Now let's get into the list!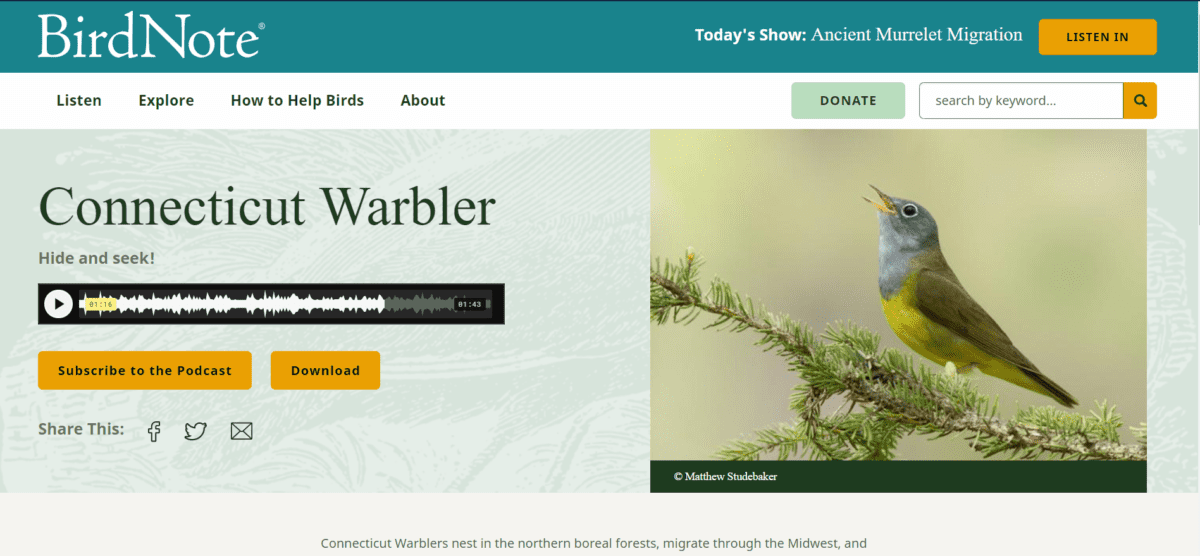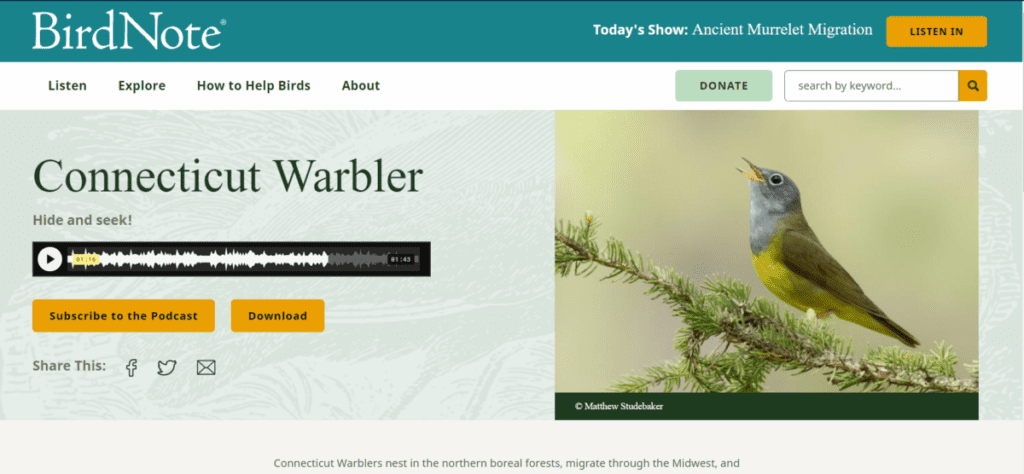 Description: BirdNote is a fantastic and well-produced radio show that showcases many different engaging stories, coupled with rich sounds. They use the sense of sounds to stimulate the birder in you!
The BirdNote podcast commonly showcases the lives of singular birds and the habits that they have.
These stories combined with interesting illustrations and storytelling of personal bird encounters make for a refreshing 2-minute snippet to brighten up your day.
The quality of the podcast is absolutely amazing and can definitely give listeners like you with a momentary respite from the hustle and bustle of your busy day.
The podcast is by many different hosts that rotate. All hosts have a pleasant and clear voice, that make a great match with the interesting stories that they narrate!
Why I love it: I absolutely love the production value on this podcast. The website is great, the podcast length is great, the content in each podcast is great!
The website is quick and easy to navigate so you won't get lost like on some websites. The podcast length is 2 minutes long, short enough to not take up too much time of your day, but long enough to narrate an interesting story that will leave you hanging for more each day.
Oh yes, a new episode of the podcast is released daily, so you can get daily digestible episodes every day!
The content is structured in a way that piques my interest, the podcast is coupled with engaging and beautiful pictures of birds, which help you to have a little visual aid when you are listening to this podcast.
I must say that this podcast is one of the best – simple and yet engaging!
Link to podcast: Check out the BirdNote podcast here.
For each episode, you can either download, listen on the web, or subscribe to the podcast on your preferred audio streaming platform! Platforms supported: Apple Podcasts, Overcast, Pocket Casts, Spotify, Stitcher, or RSS.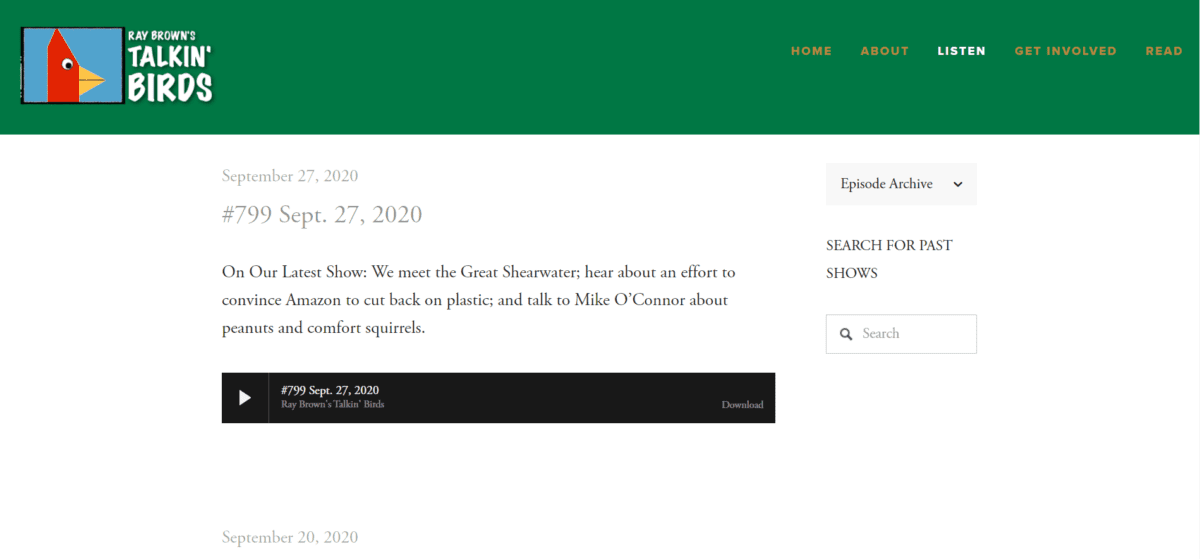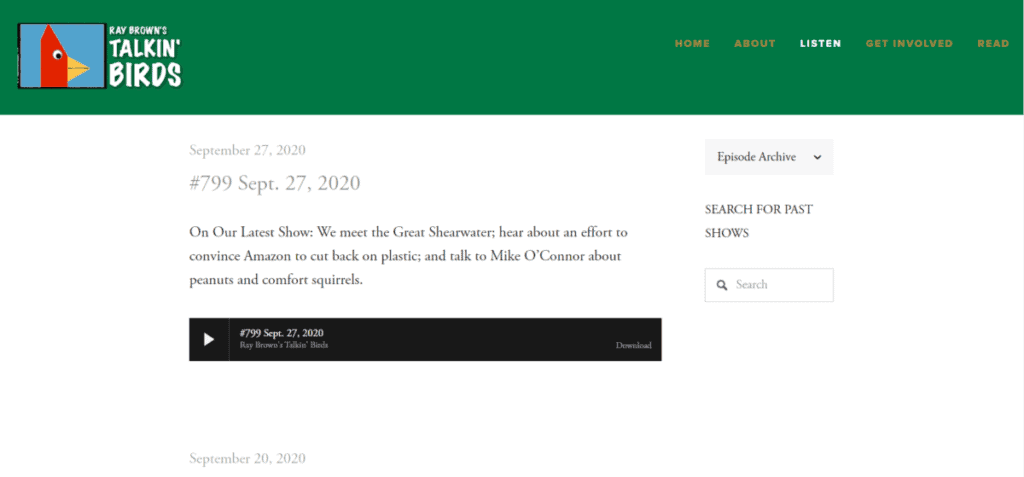 Description: Ray Brown's Talkin' Birds is a live and interactive radio show where birds and their natural environment are discussed in greater detail.
These topics included are attracting birds to the backyard, bird feeding, and facts about birds in general. The show commonly features guests who are expert birders, and covers news on birds and conservation.
The show is a 30-minute long show that features more long-form and more educational content, perfect for those who want deeper insight into the world of birding and our community.
Why I love it: I love this particular program because it's jam-packed and filled with casual conversation with the hosts and the expert guests invited to the show. It's great to learn lots of interesting facts about birds that I never knew.
I particularly like the portion where I get to ID a bird that they described, and then listeners get to call in and guess what bird it is. There are of course prizes to be won (birding-related prizes).
As this podcast is 30 minutes long, I would suggest that it's a great way for me and you for listen in to it when you're on a long drive home or simply on public transport with time to kill.
Instead of listening to songs that don't mean much, how about listening to this podcast and deepening your understanding and love for birds?
Link to podcast: You can check out the webpage for more information on Talkin' Birds here. You can listen to their podcasts on the web, radio stations, and on their smartphone app.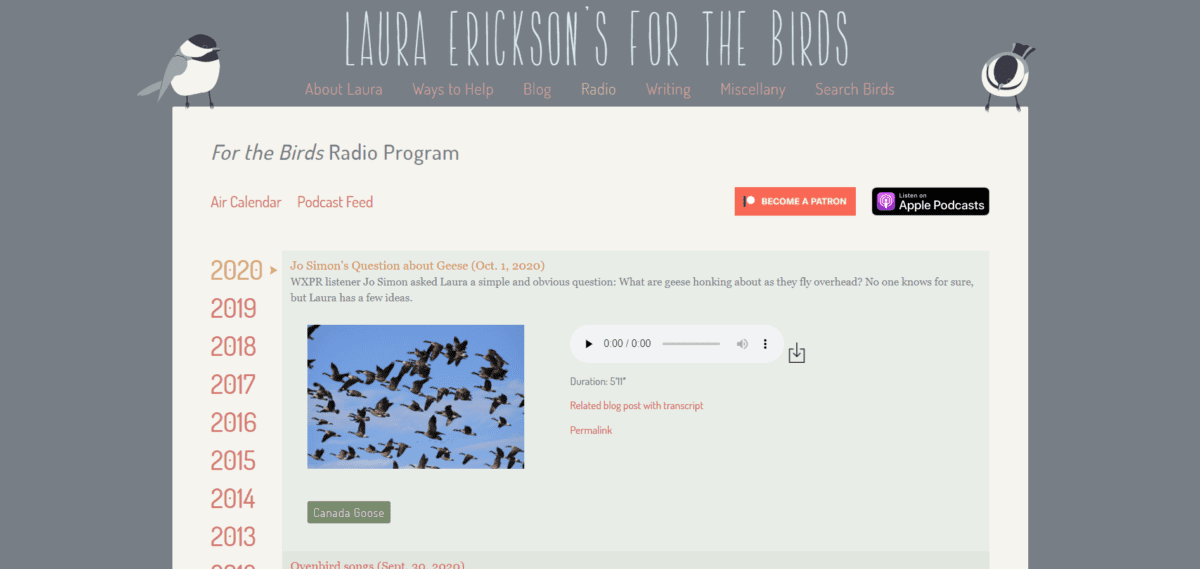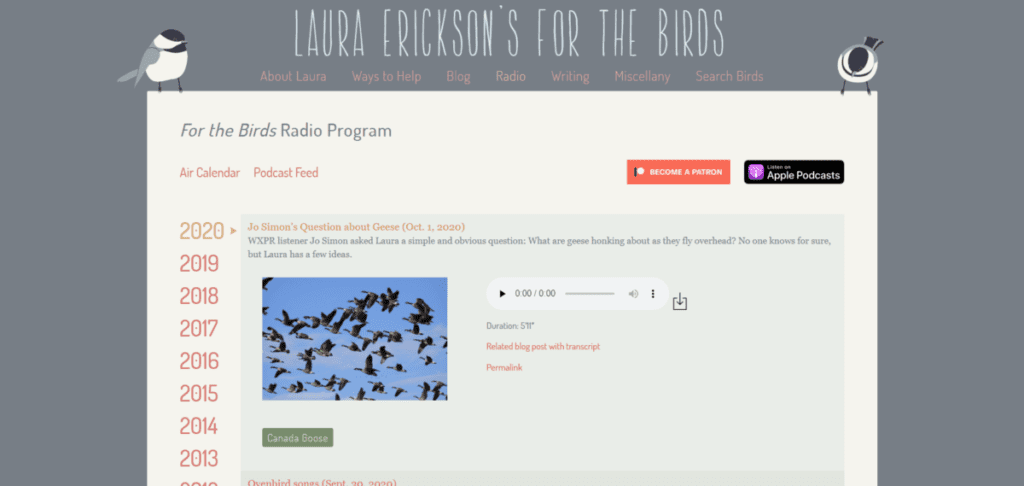 Description: This is an American birding podcast hosted by Laura Erickson. She is the 2014 recipient of the prestigious Roger Tory Peterson Award by the American Birding Association;
In addition to running this podcast, she also photographs and writes blog posts about birds.
The For The Birds Radio Program is a long-standing program in which Laura has been putting out audio content about different bird species.
This American birding podcast brings a highly personal touch, typically with Laura describing her unique experiences as a birder herself in the birding world.
However, she will occasionally invite an expert or guest onto the show to speak with her, where they will discuss conservation issues and other interesting facts about birds.
The podcast episodes are typically about 5 minutes long and are perfect for a quick and refreshing time of listening when you're getting some chores done at home.
Why I love it: What really impresses me is that for each podcast that she narrates, there will be a blog post written for that same topic as well!
The blog posts that accompany the podcast episodes are a great visual stimulus with pictures of beautiful birds.
If I ever were lazy or not in the mood to listen to a podcast episode, I can choose to read a blogpost quickly instead.
This means that you have the option to choose between listening to the podcast episode or reading the blog post. You get more flexibility and you get to decide what works best for you, and that's great!
Link to podcast: You should really go check the website out for yourself. Here's a link to get you there. You can choose to listen to apple podcasts, on the web or download the audio file to listen on your device.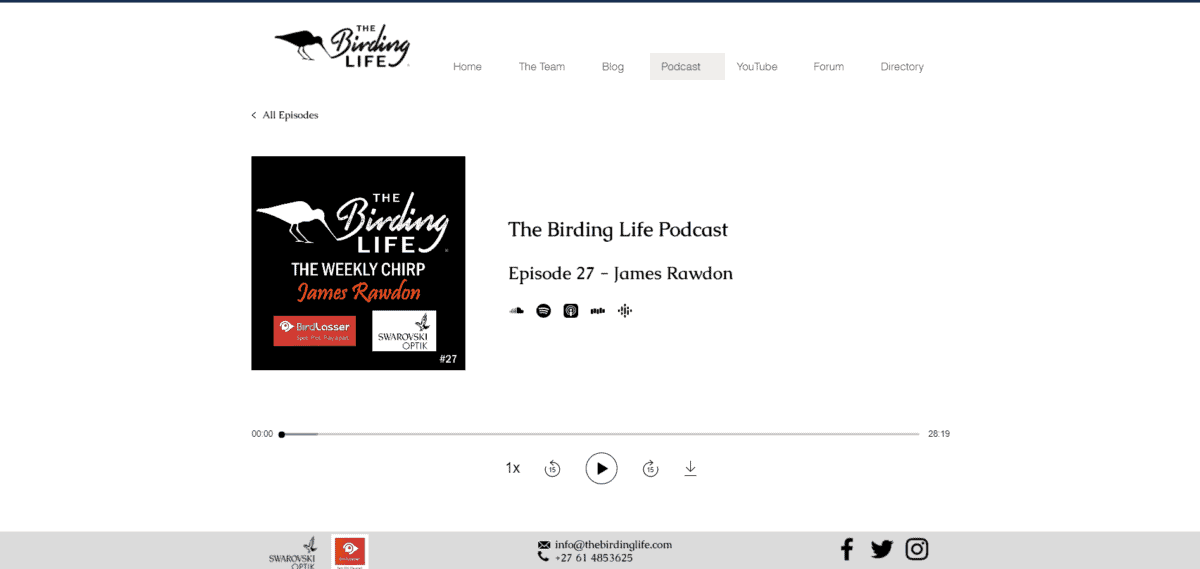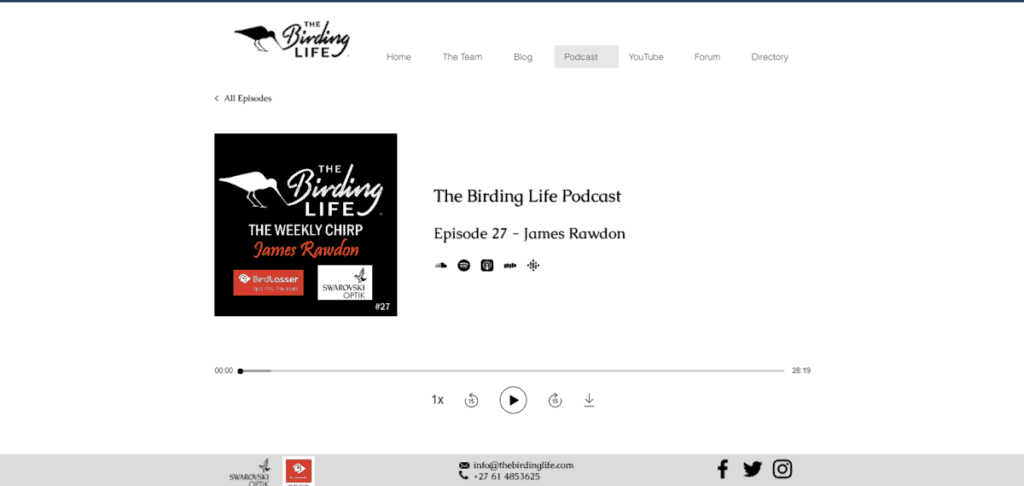 Description: The Birding Life Podcast is a small project of the website that is dedicated to the crazy lifestyle of birding! They believe it's a lot more than just a page about chasing birds and adding more birds to a 'life list'. The website aims to know more about the birding community, about birds, bird conservation, and how to find some amazing birds.
The podcast has been started in April 2020 and has seen many episodes with lots of guests in the birding community. Topics commonly discovered include topics about birding in South Africa, birding events, and bird conservation projects.
Each episode is about 30 – 45 minutes long. Long enough for a deep conversation with experts in the birding community to educate you on birding topics you need to know about such as conservation.
Here's an example of an episode by The Birding Life Podcast:
Why I love it: The Birding Life Podcast is great because it is released weekly, so you have an entire week to look forward to a single upload.
Its length is also perfect for long drives and rides on any public transport. Listen to a podcast, not just music!
Link to podcast: Check out The Birding Life Podcast here. The podcast is also made available on Soundcloud, Spotify, Apple Podcasts, Stitcher, and Google Podcasts.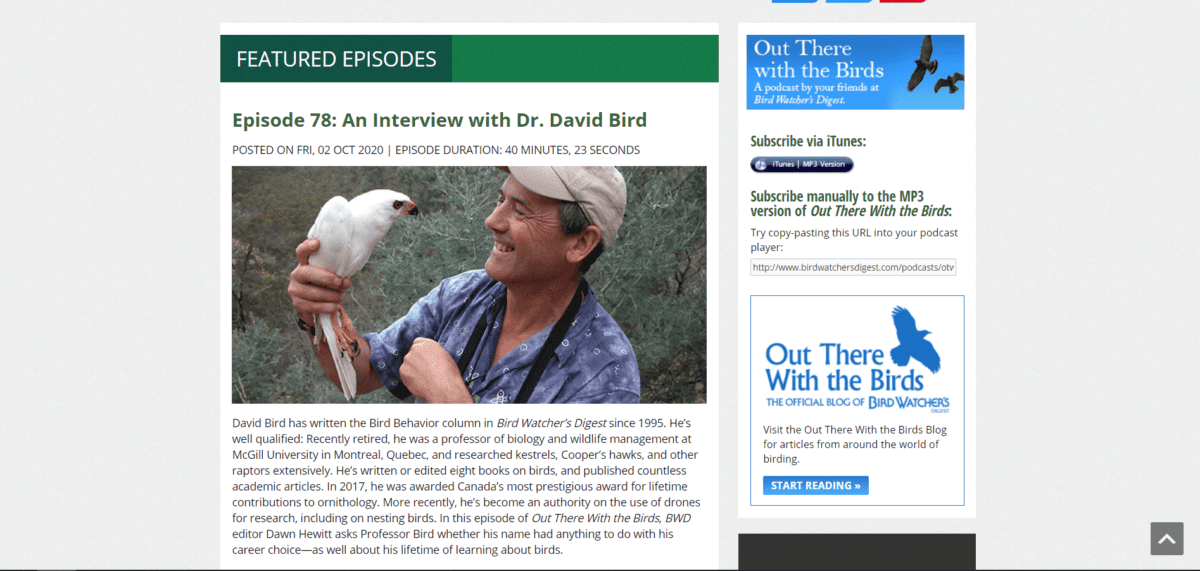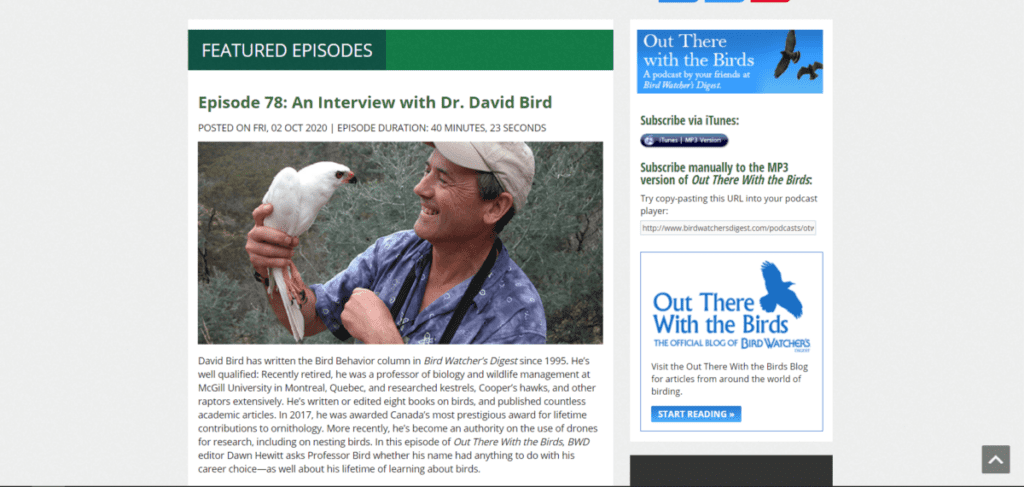 Description: The Out There With The Birds Podcasts features the staff of Bird Watcher's Digest hosting the show. The show commonly discusses trends, anecdotes about wild birds, and anything related to birds!
What is commonly seen in each episode is that there is typically a guest that is invited to the show to talk about issues that the birding community is concerned about.
In some episodes the talk can be about raptors, some can be about bird conservation efforts, and some can be simply to raise awareness of birds and promote engagement with birders around the world.
Why I love it: This show is great for a great range of expertise of birders; from beginner to advanced birders.
I personally like to hear about interesting topics that the show covers such as how the industry of illegal bird trade is like, and how we can better conserve the birds in our local regions.
As the topics discussed are fairly international, birders from all over the globe can enjoy the episodes!
Link to podcast: Check out the Out There With The Birds Podcast here. You can either download the podcast episodes in mp3 format or listen online on the site.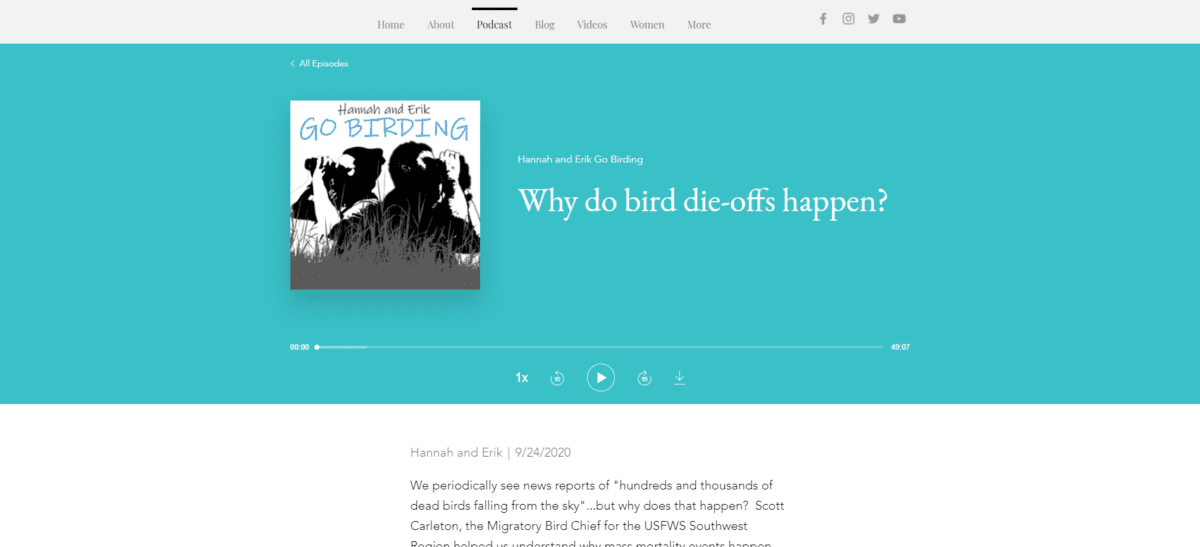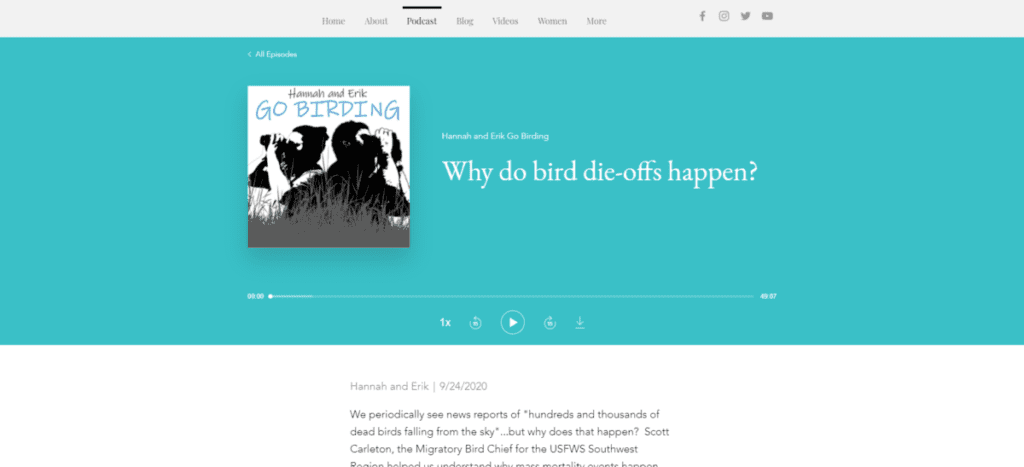 Description: Hannah and Erik are a birding couple that love both each other and birding! Though they are not experts, they are extremely passionate about birding and even traveling to see birds.
They started this podcast in order to inspire others, share their adventures, and hopefully encourage future and present birders. The podcast contains lots of episodes of curious stories of birds, their personal projects, and invited guests on the show.
The episodes are typically 1 hour in length and go rather in-depth with their conversations, especially with guests on the show. The audio quality is crisp and clear.
Why I love it: The topics discussed in this podcast are really insightful!
An example of a topic that was discussed in one of the episodes is the worldwide spring migration of birds. They discussed counting migrating species through innovative analysis and data collection methods on eBird.
As a lover of tech and data science, it's great to understand how the tracking technologies and even the simple bird sightings that we input into eBird can go a long way in contributing to migratory bird research!
I never knew all the science and work behind it before I heard this episode.
Link to podcast: You should check out the podcast here.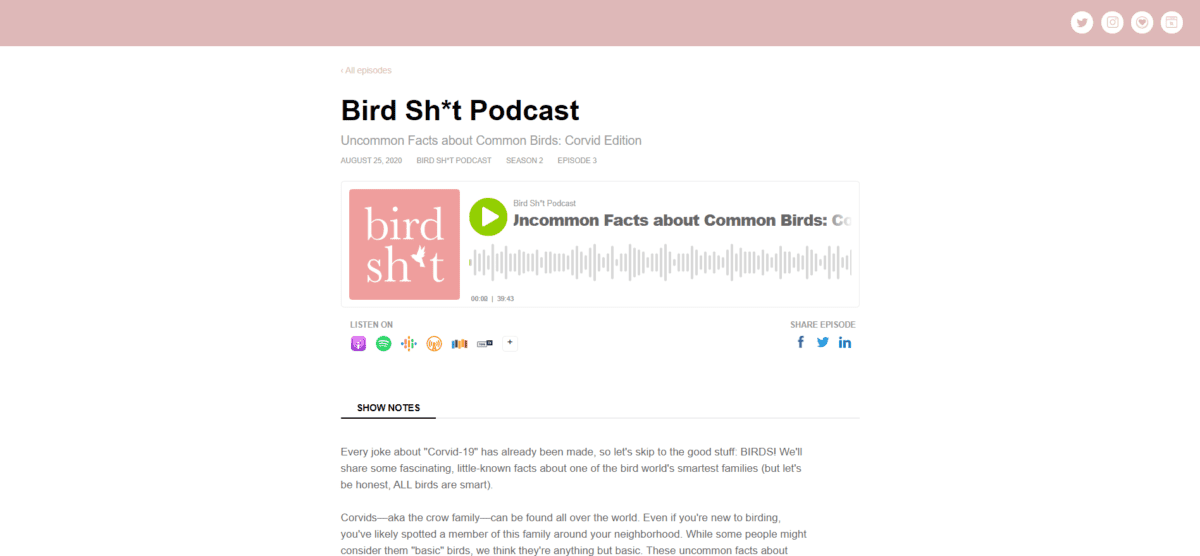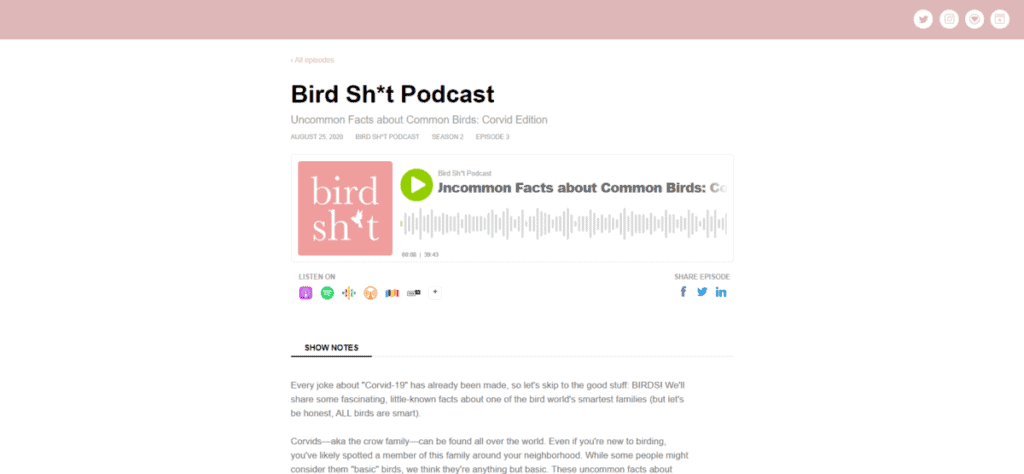 Description: The name of this podcast may put some people off, but don't go just yet!
Bird Sh*t has got to be one of the most casual and laidback podcasts I've ever heard. The show is hosted by two millennials: Mo and Sarah.
The podcast was first started in May 2019 and has since continued till now.
The podcasts typically feature curious topics that birders will all be curious about, coupled with funny puns and jokes from Mo and Sarah themselves.
The podcasts tend to take on a more light-hearted tone, with less seriousness! The episodes are filled with fun-filled facts about birds that you never knew.
Why I love it: As a young birder, I feel like I can identify with the jokes and tone of the podcast. The episodes typically feature small and fun facts about birds which I really enjoy!
I enjoy listening to this podcast on the train home, instead of listening to mindless pop!
I can get to enjoy birding even when I'm not birding with these 2. The chemistry between the host's Mo and Sarah is great and they complement each other really well!
Link to podcast: You can check out the podcast here on their website.
Their episodes are available on Apple Podcasts, Spotify, Google Podcasts, Overcast, Stitcher, TuneIn, Pocketcast, Castro, Castbox, and RSS Feed. So many platforms!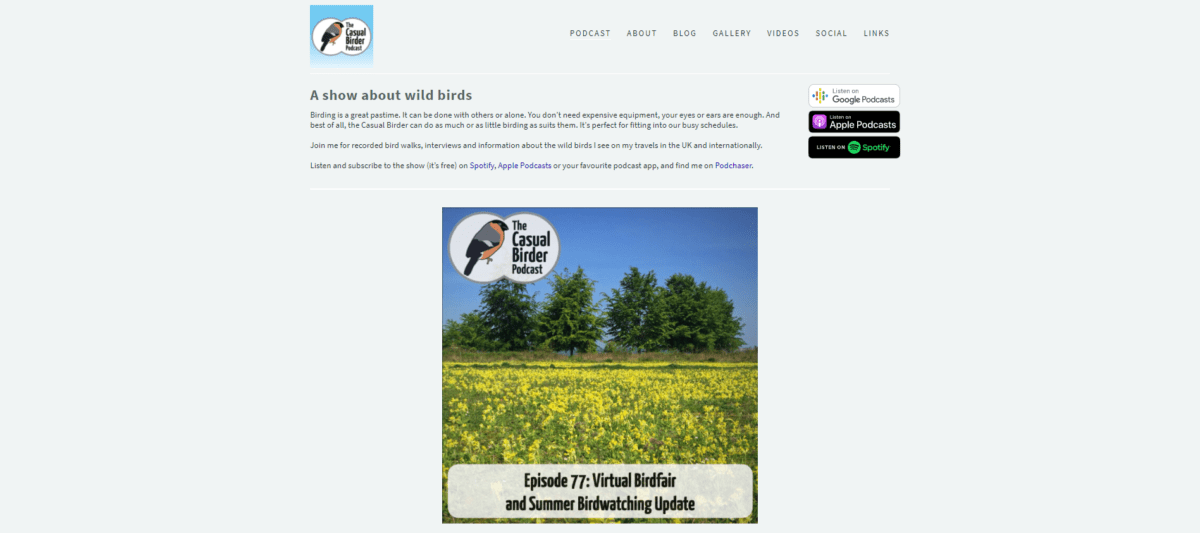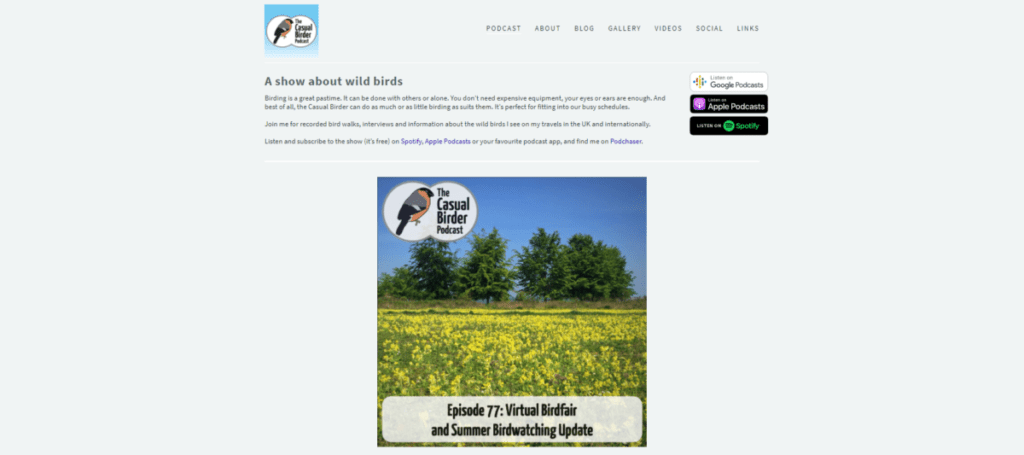 Description: This podcast is like how the title is like, really casual!
The podcast is hosted by Suzy Buttress (The Casual Birder), who gives her commentaries in each episode in her journey as a birder.
In some episodes, she will interview others who enjoy wild birds and share comments and questions from her listeners.
Why I love it: I really love the fact that she often invites guests on her show to discuss topics on birds with a more casual and lighter tone as compared to other podcasts.
She also has a blog that she writes alongside these episodes, so you can follow and read her posts even as she retells her story of birds having a lot of drama in her garden.
I find her content really relatable to casual and beginner birders, so do take note, newbies!
Link to podcast: You can check out her podcast episodes on her blog. Alternatively, you can also listen to them on Google Podcasts, Apple Podcasts, and Spotify!
Final Thoughts
Bird podcasts are a great way for us birders to learn more about developing our birding skills, and at the same time get to know more about interesting birding experiences that others have. They are a great way to keep abreast with new news on birds!
Now that you've seen this list, decide on which you wanna listen to, and get listening!
Thanks for reading and happy birding!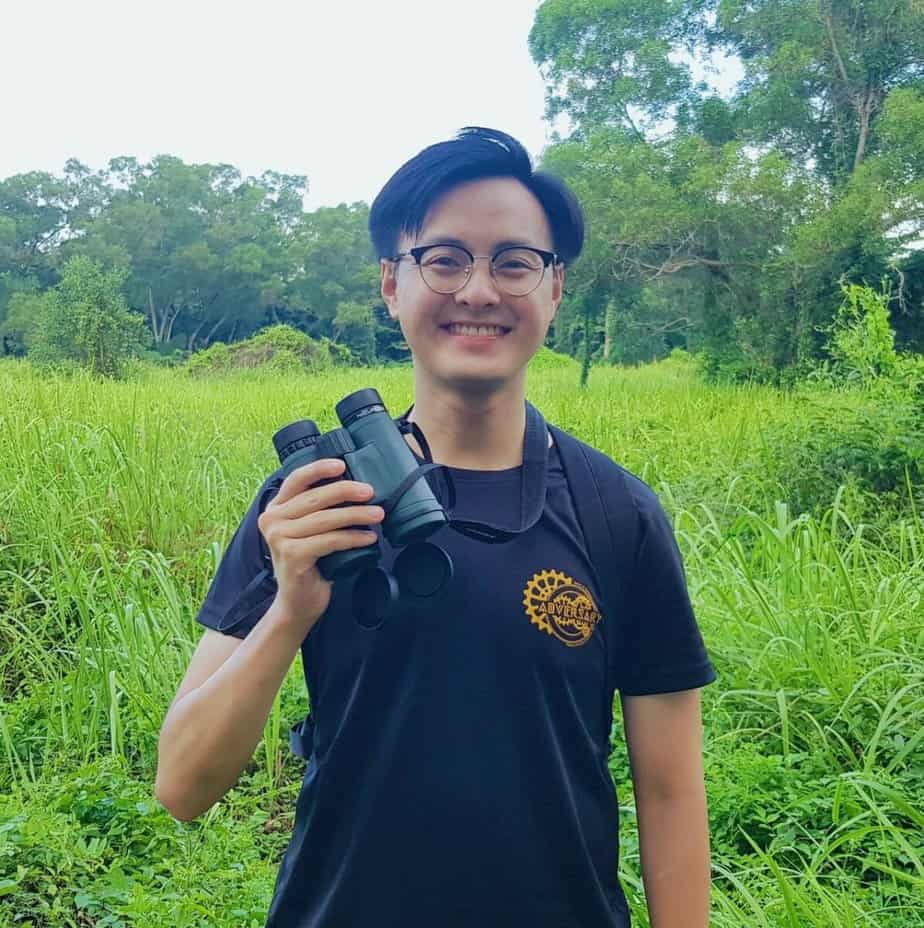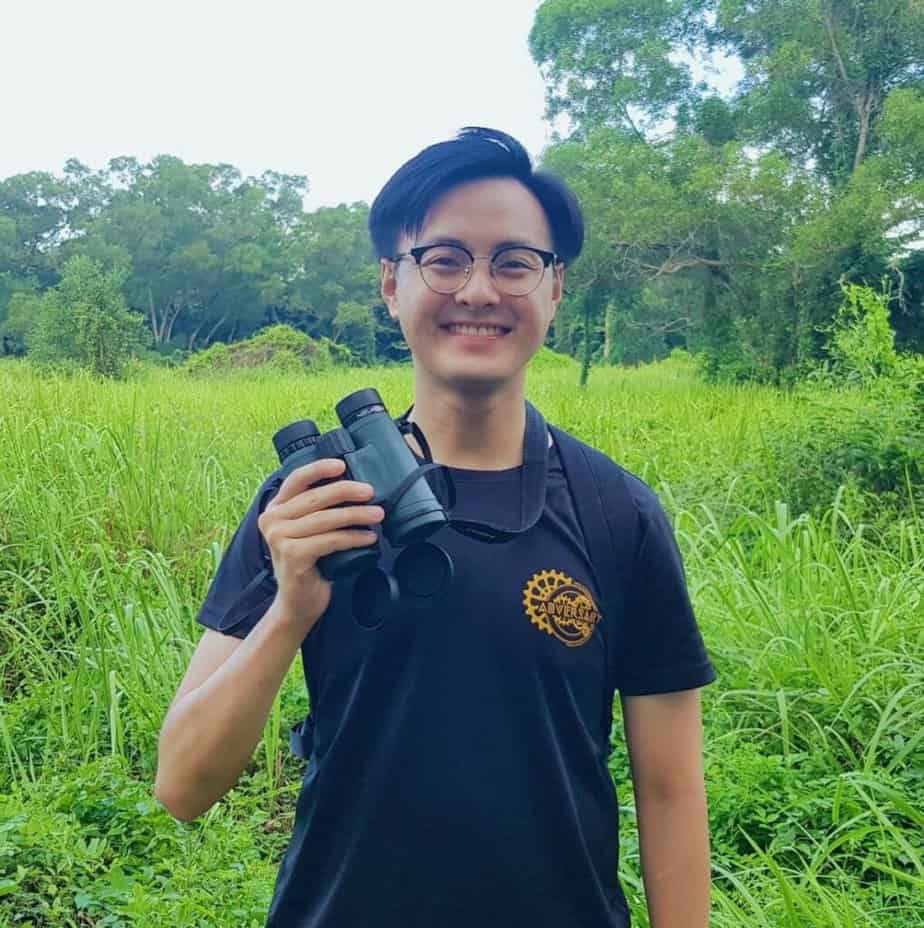 Justin is the founder and author of Birding Outdoors. He is a Nanyang Technological University (NTU) alumnus with a Bachelor of Biological Sciences and a former data analyst.
Now, Justin runs the Birding Outdoors blog full-time, hoping to share his deep love for birds, birding, and nature with others.
To unwind, Justin enjoys gaming and reading.