Top 15 Birding Blogs: A Detailed List (With Links!)
We're reader-supported; we may earn a commission from links in this article.
Hey there fellow birder! I recently have been doing a little digging around on the internet, looking for bellow birder-bloggers out there who are kind of doing the same thing as I am – blogging! I noticed that with a quick google search, there isn't any comprehensive list out there that is tailored specifically to blogs. And so, I went to scour through the net a little more, and found some gold! (just kidding, I actually just found birding blogs). Let's get right into it:
Here's a list of the top 15 birding blogs on the web (not arranged by ranking):
You may click on the links for above to access the blogs in a new tab. However, with such a long list, you may be wondering where to start. Here's where I can lend you a helping hand! If you stick around, I will give a detailed run-through on individual blogs, and let you know what I think about them. Sounds great? Read on!
To make all this content as scannable as possible, I have divided the blogs into 4 main categories: Professional Birding, Personal Birding, Backyard Birding, and Bird Photography.
If you'd like to learn more about the blogs from a YouTube video, check out the below video!
Professional Birding Blogs
In this section, the blogs featured will be done by professional scientists who provide an expert opinion on the subject matter on birds. This category of birding blogs are catered toward those who are into research into birds, and hope to follow along ornithologists (scientists who study birds) in their work. You can expect a wealth of information on their sites – perfect for advanced birders.
1) Ornithology
Screenshot: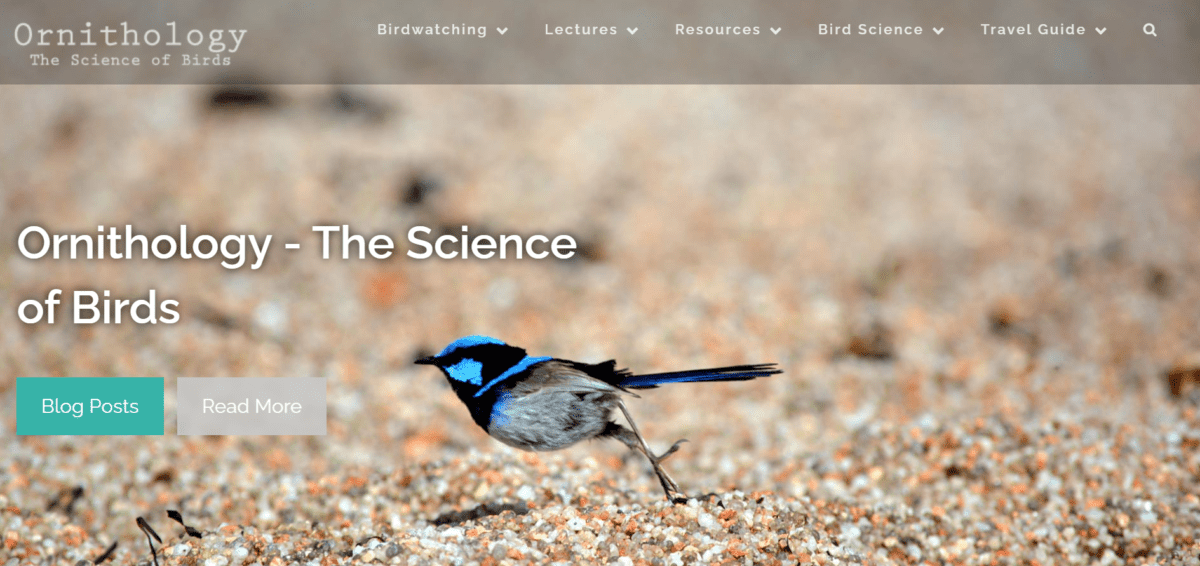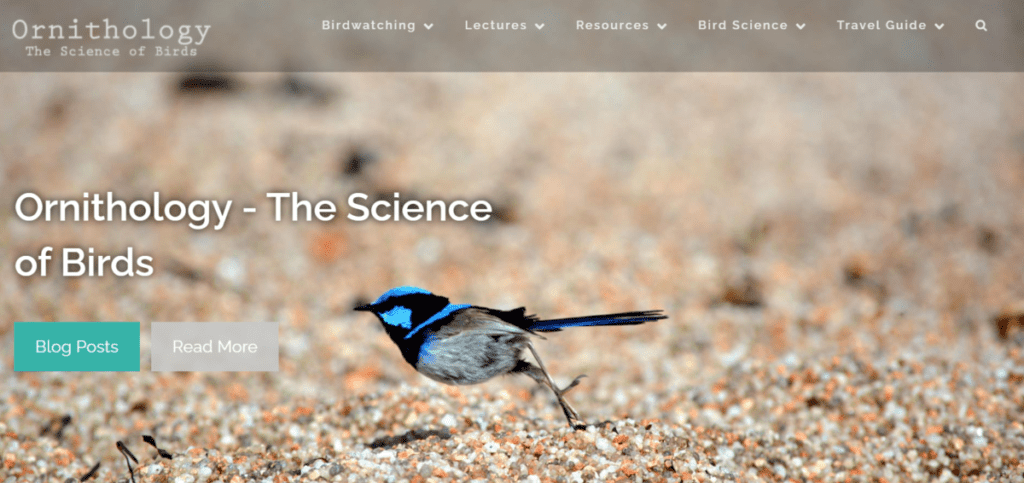 Summary:
This website is absolutely beautiful and JAM PACKED with information such as lectures, resources, links to bird science organizations and travel guides to A LOT of countries, This blog is definitely a go-to site for you to find whatever you want to know about birding and the scientific study of birds (ornithology). The ornithologist himself is roger Lederer. This site runs rank number 218 on the Fatbirder Top 1000 birding websites list!
Why I Love This Blog:
I love this blog because the blog covers a wide spectrum of education on birds. It has a very palatable layout with content on interesting topics such as foraging and even bird migration. You can be sure that all these are professional, scientifically proven facts, as it is written by an professional ornithologist.
Who This Blog Is For:
Recommended for advanced birders and ornithologists who want to know more about the science of birds, conservation and advanced birding in multiple countries. However, it may be suitable for beginner birders who want to get their facts right too!
Link to Blog: https://ornithology.com/
2) Ornithologist's Blog
Screenshot: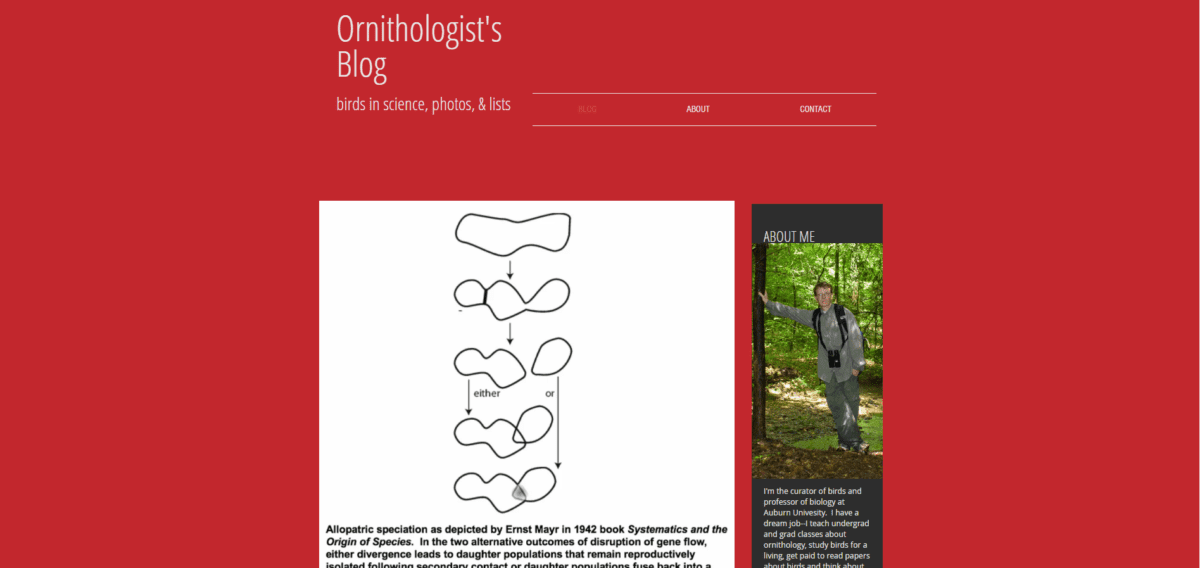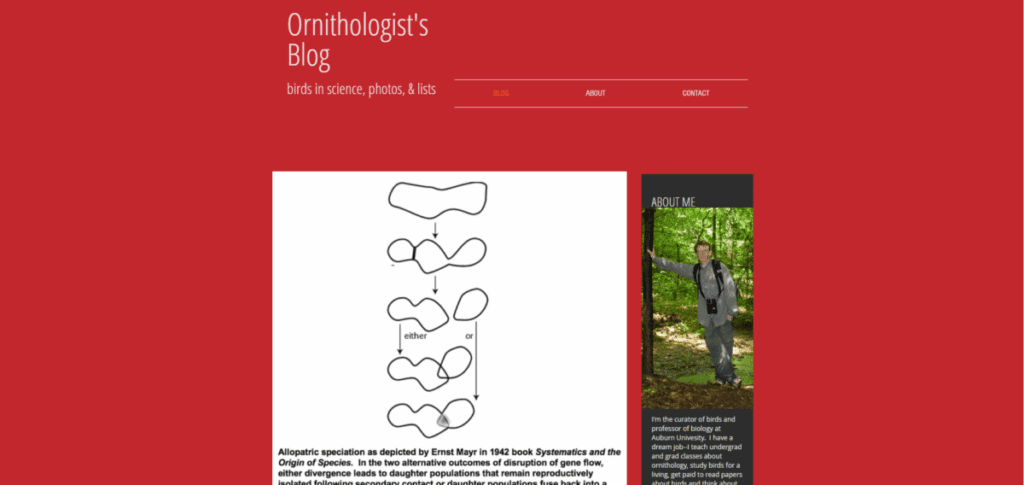 Summary:
Ornithologist's blog is run by Geoff Hill, a professor in the Dept. of Biol. Science at Auburn University in Alabama. His job involves conducting research aimed at deducing basic principals of nature and teaching both undergraduate and graduate students. His blog posts encompass both birding experiences in the field and also scientific studies of birds and their speciation.
Why I Love This Blog:
As a biologist myself, I do enjoy the scientific explanations that he gives for certain observations that he makes out in the field! But his content is not just all science-y stuff, he still makes posts of his blogging trips with lots of pictures of birds included!
Who This Blog Is For:
For advanced birders, field biologists, and ornithologists. Beginner birder may appreciate the birding trips but not the scientific arguments in some posts.
Link to Blog: https://www.ornithologistsblog.com/
Personal Birding Blogs
In this category, the birding blogs will cover a very personal blogging experience. These are my favorite types of blogs because of how much I can learn from them! Check them out:
3) Laura Erickson's For The Birds
Screenshot: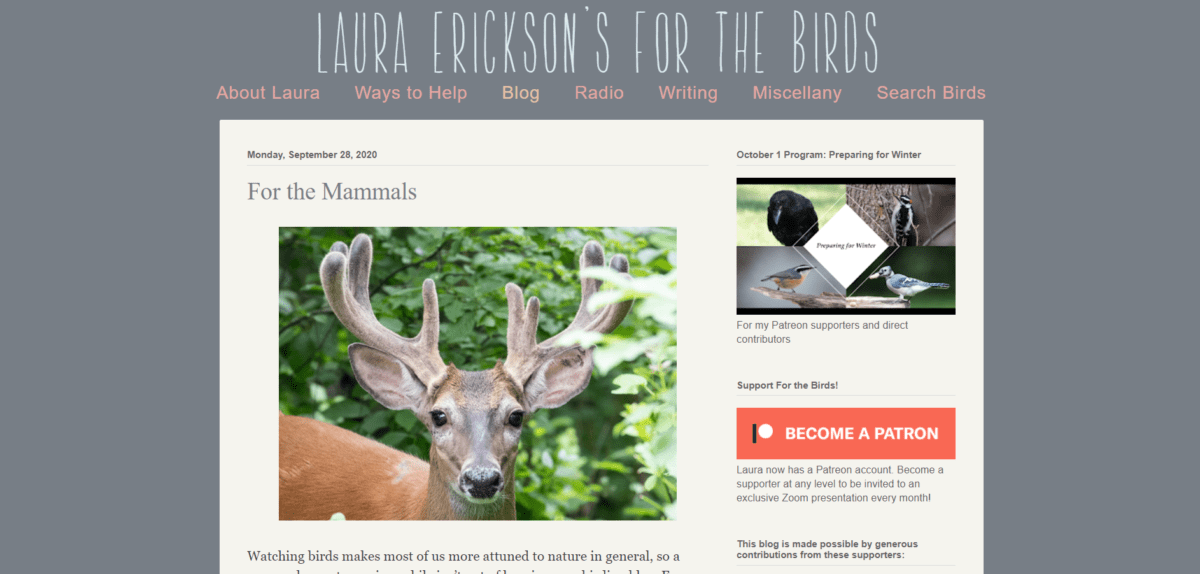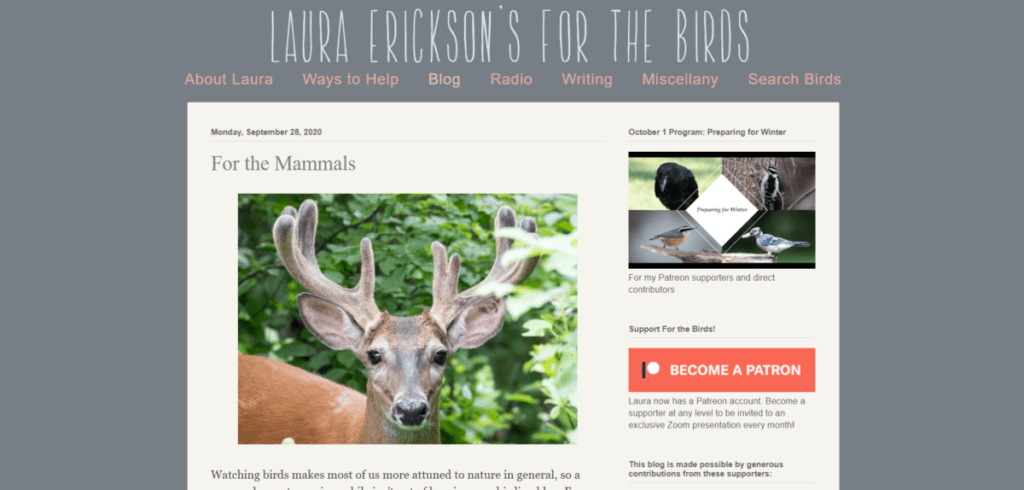 Summary:
Laura Erickson owns this blog. She is also the 2014 recipient of the American Birding Association's prestigious Roger Tory Peterson Award. She is also a scientist, teacher, and professional blogger. The blog consists of posts with a mix of both her professional thoughts on scientific articles in ornithology and some casual posts of birding trips.
Why I Love This Blog:
This blog contains a good balance on critique on scientific articles and her own personal birding experience. She also relates birding to her own life and kids, which she is happy to share on her blog too.
Who This Blog Is For:
Intermediate to advanced birders who want a personal touch to a blog to learn alongside her birding experiences.
Link to Blog: https://blog.lauraerickson.com/
4) Birdoculars
Screenshot: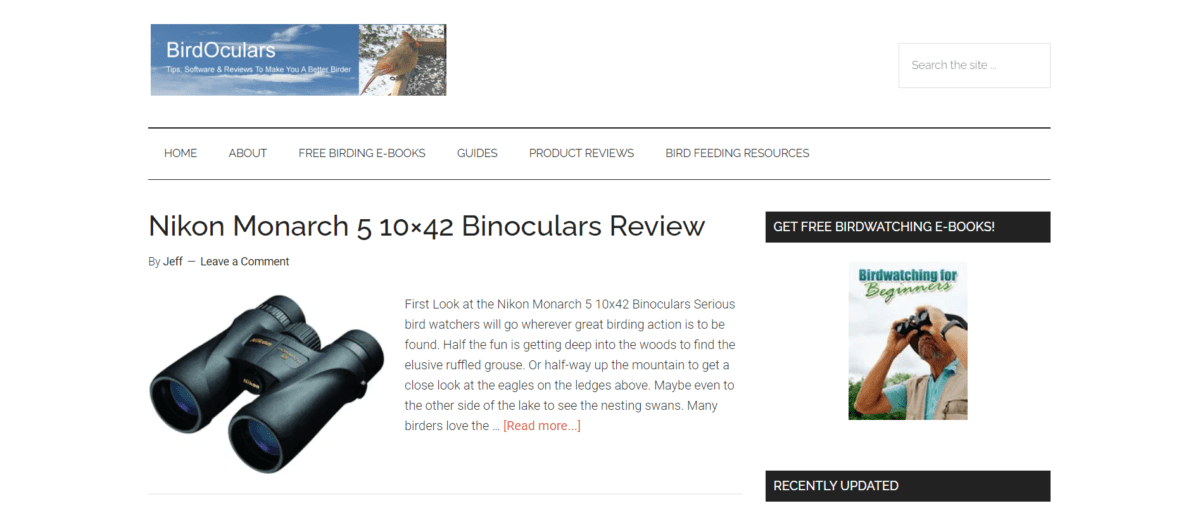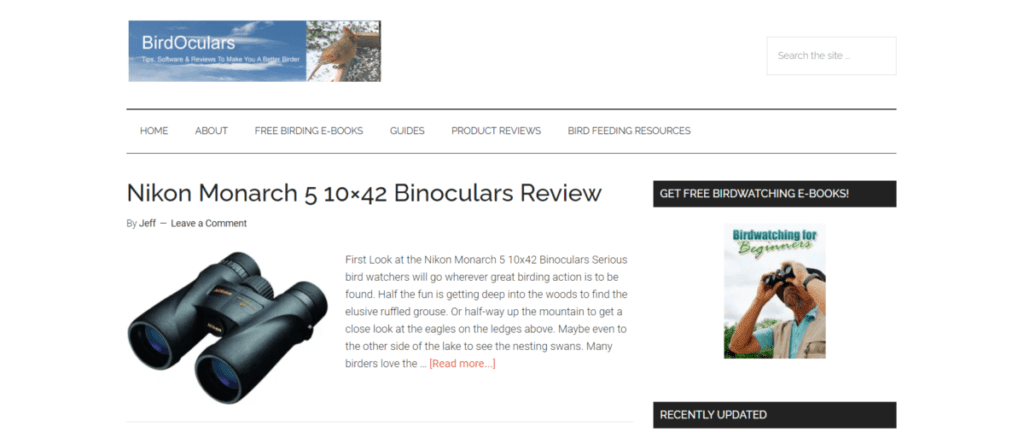 Summary:
This blog is written and managed by Jeff Jones from Nashville, Tennessee. He is extremely passionate about birding and helping others succeed with tips and resources. The blog was written with his intent of assisting birders with problems and challenges in your backyard.
Why I Love This Blog:
Jeff writes his posts in a very personal and understandable way that many will be able to understand. He is really passionate and genuine about helping others find resources for birding. He often replies comments with long replies too! That's a bonus!
Who This Blog Is For:
Birders who need help with backyard birding, casual and practical advice on birding. For birders who need a good consolidation of resources too.
Link to Blog: https://www.birdoculars.com/
5) Bird Chick
Screenshot: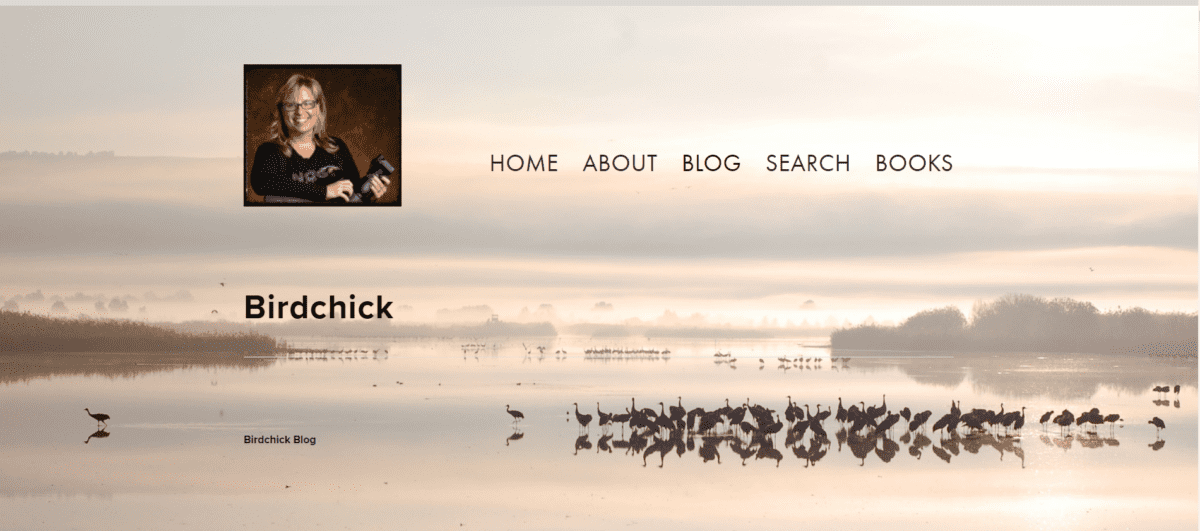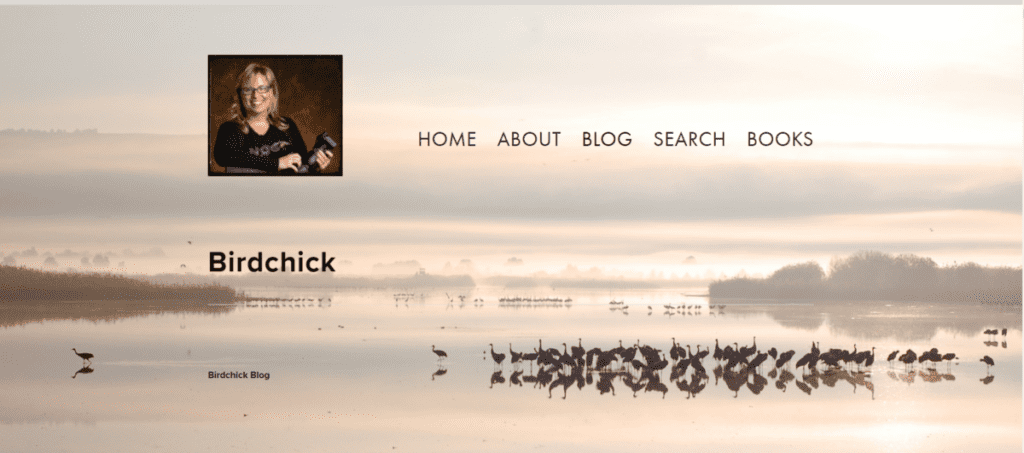 Summary:
This blog is run by Sharon Stiteler (Birdchick). She writes about anything about birding! From birding, to her own personal life, she just writes really personally.
Why I Love This Blog:
She has a personality that is really attractive to follow! I really like that she covers multiple topics in her birding experience such as migration, birding in the winter, and birding by the beach.
Who This Blog Is For:
For any birder who wants to read about how others do their birding, and to provide a different perspective on the different bird species.
Link to Blog: https://www.birdchick.com/blog
6) Out There With The Birds by Bird Watcher's Digest
Screenshot: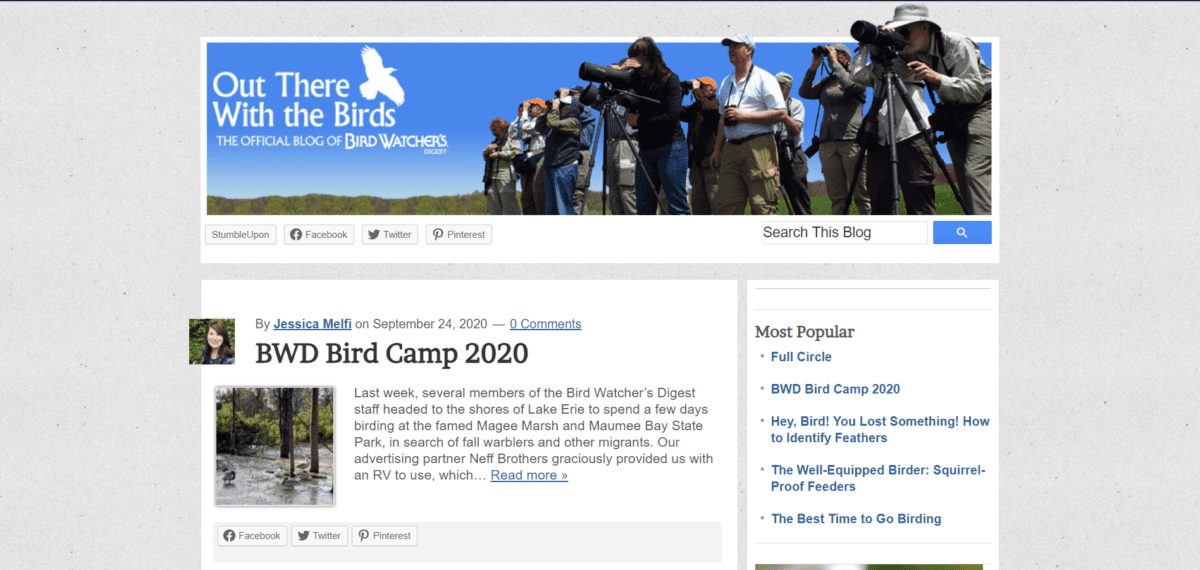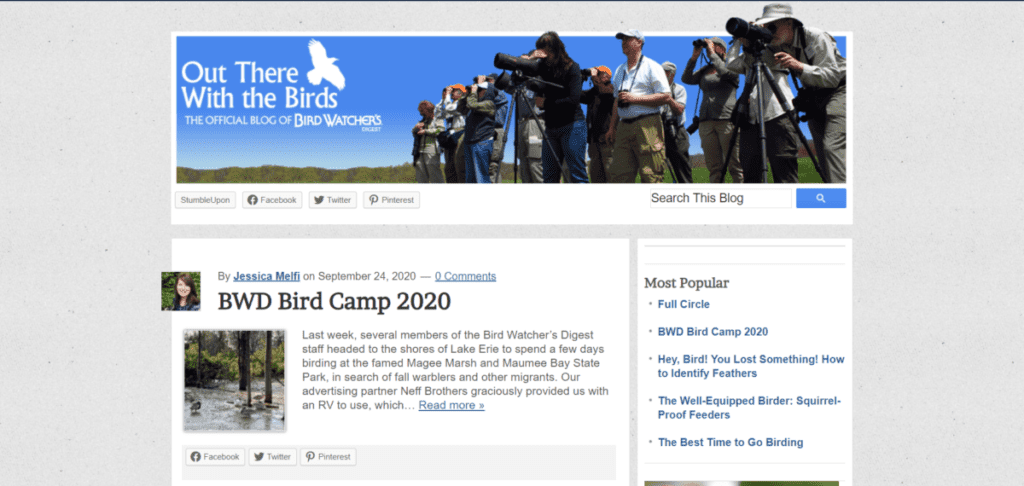 Summary:
Out There With the Birds is a really well put-together blog written by multiple authors on the site. The blog has posts with beautiful pictures of birds alongside useful commentary. Their posts are highly personal, with some touching on practical advice and bird conservation issues.
Why I Love This Blog:
The posts aren't heavy with scientific jargon. They are perfect for the everyday birder who just wants to be treated with beautiful birds with great plumage, with great commentary!
Who This Blog Is For:
For the everyday casual birder whom enjoys birding as a hobby.
Link to Blog: https://otwtb.birdwatchersdigest.com/
7) The Accidental Birder
Screenshot: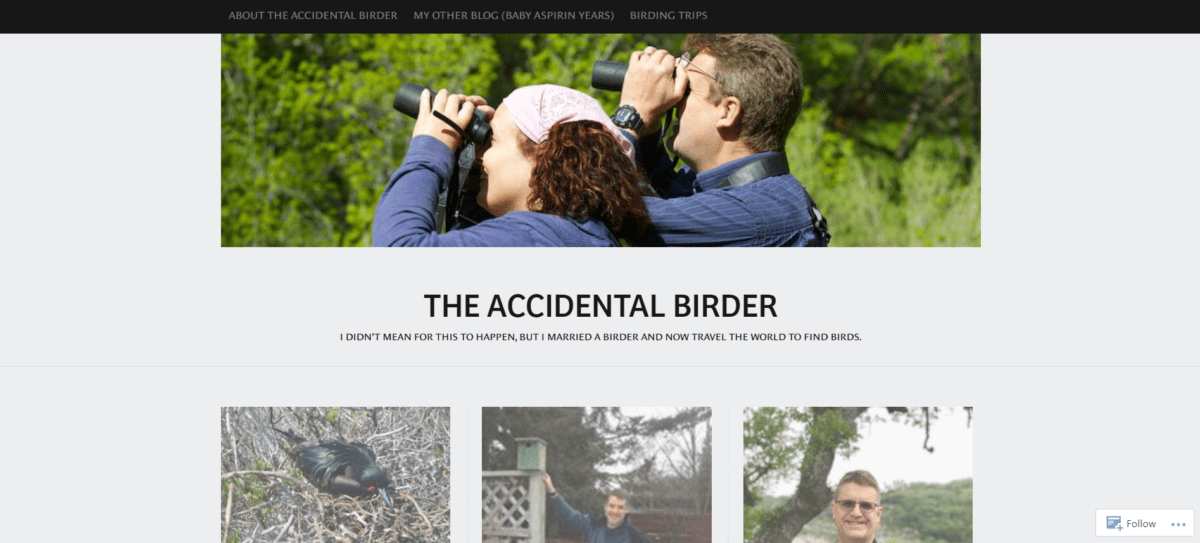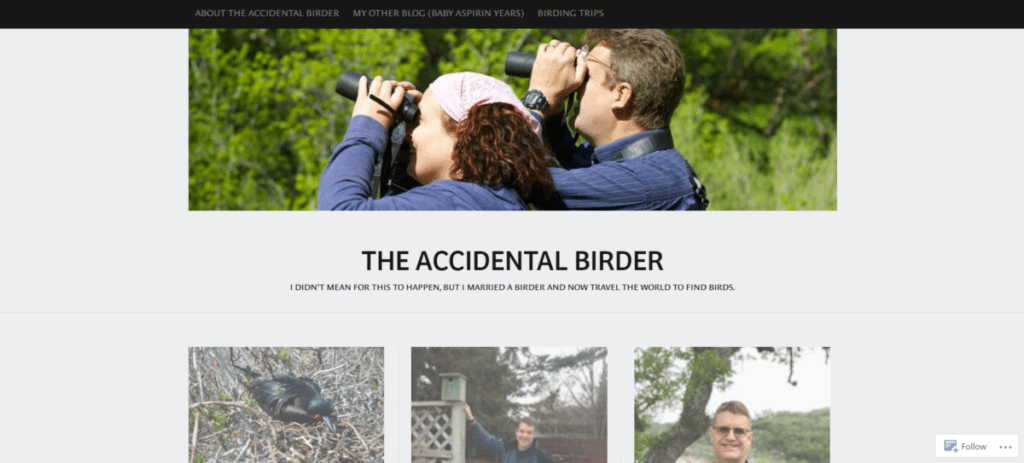 Summary:
This blog follows the life of Lisa and how she became an accidental birder after marrying her husband. The blog posts are highly personal with a focus on story-telling with both words and pictures.
Why I Love This Blog:
She gets really personal with her birding experience, but she also gets personal with her own life's experience. Reading the blog, it really feels like you are experiencing both the birding and her life with her.
Who This Blog Is For:
Casual birders looking for a personal blogging experience!
Link to Blog: https://theaccidentalbirder.com/
8) Dan Tallman's Bird Blog
Screenshot: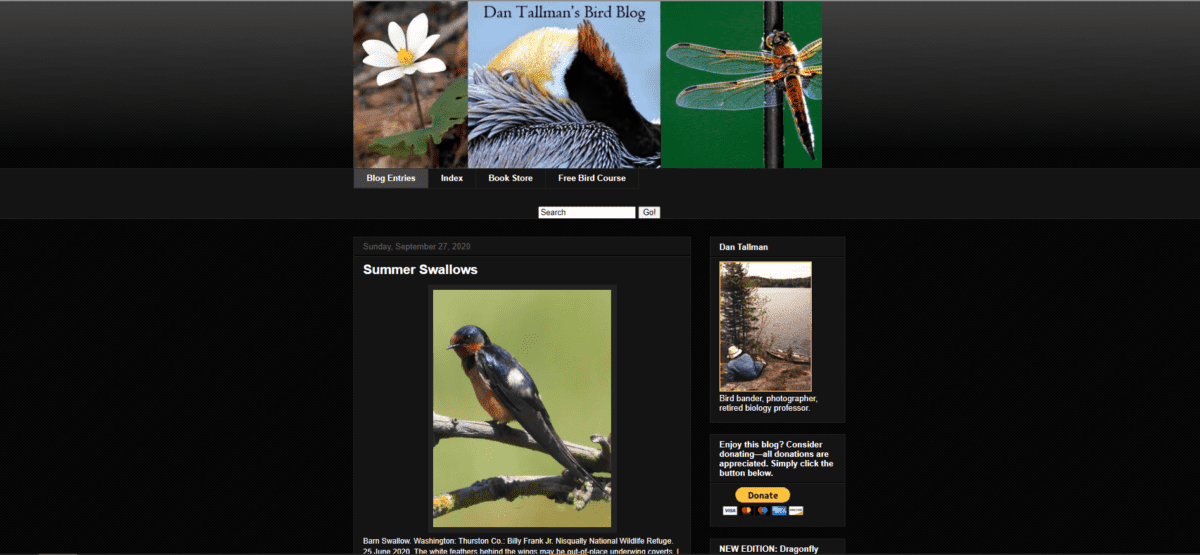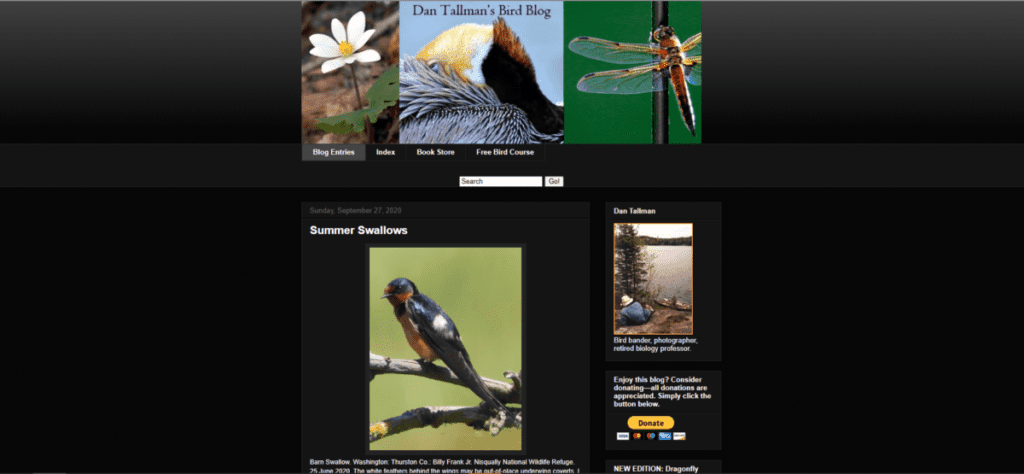 Summary:
This blog was created by Dan Tallman, a bird bander, photographer and retired biology professor. He commonly makes posts of small snippets of his birding experiences while out in the field. His posts mostly consist of high quality, close-up pictures of birds in their habitat.
Why I Love This Blog:
This blog has posts which has a lot of focus on pictures. Sometimes pictures speak louder than words, so it's great to see posts that are shorter in length than other longer posts that other bloggers write.
Who This Blog Is For:
Casual birders who are looking for a blog with more pictures, less words.
Link to Blog: https://dantallmansbirdblog.blogspot.com/
9) Birding World
Screenshot: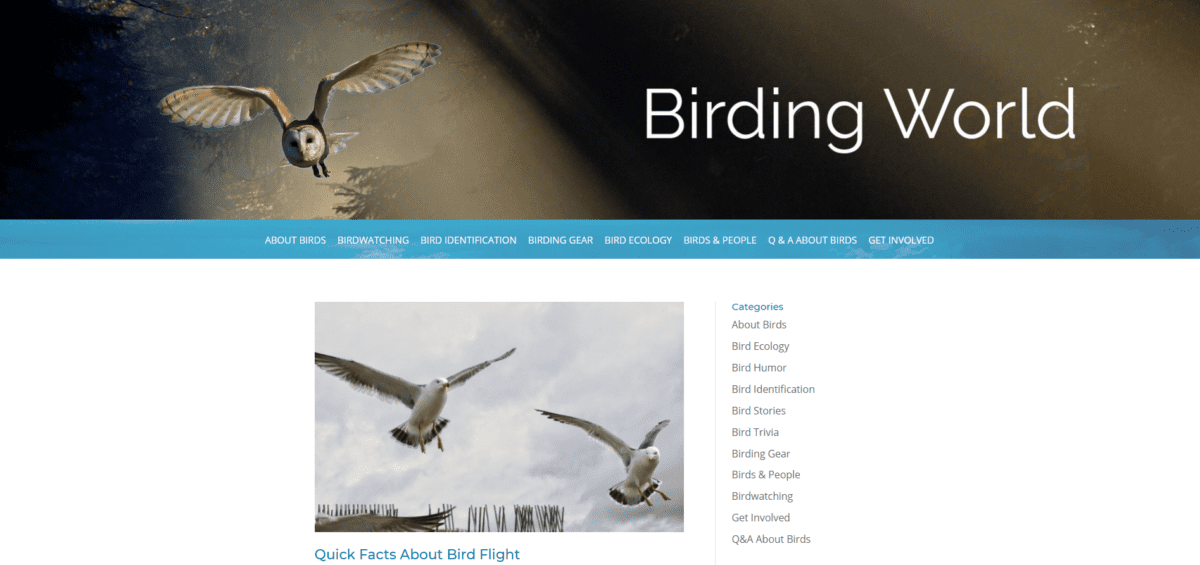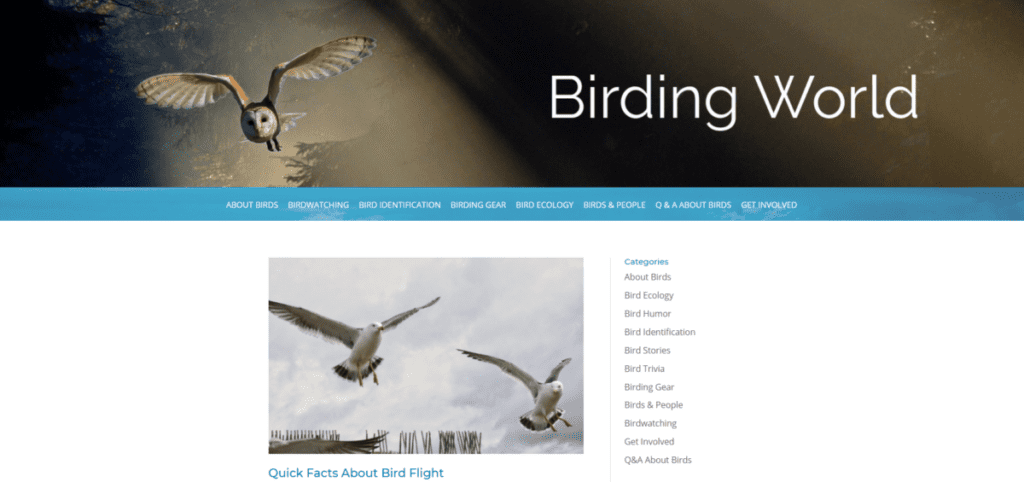 Summary:
This blog covers a WIDE range of topics, including ecology, humor, identification, trivia and birding gear. This site is must-follow for birders of all levels of expertise. The owner of this blog is André Legris, and his intention of this site is to turn your interest in birds into a lifelong passion for birdwatching. This blog is an ultimate great resource to find information about birding that can bolster your birding experience!
Why I Love This Blog:
André writes content that is concise and to the point. There are lots of comprehensive guides, tips, and tables to help me enhance my own birding experience when I head outdoors!
Who This Blog Is For:
A great resource for both beginner and advanced birders to learn a little bit more about birding.
Link to Blog: https://birding-world.com/
10) Birding Locations
Screenshot: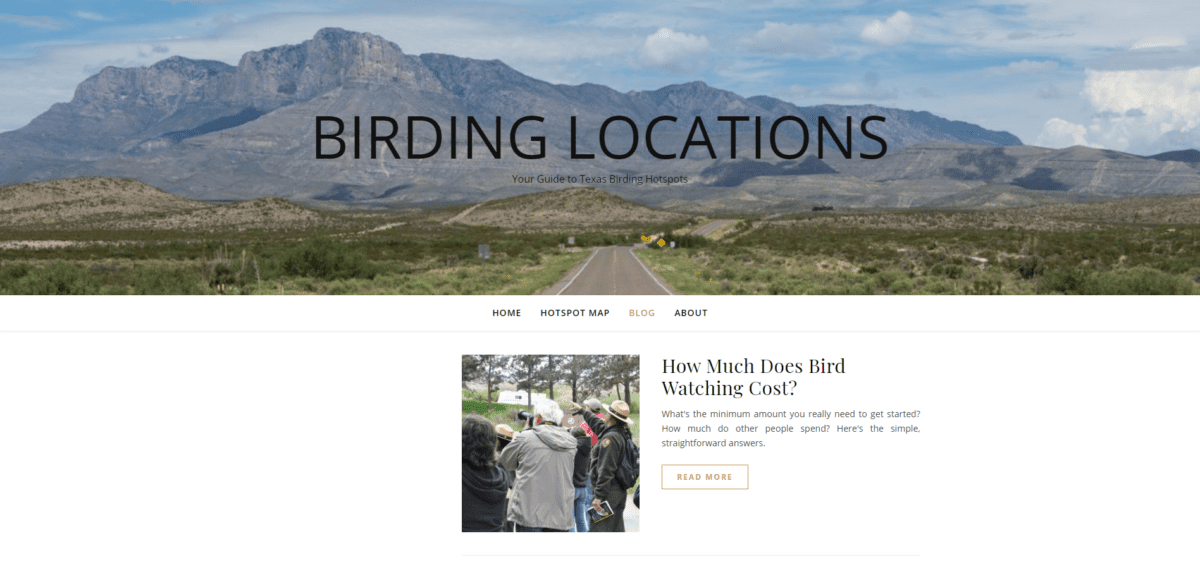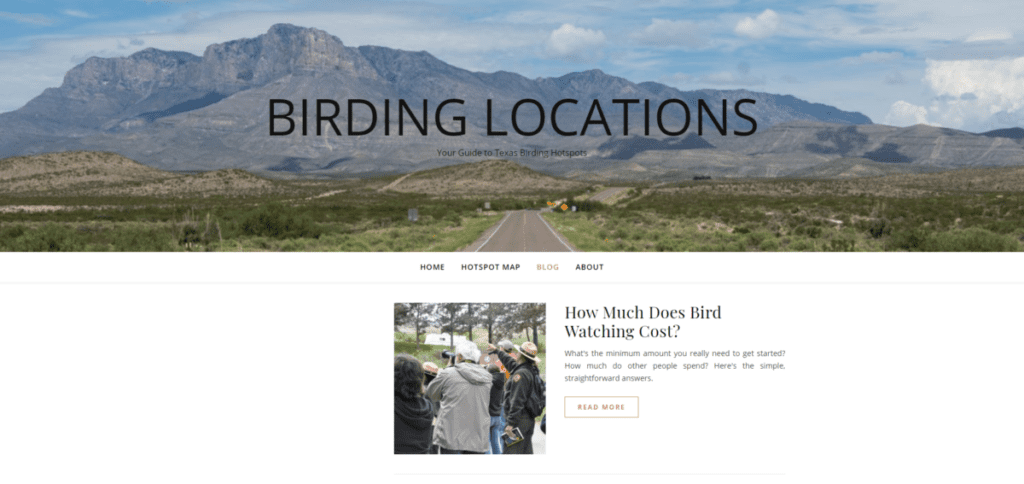 Summary:
The owner of this blog is Colton. He created the site for birders who are visiting a birding hotspot for the first time. He gives advice on the blog on where to go, how to find it, when to go and the dos and don't when you decide to go. He has a degree in Wildlife Biology at Texas State University. The blog covers interesting topics such as "how to attract birds without using feeders". He also covers commonly asked curious questions that birders may have. These include: What Time are Birds Most Active at Feeders?.
Why I Love This Blog:
I love this blog personally because of the professional and sleek-looking site. The blog posts are full of helpful content, sprinkled with beautiful, high-definition pictures of birds!
Who This Blog Is For:
Casual, curious birders and advanced birders alike will be able to enjoy the bird trivia, bird hotspots in Texas, and commonly asked birding questions.
Link to Blog: https://birdinglocations.com/
11) Bird Searcher
Screenshot: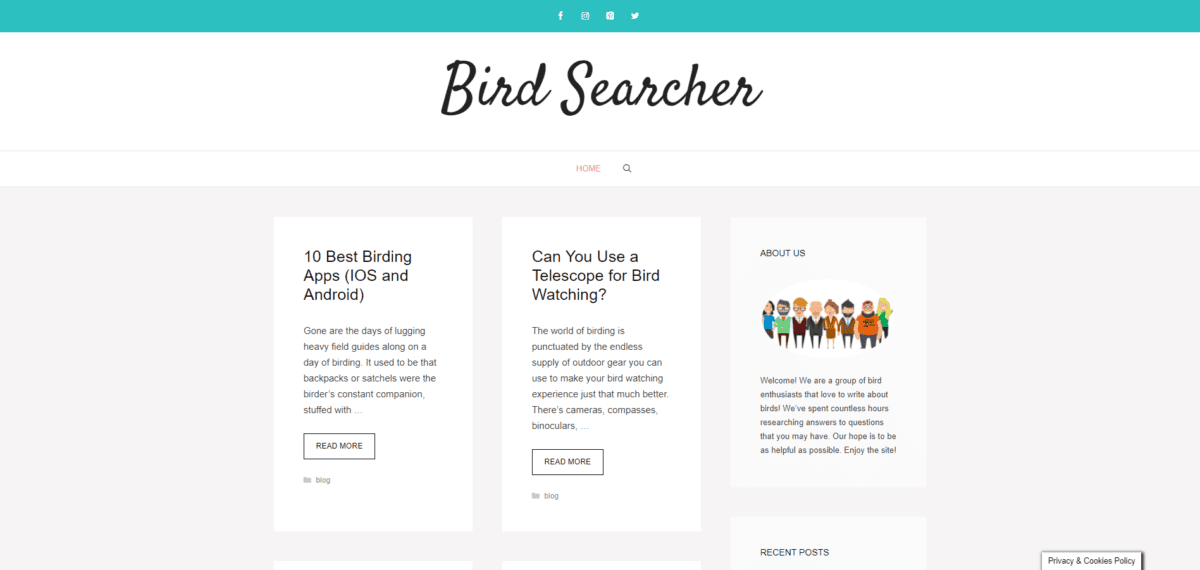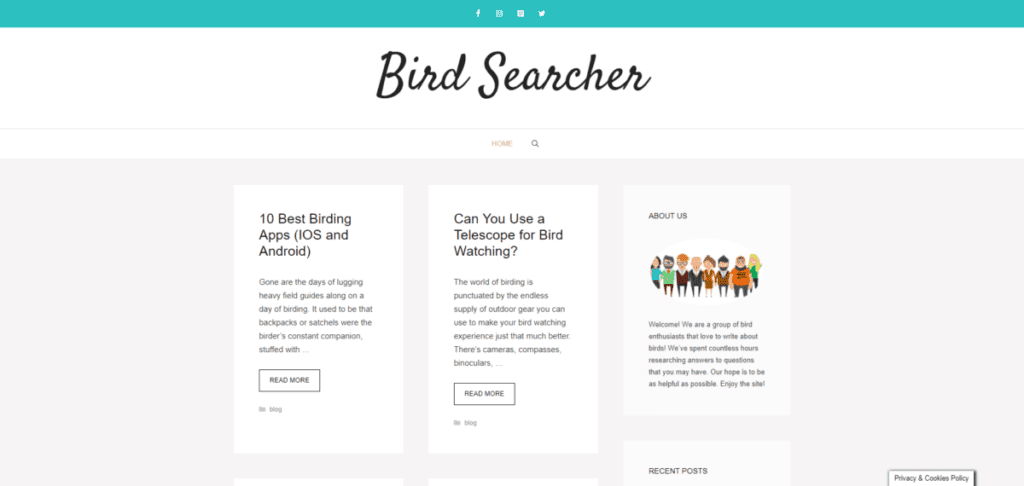 Summary:
This was set up by a group of bird enthusiasts that love to write about birds! They have spent countless hours researching answers to questions that you may have. They hope to be as helpful as possible. The blog mostly consists of trivia questions, how-to's, guides, and useful lists.
Why I Love This Blog:
The blog offers a clean and curated experience of reading about birding. They cover lots of common topics that I used to ask myself when I first started birding. The site is packed full of content, with the research all already done for you!
Who This Blog Is For:
Curious birders that want their questions answered in trivia-styled blog posts.
Link to Blog: https://birdsearcher.com/
12) Bird Spot
Screenshot: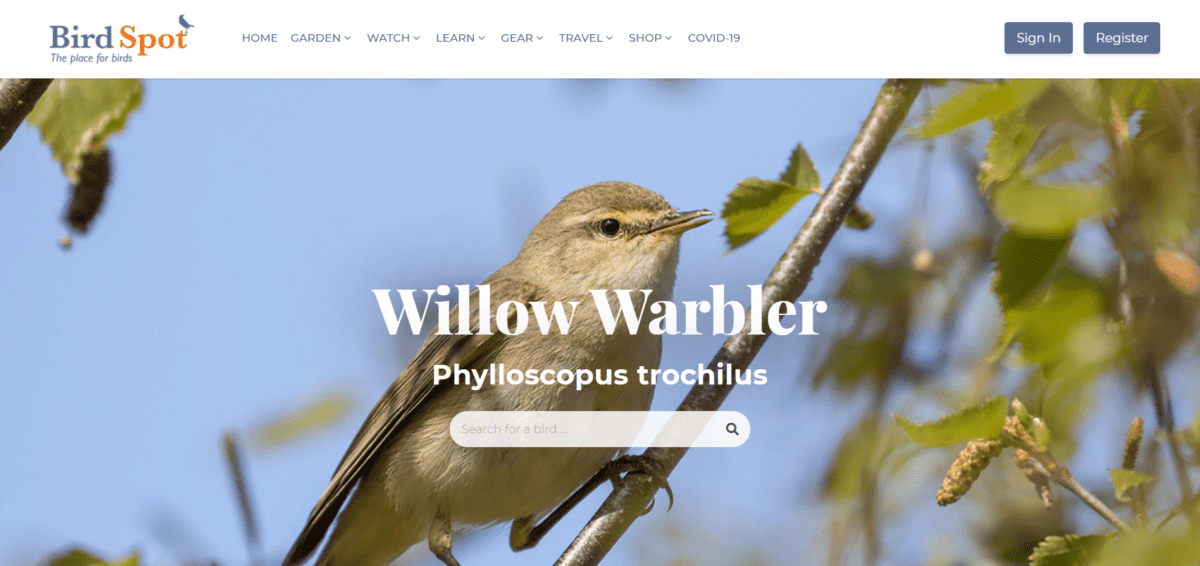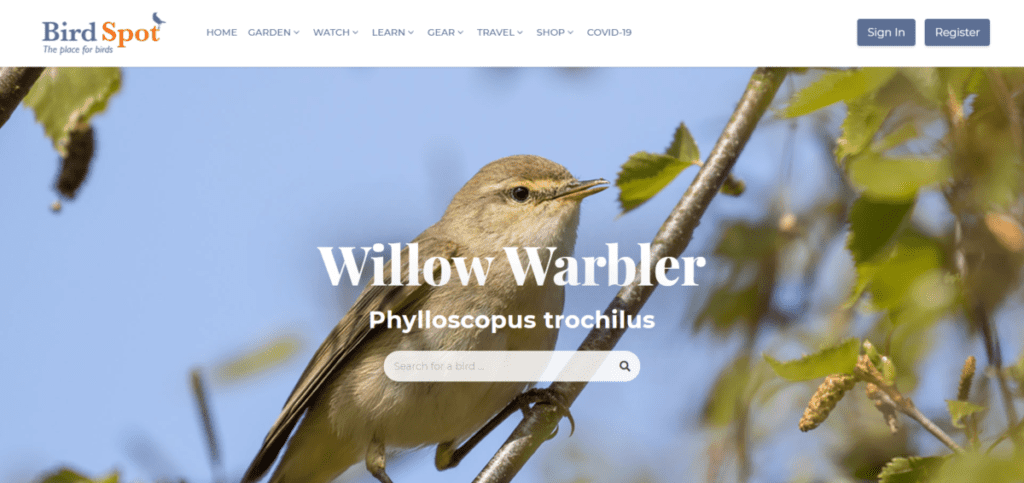 Summary:
This blog was originally known as British Bird Lovers with the aim of making birds and bird watching accessible to all. The blog was created to fill the gap for those people who simply enjoy caring for the birds in their garden or seeing them in their local park or nature reserve. The website has information about lots of different kinds of content. These include bird watching for beginners, birding from your backyard and bird watching holiday trips.
Why I Love This Blog:
This blog has A LOT of content packaged in a beautiful and easy-to-interact with site. The site has a greater focus on garden birding (backyard birding in the US) with a British context. Great for British garden birders! The site has a really nice section of bird identification. It showcases beautiful pictures of birds, alongside a detailed description of the birds and their calls.
Who This Blog Is For:
For British birders, in particular, who are curious about the birds in their garden. Also perfect for those of you who are already garden birders!
Link to Blog: https://www.birdspot.co.uk/
13) Bird Girl
Screenshot: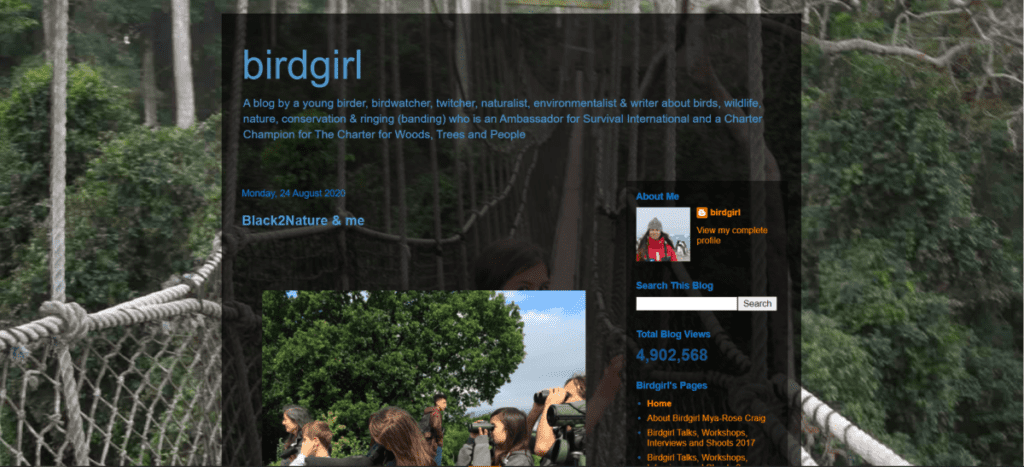 Summary:
This blog is maintained by Mya-Rose Craig, an 18-year-old girl who lives near Bristol. At a young age, she wrote this blog with the intention to save the environment from damage and to persuade people to do the same through her posts, talks and media. Her blog posts show lots of efforts to increase awareness of conservation efforts in her region.
Why I Love This Blog:
Birgirl Mya-Rose Craig not only focuses on just birding and the hobby, but also talks about environmental issues which can affect birds. She started writing the blog at only 11 years old and she already has 4 million views! How amazing is this young talent??
Who This Blog Is For:
Birders who are concerned with conservation and the environment, on top of just birds.
Link to Blog: https://www.birdgirluk.com/
Backyard Birding Blogs
This category of birding blogs are perfect for those who own a backyard/garden and hope to attract more bird species to their garden. Also, these blogs are packed with information and how-to's to get you started with backyard birding.
14) Bird Feeder Hub
Screenshot: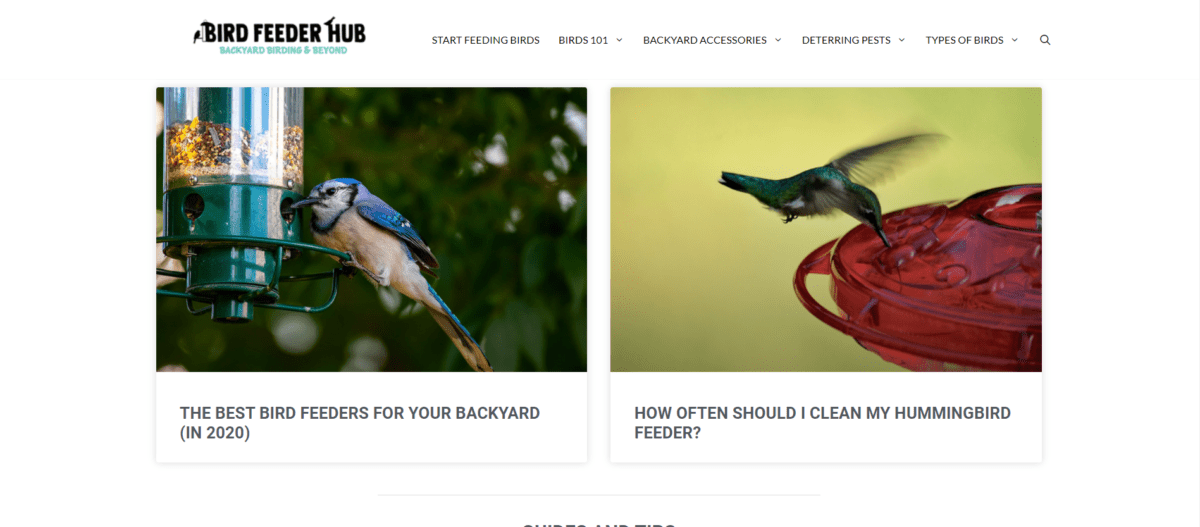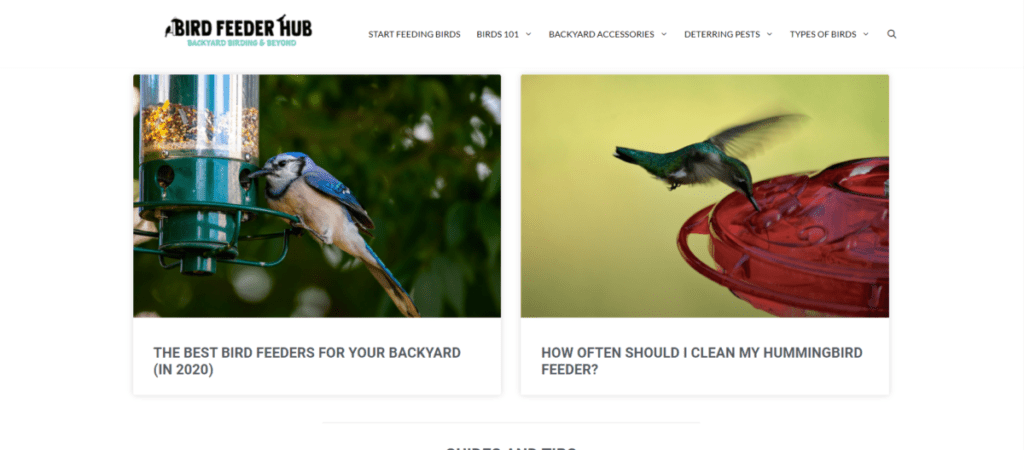 Summary:
Behind Bird Feeder Hub, Melanie and Jesse are the ones maintaining the blog. They are hobbyists that just enjoy feeding birds and learning about them. Although they may not be experts, they hope to share information and experienced with others. This site is filled with information about backyard bird feeding. They cover topics on migration habits, attracting birds to feeders, and even preventing unwanted animals from consuming bird seeds.
Why I Love This Blog:
The site has a sleek and clean feel to it. It is obvious that both Melanie and Jesse have poured a lot of their time and effort into researching on bird topics. I really enjoy the extremely comprehensive lists that they frequently put out, sprinkled with a bit of humor in them!
Who This Blog Is For:
Backyard birders who are into bird feeders and interested in attracting a new species of bird in your backyard!
Link to Blog: https://birdfeederhub.com/
Bird Photography Blogs
In this section, we have blogs that are catered to birders who are highly interested in photography. As photography is a big part of birding, I included this in my list.
15) Feathered Photography
Screenshot: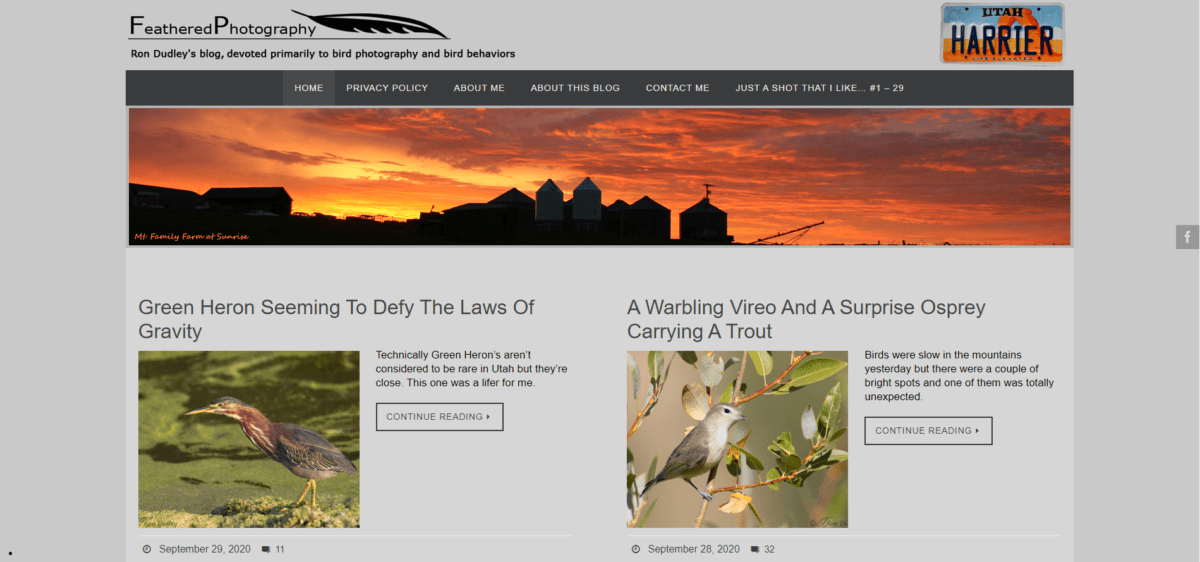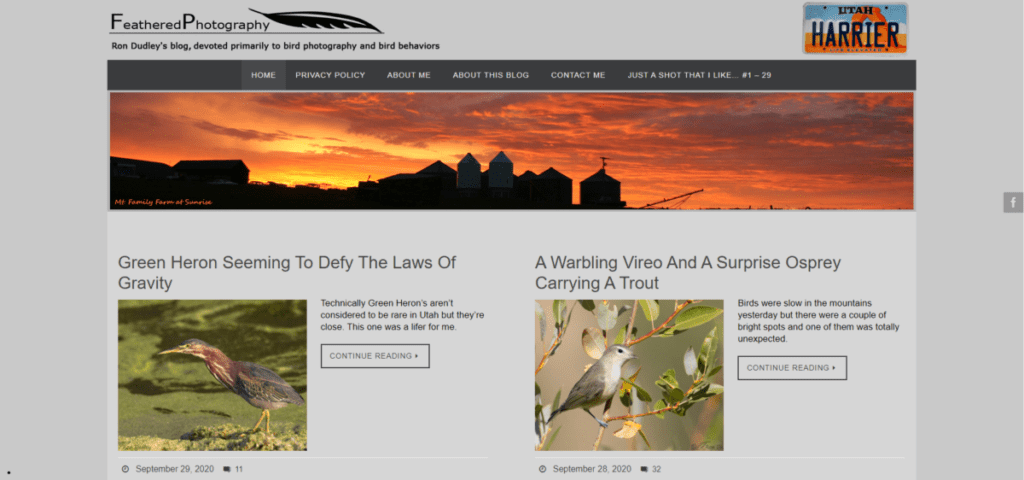 Summary:
This personal birding photography blog was set up by Ron with three primary goals – to showcase a few of my images, to document interesting bird behaviors and to illustrate and discuss different aspects of bird and nature photography. And the site does just that! In each of his posts, he gives a short commentary on his birding experience, alongside some really nice bird pictures. With each picture, he makes sure to include the settings on his camera with which he used to take the shot.
Why I Love This Blog:
Ron's attention to his photography of birds is incomparable. His posts are focused on the photography on birds, with less on the other aspects of birding. The pictures are superb!
Who This Blog Is For:
For birders who are really into bird photography. This blog will provide you with lots of tips and tricks that you can pick up along the way when you read, and apply to your own bird photography experience!
Link to Blog: https://www.featheredphotography.com/blog/
Bonus Blog!
Birding Outdoors
Yes, that's this blog I'm referring to! I'm Justin, a hobbyist birder who started this blog in my free time to share resources with the online birding community. I noticed that there wasn't a lot of organized blogs online that talked about interesting subjects like: "Do birds takeoff into the wind?" or "The best times of the day for bird watching". So I took the initiative to write about them!
Feel free to look around on this blog or check out my about page to find out more about Birding Outdoors!
Happy Birding!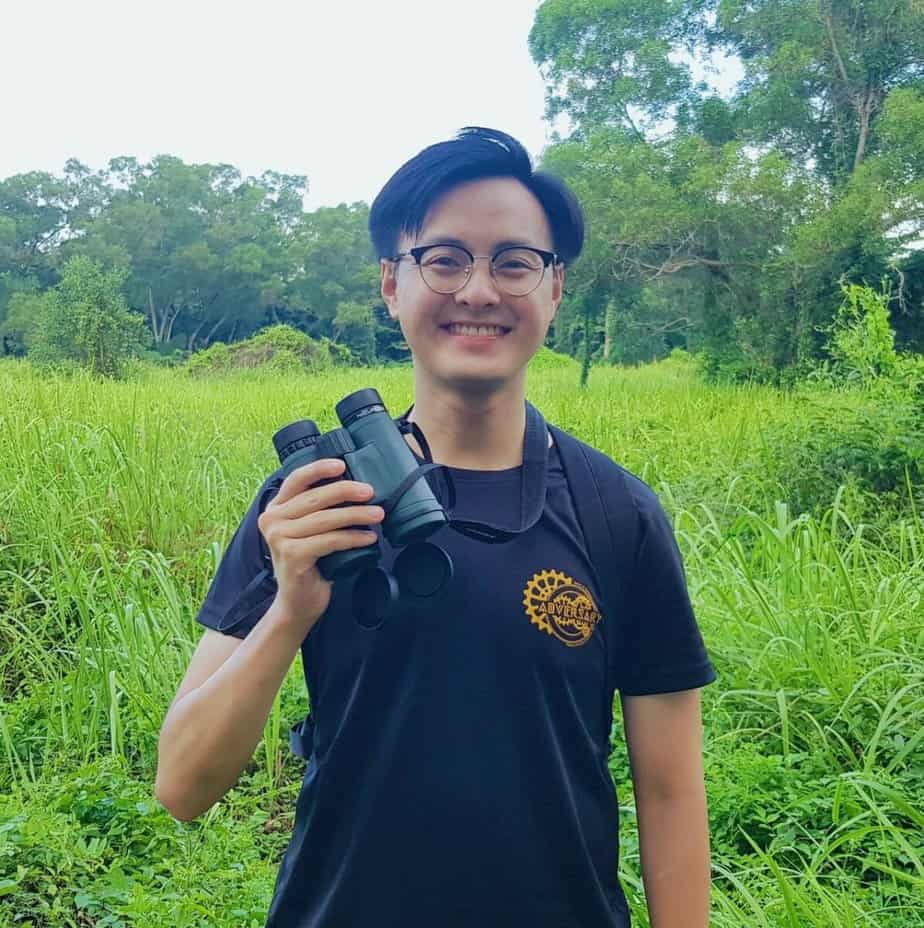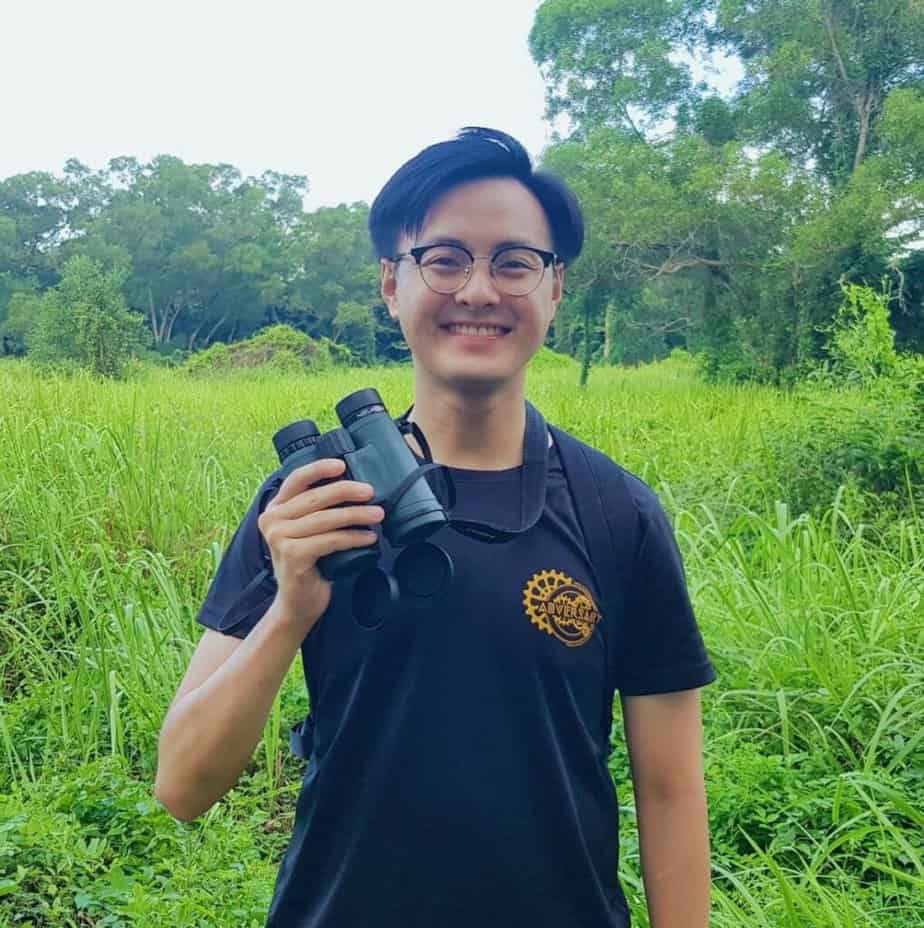 Justin is the founder and author of Birding Outdoors. He is a Nanyang Technological University (NTU) alumnus with a Bachelor of Biological Sciences and a former data analyst.
Now, Justin runs the Birding Outdoors blog full-time, hoping to share his deep love for birds, birding, and nature with others.
To unwind, Justin enjoys gaming and reading.