In both wild and backyard birding, trail cameras that capture pictures and videos of the bird visitors to your backyard can be absolute game changers!
One thing I noticed is that there isn't any really complete guide to trail cameras tailored for bird watching.
I was curious about the prices of these too, so I did a little research online, and here's what I found:
What are the Best Trail Cameras For Bird Watching?
When it comes to trail cameras, there are many uses for it both in wild bird watching and backyard birding.
Read on to learn which trail camera suits your purpose and budget!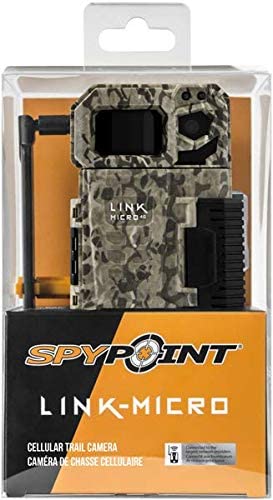 Video review:
This Spypoint trail camera is an advanced camera that can be used for the practical purposes of backyard birding.
It's relatively simple to set up, and it's paired up with an app for monitoring purposes.
This bird feeder camera is definitely for those who want a more no-frills kind of camera that gets up and going real quickly.
With its simplicity, there's a lot less that can go wrong with this camera. Some other cameras, from my experience, tend to lose their functionality with a faulty button or screen, but this trail camera has less chance of that happening due to its plug-and-play nature.
Key Features:
The app that is connected to the trail camera pairs up with the camera seamlessly
This bird feeder camera feeds in a micro-SD card instead of an SD card.
Requires a monthly or pay per use subscription – $10 for unlimited pictures
Create camouflage pattern for concealment from birds on a bird feeder
Records in night vision
The great thing about this trail camera is that there's a free monthly plan if you just want to take up to 100 photos in a month – that's around 3 a day.
For the first month, you'll get unlimited photos. However, if you subsequently would like to take more photos, you can always pay a small fee for an increase in the number of photos it can capture in a month. The increments are $4 for 250 pictures, $7 for 1000 pictures, and $10 for unlimited pictures.
If you'd like to one day switch this camera up one for security monitoring purposes, that can be a good option too.
The camera comes with a camouflage pattern and is great for being obscure and not obvious to both humans and birds alike.
Some extra features to take note of about the camera are:
Includes Verizon 4G (HSPA+) wireless SIM Card
0.5-second trigger speed
Remote programming via text messaging
Why I like it:
This is the best bird feeder camera for lazy backyard birders who want to simply plug the device in and let it record.
For convenience's sake, you can purchase a battery or solar panel for a longer-lasting recording period.
Once you have that all setup, it's really a hands-off kind of approach to backyard bird photography.
You can just set the trail camera near your bird feeder or in a tree where you find birds commonly resting on, set up your app, and wait for photos to be taken. Then you can check your app for photos taken.
Additionally, if you're into wild birding, this camera can be a great way to monitor bird nests and their activity without disturbing their way of life. Many birds tend to be shy and even abandon their nests if disturbed.
This remote trail camera allows your monitoring to be convenient and done remotely.
Pricing:
You can purchase this bird feeder camera at a price point of around $290.
This bird feeder camera will be on the more expensive side because of its cellular connection and functionality.
I think it's still worth the money due to its free monthly subscription and the convenience of checking your phone for photos without opening up the trail camera and transferring it manually.
Link to purchase:
You can find the link to purchase on Amazon here. However, you can also look around for deals to snag this at a cheaper price.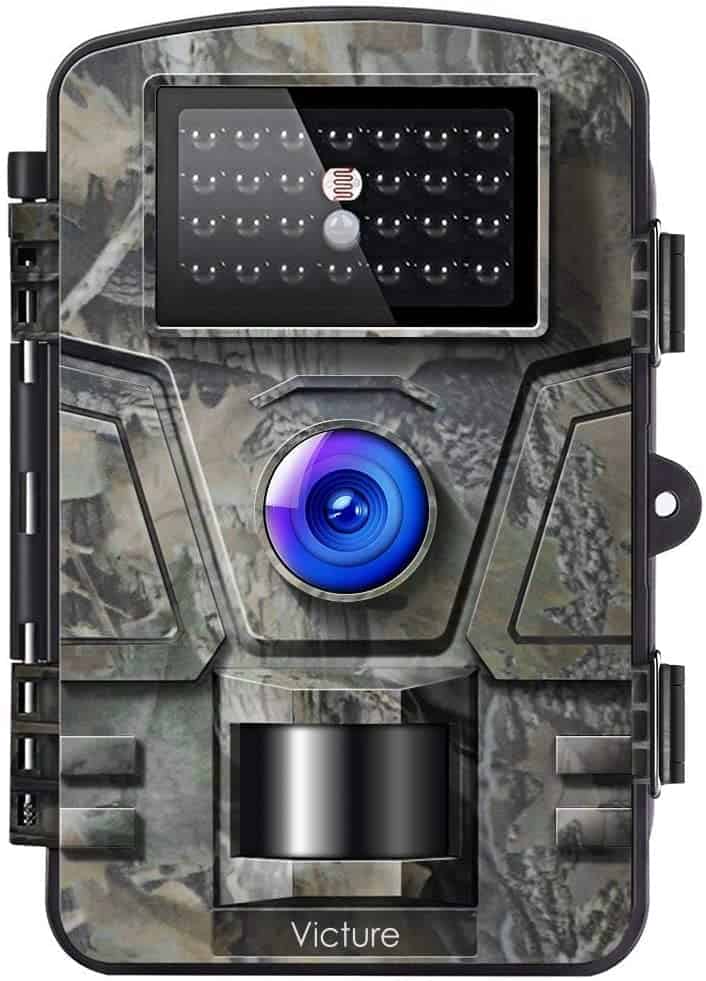 Video review:
The Victure HC200 is a trail camera that was initially made for hunting but can also be used for the purposes of backyard birding.
Just place this device near a bird feeder and it will become the best bird feeder camera to record birds.
Key Features:
1080p full HD resolution at 15 frames per second with 12MP photos and videos
Can be operated automatically both day and night with sensors
Night vision function to monitor your bird feeder camera at night too
Camouflage pattern allows for concealed monitoring of bird feeders
IP66 waterproof design: you don't have to worry about rain or snow
Trigger speed of 0.5 seconds
The bird feeder camera comes with a camouflage pattern and is easily concealable for remote and obscure monitoring usage.
However, do not expect to capture birds in flight, but rather birds that are perched and not in fast motion because 0.5s is not fast enough to capture that.
The Victure HC200 is also suitable for nighttime monitoring of birds if you are into wild bird watching. The camera features low-glow infrared LED technology and a motion-activated sensor which will not startle any birds or wildlife that you are intending to capture in a picture.
What's special about this trail camera is that it is friendly for birders and bird watchers. Many who purchase trail cameras tend to be veteran hunters and those who are looking for burglary prevention.
This entry-level trail camera offers a user-friendly experience for birders looking to just try out trail cameras to capture some beautiful pictures and videos of birds in their backyard.
The 2.4″ LCD screen allows for that. It provides a user-friendly experience in its navigation menus and settings to quickly and simply customize for your intended use in bird watching.
Victure also recommends that you use rechargeable batteries of an external power supply to allow for simpler and more sustainable use in your monitoring of birds. The specifications are (6V/1.5A; 3.5mm*1.35mm/1.3mm).
Do take note that the camera does not come with an SD card, but you can purchase one from Amazon and get it together so you can get star
ted right away when you receive your trail camera.
Why I like it:
I like this bird feeder camera because of its price point.
It offers an affordable price which I think is great for entry-level backyard or wild bird watchers who want to try this out.
Another reason why I like this particular camera is its 2.4″ LCD screen. I think it just feels so much easier to interact with just because of the screen.
It feels really natural and intuitive to be navigating the menus with some visual feedback, rather than with the blinking lights and switches that other bird feeder cameras offer.
Pricing:
The price of this bird feeder camera is around $40 – $55. I found this particular model on Amazon at around this price, but you can look around to see which place gets you a better deal.
Link to purchase:
If you would like to purchase this bird feeder camera, you can find it through this link on Amazon.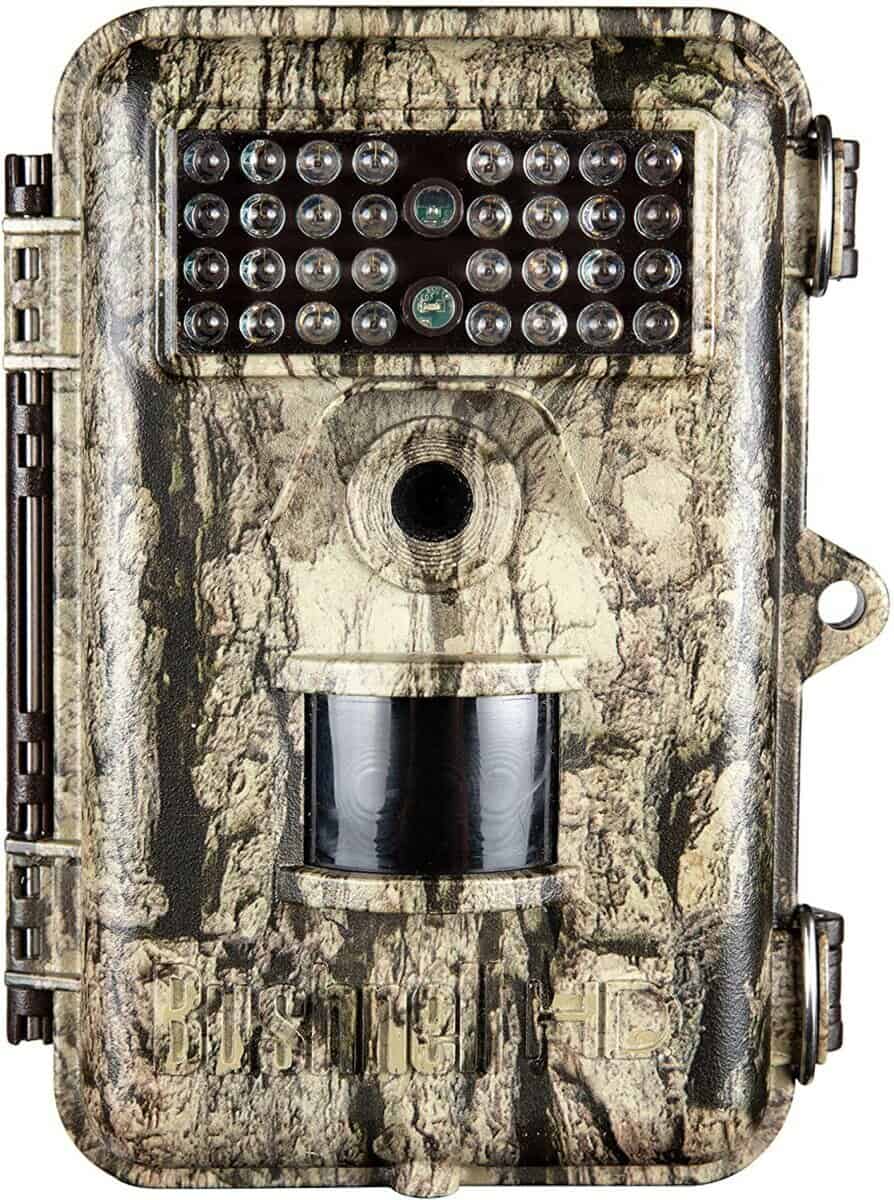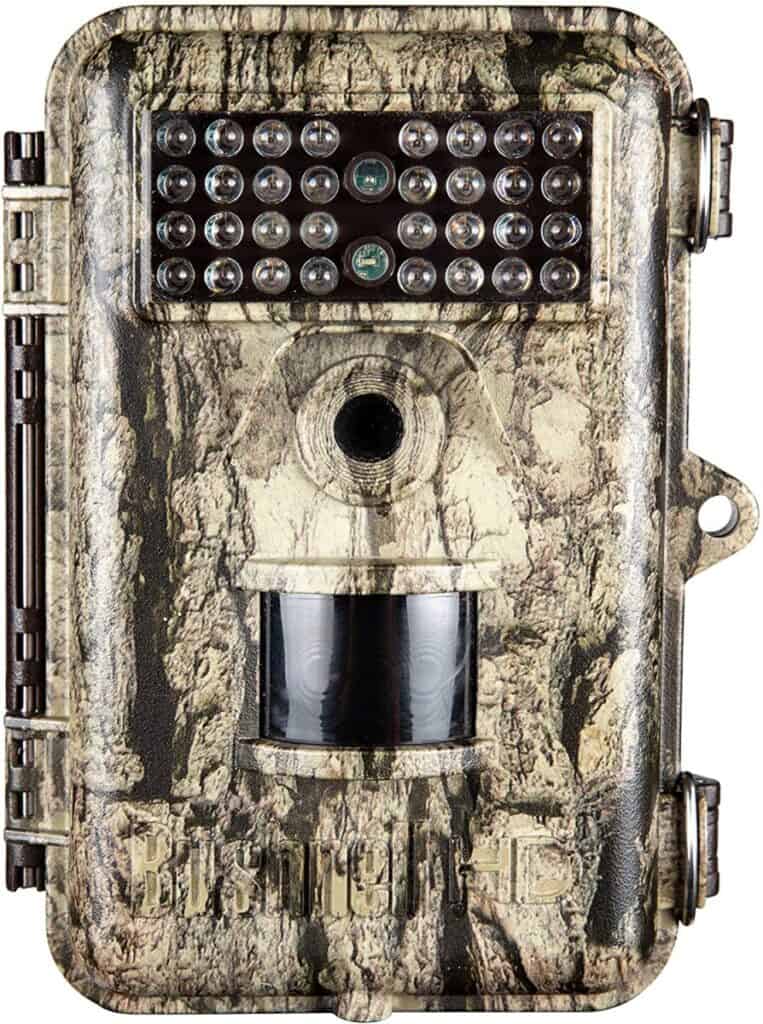 Video review:
The Bushnell Trophy Trail Camera is a reliable trail camera that features a simple design. It is suitable for both day and night photography of birds.
The USA trail camera company Bushnell produces a trusted line of trail cameras that has been serving the outdoor and wildlife enthusiast for years.
Key Features:
Programmable recovery time and a trigger speed of 0.7s.
Able to shoot 20 MP, 720p HD video w/ Audio so you can record both videos and pictures on this.
32 LED Night Vision flash
A wide range of image settings (3, 8, or 20MP), and a 0.7-second trigger speed.
Can take a temperature range from -5 F to 140 F.
Requires 8 AA Batteries and an SD Card of up to 32 GB (not included with the trail camera.)
What's special about this trail camera is that has an LED flash that can be programmed to flash when you need it to.
Although not too ideal for bird watching, it can be used for anti-burglary purposes if you decide not to use this camera for bird watching eventually.
Why I like it:
I like this bird feeder camera because it has an affordable price and is easy to set up for beginners and those who are new to bird feeder cameras.
The screen included in the interior of the trail camera allows for easier navigation between menus. The ease of use is much easier than some other trail cameras which rely on analog buttons and light to customize your settings.
I would recommend this trail camera for someone who is looking for an affordable option to monitor birds in their backyard, and not break the bank in doing so.
Pricing:
The pricing of this trail camera is fair for its functionality. It is priced at about $90.
Link to purchase:
The Bushnell Trophy Trail Camera can be found on Amazon through the link here. However, you can also look around online for great deals for this trail camera.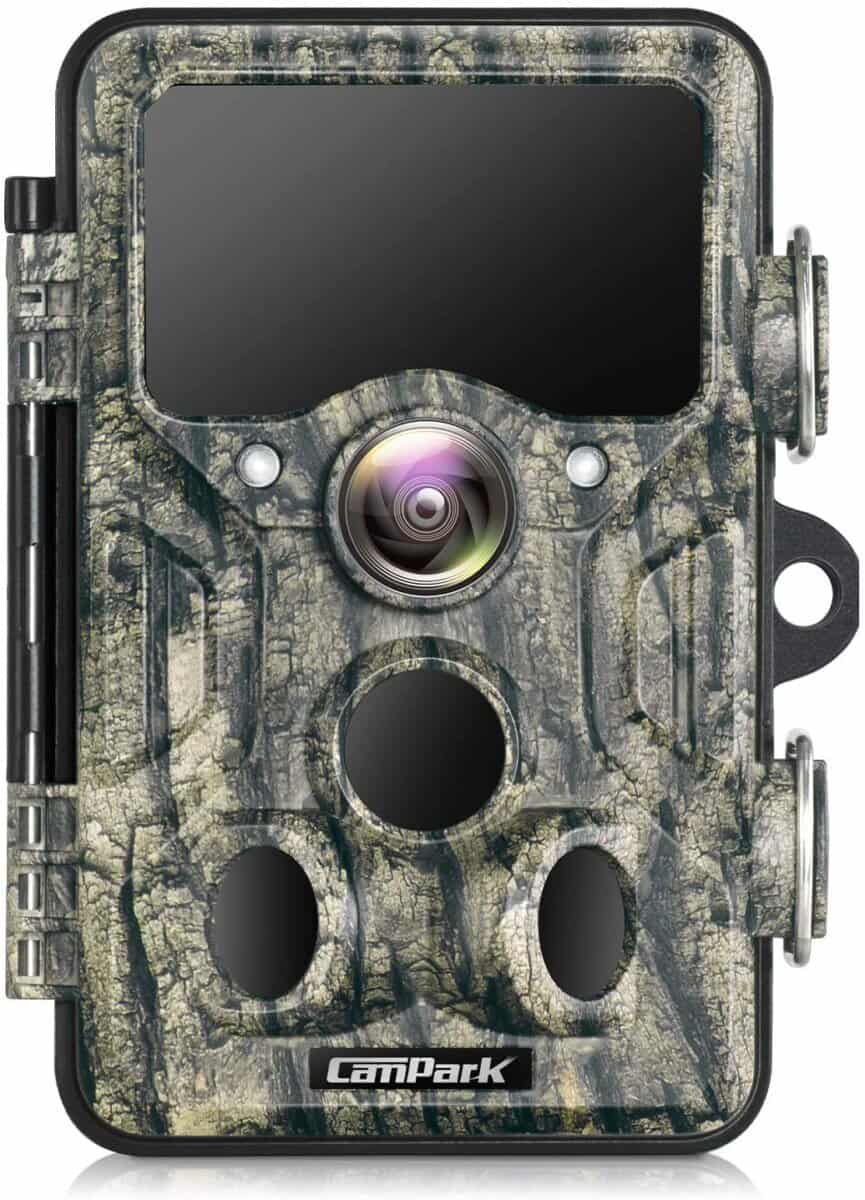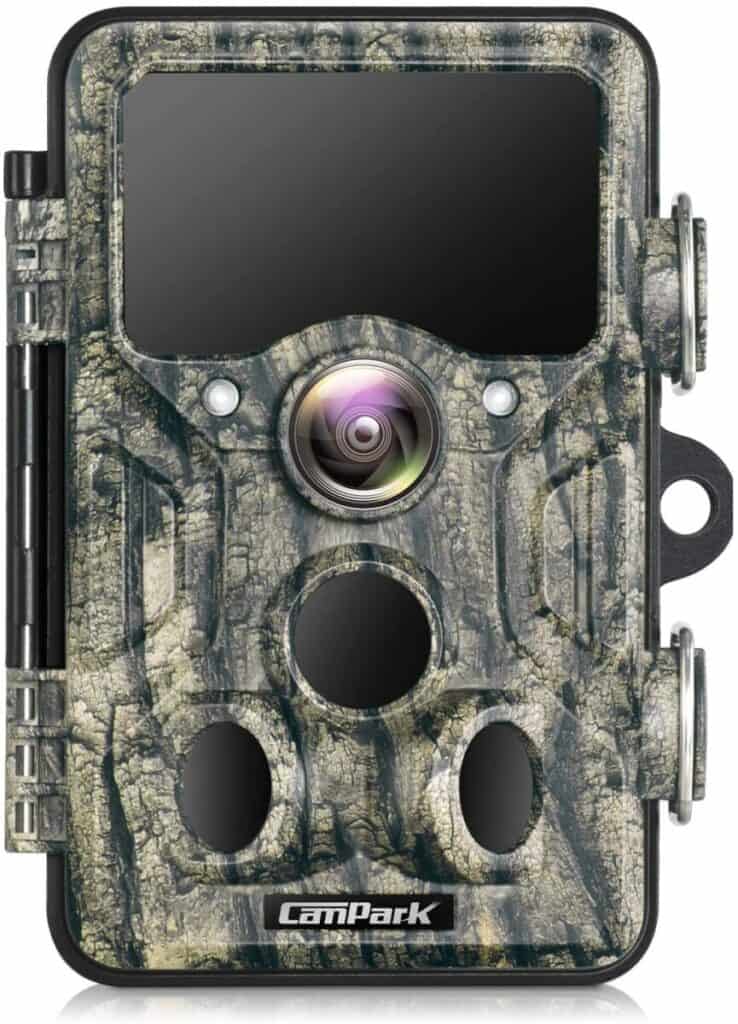 Video review:
The Campark trail camera (T86) is a WiFi and Bluetooth-enabled camera that allows for a fully remote experience in recording the birds in their natural habitat or on bird feeders.
With the built-in Wifi function, you can control the trail camera even if you put it in a high place or somewhere not easy to reach. So it's ideal if you want to install the camera in a position in a tree that is higher than just ground level.
Key Features:
Hunting Camera Pro app: real-time monitoring of birds feeding on bird feeders
The app can take photos and videos, not just record footage
Bluetooth control turns off and on Wi-Fi and adjusts camera angles
Records footage even at night thanks to its night vision lens: the 36 pcs 940nm LEDS.
IP66 waterproof rating (dust-proof and rain-proof)
Comes with a tripod and a mounting strap
Decently compact at 7.09 x 4.8 x 3.94 inches lightweight at around 1.35 pounds.
For the purposes of bird watching, the camera works well because it detects the movement of wild birds nearby and documents them in real-time so wouldn't miss a recording.
Expect the trigger distance for the movement to be around 22 yards. It has a no-glow night vision which helps to take great shots at night without disturbing other wildlife.
With regards to image quality, the Campark T86 doesn't lose to other trail cameras. It features a 20MP and 1296P video HD resolution so you can be sure of great quality pictures and video.
Why I like it:
The real-time monitoring is what separates this trail camera from the rest!
With the app that is used to connect to the camera, it is fairly easy to just conveniently check on your bird feeder camera footage as and when you need it.
This trail camera is suited for the purposes of having a 24/7 live stream or if you simply wish to look at your birds in your backyard at any point during the day.
The best part is the convenience because you don't have to open up the camera itself to access the recordings!
Another great part of the camera that I like is the screen which shows a menu in which you can navigate to the settings that you desire. Many other bird feeder cameras often only offer an analog option with lights and switches, so a menu helps as it's user-friendly for beginners who are new to trail cameras.
Pricing:
The price of a typical Campark Trail Camera (T86) is around $110.
Link to purchase:
The Campark Trail Camera (T86) can be found on Amazon through this link. You can also look elsewhere for great deals to grab this bird feeder camera.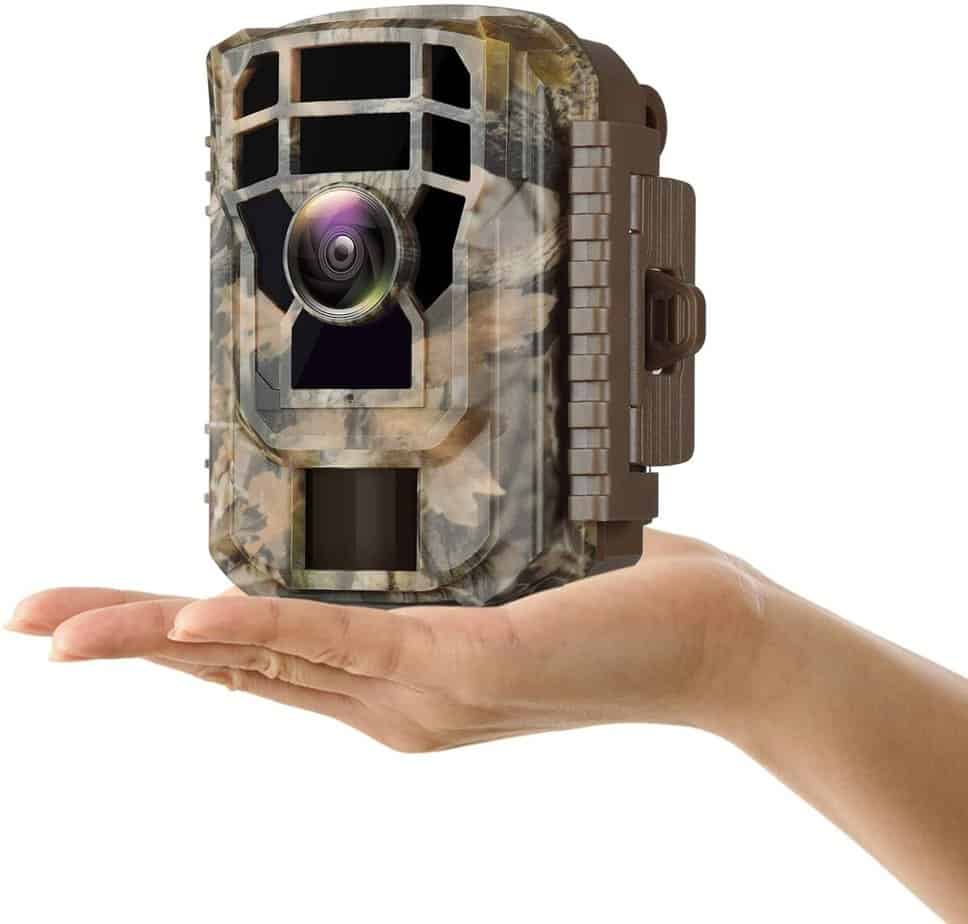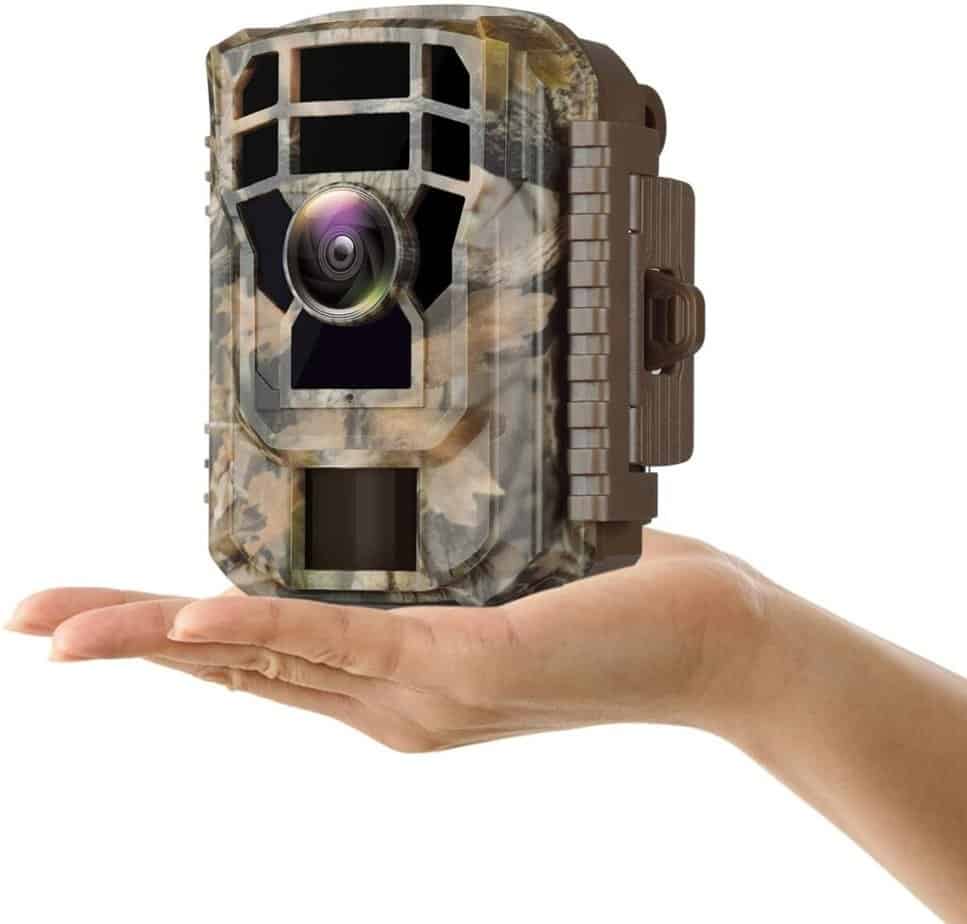 Video reviews:
The Campark Trail Camera (T20) is a handy and very affordable trail camera. Its size is comparatively smaller than the other trail cameras but it has a much cheaper price point.
However, the Campark T20 does not lose on the value that it provides!
Key Features:
2″ LCD screen that allows for easy and user-friendly menu navigation to adjust settings
Mini size of 5.94 x 4.25 x 3.5 inches
Lighter weight of around 15.5 ounces
Great photo and video resolution at 16MP; 8M; 5M and 1080p, 720p, 480p, 480p, and 240p
respectively
The distance of detection is around 65ft/20m
IP56 waterproof
Decent trigger speed of 0.5s
Though this bird feeder camera is small, it still packs a punch and still pulls its own weight. The cameras can perform both day and nighttime recording in color and in monochrome respectively.
For nighttime recording, you can expect a sensitive infrared sensor to detect movement up to 65ft/20m, which will trigger the camera to automatically take shots or record videos.
The camera has a decent trigger speed of 0.5s but don't expect this to be fast enough to capture pictures of fast-moving birds that may be flying past your trail camera.
However, this is highly suitable for more stationary birds that are either perched, nested, or simply feeding from your bird feeder.
What's great about Campark is that they offer a 30-day quality and 12-month warranty, and provide after-sale service within 24 hours. This means that you can expect your questions to still be answered, and return faulty products even after you've decided to purchase their cameras.
Why I like it:
I like this camera because it has a great balance of quality and affordability!
The camera image quality is decent enough for those of you bird watchers who want to just pick up a mini camera that is inconspicuous so that it can't be seen by both humans and birds.
Also, due to its small size and price point, the Campark T20 can be a great way to start for beginners who are not looking to spend too much on an advanced trail camera to get shots of birds.
Pricing:
The Campark T20 Trail Camera has a great price point of around $40-$60.
If you're lucky you may find a great deal for around $41, but either way, its price is still much cheaper than other trail cameras that provide the same value.
Link to purchase:
If you would like to purchase the Campark T20 Trail Camera, you can find it on Amazon through this link.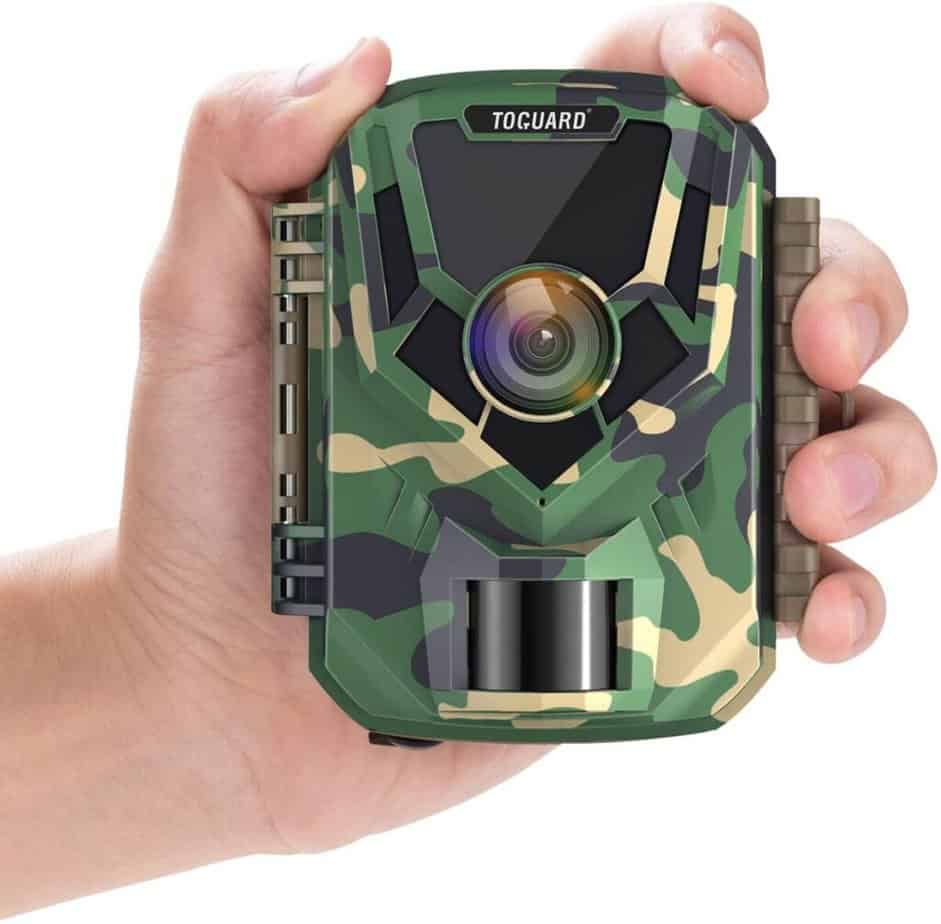 Video reviews:
TOGUARD's products are trusted by over millions of homes and businesses since their establishment in 2009 as a leader in Home and Personal Security Monitoring Technology.
However, I think this bird feeder camera can be put to great use for bird watching purposes too, especially backyard bird watching.
Key Features:
Really affordable and portable option for those who prefer more compact devices
Takes up only 4 AA batteries instead of the usual 8 in other bigger, bulkier trail cameras.
Compact size: less noticeable by wildlife and birds
Camouflage colors
Records both day and night footage (night vision)
Small 2″ screen
0.3s-0.8s trigger speed
65ft/20m capture range
While my main focus will be on its purposes for bird watching, we have to keep in mind that we do not want to frighten or negatively influence other types of wildlife in the process of bird watching.
The TOGUARD H20 was built for security purposes but is also painted in a camouflage color so that it can blend in with vegetation well.
The video quality on this trail camera is great as it can record full HD 1080p video and take 16MP photos.
This means that it doesn't lose out to bigger bird feeder cameras when it comes to quality. The recordings are taken in color during the day and in night vision (black and white) at night.
The TOGUARD H20 also has a 2″ screen on the inside so you can perform simpler and more user-friendly navigations to your desired image settings.
For its trigger speed, TOGUARD gives a range of how fast it can be from 0.3s-0.8s.
However, I think it's more of about 0.5s, which is about the same as every other affordable trail camera. Again, do not expect this to be fast enough to capture birds flying past the camera at high speeds, as it will not be able to do so.
It has a 65ft/20m capture range so you may want to take that into account when you set it up.
Of course, you will want to take some test clips to see if the range is far enough to capture the birds on your bird feeder or bird bath.
The TOGUARD H20 trail camera is very easy to operate and install. They have set it up in a way that the default settings are pretty much plug-and-play so you are good to go when you install it outdoors/in the backyard.
The bird feeder camera comes with the following in the package:
1x Wildlife Camera
1x USB cable
1x Instruction Manual
1x Mounting Belt
1x Wall Mount
3x Screws
Why I like it:
This bird feeder camera is really really affordable and probably the cheapest I could find that still provides great quality and value!
Firstly, the TOGUARD H20 trail camera is the lightest and most compact in its series.
The small size allows for it to be more hidden among vegetation and less obvious to both birds and humans. This is so that no one will tamper with the trail camera.
Secondly, the TOGUARD H20 provides really high-quality videos and photos for its price point. I really think the price is almost shocking as the videos it produces are of great quality.
However, the only downside to using a mini camera such as this would be the battery life. As the camera only uses 4 AA batteries, it won't last as long as other bigger bird feeder cameras use 8 AA batteries.
Pricing:
The price of a TOGUARD H20 Trail Camera is around $40-$50. It depends on whether a sale is on at the point in time.
Link to purchase:
If you would like to purchase the TOGUARD H20, you can check it out on Amazon at this link.
Final Thoughts
Now that you've gone through the entire list of trail cameras that are suitable for bird watching.
Hopefully, you would have been able to find one that is perfect for your purposes.
In my opinion, trail cameras are great bird feeder cameras and are a great way to perform remote monitoring on birds, whether that be for research purposes, backyard bird watching of birds at bird feeders or wild bird watching.
While most people use trail cameras for hunting purposes, I think these cameras are great tools to record the behavior of elusive birds that come and go quickly at bird feeders.
Hope this article has helped you make a decision on finding a camera suitable for your bird feeder.
Happy birding!
My Recommended Birding Resources:
Hey there, Justin here!
Here's a list of all my favorite resources, products, and all brands I trust and love.
Although some may be affiliate links, I will only recommend those that I think are of great value. Simply purchasing using the links helps to keep this blog running!
Alternatively, you can check out my resources page here where I've compiled all the links to the above!