5 Best Bird Bath Fountain 2023 (That Actually Attract Birds!)
We're reader-supported; we may earn a commission from links in this article.
Bird baths are a vital inclusion to any backyard to invite our beautiful feathered friends, and bird bath fountains are the cherry on the cake – enhancing your green space even further.
For bird enthusiasts, whether just starting or seasoned, navigating the world of backyard bird watching may be overwhelming with the countless options.
Hence, this article will explore the best bird bath fountains for attracting birds.
Let's get into the bird bath fountains I recommend!
What is the best bird bath fountain?
While there are many bird bath fountains in the market, I've narrowed down to a few that I particularly like and recommend:
With the most suitable bird bath fountain for you, it is also an investment into watching birds, which helps you spend time with your family, keep your mind active, and appreciate nature.
Here are more details about the bird bath fountains mentioned: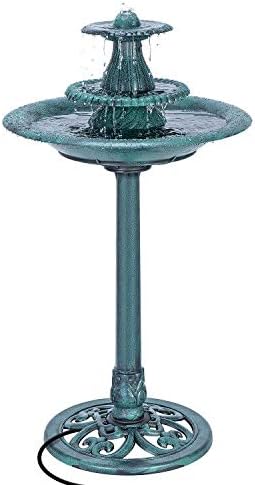 This beautiful tiered standing bird bath fountain reflects the timeless beauty of a European classic style and will definitely be a charming centerpiece in your backyard.
The iconic three-tier design allows a myriad of birds to convene at the same time, and it would indeed be a marvelous sight if that were to happen.
Key Features:
Durable and Sturdy: Made of high-quality material resin, this Vivohome bird bath combines form with function. It is sturdy enough to withstand harsh weather and therefore will be guaranteed to last a long time.
Large Diameter for the Basin: With its wide surface area, it will hold a large amount of water and provide sufficient space for feathered friends to gather around.
Easy Assembly: Despite it being three-tiered, it is easy to assemble. Even bird enthusiasts who are new to this beautiful world can easily opt to install this without any worries about it being complicated to fix.
Cons:
Splashing of Water: With strong winds, it is said that the water in the fountain may easily splash out, hence the need to constantly refill the water in the basin.
May be Difficult to Clean: Because the pump is permanently attached to the fountain, some may find it difficult to clean the pump, as opposed to a separate pump accessory.
Bottom Line:
If you're looking for something beautiful and a focal point for your backyard, Vivohome's three-tier water fountain is a good choice.
You may have to spend a little more time to refill it, but with the antique, regal color that resembles royalty, or even something out of a fairytale, all that extra effort may be absolutely worth it.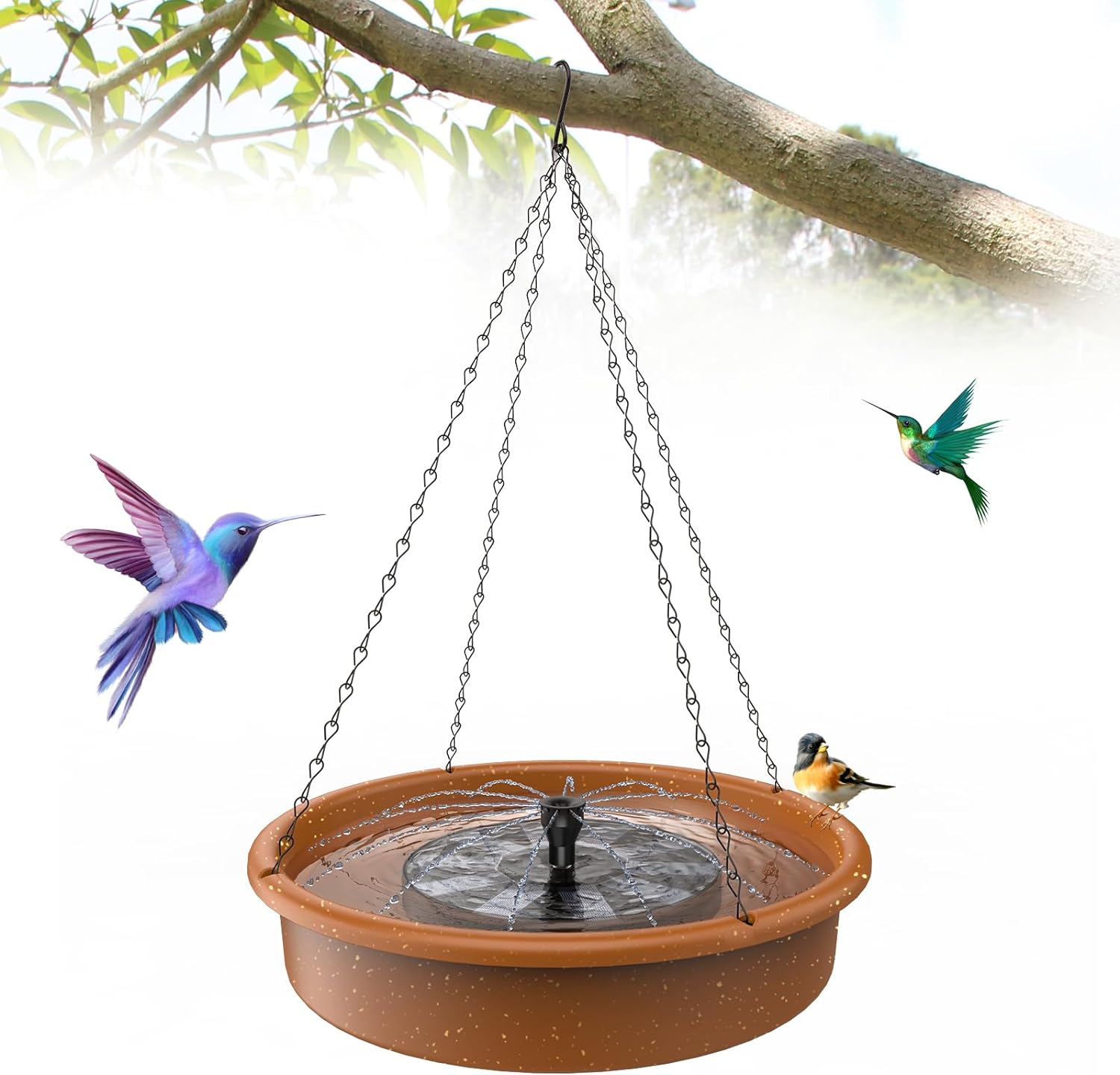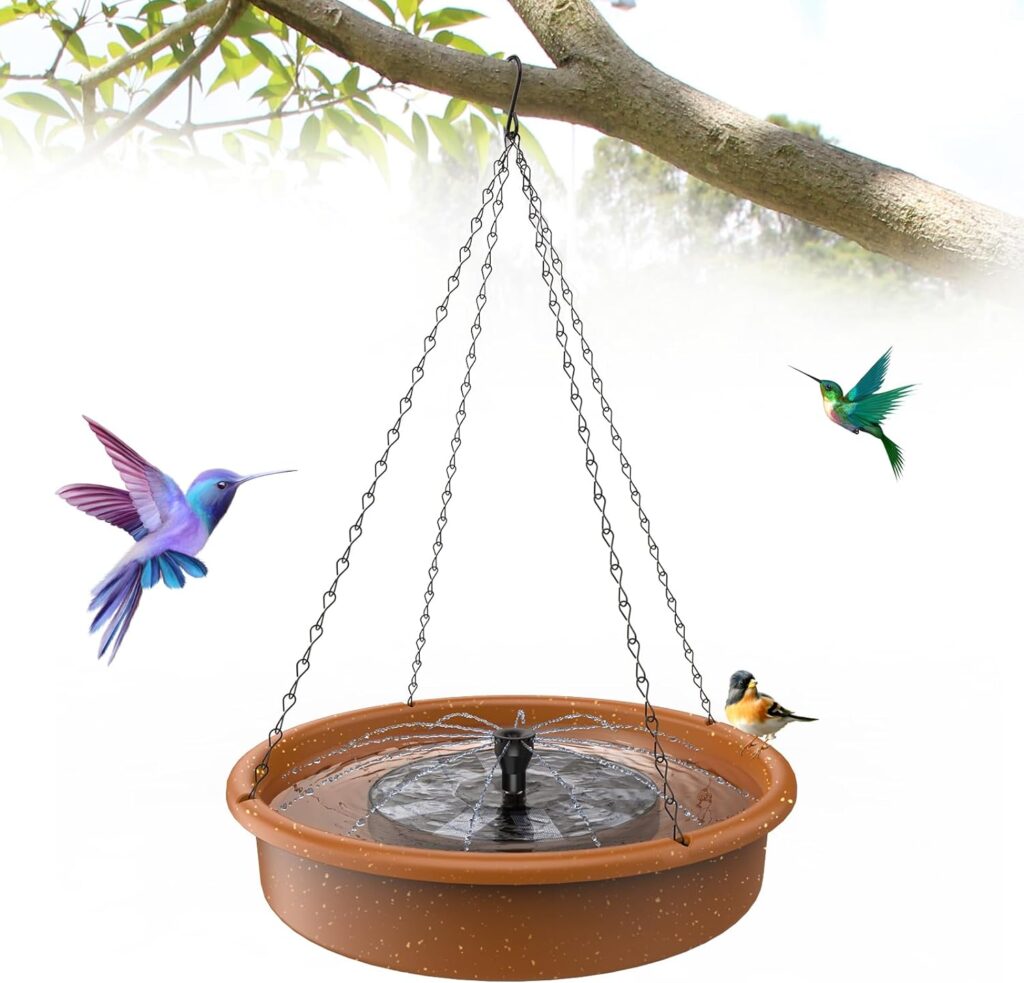 A hanging bird bath fountain can be very useful and is able to entice birds.
This is especially a good addition to a patio and small gardens, where a ground-based bird bath fountain may not have enough space for.
This Aisitin Hanging Bird Bath Fountain is also easy to assemble and lightweight, so it is perfect for smaller trees, too.
Key Features:
Multi-Functional: With the versatility of holding 1.5L of water and a maximum of 8lbs on the chains, it can be used as a bird bath or even as a bird feeder.
Reliable and Sturdy: Made up of high-quality plastic, it is highly weather-resistant. Hence, this fountain is built to last a long time.
Energy-saving: This hanging fountain is designed with a sensor, and hence it automatically switches off past sunset, saving electricity.
Cons:
Weak Pump System: Some may find the pump system too weak, hence providing a lackluster water feature.
Not Suitable for Larger Birds: As a hanging feature, this may be too wobbly for larger birds. Therefore, if you're looking to attract larger birds, a ground-based bird bath fountain may be more suitable.
Bottom Line:
Hanging bird bath fountains serve two purposes – to maximize space and to provide an additional appeal to birds.
This beautiful hanging bird fountain is a beautiful addition for people starting out in the hobby of bird watching and are not sure about investing in precious backyard real estate for a bird bath fountain.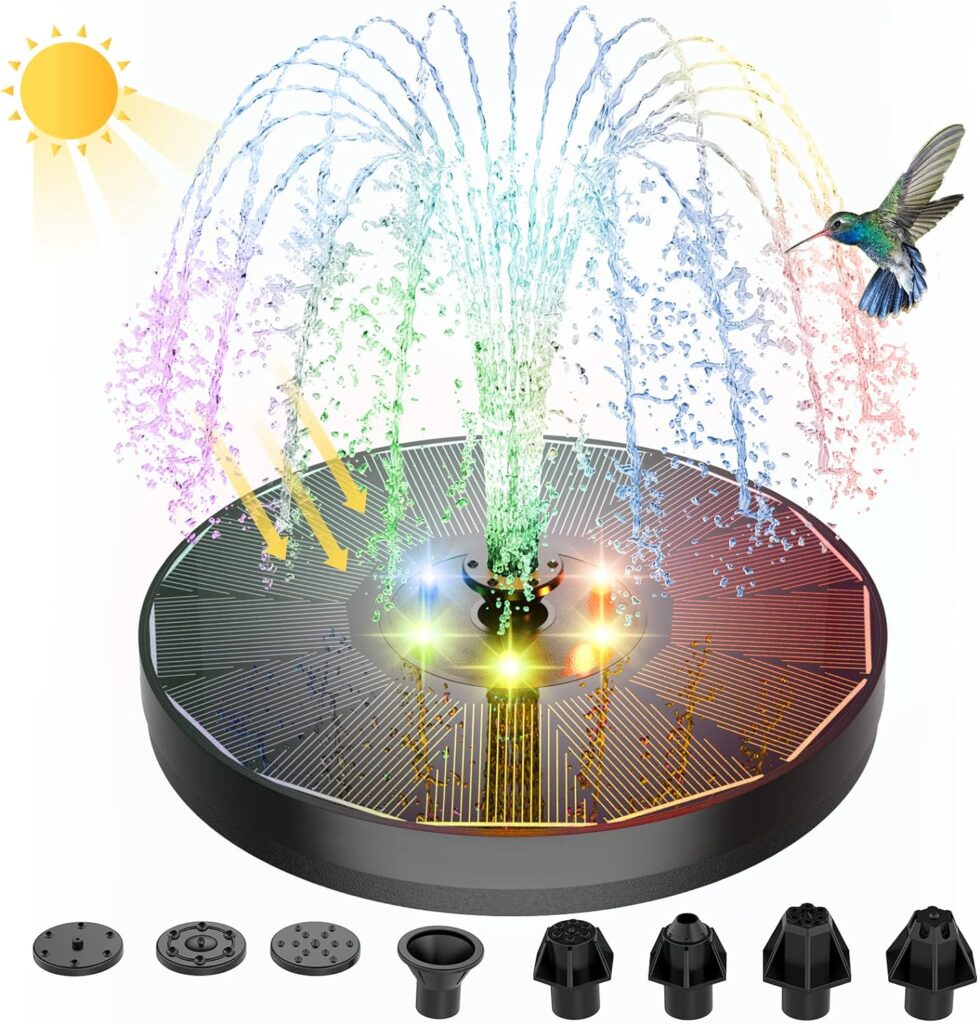 This beautiful bird bath fountain is aesthetically pleasing with its running water feature and even more attractive with its light feature.
The different fountain and light patterns capture the attention of both bird enthusiasts and feathered friends.
Key Features:
Beautiful LED Lights: The key feature of this bird bath is its dual ability to produce moving water and most importantly, beautiful LED lights.
Automatic Water Sensor: With this automatic water sensor, the fountain pump automatically switches off when the basin runs out of water.
Eco-friendly, Energy Conservation: The solar panel conserves energy, allowing the fountain to continue pumping water even when the bird bath is in partial shade.
Cons:
Water Spillage: As with most other water fountains, there is a tendency for the water feature to spray water rather high, causing water to spill out of the basin. This requires a frequent need to refill water.
Floating to the Side: As a free-floating device, this solar birdbath fountain has a tendency to float to the corner, causing more water to spill out of the basin.
Bottom Line:
This solar fountain birdbath with LED lights is gorgeous.
Not only does it serve the functional purpose of providing for the birds, but the LED light show creates a romantic atmosphere for an otherwise mundane garden.
Easily assembled, it is also easy to clean and maintain. This is a great choice if you're looking to spruce up your garden with colorful birds and colorful lights.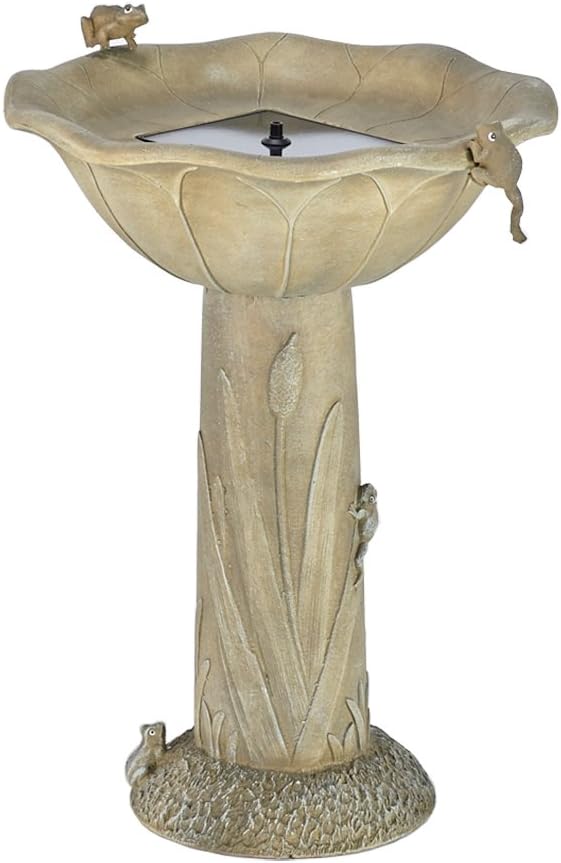 A good bird bath should be sturdy and stable, capable of withstanding the visits from small hummingbirds to larger birds like doves or robins.
This SmartSolar bird bath fountain is exactly just that. A freestanding pedestal piece made of concrete, it can withstand harsh weather conditions and is designed to last.
Key Features:
Classic Timeless Design: A beautiful olive green, it blends well with the design of any garden or yard.
Glass-Fiber Reinforced Concrete: The reinforced concrete allows it to resist weather conditions and yet remains sufficiently lightweight enough to be easily put away during winter.
Perfect Depth: At 1.3 inches, it is the ideal depth for birds. It allows the birds to take a bath without having to swim.
Low Maintenance: It is easy to clean, requiring a simple wipe down and rinse.
Cons:
Paintwork Fades Easily: There have been some complaints about the paintwork fading, eventually appearing to be inferior.
Unsuitable for Winter: It will crack during extreme cold, even when installed with a water heater. Hence, this needs to be kept away during winter.
Bottomline:
If you're looking for a sturdy bird bath fountain designed to last a long time, then this one by SmartSolar is one of the best choices in the market.
With a classic design and good quality material, Smart Solar has received raving reviews.
Furthermore, as a free-standing piece, there are fewer parts to clean, making it easier to maintain. This makes it a great choice for those unsure where to start their bird-watching journey.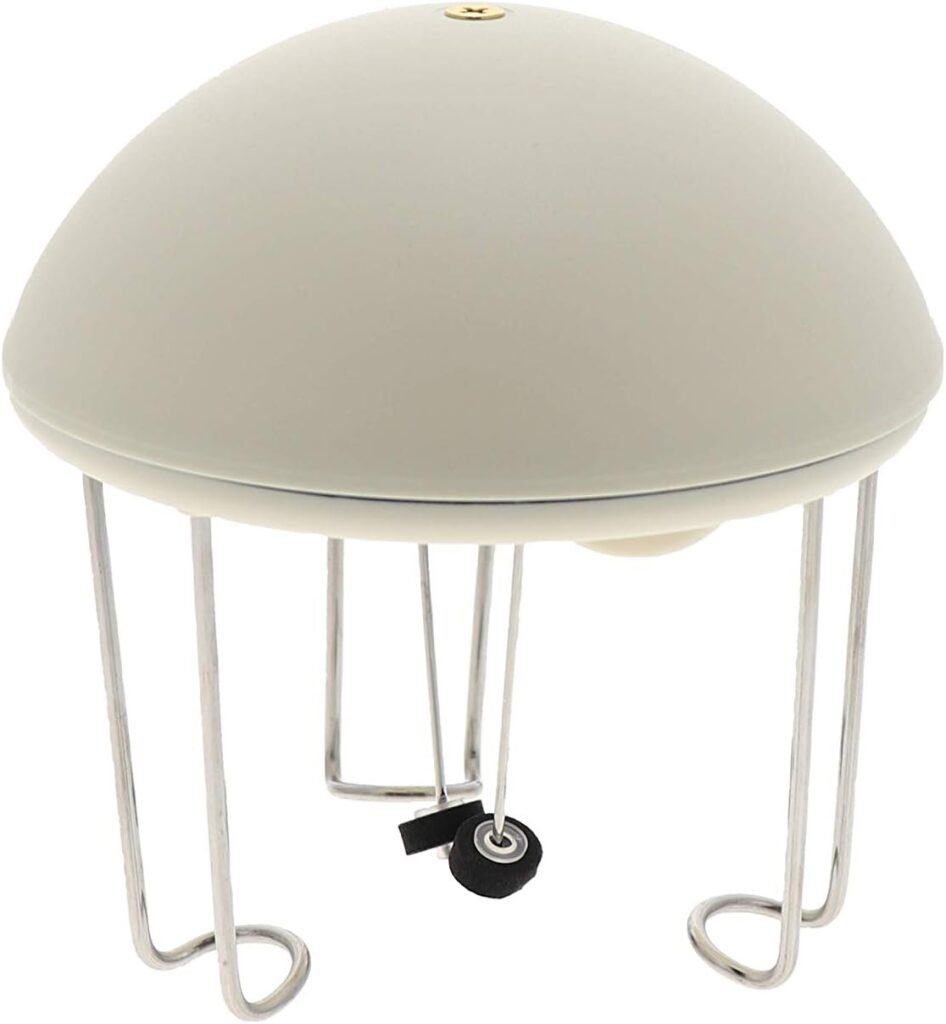 If you're looking for a fountain pump addition to your bird bath, this water wiggler is a great choice that you can consider.
A water wiggler creates continuous ripples in the water and prevents mosquitoes from laying eggs. Furthermore, there is no ugly wiring that you need to fiddle with as it is operated with batteries.
Key Features:
Flexible and Versatile: It can be used with a variety of bird baths that you currently own and can even withstand cold weather conditions to be used during the winter.
Battery-operated: Bird enthusiasts need not have to worry about weather conditions, as in the case of solar-powered bird bath fountains, for it to work well. The batteries can last up to two months with continuous usage.
Easy Assembly: One needs to put the batteries in, and the water wiggler is good to go.
Cons:
Not Suitable for Larger Bird Baths: This water wiggler may not produce powerful enough ripples for larger bird baths because of its capacity.
Regular Cleaning Required: The water agitator may need to be cleaned regularly to prevent debris buildup.
Not a heated bird bath
Bottom Line:
This water wiggler is a good addition to most bird baths to increase their appeal. Furthermore, if you've already gotten a permanent bird bath feature in your garden and do not intend to switch it out, this provides a good upgrade option.
Being wallet-friendly and eco-friendly, it is also a fuss-free way to keep your water fresh and mosquitoes away.
What are Bird Bath Fountains?
As the name suggests, a bird bath fountain is a bird bath with a water feature, and this type of bird bath is especially enticing.
Like how we sometimes revel in a rain shower or enjoy chilling out by a river, birds are fascinated by bird bath fountains because of the sight and sound of running water.
To understand more about what bird bath fountains are, we need to learn the purposes of bird baths.
Bird baths allow beautiful winged creatures to hydrate and take a nice bath, especially on hot summer days.
Whether it be a deck-mounted bird bath or a bird bath run on solar power, all bird baths help birds keep their feathers in tip-top condition.
That way, the birds can continue to communicate, keep warm, keep themselves safe, and, more importantly, fly smoothly.
With the right bird baths, we can attract the right bird species. There are many types of bird baths, and one of the most popular types is bird bath fountains.
Conclusion
A bird bath is a solid step for bird watchers to take to start on their quest to bring nature closer to them.
Bird bath fountains are thus the additional icing on the cake, making a garden and yard more appealing and enticing. 
With the myriad of choices out there, hundreds and hundreds of them, bird enthusiasts – both amateurs and seasoned ones – may get all flurry when having to choose only one or two bird baths (unless you are fortunate enough to have a really big yard!).
It is important to decide the style and ambiance you wish to create in your green space – your haven – to ensure you can make it a second haven for more birds out there.
So, choose one of the many bird bath fountains and make your garden a pleasant outdoor space for your feathered friends!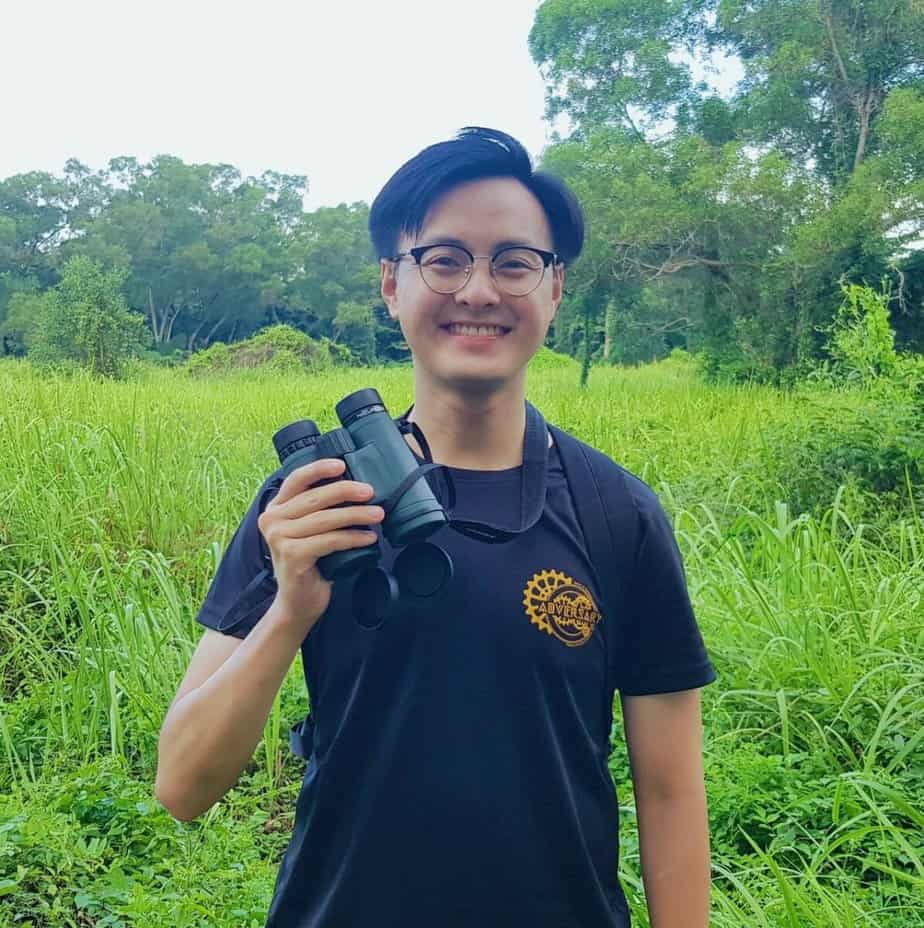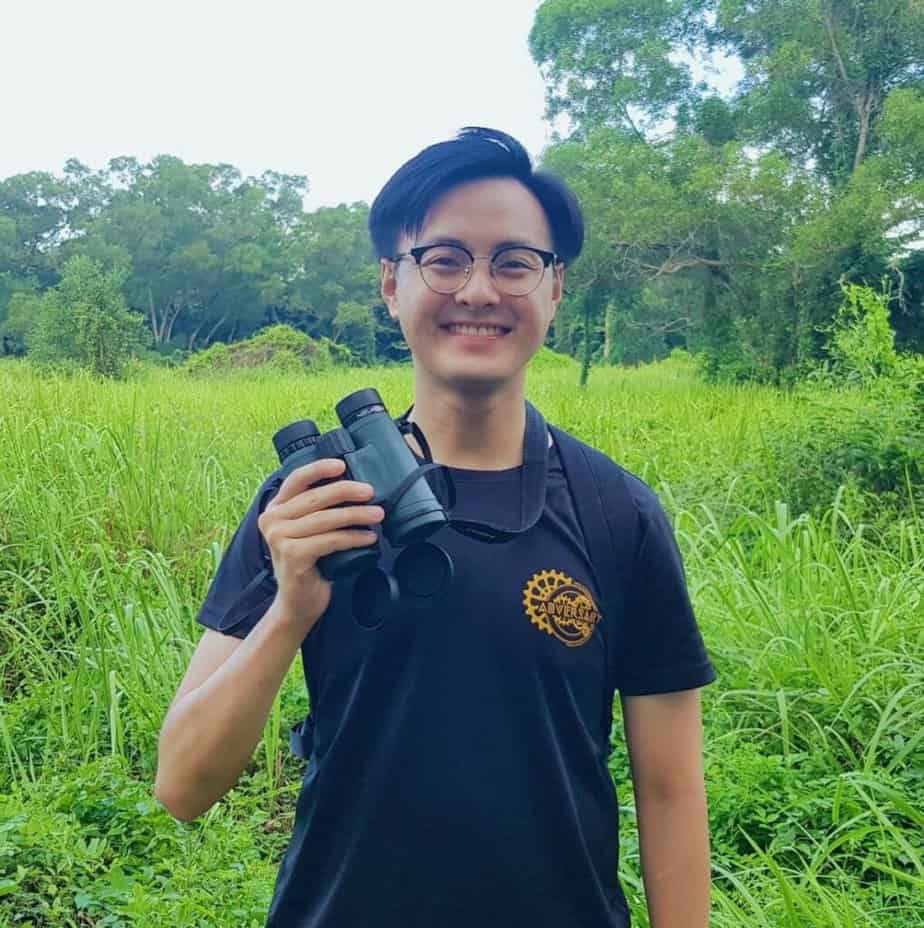 Justin is the founder and author of Birding Outdoors. He is a Nanyang Technological University (NTU) alumnus with a Bachelor of Biological Sciences and a former data analyst.
Now, Justin runs the Birding Outdoors blog full-time, hoping to share his deep love for birds, birding, and nature with others.
To unwind, Justin enjoys gaming and reading.